Friday Sharp Report: Pros Betting Mariners-Red Sox and 2 Other Games
Credit:
Joe Nicholson-USA TODAY Sports Pictured: Edwin Diaz, Andrew Romine and Eduardo Nunez
Wiseguys went 2-0 on Thursday, cashing both the Orioles-Nats Under 7 and the Reds +153 over the Cubs. Sharps also got down on the Jays-Angels Under, however, Tyler Skaggs was a late scratch, which voided the bet.
Pro players will look to keep the momentum going on Friday, which is arguably the best day of the week for sharp MLB bettors. Public players are finishing their work weeks and more apt to get down on games (specifically favorites and home teams), which leads to increased ticket counts and more contrarian value.
After analyzing Friday's stacked 16-game slate using Sports Insights' Sportsbook Insider Pro betting tools, I've pinpointed three MLB bets that professionals are focusing on, starting at 7:05 p.m., 7:10 p.m. and 8:10 p.m. ET.
Data as of 2:45 p.m. ET. All bets risking one unit, not to win one unit. 
Arizona Diamondbacks at Pittsburgh Pirates Under 7.5 
7:05 p.m. ET
The D-Backs and Buccos scored 12 combined runs last night, cashing easily for public Over backers (60% took Over 8). The public expects another high scoring game tonight, but sharps disagree. In a classic Pros vs. Joes bet split, 67% of bets are going Over, but 58% of dollars are going Under.
Wiseguys got down hard on the Under at three separate books, triggering a trio of steam and reverse line moves. The last Pinnacle move is most notable. Not only is Pinnacle one of the sharpest offshore books, but they doubled down on the Under even though the line got worse (7.5), a sign of supreme wiseguy confidence. An added bonus for Under bettors: the wind is blowing in heavy from straightaway center.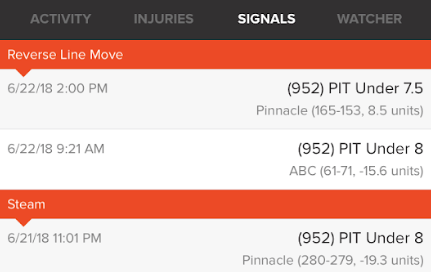 Seattle Mariners (+128) at Boston Red Sox
7:10 p.m. ET
Last weekend, Wade LeBlanc outlasted Steven Wright in Seattle, lifting the Mariners to a 1-0 win over the Sox. Now the two meet again, this time at Fenway Park. The public is all over Boston at home, especially with Seattle having lost four in a row. But the sharps are buying low on the M's to steal the series opener tonight.
The Mariners are only getting 34% bets but 46% dollars, and they've moved from +138 to +128 since opening, indicating both smart money and sharp reverse line movement in their favor. Pros at Pinnacle and Carib got down hard on Seattle +130 and +135, respectively. Seattle is also a road dog with a high total, a profitable spot since 2005.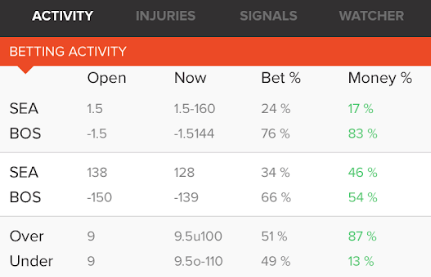 Texas Rangers (-104) at Minnesota Twins
8:10 p.m. ET
The Twins (33-38) are at home and riding high, having just taken two of three from the mighty Red Sox. Meanwhile, the Rangers (32-44) have quietly won five in a row. The public says Texas is a bad team and must come back down to earth today (especially with Mike Minor and his 5.35 ERA toeing the rubber).
But sharps are buying low on Texas. They're only getting 38% of bets but 66% of dollars, a massive bets vs. dollars discrepancy. Goodfellas at Pinnacle and GTBets hammered the Walker Texas Rangers, causing them to fall from +115 to -104 across the market.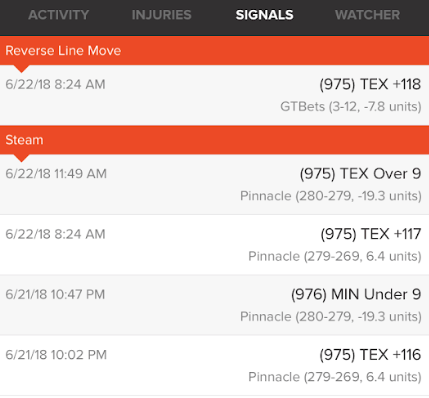 Remember: The betting market is fluid. Data changes as more action comes in. For updated odds and percentages, be sure to check out the Action Network MLB betting trends page.
Looking for more in-depth betting analysis? Sign up for a Sports Insights Pro trial and join our Live Betting Hangouts where we break down the board every weeknight from 6:30-7 p.m. ET.
For more betting info and customer support, you can find me on twitter @Josh_Insights.