Tuesday Sharp Report: Wiseguys Betting Mariners-Yankees and Three Other Games
Credit:
Gary Sanchez. Mandatory Credit: Geoff Burke-USA TODAY Sports
World Cup fever is in full swing, which means the betting market is saturated with recreational money. Wiseguy baseball bettors hope this increased public action leads to MLB crossover, resulting in higher ticket counts and elevated contrarian value. This doesn't mean that baseball pros double down and risk multiple units for the next month, it just means that they're operating with an increased edge. As always, sharps stick to the "Grinders with Blinders" mind-set: stay the course, think long term, stick to flat betting.
After analyzing Monday's 16-game slate using Sports Insights' Sportsbook Insider Pro betting tools, I've pinpointed four MLB bets that professionals are focusing on, starting at 7:05 p.m., 7:07 p.m., 7:10 p.m. and 8:10 p.m. ET.
Data as of 2:45 p.m. ET
Seattle Mariners at New York Yankees Over 9.5
7:05 p.m. ET
Recreational bettors are somewhat undecided on this total. But the sharps have taken a clear side. Currently 57% of bets are going Over, but they account for 75% of dollars. This indicates moderate Average Joe support, but heavy wiseguy smart money. Goodfellas at 5Dimes and Pinnacle both steamed the Over 9. The second Pinnacle move is especially notable because it came at -127 juice.
Despite paying a heavy price, sharps still thought it was worth it. This overload of sharp action pushed the total from 9 to 9.5. Normally, 57% of bets will raise the juice, but not move the total. So this move from 9 to 9.5 was definitely caused by smart money. An added bonus for Over backers: the Yankee bullpen has been overworked lately.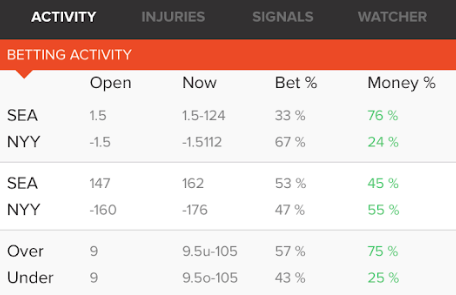 Atlanta Braves at Toronto Blue Jays (-108)
7:07 p.m. ET
The Braves are 42-29 and send Mike Soroka (2-1, 2.57 ERA) to the mound against Jaime Garcia (2-5, 6.02 ERA) and the Jays (33-38). The public says Braves all day. But Goodfellas are buying low on Toronto, which is playing well of late and swept the Nats at home. The Jays are getting only 31% bets but 49% of dollars, indicating smart money in their favor.
Meanwhile, Toronto has moved from -102 to -108 since opening. Why would the line move toward Toronto if the public is heavy on Atlanta? Because wiseguys at Pinnacle and Buckeye got down hard on the Jays, creating big liability on the AL team in interleague play.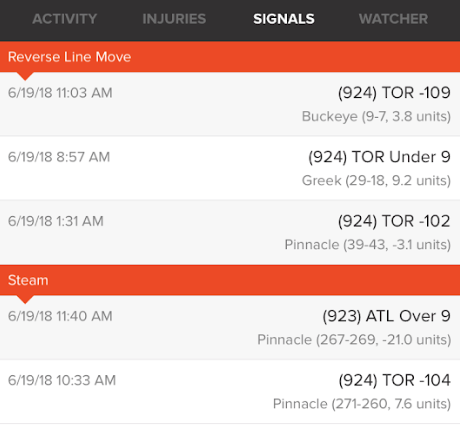 Detroit Tigers at Cincinnati Reds Under 9
7:10 p.m. ET
We're seeing a classic Pros vs. Joes matchup when it comes to this total. Currently 61% of bets are on the Over, but more than 80% of dollars are on the Under, as big of a bets-vs.-dollars discrepancy as you'll ever see. The total opened at 9 Under +105 and now it's moved to 9 Under -111, indicating Under liability. Wiseguys are united on the Under across the offshore market. They've hammered the Under 9 three times at three separate books: Justbet, Greek and CRIS, with no conflicting Over moves.
Tampa Bay Rays at Houston Astros Under 7 
8:10 p.m. ET
Sharps almost never get a contrarian Under opportunity with Justin Verlander (9-2, 1.61 ERA) on the mound. But they get one tonight. Despite the marquee pitching matchup of Verlander vs. Blake Snell (8-4, 2.58 ERA), the public is scared off by the low total. But sharps aren't afraid. Currently 56% of bets are going Over, but 67% of dollars are on the Under.
Sharps at Pinnacle and ABC got down hard on Under 7, triggering a pair of steam and reverse line moves. The total opened at 7 Over -113 and now it's moved to 7 Under -111, indicating Under liability. Bookmaker, one of the sharpest offshore books, is even heavier on Under 7 (-115), meaning it may fall to 6.5.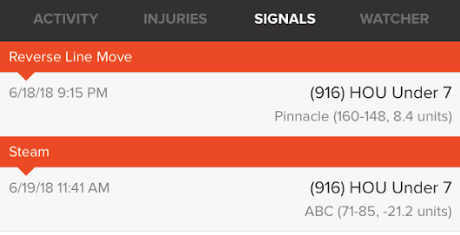 Remember: the betting market is fluid. Data changes as more action comes in. For updated odds and percentages, be sure to check out the Action Network MLB betting trends page.
Looking for more in-depth betting analysis? Sign up for a Sports Insights Pro trial and join our Live Betting Hangouts where we break down the board every weeknight from 6:30-7 p.m. ET.
For more betting info and customer support, you can find me on twitter @Josh_Insights
How would you rate this article?