Zerillo's MLB Daily Betting Model, Aug. 11: Can Blue Jays Slug Their Way Past Tanaka, Yankees?
Credit:
Steve Flynn, USA Today Sports. Pictured: Masahiro Tanaka
Sean Zerillo's MLB model helps you find edges when betting moneylines and over/unders for the full game and first five (F5) innings.
He analyzes Sunday's slate of games, including how to bet Blue Jays-Yankees (1:07 p.m. ET) and Athletics-White Sox (2:10 p.m. ET).
Plug in your odds to the spreadsheet at the bottom of this article to see where you might have an edge.
The Blue Jays (49-71) have a chance to win a four-game series against the Yankees (76-41) on Sunday, as they continue to play solid baseball since the beginning of June (18-18, +22 run differential).
They will face Masahiro Tanaka, who has been hit extremely hard in his past three starts (12.2 IP, 27 H, 19 R, 3 HR, 8 BB, 12 K), but they are countering with an inconsistent arm of their own in Trent Thornton (5.55 ERA, 4.90 FIP, 5.11 xFIP).
Can the Blue Jays beat Tanaka for the second time this season and finally get to 50 wins on the year?
A pair of youngsters had their first career three-home run games on Saturday.
Air Yordan pulled the hat trick for the Astros:
And sudden Cincinnati demi-god Aristedes Aquino did the same for the Reds:
Aquino now has seven home runs in nine MLB games this season after hitting 28 in 78 games at Triple-A.
His stance might be ugly, but Aquino credits his breakout year to a new swing.
Recapping Yesterday's MLB Model
At writing yesterday, the model would have gone 2-2 against full-game moneylines and 1-2-1 against moneylines for the first five innings (F5).
My plays went 6-4, and I finished up 1.28 units for the day.
It was a mostly positive day in terms of generating Closing Line Value (CLV).
I gained 22 cents overall against the sides that I played and saw the Twins/Indians under drop from 10.5 to 10.0, but I lost some vig against the four other sides that I played.
MLB Betting Model for Sunday, August 11
All odds as of Sunday morning (view live MLB odds). Stay tuned on Twitter or follow me in The Action Network App for my entire betting card for Sunday. 
Today, the model recommends five full-game moneylines and four moneylines for the first five innings (F5).
As of writing, the 3.5% trigger threshold officially marked the Angels, Blue Jays, Marlins, Orioles and Pirates as full-game plays. The model also likes those same teams (except for the Pirates) as F5 plays.
Per my colleague Evan Abrams, Justin Verlander and the Houston Astros are the biggest road favorite since 2005! So obviously we will be playing the Orioles.
As of writing, the odds on the Orioles imply a winning percentage of roughly 20%. I project their fair odds for today closer to 30%, while some industry sites put their chances at roughly 25-27%.
I certainly have some concerns about Asher Wojciechowski. His average fastball velocity dropped more than one full mph (to 91.3 mph) in his past two starts after he complained about hip discomfort, and he wasn't able to generate many swings and misses against the Blue Jays or Yankees in either of outing while being tagged for 12 hits and five homers in 8.2 innings. 
He's going against a future Hall-of-Famer and a lineup that blew up his teammates for 23 runs on Saturday night. But that's why the Orioles moneyline offers value.
The Orioles are exceedingly unlikely to win. Again, their chances are about 25-30%. But if the books imply a probability of 20%, how do you not take a 1/4 chance against odds that say 1/5?
I previewed Angels rookie Patrick Sandoval before his debut on August 5, and while he pitched well in a bulk role (5 IP, 3 H, 2 R, 2 BB, 8 K) in that outing, usually reliable Angels opener Taylor Cole allowed five runs in the first inning — a hole that the Halos never climbed out of.
https://twitter.com/MLBPipeline/status/1158530374554664960?s=20
Furthermore, I'll gladly continue to fade the Red Sox as a favorite when Andrew Cashner is starting. In five starts with Boston, he has the following line: 28.2 IP, 38 H, 26 R, 7 HR, 12 BB, 20 K (7.53 ERA, 6.46 FIP, 5.15 xFIP).
Hector Noesi will make his second start for the Marlins today against the Braves.
The 32-year-old spent some time in Korea between his last MLB appearance in 2015 and his start on August 6 against the Mets, but his Triple-A numbers in the offensive-friendly PCL from this season are encouraging: 21 starts, 125 IP, 3.82 ERA, 1.14 WHIP, 112 H, 30 BB, 133 K.
The most noticeable difference in Noesi's arsenal from 2015 to 2019 (in a small sample) is fewer fastballs and more sliders and curveballs. He pitched well for three seasons with the Kia Tigers in the KBO league, and I'm taking a chance that he found something overseas.
I played Noesi's former team, the White Sox, at even money at home against the Athletics, just missing the 3.5% cut for being a model recommended play.
I have grown fond of the 2019 version of Lucas Giolito, and he is baseball's third-most profitable pitcher this season (14-8, +$775, 35.2% ROI).
His metrics (3.43 FIP, 3.93 xFIP, .284 xwOBA) outclass those of Chris Bassitt (4.62 FIP, 4.73 xFIP, .305 xwOBA), and the Athletics are far more effective against left-handed pitching than against righties.
Lastly, I'm backing the Blue Jays today and expecting them to take a series win against the Yankees. Masahiro Tanaka is in the midst of one of the worst stretches of his career, with his xwOBA going off of the deep end of late: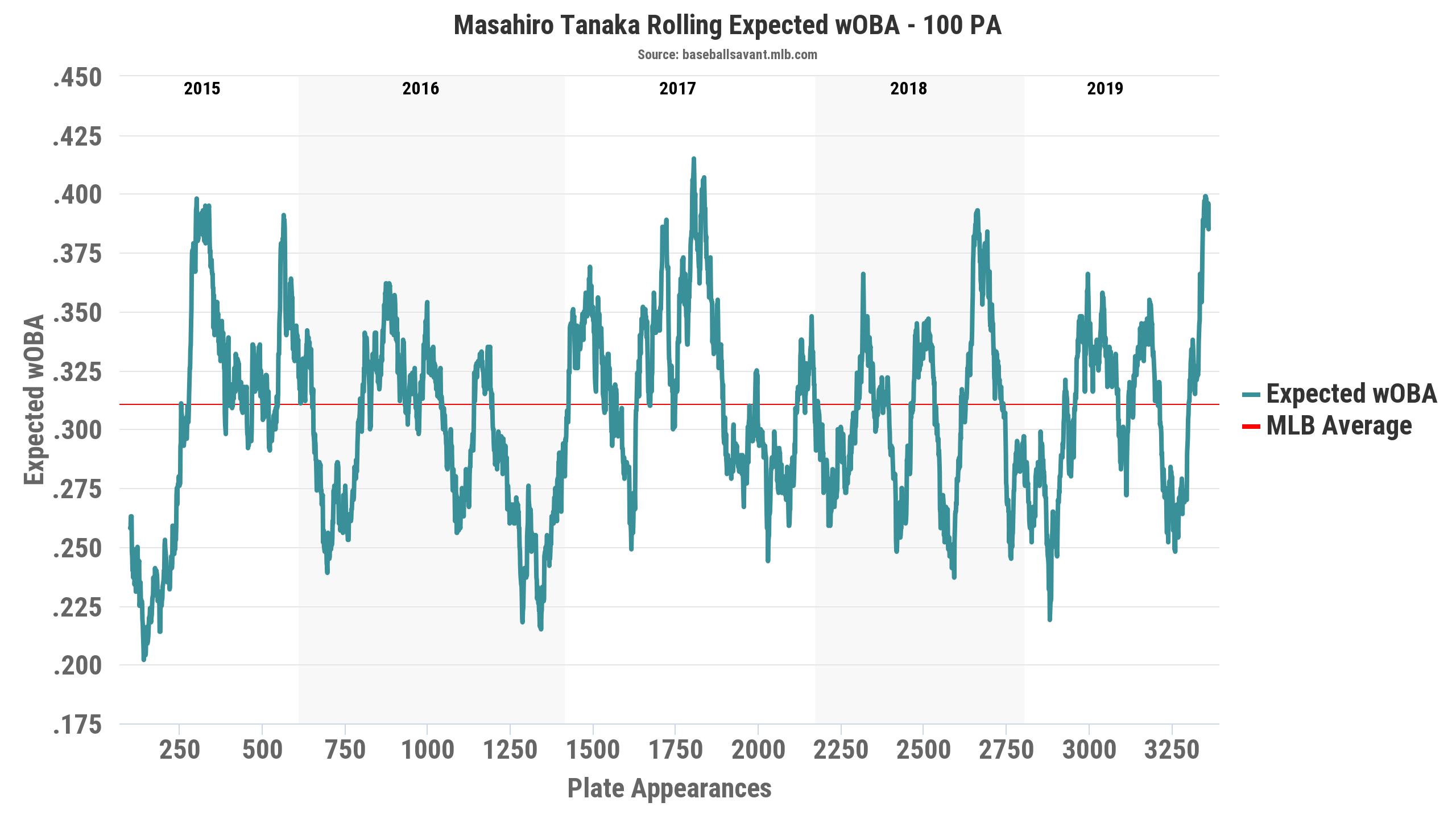 The Blue Jays also fit the following system for today, which emphasizes fading good teams (win percentage >60%) against certain divisional opponents in the second half of the MLB season:
Bets (So Far) for August 11
Baltimore Orioles (+390) Game Moneyline
Chicago White Sox (+117) Game Moneyline
Los Angeles Angels (+135) Game Moneyline
Miami Marlins (+186) Game Moneyline
Pittsburgh Pirates (+180) Game Moneyline
Toronto Blue Jays (+161) Game Moneyline
Under 11.5 (-110), LA Angels at Boston
Under 10 (-115), Houston at Baltimore
Under 9 (-120), Atlanta at Miami
Over 9 (+100), Kansas City at Detroit
Stay tuned on Twitter or follow me in The Action Network App for my entire betting card for Sunday, August 11.
Zerillo's Full MLB Model, 8/11
Download the Excel doc with my projections to input odds from your sportsbook. These projections cover the full game and First 5 moneylines and over/unders. A sample of one of the sheets is below.
How would you rate this article?