MLB Expert Predictions for Thursday Night: 7 Favorite Bets, Featuring Rays-Athletics
Credit:
Wendell Cruz-USA TODAY Sports. Pictured: Charlie Morton.
We've got 10 MLB games on tap for Thursday evening.
Our MLB experts examine their seven favorite bets of the night, including the Rays and A's.
Danny Donahue: Philadelphia Phillies at Washington Nationals
Nick Pivetta (4-1, 5.00 ERA) vs. Erick Fedde (1-1, 3.68 ERA)
Phillies Moneyline: +100
Nationals Moneyline: -110
Over/Under: 10.5
First pitch: 7:05 p.m. ET
A favorite against a team with a better record? Check. Fewer than a third of bets? Check. A higher money than bet percentage? Check. Coming off a win? Check.
The Nats fit a nice combination of profitable betting strategies tonight, which ultimately puts them in a spot that's been very good to bettors historically.
Since 2016, teams checking off the boxes described above have gone 43-16, winning 20.3 units for a 34.3% ROI.
THE PICK: Nationals -110
Josh Appelbaum: Houston Astros at New York Yankees
Framber Valdez (3-2, 2.77 ERA) vs. Chad Green (1-2, 7.54 ERA)
Astros Moneyline: +117
Yankees Moneyline: -129
Over/Under: 10
First pitch: 7:05 p.m. ET
We're seeing a classic Pros vs. Joes matchup in the most heavily bet game of the night.
Public bettors can't lay off the mighty Astros at plus money, but sharps are buying low on the red-hot Yankees at home in a rare fade the trendy dog spot.
New York opened as a -140 favorite, and despite 63% of bets grabbing the Astros, the line has barely budged. This represents a virtual sharp line freeze, with books refusing to drop the Yankee price more than few cents for fear of giving sharps a better number on the Bombers.
The Yanks are only getting 37% of bets but 70% of dollars, and we've also tracked a trio of steam and reverse line moves on New York (and none on Houston).
Unpopular favorites (receiving fewer than 50% of bets) are 101-63 (61.6%) this season, winning +18.09 units with an 11% ROI. The Yankees fit the bill tonight.
THE PICK: Yankees -129
---
Collin Wilson: Miami Marlins at St. Louis Cardinals
Zac Gallen (first major-league start) vs. Adam Wainwright (5-6, 4.46 ERA)
Marlins Moneyline: +175
Cardinals Moneyline: -185
Over/Under: 8
First pitch: 7:15 p.m. ET
There might not be an umpire who loves big road underdogs as much as Tom Hallion. He will be calling balls and strikes in Busch Stadium as the Cardinals host the Marlins in a getaway game for the Fish.
Hallion's record for the home team is 227-233 — nearly 50% in a sample that exceeds 450 games. In those games the home team is -44.03 units.
The Marlins send Gallen to the hill, who has become staple in New Orleans Triple A for those of us who bet the Zephyrs Baby Cakes. Gallen, who averaged more than a strikeout per inning with 0.71 WHIP in New Orleans, could have motivation against his old franchise. Marcell Ozuna made his way to St. Louis via trade that included Gallen. Versus righties, the Cardinals are 28th in ISO and 26th in groundball percentage.
THE PICK: Marlins +1.5 run line, Under 8
Mark Gallant: Minnesota Twins at Kansas City Royals
Jake Odorizzi (10-2, 2.24 ERA) vs. Glenn Sparkman (1-3, 4.01 ERA)
Twins Moneyline: -204
Royals Moneyline: +182
Over/Under: 10
First pitch: 8:15 p.m. ET
Sparkman is not much to write home about. The 27-year-old hurler relies on his teammates behind him to make plays because he doesn't strike many folks out. His 85.2% contact rate ranks 154th out of 156 pitchers with at least 40 innings pitched this year. He just doesn't have swing-and-miss "stuff."
He's not very good, if we're being honest, but everyone knows that.
With just 13% of bets, nearly everyone is fading the Royals. Their line had inflated from +157 to +188 earlier in the day, when they fell into one of my Bet Labs systems: "BAP, Inflated." Only teams with 20% of bets or fewer whose lines have inflated 30+ cents fit the bill.
Admittedly, it has not done well this year, posting just a 3-8 record. However, in its existence, it's gone just 97-151 (39%), but has a lovely 18% ROI. All of this love for the Twins is creating value on the lowly Royals by beefing up the line, and that's good enough for me to take a ganders on them. I'd like them at +180 or higher.
THE PICK: Royals +182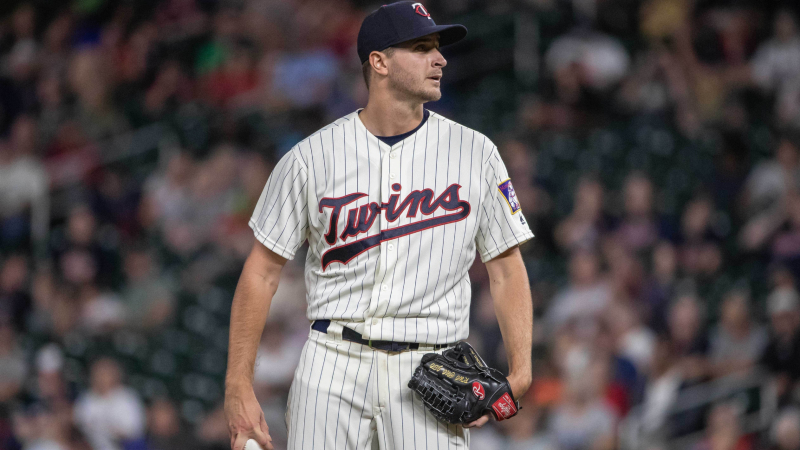 Odorizzi has been phenomenal for the Twins this season. That said, some of his advanced metrics suggest he's gotten lucky in a variety of ways.
For starters, batters have managed a batting average on balls in play of just .257 against Odorizzi, and only 6.6% of their fly balls have turned into home runs. He's also stranded 83.6% of opposing baserunners this season, which is the fifth-best mark in the league. Add it all up, and his 4.27 xFIP is more than two full runs higher than his ERA.
He's a prime candidate for regression moving forward.
Odorizzi has rarely been as large of a favorite as he is on tonight's slate, which makes this an excellent opportunity to sell high on him. The Royals are merely average against right-handed pitchers — they rank 16th in wRC+ — but I'll gladly take a shot on them as a moderate underdog.
THE PICK: Royals +182
---
Evan Abrams: Tampa Bay Rays at Oakland A's
Charlie Morton (8-1, 2.37 ERA) vs. Frankie Montas (9-2, 2.85 ERA)
Rays Moneyline: -102
A's Moneyline: -108
Over/Under: 7.5
First pitch: 10:07 p.m. ET
Both starters have been extremely effective this season. The Athletics are 10-4 in Montas starts while the Rays are 10-5 in Morton starts — there's a reason the total is set at 7.5.
Even though Morton has been literally untouchable on the road this year — 1.59 ERA, .178 opp BA — I like the situational spot and price for the A's.
Tampa is traveling from the Bronx to Oakland with about one days rest, while Oakland waits at home. Historically, this has been a tough spot for the road team traveling across the country on consecutive game days.
The Athletics are off a sweep against the Orioles while the Rays lost 12-1 in New York on Wednesday. I'll play the A's under -115.
THE PICK: Athletics -108
Sean Zerillo: Baltimore Orioles at Seattle Mariners
Dylan Bundy (3-8, 4.44 ERA) vs. Wade LeBlanc (3-2, 6.20 ERA)
Orioles Moneyline: +126
Mariners Moneyline: -140
Over/Under: 9
First pitch: 10:10 p.m. ET
The Mariners will likely be utilizing an opener on Thursday ahead of LeBlanc, who owns some concerning 2019 metrics.
He's pitched to a 5.28 FIP and 5.22 xFIP — both career worsts — and he ranks 132nd and 134th among 136 qualified pitchers (200-plus plate appearances) in xwOBA and expected slugging percentage.
Bundy is slightly above average by batted ball data (47th in xwOBA), but a 4.93 FIP and 4.70 xFIP are partially the result of his home run susceptibility. He allowed a staggering 2.15 home runs per nine innings in 2018 and has allowed 1.80 round-trippers per game in 2019.
Against the longball happy Mariners — who are first in flyball rate and second in total homers — I'm expecting fireworks in Seattle on Thursday night.
THE PICK: Over 9
How would you rate this article?