MLB Expert Predictions for Wednesday Night: 6 Favorite Bets, Including Mets-Phillies
Credit:
Eric Hartline-USA TODAY Sports. Pictured: Philadelphia Phillies left fielder Rhys Hoskins (17) looks into the dugout after hitting a home run during the first inning against the New York Mets at Citizens Bank Park.
We've got nine MLB games scheduled for Wednesday evening.
Our MLB experts examine their favorite bets of the night, including Mets-Phillies (7:05 p.m. ET) and Rays-Twins (8:10 p.m. ET).
Collin Wilson: Oakland A's at St. Louis Cardinals
Daniel Mengden (1-1, 5.09 ERA) vs. Adam Wainwright (5-6, 4.50 ERA)
Athletics Moneyline: +130
Cardinals Moneyline: -140
Over/Under: 9.5
First pitch: 7:15 p.m. ET
Happy Ron Kulpa getaway day! The Athletics are on their last game of an interleague set with the Cardinals, scheduled to hit Orange County for a series with the Angels tomorrow. The Cardinals will have Thursday off before heading to the West coast for a weekend series with the Padres.
Umpire Ron Kulpa is the best under-trending official on Wednesday's slate, going 238-181 to the under. That 56.8% clip is good enough for +41.95 units in Kulpa's career.
As mentioned in this column yesterday, St. Louis is in a mighty struggle against right handers. Mengden has pitched just 2.1 innings this month, but a right hander against the Cardinals is a wise move. St. Louis ranks near last against righties in wRC+ and wOBA since the start of May.
The PICK: Under 9.5
Danny Donahue: Texas Rangers at Detroit Tigers
Mike Minor (7-4, 2.52 ERA) vs. Matt Boyd (5-5, 3.61 ERA)
Rangers Moneyline: -105
Tigers Moneyline: -105
Over/Under: 8.5
First pitch: 7:10 p.m. ET

The Rangers are 43-36. They're tied for the second spot in the American League Wild Card race. The Tigers are … not tied for any Wild Card spots. They're actually 14.5 games out at 26-48.
Texas has won three straight. Detroit has lost five straight and nine of its past 10. Mike Minor has a 2.52 ERA. Matt Boyd sits at 3.61.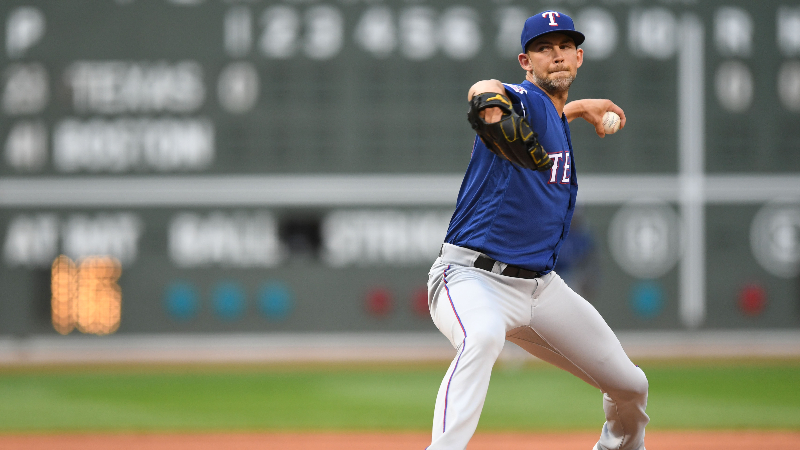 This game, however, opened with Texas just a -125 favorite. Crazier than that, it's now down to a pick'em. As you could've probably guessed, the Rangers are dominating the betting market, getting 73% of bets and dollars (which means the move to a pick'em probably was caused by some sharp action).
If history is any indication, though, the public may be making a mistake. Since 2005, teams listed at minus-money against an opponent with a win percentage at least .150 higher through 70 games have been profitable, going 142-112 for 9.4 units and a 3.7% return on investment.
When the public fades such teams, that record improves significantly. Filtering by clubs getting less than 40% of bets creates a 94-68 record (13.8 units, 8.5% ROI). Less than a third of bets yields a 61-42 record, good for 11.5 units and a 11.2% ROI.
The PICK: Tigers -105
Evan Abrams: Tampa Bay Rays at Minnesota Twins
Charlie Morton (8-1, 2.31 ERA) vs. Jake Odorizzi (10-3, 2.58 ERA)
Rays Moneyline: -111
Twins Moneyline: +102
Over/Under: 9
First pitch: 8:10 p.m. ET
Charlie Morton and Jake Odorizzi have been fantastic this season, with both pitchers posting the second and sixth-best ERA in the league in 2019 respectfully. On Wednesday night, I see an edge with the Twins at home.
When you break it down, Morton has been lights out on the road and Odorizzi has been the same at home, but it's the Twins offense that has me intrigued.
Minnesota leads the majors in slugging percentage and batting average in 2019 and since May 1, the Twins are still the best in baseball in slugging — their offense is no joke. In five games against the Rays this season, Minnesota is hitting .320 while averaging 6.4 runs per game.
Through June 25, the Twins are the most profitable team to bet on in 2019 and I think that continues Wednesday night against the road warrior, Charlie Morton.
The PICK: Twins (+102)
Josh Appelbaum: New York Mets at Philadelphia Phillies
Jason Vargas (3-3, 3.75 ERA) vs. Nick Pivetta (4-2, 5.54 ERA)
Mets Moneyline: +135
Phillies Moneyline: -150
Over/Under: 10.5
First pitch: 7:05 p.m. ET
The public doesn't know which way to go in this NL East matchup. They see the dumpster fire Mets spiraling into oblivion (on and off the field) and think automatic fade. But Average Joes also like the plus money payout on New York and Vargas has been pitching well as of late, while Pivetta got lit up for 6 runs in his last start.
But sharps have taken a clear side. They're riding with Always Sunny and so am I. This line opened with Philadelphia listed as a -130 home favorite. Despite moneyline bets being split right down the middle, the Phils have skyrocketed to -150. In a vacuum, a line shouldn't move more than a cent or two if the bets are even.
The Phillies are only getting 50% of bets but 65% of dollars, signaling smart money in their favor. We also saw pros steam the Phils at -130, -139 and -146. The triggering numbers are notable because sharps kept hitting Harper and company despite the line getting worse (indicating supreme Goodfella confidence). We haven't seen any conflicting moves or buyback on the Mets.
The home/road splits also favor Philadelphia, as the Phils are 25-17 at home while New York is 17-29 on the road. Philly is 35-22 when listed as a favorite, compared to the Mets 13-22 when listed as a dog.
The PICK: Phillies -150
Sean Zerillo: Washington Nationals at Miami Marlins
Patrick Corbin (6-5, 3.90 ERA) vs. Zac Gallen (0-0, 1.80 ERA)
Nationals Moneyline: -145
Miami Moneyline: +135
Over/Under: 7.5
First pitch: 7:10 p.m. ET
If I told you that the Marlins were 11-10 so far in June, you would probably guess that they have been a bit lucky for a stretch.
But Miami has a +16 run differential since the start of the month and has scored 96 runs (4.57 per game), eclipsing their full run totals from April (68) and May (89) in just 21 games.
Patrick Corbin is a name brand, especially after the six-year, $140-million contract that he signed this past offseason, but Zac Gallen is a quality young arm for the Marlins.
I'm not typically blown away by minor league numbers, but Gallen posting a league-leading 1.77 ERA with 112 strikeouts against 17 walks in 91 innings pitched in the Pacific Coast League ("PCL") this season is damned impressive.
The PCL is a particularly offense-friendly environment, and especially now that they're also using the MLB baseballs with lower drag.
After Gallen, the next-closest ERA qualifier in the PCL this season is Hector Noesi, at 3.19. Sixth place has a 4.23 ERA, and 10th place has a 5.02 ERA.
Zac Gallen is doing some impressive things, and you're getting a nice price on him to beat the Nationals (and their league-worst bullpen) tonight in a game that I see as more of a coin flip.
The PICK: Miami Marlins (+135) Game Moneyline
Stuckey: Tampa Bay Rays at Minnesota Twins
Charlie Morton (8-1, 2.31 ERA) vs. Jake Odorizzi (10-3, 2.58 ER)
Rays Moneyline: -111
Twins Moneyline: +101
Over/Under: 9
First pitch: 8:10 p.m. ET
Helluva pitching matchup on paper here with two starters who have combined to go 18-4 on the year and both own sub 3 ERAs.
While Odorizzi didn't make my recent list of luckiest pitchers in baseball to date, I did mention him as a potential fade candidate moving forward.
Odorizzi boasts a very clean 2.58 ERA on the season but I just don't think he has the overall stuff to maintain that level. His xFIP of 4.32 — almost two full runs higher than his ERA — confirms my sentiment there.
Odorizzi's fastball has graded out as one of the best in the game so far in 2019 but, while his velocity has ticked up, it's still only a 92/93 mph offering. I can't see that pitch continuing to carry him — especially since he doesn't have elite secondary stuff.
Odorizzi has benefited from an over 80% strand rate (LOB%) — a number that was sub-70 last season. His control has been a little better of late but this is still a fly-ball pitcher that only induces ground balls about a third of the time.
Not only should his strand rate see some correction, the homers should start to come. He has only allowed 0.67 HR/9 — extremely low for a fly-ball pitcher, especially with today's launch angle craze. That rate sits at almost half his career rate. Regression looms for the righty.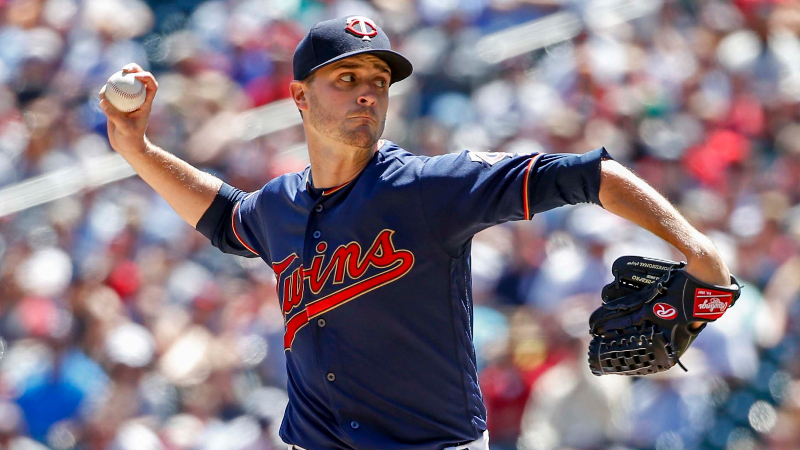 The Rays will go with Charlie Morton — who has benefited from some slight fortune himself this season (82.4% LOB%) but he at least has the stuff to back it up. His xFIP is almost a full run lower than Odorizzi — and his similar home run rate (.76) makes sense considering that, unlike Odorizzi, Morton is a ground ball pitcher.
The Rays' righty has a ground ball rate of right around 50%. After spending time in Houston, Morton now features a plus-fastball at around 95 mph and an elite curve ball to go with it — a pitch he throws as much as any starter in the bigs.
Bottom lime: These two starters have similar surface numbers but if you look under the hood, it's Morton that is much more likely to continue this level. I make this Rays -120 and will have the starter with much better stuff on the mound. Do not expect Odorizzi to maintain a lower HR rate than Morton for much longer.
The PICK: Rays Moneyline -110
Pick Summary
Wilson: A's-Cardinals Under 9.5
Donahue: Tigers -105
Abrams: Twins +102
Appelbaum: Phillies -150
Zerillo: Marlins +135
Stuckey: Rays -110
How would you rate this article?