4 Saturday MLB Sides Drawing Sharp Attention
Credit:
Kim Klement-USA TODAY Sports. Pictured: Jean Segura (right) and Wilson Ramos (left).
The Highlights
Sharp bettors have been struggling as of late, but are looking to right the ship with four plays today.
In the AL, they're targeting O's-Jays and Rays-Mariners.
Their National League plays focus on Reds-Cardinals and Pirates-Cubs.
---
Things have been … not so great for wiseguys lately. After it appeared they were right back on track about a month ago, they've tailed off in the past couple weeks.
Here's where the MLB Sharp Report plays now stand on the season.

True to form, however, wiseguys seem to be anything but discouraged. Sharp action is all over the baseball board today.
Found using the Sports Insights' betting tools, here are the four sides that have been drawing the most sharp attention on Saturday.
All data as of 10:30 a.m ET. For live info, check out our MLB live odds page.
Baltimore Orioles (-104) at Toronto Blue Jays
1:07 p.m. ET
The O's have been a frequent guest to the sharp report, and they're one of today's biggest movers. After opening at +130, they're down to -104 behind just 41% of bets.
Based on their four unchallenged sharp signals, it's pretty clear that wiseguys are behind the move.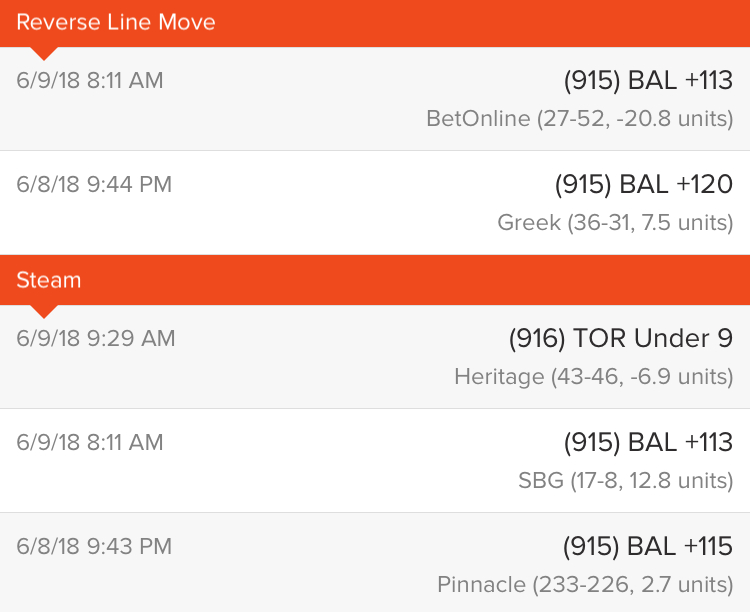 This article usually requires a subscription, but today it's FREE. Enjoy! Click here to be kept in the loop on future promos.
Pittsburgh Pirates (+149) at Chicago Cubs
2:20 p.m. ET
Another big Saturday mover, Pittsburgh has fallen from +170 to +149. Like the Orioles, the Bucs are a contrarian side — getting only 19% of bets — with sharp action behind them.

Cincinnati Reds (-105) vs. St. Louis Cardinals
4:10 p.m. ET
The Reds have become a sharp report staple, and are back on wiseguys' radar this afternoon. As is often the case, they're one of the least popular sides on the board, attracting only 18% of bettors.
Despite that, they've gone from +115 to -105 behind some sharp action.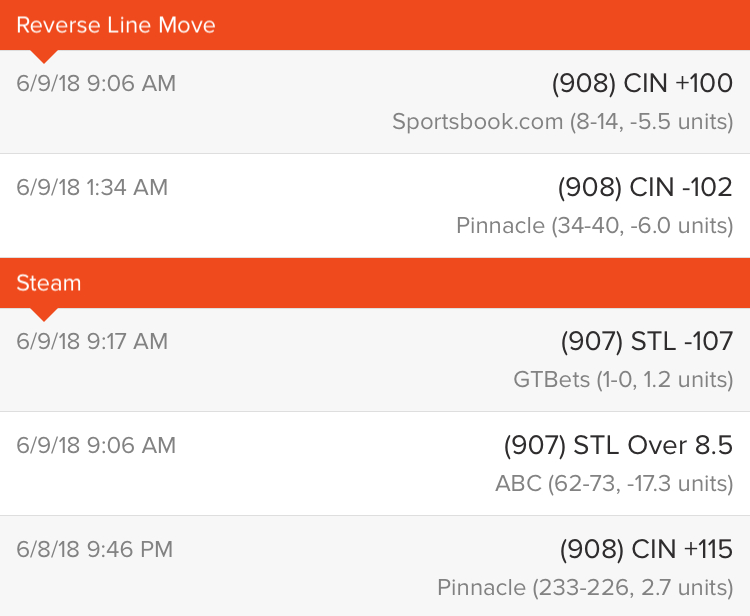 Tampa Bay Rays (-144) vs. Seattle Mariners
4:10 p.m. ET
The Rays couldn't come through for sharp bettors yesterday, but sharpies are still seeing something they like in this matchup.
Felix Hernandez is on the bump for Seattle, so it's no surprise to see the majority of the public on the M's at plus-money today. Sharps, however, are not in that majority.

The Rays have received only 45% of bets to this point, but sharps have now moved them from -120 to -144.