Marky's Monday Forecast: Marlins Park Roof Fiasco
The Highlights
With the potential for rain in the forecast in Miami, we had an amusing time calling Marlins Park.
The weather in St. Louis is easily the best on the slate, but offers a slight chance of a storm.
Oriole Park at Camden Yards has historically low hitting conditions for Baltimore.
---
There's never a dull moment here at The Action Network's Beverly, MA office. As I began my preliminary weather research for tonight's eight-game slate, one game in particular stood out as far as rain was concerned. However, that game is in Miami, where they smartly decided to build a roofed ballpark.
Nevertheless, our Keith LeBlanc has somewhat of a rapport with the roof folk around the country. If you don't believe me, here he is next to his roof checklist.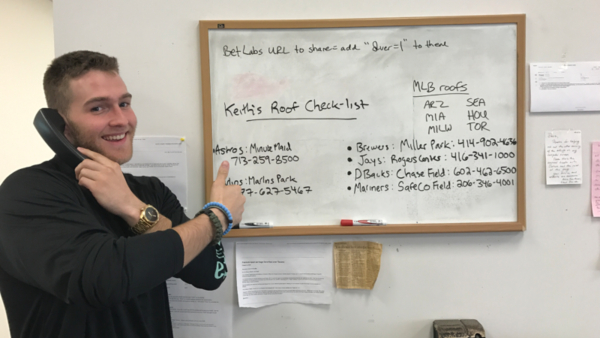 It took several calls and many minutes listening to some Pitbull hold music only to be told by someone who seemingly had no knowledge of the situation that they think it will be open. Looked sunny to them, they said.
Not a good enough answer for me! It's the rainy season, and tonight will be hot and humid with a chance of thunderstorms, just like every other night in Miami. Long story short: I am guessing they'll close that sucker for tonight's game, where Madison Bumgarner and the Giants visit Wei-Yin Chen and the Marlins.
Anywho, here is a breakdown of the Weather Ratings over at FantasyLabs.
High Weather Ratings
Padres at Cardinals: 75
Indians at White Sox: 54
Only two stadiums will have above-average hitting conditions tonight, and Busch Stadium is the only one with strong conditions for batted balls. With Jordan Lyles taking on promising young righty Jack Flaherty, bets are split on the over/under, yet dollars are on the under.
Like Miami, St. Louis will have hot and humid weather, so there is a small chance of a thunderstorm at Busch III.
Low Weather Ratings
Angels at Mariners: 17
Boston at Baltimore: 27
Just two games sit below 40. The weather in Seattle is pretty much always going to register low on the scale, but I was surprised to see the game in Baltimore below 30. Since 2014, we've tracked only nine games at Camden Yards with a Weather Rating below 30.
For those wondering why the rating is so low, temperatures will be in the mid- to high-60s, with winds blowing from right to left. Not exactly terrible on paper, but considering the park's relation to sea level, the ball won't be piercing through the air with the ease it normally does in Baltimore.
This total has dropped from 9 to 8.5 since opening, but we could potentially see it go back to 9 with the recent news of Mookie Betts returning to the lineup.