New York Mets 2019 Betting Odds, Preview: Getting Back to Winning Ways
Credit:
Patrick Gorski-USA TODAY Sports. Pictured: Jacob deGrom.
The Mets are coming off an unlucky year, but don't want to leave things up to luck in 2019.
They've brought back Jeurys Familia, added an elite closer in Edwin Diaz and bolstered their lineup with Robinson Cano, Wilson Ramos and Jed Lowrie.
To reach their full potential, they will need Zack Wheeler to pitch like he did last year -- especially in the second half, when he was essentially as good as Jacob deGrom.
Original analysis published on Feb. 25.
Meet the Mets! There's a bunch of new faces in town to help New York find its way back to the World Series, and while it's the Phillies who have been grabbing headlines as of late, we mustn't forget the big offseason the Mets have had.
Robinson Cano, Edwin Diaz, Wilson Ramos, the return of Jeurys Familia … the Mets are playing hardball. They're a hair below the other NL East contenders in the eyes of some, but in a sport like baseball, they should have just as good of a chance as any of them.
2018 Results
Record: 77-85 (-6.4 units), 83-79 ATS (+5.6 units)
Over/Under Record: 72-82-8
Preseason World Series Odds: +2350
Win Total: 82.5
Most Profitable Starter: P.J. Conlon (2-0, +2.5 units)
After a rough 2017 season in which they won only 70 games, oddsmakers expected the Mets to bounce right back to their winning ways in 2018. They improved, but not by that much.
Of course, one of the biggest storylines in all of baseball last year was how unlucky Jacob deGrom was. How they went just 14-18 in his starts despite his brilliant 1.70 ERA is beyond me.
If they'd won a few more of his starts, if Thor didn't miss a quarter of the season, if Yoenis Cespedes hadn't missed three quarters of the season, etc. etc. etc., I reckon they would've gone over that win total, don't you?
2019 Odds
World Series Odds: +2500
Division Odds: +300
Win Total O/U: 86
Playoff Odds: Make +160, Miss -190
The Mets have the worst World Series odds of the four NL East contenders, but there may be some value there. Think about it. If they make the playoffs and stay healthy, you'd prefer to have their rotation than the Phillies' or Braves', right?
I'm intrigued by the Mets' World Series and division odds. Since Bryce Harper signed with the Phillies, I've seen the Mets posted in the +350 range at some books, which is quite appealing.
However, I'm going to leave their win total alone. Some may think that taking the over would be a given since I like them to win the division, but that's not the case. I like that solid plus money payout to win the division, but with standard juice on the win total, I see less of an incentive. Especially since they could get in trouble if deGrom or Noah Syndergaard get hurt.
Roster Notes
Additions: Robinson Cano, Edwin Diaz, Jeurys Familia, Jed Lowrie, Wilson Ramos, Keon Broxton, Justin Wilson, J.D. Davis, Hector Santiago (minors), Luis Avilan (minors), Arquimedes Caminero (minors), Rajai Davis (minors), Gregor Blanco (minors), Rymer Liriano (minors), Dilson Herrera (minors), Adeiny Hechavarria (minors), Danny Espinosa (minors), Arismendy Alcantara (minors), Ruben Tejada (minors)
Subtractions: Jay Bruce, David Wright, Jose Reyes, Wilmer Flores, A.J. Ramos, Jose Lobaton, Kevin Plawecki, Austin Jackson, Jerry Blevins, Jenrry Mejia, Anthony Swarzak
Potential Lineup

Brandon Nimmo – LF
Pete Alonso – 1B
Robinson Cano – 2B
Michael Conforto – RF
Wilson Ramos – C
Jeff McNeil – 3B
Amed Rosario – SS
Juan Lagares – CF

Projected Rotation

Jacob deGrom
Noah Syndergaard
Zach Wheeler
Steven Matz
Jason Vargas

Prospect Watch: Pete Alonso (No. 51, 1B), Tomas Nido (Unranked, C), Gavin Cecchini (Unranked, IF)
Key Injuries: Yoenis Cespedes (Heel, mid-late 2019), Jed Lowrie (Knee, early 2019), Todd Frazier (Oblique, early 2019), Travis d'Arnaud (Tommy John, early 2019)
MVP Candidates: Robinson Cano (+4000), Jed Lowrie (+8000), Michael Conforto (+8000), Jacob deGrom (+10000),
Cy Young Candidates: Jacob deGrom (+350), Noah Syndergaard (+1500), Zack Wheeler (+5000), Steven Matz (+10000), Edwin Diaz (+30000)
Analysis
Player to Watch: Brandon Nimmo
Here's the MLB top 10 leaderboard in wRC+ from last season:
Mike Trout – 191
Mookie Betts – 185
J.D. Martinez – 170
Christian Yelich – 166
Alex Bregman – 157
Brandon Nimmo – 149
Jose Ramirez – 146
Paul Goldschmidt – 145
Manny Machdado – 141
Anthony Rendon – 140
Umm … what?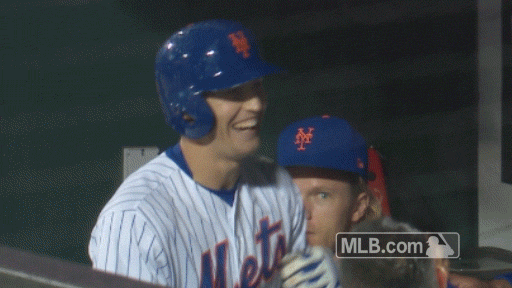 Brandon Nimmo was surprisingly one of the best hitters in all of baseball last year despite getting nowhere near as much fanfare as his contemporaries. Producing at nearly 1.5 times the major league average rate, Nimmo was the best Mets hitter and had the best fWAR among their position players at 4.5 — 50% higher than Michael Conforto's 3.0.
Nimmo achieved this for a couple of reasons, with the first being walks. His walk rate of 15% also ranked in the top 10 in baseball and is very promising going forward. Walking a ton ensures a hitter doesn't have a terrible season. Balls in play can be unlucky, but walks are a commodity that pays no heed to luck.
Speaking of luck, Nimmo was lucky when it came to his balls in play last year. His BABIP of .351 was the 14th best out of 140 qualified hitters.
I'm going to get really dorky on you for this next stat …
His xwOBA, which Statcast calculates by factoring in quality of contact, strikeouts and walks, was .037 higher than his actual wOBA — the 16th luckiest differential out of 313 players with at least 250 plate appearances.
As I said, he walks a lot, but he also strikes out a lot. Especially for someone who isn't mashing home runs. In fact, he's more of a ground ball hitter, which helped him achieve that high BABIP.
Nimmo's a good hitter, but expect his production to drop this season.
Pitcher to Watch: Zach Wheeler
After missing all of 2015 and 2016 thanks to Tommy John surgery, Zack Wheeler had an ugly return to baseball in 2017 with an ERA north of 5.00.
However, he put those troubles behind him last year and had perhaps his best season yet. With an average heater of 96.56 mph, the best of his career, Wheeler pitched to a 3.31 ERA over 182.1 innings. A 2.71 BB/9, more than a full walk less than his career average, really helped him out with that.
His second half was really incredible, though. In 75 innings, his ERA was a mere 1.68 and his walks per nine dropped to 1.8. deGrom-esque.
Wheeler will turn 29 in May and hits free agency next year. With deGrom and Syndergaard yet to get paid, Wheeler may be entering his final season in New York. Given the Mets' offseason transactions, it's clear that they want to contend now. Wheeler could make the front of this rotation an absolute three-headed monster if he can carry over his success from last year.
Summary
I believe the Mets can hit, but not everyone is in the same boat as me. Fangraphs' current projections have them as the 3rd-lowest scoring team in baseball, which seems strangely low. Even if Cespedes is out for the season or hardly plays, they have at least five above-average hitters in their lineup. Their top prospect Pete Alonso should also factor in and provide some power that they'll miss with Cespedes.
As for their arms, their top three starters, setup man and closer are potentially the best group in baseball.
What will make or break them is the rest of their staff. Steven Matz was highly touted and performed well when he first came up a few years back, but has had two consecutive underwhelming seasons.
Robert Gsellman and Seth Lugo, who will probably combine for a couple hundred innings, have also both pitched to a wide range of results over the past few seasons.
As I said, I like the Mets this year. From what I can tell, rooting for the Mets can be fairly miserable, but I'm ready to join the party.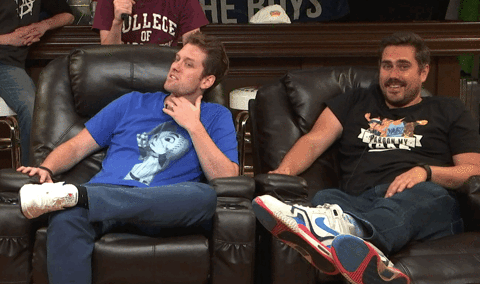 All odds via Westgate SuperBook as of Feb. 25
Transactions accurate as of Mar. 25. Free agents deemed subtractions until they re-sign
Advanced data via Fangraphs.com, prospect ratings via MLB.com, prospects in prospect watch expected to be MLB-ready in 2019
How would you rate this article?