New York Yankees 2019 Betting Odds, Preview: Yankees Well-Positioned to Reign Supreme in AL East
Credit:
Kim Klement-USA TODAY Sports. Pictured: Gary Sanchez and Giancarlo Stanton.
The Yankees won 100 games last year, but fell short of their rivals in Boston in both the regular season and in their playoff series.
New York responded with a productive offseason, acquiring a front-end lefty in James Paxton, another elite reliever in Adam Ottovino and two infielders who could make solid contributions in DJ Lemahieu and Troy Tulowitzki.
They are lined up to have another record-breaking offensive season, especially if Gary Sanchez isn't exceptionally unlucky again, and have value to win the AL East given their resources and lack of weak spots.
Original analysis published on Feb. 18. 
The Bronx Bombers dropped bombs in 2018, setting an MLB record with 267 jacks in a season. Their 100 wins weren't too shabby, either. But, their storied rival won eight games more than that and the World Series.
As far as the future is concerned, the Yankees should have the edge — at least in my opinion. As bettors, we don't really care about what's going to happen in 2020 or 2022, though. It's all about 2019…and I'll argue the Yanks have the edge this year, too.
2018 Results
Record: 100-62 (-2.1 units), 83-78 ATS (-0.2 units)
Over/Under Record: 78-77-6
Preseason World Series Odds: +620
Win Total: 94.5
Most Profitable Starter: Luis Severino (24-8 +3.6 units)
Due to suspended game completed at a later date, not all records add up to 162 games
Though they hit the century mark, the Yankees were not a profitable team to bet on last year. Since they are wildly popular, especially among casual fans and bettors, their lines are often shaded by the books.
Seeing as they were often around -200 on the moneyline or even higher, it was nearly impossible to make substantial profits on them over the course of the season unless you were really good at picking your spots.
They began the season among the World Series favorites and eclipsed their win total, but were overshadowed by the Red Sox. This season's preseason odds are looking mighty similar…
2019 Odds
World Series Odds: +600
Division Odds: -125
Win Total O/U: 96.5
Playoff Odds: Make -800, Miss +550
The Yankees remain one of the top World Series contenders this year and are currently tied with the Astros as preseason favorites.
Put them in the AL Central and they'd be -1000 to take home the division, but they'll likely be in a tight race with the Red Sox throughout the year.
I'm curious to see if bettors will bite on them at -125 to win their division at the Westgate or if Boston (+105) bettors swing the odds towards the Red Sox.
---
>> Sign up for The Action Network's daily newsletter to get the smartest conversation delivered into your inbox each day.
---
Roster Notes
Additions: James Paxton, Troy Tulowitzki, D.J. Lemahieu, Adam Ottovino, Mike Tauchman, Gio Gonzalez (minors), Drew Hutchison (minors), Billy Burns (minors), Danny Farquhar (minors)
Subtractions: Andrew McCutchen, Lance Lynn, David Robertson, Sonny Gray, Ronald Torreyes, Justus Sheffield, Neil Walker, Adeiny Hechavarria, A.J. Cole
Potential Lineup

Brett Gardner – CF
Aaron Judge – RF
Giancarlo Stanton – LF
Gary Sanchez – C
Luke Voit – DH
Gleyber Torres – 2B
Miguel Andujar – 3B
Greg Bird – 1B
Troy Tulowitzki – SS

(DJ Lemahieu utility infielder)
Projected Rotation

Luis Severino (Injured)
Masahiro Tanaka
James Paxton
J.A. Happ
CC Sabathia (Injured)
Domingo German
Luis Cessa

Prospect Watch: Jonathan Loaisiga (No. 66, RHP), Trevor Stephan (Unranked, RHP), Michael King (Unranked, RHP)
Key Injuries: Luis Severino (Shoulder, May), Didi Gregorius (Tommy John, mid 2019), Dellin Betances (Shoulder, TBD), Aaron Hicks (Back, early April), Jordan Montgomery (Tommy John, mid 2019), CC Sabathia (Heart, mid April), Ben Heller (Tommy John, mid-late 2019), Jacoby Ellsbury (Foot, early 2019)
MVP Candidates: Aaron Judge (+1000), Giancarlo Stanton (+2500), Gary Sanchez (+3000), Gleyber Torres (+5000), Miguel Andujar (+6000), Aaron Hicks (+10000)
Cy Young Candidates: Luis Severino (+700), James Paxton (+1800), Masahiro Tanaka (+2500), J.A. Happ (+4000), Aroldis Chapman (+30000)
Analysis
Player to Watch: Gary Sanchez
El Gary — The Gary, for those who don't habla Espanol — is coming off a rough year at the plate. The recently-turned-26 catcher burst onto the scene in 2016 by smoking dong after dong, finishing with 20 in just 53 games.
His 2017 season wasn't as Ruthian, but he still put up 33 dingers and a 129 wRC+. Last season featured some long balls, but not much else. He hit just .186, but did manage to salvage an 89 wRC+ thanks to a career high walk rate.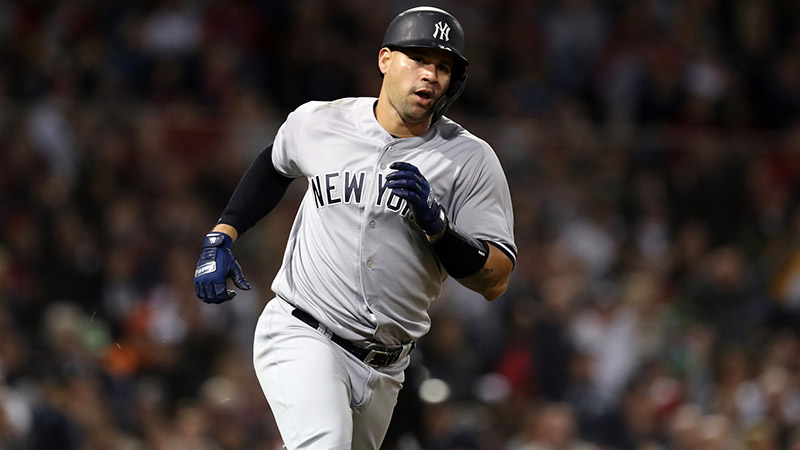 A 89 wRC+ isn't atrocious for a catcher, but it's definitely not what they were expecting from the young slugger.
Why did he hit just .186, though? Because his batting average on balls in play was .197 — second lowest out of 278 hitters with 300+ plate appearances. It had been slightly above .300 in his previous two seasons, which is a number we can expect for someone who hits the ball hard.
That bad luck is unsustainable and I can guarantee it turns around to at least some degree next year. The Yankees put up 5.25 runs per game last year and broke the all-time record for home runs in a season. Imagine what they can do if Sanchez can return to form.
Pitcher to Watch: James Paxton
The Yankees made an early statement this offseason by landing James Paxton — perhaps the best arm to switch uniforms this winter. Over the past three years in Seattle, Paxton has had the 14th best fWAR among pitchers and 5th best FIP — a stat some baseball nerds like myself prefer to ERA.
That was in Seattle, though. Sure, the AL West has been tough — especially last year with Houston and Oakland both winning more than 95 games — but it's quite a different environment from New York. Mentally and physically.
The scrutiny will be much worse if he fails to perform up to expectations, and it will be hard to live up to the hype. In his career, his ERA is nearly a full run lower at the pitcher-friendly ballpark formerly known as Safeco Field than on the road.
I certainly don't expect this to turn into a Sonny Gray scenario because I honestly thought Gray was somewhat of a fraud to begin with, but it'll be a challenging change for the 30-year-old southpaw.
Summary
Last season belonged to the Red Sox. They had the "it" factor. Every player they acquired made a positive impact. Though it lacked big names other than Craig Kimbrel, even their bullpen was even lights out.
The Sox did need a bit of luck on their side to reach their franchise-record 108 wins, though. It'd be hard not to be lucky and win that many games.
They essentially brought in no new names this offseason. Meanwhile, the Yankees have been bolstering their roster to catch their enemy. And they are very well positioned to do so.
Boston may not be concerned about its bullpen, but it should be. Meanwhile, there are no glaring holes or needs that New York has.
Their lineup should once again put up record-breaking numbers, their rotation is solid and their bullpen is elite.
If Boston does not re-sign Kimbrel, which they probably won't, there are potentially five relievers on the Yankees that are better than any reliever the Sox have.
They also have more trade chips remaining that they can use at the deadline than Boston has, which gives them the edge if the AL East race is tight.
You should note that I am a Red Sox fan, by the way. You can see a bit of my Red Sox jersey poking out in my mugshot at the top of the page.
This is painful for me to do, but I must view this and everything else I write in an objective fashion considering folks will be risking their money based on what I say.
I do hate to admit it, but the Yankees are primed to win the division this season and I have bet on them to do so. Who knows what'll happen come October, but this is still a 100-win roster and I don't believe Boston's is.
All odds via Westgate SuperBook as of Feb. 17
Transactions accurate as of Mar. 24. Free agents deemed subtractions until they re-sign
Advanced data via Fangraphs.com, prospect ratings via MLB.com, prospects in prospect watch expected to be MLB-ready in 2019
How would you rate this article?