Pittsburgh Pirates 2019 Betting Odds, Preview: Buckle Up For A Bumpy Season, Buccos
Credit:
Adam Hagy-USA TODAY Sports. Pictured: Pirates manager Clint Hurdle.
The Pirates won 82 games in 2018, but struggled against teams that weren't terrible.
One player Pittsburgh will be expecting to produce is Chris Archer, who cost them two valuable young assets last year.
Given their challenging division and lack of offseason acquisitions, expect Pittsburgh to go under their win total of 77.5.
Original analysis published on Feb. 27.
The Pittsburgh Pirates have had an up and down decade, seemingly always hurt by the fact that their division has been so competitive.
They've dropped off a bit since the end of the Andrew McCutchen/Gerrit Cole era, though, and don't have much of identity entering the 2019 season. They might be a decent team on paper, but the Pirates will be dealing with the fact that their division is as good as it's ever been. Even the Reds, who they trounced last year, are going to be competitive.
Even though the Pirates went from 75 wins in 2017 to 82 in 2018, expect them to take a step back.
2018 Results
Record: 82-79 (+2.2 units), 80-81 ATS (-12.4 units)
Over/Under Record: 72-81-8
Preseason World Series Odds: 150-1
Win Total: 74
Most Profitable Starter: Jameson Taillon (20-12, +5.5 units)
The 2018 Pirates: Not bad. Not good … kind of boring.
Even though they went over their win total by eight games, they were just barely profitable. That's probably because they really beat the hell out of some of the league's worst. The Pirates went 30-7 against the Reds, White Sox, Royals, Tigers and Marlins. Everyone else? 52-72.
2019 Odds
World Series Odds: +10000
Division Odds: +1800
Win Total O/U: 77.5
Playoff Odds: Make +425, Miss -600
Pittsburgh will field essentially the same club as it did last season as the Pirates added only a couple pieces. Meanwhile, Josh Harrison and Jordy Mercer — two staples of the club over the past several seasons — are both out of the picture.
They're expected to regress by a handful of games per the oddsmakers, but I think they'll fail to go over their win total. That's right: Book that under 77.5.
As I mentioned, the Pirates beat the hell out of terrible teams last year, but there's going to be less of an opportunity for them to do that in 2019. Teams are getting better. The Pirates don't get to play the dreadful AL Central teams again. And other than the Marlins, and maybe a couple of teams in the west, every team in the National League has a chance to be competitive.
The Pirates, who aren't particularly good in any area of the game, will struggle to keep up in this evolving landscape.
Roster Notes
Key Additions: Lonnie Chisenhall, Jordan Lyles, Erik Gonzalez, Aaron Slegers, Jake Barrett, Francisco Liriano (minors), Melky Cabrera (minors), JB Shuck (minors), Brandon Maurer (minors), Rookie Davis (minors), Nick Franklin (minors)
Key Subtractions: Josh Harrison, Jordy Mercer, Ivan Nova, Jordan Luplow, Max Moroff, Tanner Anderson
Potential Lineup

Adam Frazier – 2B
Starling Marte – CF
Corey Dickerson – LF
Josh Bell – 1B
Francisco Cervelli – C
Jung Ho Kang – 3B
Lonnie Chisenhall – RF
Erik Gonzalez – SS

Projected Rotation

Jameson Taillon
Chris Archer
Trevor Williams
Joe Musgrove
Jordan Lyles

Prospect Watch: Mitch Keller (No. 19, RHP), Ke'Bryan Hayes (No. 46, 3B), Cole Tucker (Unranked, SS), Kevin Kramer (Unranked, 2B), Bryan Reynolds (Unranked, OF)
Key Injuries: Gregory Polanco (Shoulder, early-mid 2019), Chad Kuhl (Tommy John, out for season), Edgar Santana (Tommy John, out for season)
MVP Candidates: Starling Marte (+5000)
Cy Young Candidates: Chris Archer (+4000), Jameson Taillon (+5000), Joe Musgrove (+10000)
Analysis
Player to Watch: Josh Bell
With just 157 home runs last year, the Pirates ranked 25th in the league. When your 6-foot-4, 235-pound first baseman hits only 12 in nearly 600 plate appearances, you can see how that would happen.
The 26-year-old switch hitter has posted an above-average wRC+ in each of his first three seasons, but after breaking out in 2017 with 26 homers, he failed to reach even half that number last season.
Thanks to his high walk rate of 13.2%, Bell was able to be an all-around successful hitter. However, you want that middle of the order bat driving the ball and driving in runs.
Something that isn't an advisable approach for all hitters, but is for Bell in my mind, is to look to the launch angle.
If you read my Indians preview, I wrote about how Jason Kipnis should stop trying to lift the ball because he's just not strong enough. Bell is strong enough, but all he does is hit ground balls.
In each of his three seasons, Bell's ground ball rate has been between 48.5% and 51.1%. Last year was the 48.5%, so I suppose it's trending in the right direction, but I think it'd do him well to drop that below 40%.
Not an overnight fix, but something to keep an eye on this year.
Pitcher to Watch: Chris Archer
In something of a surprising trade last summer, Chris Archer was dealt to the Pirates for Tyler Glasnow and Austin Meadows — an odd trade for a team like the Pirates to make, in my opinion.
Now they have Archer, who could very well be their best pitcher this year.
Archer truly broke out in 2015 when he struck out 10.7 batters per nine en route to a 3.23 ERA. He's been fairly disappointing since, however, posting an ERA north of 4.00 in each of the past three seasons, topping out at 4.31 last year.
Archer's strikeout rate also dropped below 10 per nine for the first time since that breakout season, though he did get it back up there in his 52.1 innings with the Pirates.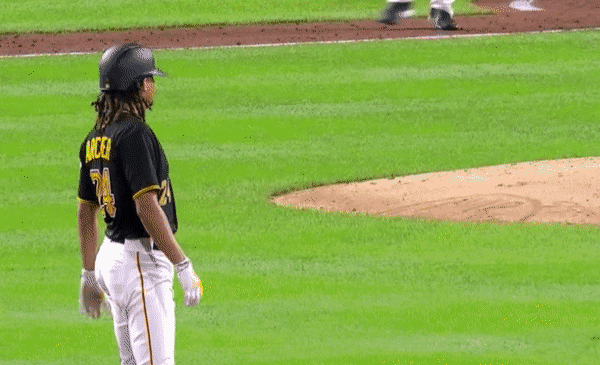 In my mind Archer is still a scrappy youngster, but the man is now 30 years old. What will make or break him is his strikeout ability. He needs to keep it high, because when batters make contact, they've hit the ball hard. Over the past two seasons, Archer's hard-hit rate of 39.4% is the highest of 48 qualified pitchers and his soft-hit rate of 14.7% is the lowest.
If he's walking around three batters per nine and the Ks drop off, his ERA will continue to linger around 4.00.
Summary
You probably know my feeling by now, but I don't like this team.
Their lineup is weak, unappealing and will be easily navigated by opposing pitching staffs. Their ace, Jameson Taillon, is not an ace in my mind and is often overrated by the baseball community. And their best hitter, Gregory Polanco, hasn't been able to stay healthy and is already set to miss the first month or so of the season. Even their bullpen is pretty mediocre other than their closer, Felipe Vazquez.
Here are a couple of things positive things, though.
Remember Jung Ho Kang? Not exactly a role model, Kang was finally back with the Pirates at the end of last season and could make an impact this year. In 2015 and 2016, he posted an OPS of .838 and hit 36 home runs over 229 games. His pop is something this lineup could certainly use.
They're also awaiting the arrivals of Mitch Keller and Ke'Bryan Hayes — two top-50 prospects. The former is a hard-throwing right handed starter, while the latter is solid all-around third baseman. Both are expected to get called up at some point in 2019, but you never know how much of an impact prospects will make.
Though it's possible the Pirates remain a middling ballclub, bank on them to have trouble in the deepest division in baseball.
All odds via Westgate SuperBook as of Feb. 25
Transactions accurate as of Mar. 25. Free agents deemed subtractions until they re-sign
Advanced data via Fangraphs.com, prospect ratings via MLB.com, prospects in prospect watch expected to be MLB-ready in 2019
How would you rate this article?