MLB RBI Props
It seems to easy for baseball's best hitters to post an RBI in a single game. There's just no way Paul Goldschmidt should be +140 to drive in a run, right? He's been crushing the ball this year.
The truth is that RBIs tend to come in bunches, and even the best hitters don't drive in a run in more than half their games.
Our tool compares RBI props at all legal sportsbooks to make sure you're getting the best price.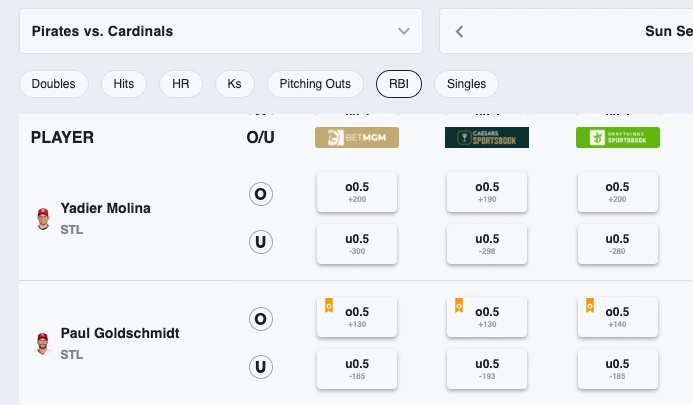 Because games in which RBIs occur for a single player are pretty rare, you're always getting plus-money on over 0.5 RBIs.
As of mid-September, Goldschmidt had RBIs in 51 of the 133 games he played. That's just 38% of the time.
That's why DraftKings prices him at +140 to bat in a run. When converted to probabilities, it's about 41%, so you're not getting a great line here. The books are applying a big house edge.
RBI Prop Payout Examples
Let's say you bet Paul Goldschmidt to get an RBI against the Pirates.
Gets an RBI at +140: $10 wins $14
Doesn't get an RBI: $18.50 wins $10
You'll notice a big gap between the two payouts -- that's the edge the sportsbook is building in.