MLB Singles Props
| Player | Best Odds | | | | | | | | |
| --- | --- | --- | --- | --- | --- | --- | --- | --- | --- |
| | | | | | | | | | |
| | | | | | | | | | |
| | | | | | | | | | |
| | | | | | | | | | |
| | | | | | | | | | |
MLB singles props are not available at every sportsbook -- some just have hits -- but they can be a fun way to back a contact hitter or fade players at the bottom of a lineup.
Depending on the player's ability, his spot on the lineup and the opposing pitcher, single lines will vary. For Nolan Arenado against the Pirates, it was -125 at BetMGM -- implying he'll hit a single about 55% of the time.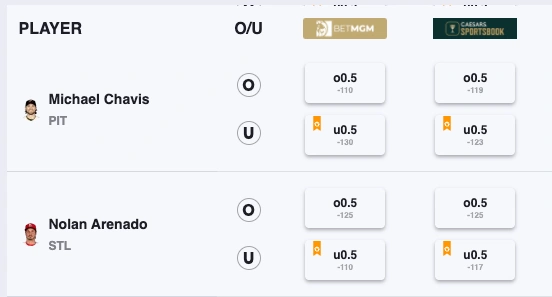 Arenado has a single in just 47% of his games this year (61 of 129) so you're not getting a great line based solely on past performance. But things like opposing pitcher and lineup order also matter.
MLB Singles Prop Example
Here's an example payout from a single props.
Arenardo is listed at -125 to get a single and -110 to not get a single at BetMGM.
If he gets a hit: $12.50 wins $10
If he doesn't get a hit: $11 wins $10
Because these markets are less efficient and harder to price, you're paying a larger vig to the sportsbook.