Wednesday MLB Betting Picks & Predictions: Nationals vs. Phillies, Tigers vs. Brewers, Indians vs. Royals (Sept. 2)
Credit:
Scott Winters/Icon Sportswire via Getty Images. Pictured: Hunter Dozier
With the exception of Oakland and Seattle, every MLB team will be in action Wednesday night, weather permitting.
Our experts found value in three games: Phillies vs. Nationals, Brewers vs. Tigers and Royals vs. Indians.
Read our staff's full list of best bets for Wednesday night's MLB slate below.
Save for the postponed Oakland-Seattle series, every team will be in action tonight (weather permitting), meaning there's plenty to pick apart on the odds board.
Our baseball crew has done just that, landing on the following three plays as our top spots for Wednesday night.
---
Advanced Stats Glossary
FIP or Fielding Independent Pitching measures what a pitcher's ERA would look like if the pitcher experienced league-average defense and luck. xFIP is a regressed version of FIP that adjusts or "normalizes' the home run component based on park factors.
wRC+ or Weighted Runs Created Plus takes the statistic Runs Created and adjusts that number to account for critical external factors — like ballpark or era. It's adjusted, so a wRC+ of 100 is league average, and 150 would be 50 percent above league average.
wOBA or Weighted On-Base Average is a catch-all hitting metric with more predictive value than on-base percentage. An average MLB hitter can be expected to post a .320 wOBA. xwOBA is a regressed version of wOBA that accounts for variables like park factors.
---
Collin Wilson: Phillies Moneyline (+108) vs. Nationals
So much of baseball handicapping is price point. When the Dodgers, for example, reach -350 over an inferior opponent, it's generally well over the projected value for the starting pitchers listed.
The game between the Phillies and Nationals follows much of the same ideology around price point, as Max Scherzer often has posted odds well ahead of his true market value. Zach Wheeler deals for the Phillies, and the righty has had a fantastic 2020, giving up three earned runs in just one of his six starts this season.
One of the reasons Wheeler has had so much success is his ability to generate ground balls: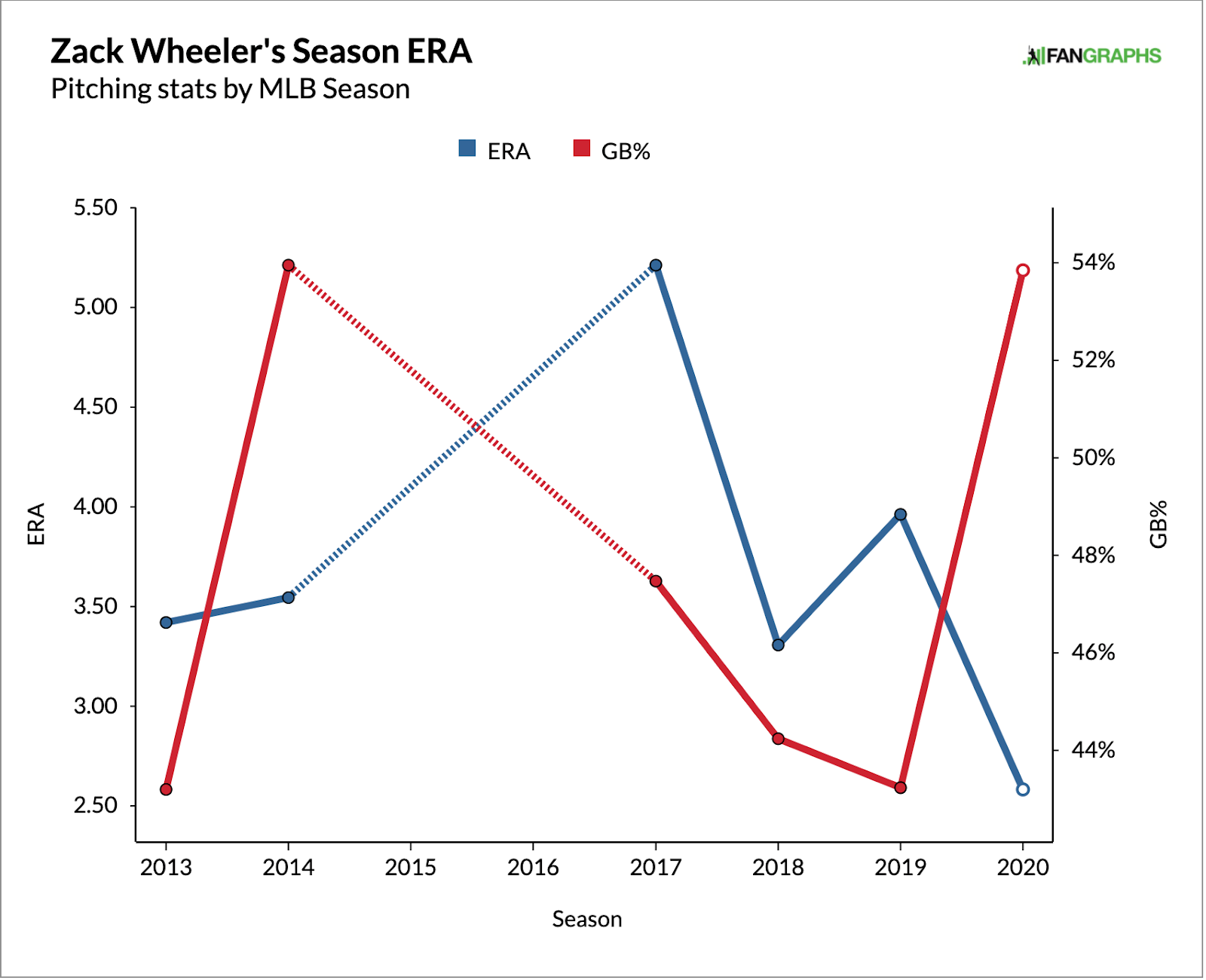 The Nationals offense is also fourth in the league at generating ground balls against right-handed pitching.
While Wheeler spins chops into the turf, Scherzer is looking to continue recovery from his two-game stint against the Marlins and Orioles on Aug. 16 and Aug. 22 that produced nine earned runs through 11.2 innings pitched. The Phillies, however, are eighth in wRC+ and have the lowest strikeout rate of any team against right-handed pitching in MLB.
[Bet the Phillies at +130 with a 20% profit boost at Parx]
Danny Donahue: Brewers Moneyline (-165) vs. Tigers
It's easy to understand how the Tigers have landed the majority of bets tonight. Six games ago, I wouldn't have been able to say that, but after stringing together six straight wins — against the Cubs, Twins and Brewers, no less — how can you pass up on a +150 payout against the same Brewers team they just beat, 12-1?
Now, I'm not here to tell you why the Brewers (16-19 vs. Detroit's 17-16) are up in the -160 range tonight. Instead, I'm here to give some context to the number, and share with you what happens when a favorite sees the line move in its direction despite a heavy backing of the opposing side.
First I should mention that's exactly what's happening here, as the 36% of bettors on Milwaukee have been enough to push this line from openers around -150 up to the current -165.
Historically speaking, that's been quite the recipe for profit.
Since 2005, when a team has opened at -120 or higher, and seen its line grow by at least 10 cents on less than 40% of bets, that team has gone 99-35, raking in 30.1 units for a 22.5% return on investment.
It's certainly possible that the Brewers could climb outside the 40% threshold, which would bring the system to a slightly less profitable output. But you get the idea — when books are basically encouraging their customers to load up on the side with a higher payout, they usually know what they're doing.
BJ Cunningham: Royals Moneyline (+145) vs. Indians
Triston McKenzie has been fine through his first two starts in the big leagues, allowing three earned runs on five hits in 10 innings of work. He missed all of the 2019 season after having Tommy John surgery, so he does not project out well. His ZIPS projections have him at a 5.53 ERA and 5.07 FIP, which are below average.
His main weapon is his fastball sitting at 94 mph, but it's straight as an arrow, so he needs to be on point with his location for it to be effective. The Royals have improved offensively over the past week, hitting 10 home runs, which has led to a .322 wOBA and 100 wRC+ — higher than their season average. Additionally, most of Kansas City's success this season has come against fastballs, so McKenzie is going to have to be on point with his location Wednesday night.
Jakob Junis hasn't been great through his first three starts, but his fastball has been fantastic, allowing only a .192 wOBA to opponents. His xFIP is well above his career average, but he's pitched only 12.2 innings so far, so he's most likely going to improve slightly moving forward. The Indians have struggled mightily against fastballs and sliders this season. Those happen to be Junis' main two pitches, so he'll have a good matchup on Wednesday.
I have the Royals projected at +112 today, so I think there is some value on them at +145 tonight.
How would you rate this article?