Wednesday MLB Playoff Betting Picks: Marlins vs. Braves, Astros vs. Athletics, Yankees vs. Rays (Oct. 7)
Credit:
Todd Kirkland/Getty Images. Pictured: Masahiro Tanaka.
In what could be the final 4-game MLB slate of 2020 (unless the A's can fight off a sweep), our staff is taking advantage of the few remaining daytime starts.
Starting with a pair of picks for the Marlins-Braves Game 2 matinee, we've got plays up through tonight's all-important Yankees-Rays Game 3, with that series tied at a game apiece.
Below you'll find how we're attacking Wednesday's slate.
---
Advanced Stats Glossary
FIP or Fielding Independent Pitching measures what a pitcher's ERA would look like if the pitcher experienced league-average defense and luck. xFIP is a regressed version of FIP that adjusts or "normalizes' the home run component based on park factors.
wRC+ or Weighted Runs Created Plus takes the statistic Runs Created and adjusts that number to account for critical external factors — like ballpark or era. It's adjusted, so a wRC+ of 100 is league average, and 150 would be 50 percent above league average.
wOBA or Weighted On-Base Average is a catch-all hitting metric with more predictive value than on-base percentage. An average MLB hitter can be expected to post a .320 wOBA. xwOBA is a regressed version of wOBA that accounts for variables like park factors.
---
BJ Cunningham: Braves -1.5 (-103)
Odds available at DraftKings [Bet Now]
First pitch: 2:08 p.m. ET
Pablo Lopez has been a solid starter for the Marlins this year. He's posted a 3.63 ERA and a 3.71 xFIP while allowing only a .227 average to opposing hitters. However, he's essentially the same pitcher as Sandy Alcantara, whom the Braves saw yesterday.
His secondary pitches have been very effective, as his changeup, sinker and cutter have combined to allow a .231 average to opponents this season. He'll have to utilize his secondary pitches often, as the Braves have been the best team against fastballs this season.
Atlanta had the best offense in baseball during the regular season, and it showed why in Game 1. It led MLB in wOBA at .355 and maintained that over the last two weeks of the season at .354.
The Braves have the best 1-2-3 hitters in baseball. Ronald Acuna, Freddie Freeman, and Marcell Ozuna have combined for 45 home runs, 138 RBIs, and all have a wOBA over .400 this season. Additionally, the Braves were the best team in MLB against right-handed pitching with a .363 wOBA, so Pablo Lopez is going to have his hands full trying to get through this lineup in Game 2.
Ian Anderson has been a fantastic surprise for the Braves' rotation. The 22-year-old showed why he was the third-overall pick in 2016, posting a 1.95 ERA through his first six starts.
Anderson's arsenal starts with a really nice fastball that can top out at 96 mph with good downhill movement. He then has a power curve that can be a solid pitch for him, as it's producing a 40.5% whiff rate. Where Anderson really has been excelling, though, is with his changeup. The pitch has been almost unhittable. He's allowed only a .104 average to opponents and produced a 39.4% whiff rate.
Anderson pitched six shutout innings in Game 2 against the Reds and should be able to handle this Marlins lineup that struggles against right-handed pitching.
Atlanta's offense is too much of a juggernaut right now for Lopez and the Miami bullpen to handle. I have the Braves' margin of victory projected at -1.90, I'm going to back their run line of -1.5 at -103 again in Game 2.
[Bet the Braves at PointsBet and win $125 if they get a hit. Seriously.]
Danny Donahue: Marlins vs. Braves Under 8.5 (-105)
Welcome to Overreaction City.
After a 14-run output from these two offenses in a game that featured Max Fried and closed with a total of 8, today's total — in a game that does not feature Max Fried — opened at … 8.5.
Ya think bettors might like the over?
Sure enough, less than 3 hours from first pitch, we're still tracking 83% of bets landing on the over. Big bets from sharps, however, along with a PRO betting system, are going the other way. Just take a look at our PRO Report:

While the under is getting just 17% of bets, it's generating 40% of actual money as of 11:25 a.m. ET. That means the bigger, probably sharper, bettors aren't falling for a one-game sample.
To be fair, I did miss the boat on the under when it reached 9, which is where sharps struck hardest. But with a contrarian-based PRO System — which records only closing numbers — still lit on the under, it's pretty clear that the approach here is under or nothing.
And I prefer not nothing.
Michael Arinze: Astros-A's First Inning Under 0.5 (+100)
The Oakland Athletics are fighting for their playoff lives and they'll send Jesus Luzardo to the mound in a critical Game 3 start. The Oakland left-hander has had success in the first inning of games this season, as in 10 starts, he's given up a first inning run on just three occasions. Luzardo was Oakland's Game 1 starter in the Wild Card Series and he navigated a tough Chicago White Sox lineup in the early going. Houston has been weaker when facing left-handers when you compare their .232 AVG / .299 OBP / .403 SLG slash line to .244 AVG / .318 OBP / .410 against righties.
As a team, Oakland has held Houston scoreless in the first inning in this series and Houston is also 4-0 to the under in all their postseason games this season.
Battling Luzardo will be right-hander Jose Urquidy for the Astros. Urquidy was a key part of the Astros postseason run last year so he already has tremendous experience from which to draw. He got the start a week ago in Houston's Game 2 win over the Minnesota Twins and pitched a clean first inning. In fact, in seven starts, Urquidy has yet to surrender a first-inning run this season.
I like his chances against an Athletics team that in 35 at-bats against him has only managed three hits. Oakland batters have a .097 AVG / .200 OBP / .290 SLG slash line against him and they've scored in the first inning only once this postseason due to an error by the White Sox.
PointsBet is offering a first-inning under at +100 and I think that's well worth a look for Game 3.
Sean Zerillo: Rays Moneyline (+116) vs. Yankees
The Rays staff (and the Yankees lineup) set the postseason record with 18 strikeouts on Tuesday, as Tyler Glasnow and the Tampa Bay bullpen secured a sweaty win, evening this best-of-five series at one game apiece.
I made the Rays a 56% series favorite before Game 1, and I revised that projection to 54% before Game 3. I would now look to bet Tampa Bay at even money or better to win the series. 
I'm not personally looking to add more on their series line, however; holding a +130 ticket from before Game 1.
However, I project the Rays as -107 Game 3 favorites, and I would play their moneyline to +106 (implied 48.5%) or better, which represents more than a 3% edge relative to my projection.
In 2020, Charlie Morton finished with his worst FIP (4.01) since 2012, but he dealt with an early-season velocity dip, was placed on the IL in August, and mostly returned to form in September (25 K, 6 BB in 21.1 IP):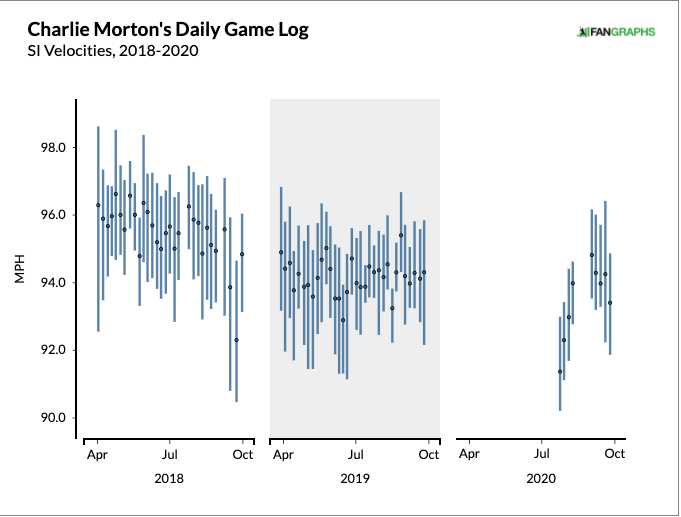 Morton's September velocity (93.9 mph) was still a half-tick below his 2019 average (94.4 mph), which declined from his 2018 season (95.7 mph), but his plate-discipline metrics have remained very consistent; the pitches are just returning off the bat a little bit harder than they were previously.
Masahiro Tanaka's metrics held fairly consistent with his own 2019 season, seeing slight improvements in his xFIP (4.29 to 4.19) and xERA (4.41 to 4.01), without a full regression to his peak form (3.43 xFIP from 2017-2018).
Tanaka's swinging-strike rate (14%) did rebound from a down 2019 season (10.7%) while regressing towards his career average (12.6%) and figures from both the 2017 (15.1%) and 2018 (14.1%) seasons.
In 2020, batters swung less frequently on his pitches outside of the zone, but they also made significantly less contact (-13.2%) relative to 2019, while also making less contact (-3.4%) on pitches inside the zone too.
Tanaka has elite command, ranking in the top 10% of starters for walk rate allowed during each season in MLB.
This is a tight matchup, but I have Morton rated around 0.08 runs better than Tanaka per nine innings, and despite the Rays' heavy bullpen usage through two games, none of their relievers worked consecutive days.
Per my projections, the Rays should once again be a slight favorite, and you can continue to bet them at plus-money.
[Bet the Rays at PointsBet and win $125 if they get at least 1 hit.]
Mike Vitanza: Yankees Moneyline (-127) vs. Rays
The Yankees offense is firing on all cylinders and will be taking on a starter in Charlie Morton that hasn't thrown in 12 days. While the bullpen for the Rays would typically be a massive advantage, it was forced to burn three of its best arms last night in relievers Diego Castillo, Nick Anderson and Pete Fairbanks.
Masahiro Tanaka is one of the best pitchers in postseason history, and I like him to get the Yankees back on track and take an important 2-1 series advantage on Wednesday night. The Yankees will also have the core of their bullpen in Zach Britton and Aroldis Chapman available in the later innings to seal this one down. Chapman hasn't pitched since Sept. 30 in Game 2 of the Wild Card round, so he could also be available for multiple innings if the Yankees need him.
The Yankees are -127 at FanDuel right now, a number that I'm very comfortable with given the above. I'm wagering a unit on the Yankees to take Game 3 and the series advantage against the Rays. I like them up to -130.
How would you rate this article?