UFC 237 Main Event Betting Preview: Rose Namajunas meets Jessica Andrade in Brazil
Credit:
Dennis Schneidler-USA TODAY Sports. Pictured: Rose Namajunas (Red Gloves).
The main event of UFC 234 is a UFC Women's Strawweight Championship bout between champion "Thug" Rose Namajunas (+100) and No.1 ranked Jessica Andrade (-125).
The challenger Andrade is the favorite in this fight, which is taking place in her native Brazil.
UFC 237 Betting Odds: Rose Namajunas (c) vs. Jessica Andrade
Rose Namujunas (c.) (+100)
Jessica Andrade (-125)
Fight Time: 12:00 a.m. E.T.
Channel: PPV via ESPN+
As just the third champion in the history of the UFC women's strawweight division, Rose Namajunas is looking to make her second successful title defense at UFC 237. Namajunas won the title in a major upset over Joanna Jedrzejczyk and retained her title in the rematch.
This is Jessica Andrade's second title bout. Andrade lost to then-champion Jedrzejczyk via decision in May 2017. Since then, Andrade is 3-0. She's coming off a knockout victory over No. 10 ranked Karolina Kowalkiewicz last September.
The Champion's Path to Victory
Initially a member of The Ultimate Fighter (TUF) Season 20, Namajunas (9-3) lost her first shot at UFC gold via submission to Carla Esparza. Back when that fight took place in 2014, she was primarily a grappler. Her two professional wins and three TUF wins were all via submission.
Under the tutelage of Trevor Wittmann, Namajunas has since blossomed into arguably the best striker in the women's strawweight division.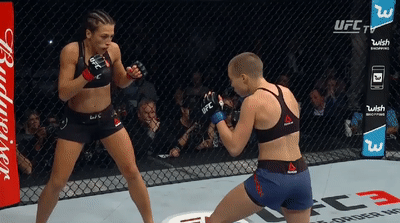 Namajunas prefers to strike at range. In her past three fights, she has landed 167 significant strikes, but only 3% (5/167) of those have been in the clinch. The champion's long frame and wide stance facilitate her high-volume approach. Namajunas attempts 9.07 significant strikes per minute, landing 41% of them.
The difference-maker in Namajunas's most recent fights has been her power. Namajunas dropped Michelle Waterson and Joanna Jedrzejczyk (in the first fight). In the second Jedrzejczyk fight, Rose was out-landed by Joanna (105 sig. strikes vs. 145) but won rounds by staggering the challenger multiple times.
Against Andrade, Namajunas will need to replicate the game-plan Jedrzejczyk utilized against the Brazilian. Joanna stayed on the back foot and out-landed Andrade 225 vs. 83. Rose has the same range tools (namely, a jab and head kicks) that Joanna used against Andrade. Joanna was focused on volume instead of hurting Andrade, and Rose should look to do the same.
In the strawweight division, Andrade has absorbed 489 significant strikes and has only been dropped once.  In the lone fight in which she was dropped, Andrade out-landed her opponent 131-89 and won every round on every judge's scorecard.
A core reason Namajunas should look to replicate Jedrzejczyk's strategy is the similarity in their frames. Both women have near-identical height and reach advantages over Andrade.
Namajunas could also look to utilize her grappling in against Andrade.
Namajunas has 59% takedown accuracy and averages 2.34 takedowns per 15 minutes.
50% (3/6) of Namajunas's UFC wins have been via submission.
50% (2/4) of Andrade's UFC losses have been via submission.
Andrade has become a formidable wrestler in recent years – she's attempted 29 takedowns in her last four fights alone – but relies on her insane power to finish. Namajunas may have openings for submissions when Andrade gets overly aggressive.
The Challenger's Path to Victory
After a 4-3 start in the bantamweight division, Jessica Andrade (19-6) dropped to strawweight and it has made a world of difference. In her new division, Andrade is 6-1. Her only loss is the aforementioned title shot against Jedrzejczyk.
Andrade's fighting style is built on her incredible strength, durability, and cardio. The Brazilian comes forward from the opening bell swinging powerful hooks. She lunges at her opponent, looking for the knockout with almost every punch.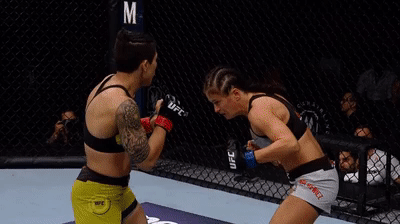 When she's able to corner her opponent, Andrade pursues the takedown relentlessly. She attempts 5.5 takedowns per 15 minutes and lands 58% of them. Andrade's takedowns utilize her strength; she lifts opponents and slams them rather than using more efficient techniques.
Andrade is not necessarily a technical striker. She's at her best in a high-volume brawl. While Jedrzejczyk was able to handle Andrade's volume, the numbers indicate Namajunas may not.
Keep in mind, Namajunas was out-landed by Joanna in the rematch. It was Rose's power made the difference. Andrade is more durable than Joanna and has arguably the most single-shot power in the division.
While Joanna was able to match Andrade's pace and usually has a substantial strike differential, Rose only lands at 57% the pace Andrade does. Moreover, Namajunas lands the same number of strikes as her opponents, but Andrade typically out-lands them by 1.54 significant strikes per minute.
Andrade may be able to exacerbate this issue by focusing on body work. Since the Joanna fight, Andrade has landed:
97 significant strikes total (32.3 per fight) to the body.
86% (97/133) of attempted body strikes.
Body shots will slow Namajunas down and make her more susceptible to Andrade's powerful hooks. Namajunas utilizes her footwork to stay at range. If Andrade can make Namajunas a more stationary target, we may see a new champion crowned on Saturday night.
The X-Factor: Bridging the Gap
The majority of this fight will take place on the feet; the striking battle will be won based on whether or not Andrade can successfully close the distance.
If the Namajunas can keep Andrade at length, her superior reach and range striking tools should win the fight. If Andrade is able to get in close and land repeatedly on Namajunas, that's best-case scenario for the Brazilian.
There are two key ways Andrade can help her chances. The first is leg kicks. The two rounds Namajunas lost to Joanna in the rematch saw Namajunas hobbled by leg kicks.
Namajunas absorbed 87% (57/62) of attempted leg kicks in the Jedrzejczyk rematch.
Andrade has landed 87% (34/39) of attempted leg kicks in her last five bouts.
The other skill-set Andrade needs to exploit is the clinch.
Andrade has landed 123 significant clinch strikes (24.6 per fight) over her last five fights.
Andrade has landed 59% (123/209) of attempted clinch strikes in her last five fights.
Namajunas has absorbed 70% (78/112) of attempted clinch strikes.
In her two losses, Namajunas absorbed 52 significant clinch strikes (26 per fight).
Current and Future Odds
This is the second consecutive title defense in which Namajunas is the underdog. Rose is 2-0 as an underdog in title bouts and 0-1 as a favorite.
The hometown favorite Andrade is the slight favorite for her second title shot. Per oddsmakers, this is Andrade's closest fight since fighting Larissa Pacheco in 2014.
Prediction
This is a very tough fight to call. The latest incarnation of Namajunas has consistently proven doubters wrong. Rose has all the tools to win a striking battle with Andrade and has proven she can handle championship rounds.
Since her first title shot, Andrade has improved with every fight and faces what should be a more forgiving style match-up this time around. Andrade has the physical tools to pressure Namajunas and with the right strategy can exploit Namajunas's weaknesses.
Ultimately, I'm going to pick the hometown challenger. I'm not sure what will happen inside the cage, but I know which fighter will get the benefit of the doubt if this goes to decision.
The Pick: Jessica Andrade (-125)
How would you rate this article?