UFC Fight Night 143 Betting Guide: Can TJ Dillashaw Become the Latest 'Champ-Champ'?
Credit:
Gary A. Vasquez, USA Today Sports. Pictured: TJ Dillashaw
UFC Fight Night 143 betting odds: TJ Dillashaw vs. Henry Cejudo
T.J. Dillashaw -210
Henry Cejudo +170
Time: Approx. 11:30 p.m. ET
Channel: ESPN+
---
>> Sign up for The Action Network's daily newsletter to get the smartest conversation delivered into your inbox each morning.
---
There will be plenty of action going down in the octagon this Saturday night at UFC Fight Night 143 from the Barclays Center in Brooklyn, New York.
Current UFC bantamweight champion TJ Dillashaw will make his 125-pound debut less than six months after he knocked out long-time rival and former-champion Cody Garbrandt, again.
Dillashaw's weight cut has been under a microscope considering how shredded he already is at 135 pounds. Still, his process has been called "the most intricately executed" weight cut in MMA history and is being fully supervised by world class mathematician Sam Calavitta.
There's also plenty weight controversy potential for our other competitor, as flyweight champion Henry Cejudo missed the division's 125-pound weight limit back in 2014 and is fairly large for the division in his own right.
It's nearly impossible to quantify what effect, if any, either fighter's weight cut will have on their performance. There's certainly a chance that we see a reduced version of Dillashaw in particular on Saturday night due to his non-existent experience in fighting at 125 pounds, but we'll just focus on both fighter's skills and potential paths to victory in this breakdown.
Saturday night will feature an exciting matchup between two exceptional competitors. Dillashaw has a slight edge statistically in striking, but Cejudo – a former Olympic gold medalist in wrestling – seems to have the grappling edge.
Let's break down some of the matchup's biggest questions and attempt to find some value with the odds.
How Can T.J. Dillashaw Win?
Dillashaw hasn't tasted defeat since he lost his belt to Dominick Cruz via split decision back in January, 2016. The decision was hotly debated, as many (including himself) believed Dillashaw had done enough to retain the belt.
The new-and-improved version of 'Killashaw' has been one of the better pound-for-pound fighters in the UFC. Dillashaw is the sport's premiere fighter at operating from either stance and possesses a devastatingly lethal array of weapons courtesy of his BANG muay thai training.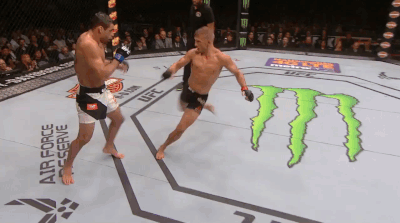 The undisputed Bantamweight champion has posted a higher average output of significant strikes than Cejudo and hasn't demonstrated any notable cardio issues during his time in the UFC.
Dillashaw's head coach Duane Ludwig has also game-planned against Cejudo before, as Ludwig cornered Dillashaw's former-teammate Joseph Benavidez during his split-decision victory over the current flyweight champion back in December, 2016.
Dillashaw's ability to keep the fight standing is his best chance at ending Cejudo's night early. However, it's the challenger's takedown defense that could make the difference between a dominant victory and a back-and-forth brawl.
It's tough to call Dillashaw anything but the underdog when it comes to wrestling against Cejudo, who captured the gold medal at the 2008 Olympic games in freestyle wrestling.
Still, MMA analyst and Bellator fighter Chael Sonnen has called Dillashaw the best mma wrestler in the sport, and it's tough to argue with him. It's historically been incredibly difficult to get Dillashaw on the mat.
It's worth noting that Dillashaw managed to quickly scramble back to his feet after each of Lineker and Cruz's respective takedowns. We've yet to see a fighter maintain control or inflict any harm on the ground against Dillashaw, as he's only absorbed 13 total significant ground strikes during his entire UFC career (per ESPN's Richard Mann).
Dillashaw's problems in the octagon have typically come from counter strikes and elite defense. Cejudo's striking seemingly gets better every time we see him perform, but his bread-and-butter will always be wrestling. Keeping the fight on the feet seems to be Dillashaw's best chance at adding the 125-pound strap to his collection.
How Can Henry Cejudo Win?
The UFC's flyweight champion earned his title with a split-decision victory over then pound-for-pound No. 1 Demetrious 'Mighty Mouse' Johnson. The fight took place the same night as Dillashaw's aforementioned second victory over Garbrandt, so both fighters are working with the exact same layoff.
Cejudo managed to drop and finish No. 6-ranked flyweight contender Wilson Reis back in September, 2017, but he's otherwise only won in the octagon by way of decision. Regardless, the gold medalist's endless supply of trips and takedowns have helped neutralize some of the best fighters the flyweight division has ever seen.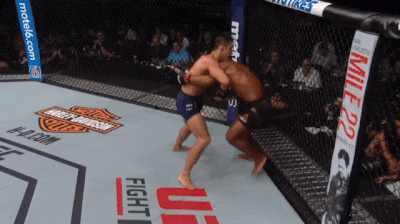 It'd be surprising to see Cejudo win this fight without controlling at least a decent portion of the action on the mat considering the flyweight champion has recorded multiple takedowns in five of his seven UFC wins.
Winning with a finish or by points on the feet isn't an impossible task for Cejudo, but that won't be easy against Dillashaw's never-ending volume of strikes. There's a reason why Cejudo became the youngest American to take home an Olympic gold medal in freestyle wrestling, and it seems unlikely he'll deviate from a grappling-heavy strategy just because of his opponent's historical success with keeping the fight standing.
Current and Past Odds
There currently isn't much value on either fighter based on how their current odds stack up to what we've seen in past fights.
Cejudo has pretty much only been a significant dog when fighting Johnson, who was widely viewed as the division's GOAT at the time of both of their fights.
Meanwhile, Dillashaw continues to receive plenty of respect from oddsmakers, although the support isn't too overwhelming this time around compared to some of his previous fights.
Prediction
Both fighters have proven capable of beating the very best competitors their respective divisions have had to offer. Still, there appears to be more paths to victory for Dillashaw considering the bantamweight champion seems to boast size, striking and potentially cardio advantages over Cejudo.
The gold medalist could have a tough time achieving his usual grappling domination given Dillashaw's historically dominant takedown defense.
I was able to lock in Dillashaw earlier in the week when his odds weren't above -200, but I still like the more well-rounded fighter at anything up to -225.
The Pick: Dillashaw -210
How would you rate this article?