UFC Fight Night 145 Betting Preview: Finding Value on the Undercard
Credit:
Brad Penner, USA Today Sports. Pictured: Gian Villante
The UFC's third event on ESPN+ is lacking in name recognition, but that doesn't mean the event is lacking in betting angles.
Michal Oleksiejczuk (-190) vs. Gian Villante (+165), Liz Carmouche (-140) vs. Lucie Pudilova (+120), and Michel Prazeres (-420) vs. Ismail Naurdiev (+335) all present valuable betting opportunities.
UFC Fight Night 145 betting odds: Michal Oleksiejczuk (-190) vs. Gian Villante (+165)
Michal Oleksiejczuk: -190
Gian Villante: +165
Time: Approx. 3:30 p.m. ET
Channel: ESPN+


---
Polish light heavyweight "Lord" Michal Oleksiejczuk made his UFC debut in December 2017. Oleksiejczuk entered his fight against Khalil Rountree as a sizable underdog, but scored a clear unanimous decision victory.
The win was overturned when Oleksiejczuk tested positive for the anti-estrogen agent clomiphene. "Lord" was subsequently suspended for one-year by the Nevada Athletic Commission.
Oleksiejczuk is a come-forward brawler. He throws a high volume of strikes on the feet – Oleksiejczuk landed. 5.07 significant strikes per minute against Rountree – but doesn't possess notable knockout power.
"Lord" doesn't have much in the way of head movement either. He eats strikes on the feet and is content to sit in the pocket and get one to give one.
The Polish native is able to succeed with this style due to his chin. Oleksiejczuk absorbed 52 significant strikes against Rountree without much trouble. Meanwhile, Rountree's three knockout victories in the UFC came via 9, 15, and 3 total significant strikes.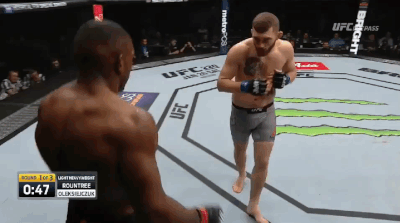 "Lord" hasn't demonstrated great cardio in the traditional sense; his pace slowed drastically in the third round against Rountree. However, Oleksiejczuk has the convenient ability to fight while exhausted. Oleksiejczuk may have gotten sloppy as the fight dragged on, but he was able to secure top position on Rountree and ride out the fight.
On Saturday, Oleksiejczuk may be staring across the Octagon at his future self.
Entering his 15th UFC fight, Long Island-native Gian Villante has established himself as a reliable action fighter in the UFC's light heavyweight division.
Coming off a split decision victory over Ed Herman last October (Villante's fourth consecutive split decision), Villante's UFC record sits at 7-7 and he has never won or lost more than two fights in a row.
Like Oleksiejczuk, Villante is a high-volume brawler with little regard for defense. Villante lands 4.25 significant strikes per minute but shockingly possesses a negative significant strike differential: He absorbs an astounding 5.31 significant strikes per minute.
Villante is content to rely on his chin and sit in the pocket and trade with his opponents. Though he often gets off to a hot start, Villante's tends to get figured out as he throws the same combinations repeatedly.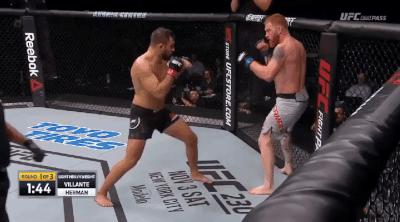 Again, like Oleksiejczuk, Villante has unremarkable cardio but can push forward while exhausted. Villante fights tend to devolve into messy affairs – hence his tendency for split decisions.
Villante has gone to decision in his last four fights and five of his last seven.
Of Villante's four knockout victories in the UFC, only one was against an opponent under 30 years old (Oleksiejczuk will be 24 years old).
Oleksiejczuk has gone the distance in his only UFC fight.
I expect this fight to play to type for both men. Both fighters are prone to high-volume striking bouts with minimal defense that devolve into ugly affairs. Oleksiejczuk and Villante both have impressive durability and lack one-shot knockout power, so this bout should go the distance.
The Pick: Fight goes to decision (-170)
---
Liz "Girl-Rilla" Carmouche (-140) vs. Lucie "Bullet" Pudilova (+120)
Don't be fooled by her 4-4 UFC record: Liz "Girl-Rilla" Carmouche has established herself as a top contender in the women's bantam- and flyweight divisions.
Carmouche made her UFC debut in the promotion's first ever women's fight when she failed to defeat Ronda Rousey back at UFC 157. Since then, Carmouche has consistently been fighting the best women the UFC has to offer.
Currently ranked No. 6 at women's flyweight, Carmouche is on a 3-1 run with only her last two bouts taking place at flyweight. Carmouche's style is based on a grinding clinch and wrestling game.
"Girl-Rilla" attempts 5.67 takedowns per 15 minutes of cage time and lands 52% of them. That works out for Carmouche to average about a takedown per round.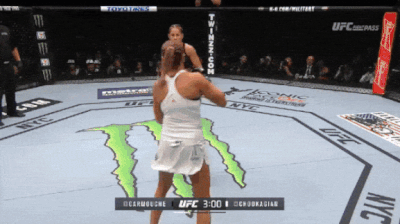 Fighting in front of her home crowd, Czech fighter Lucie "Bullet" Pudilova has established herself as a fun action fighter. Pudilova is 2-2 in the UFC and ranked No. 14 at women's bantamweight.
Pudilova's losses are to No. 10 Irene Aldana and No. 13 Lina Lansberg and her wins are over unranked opponents. "Bullet" will be dropping down to flyweight for this fight.
Pudilova is a high-volume striker with minimal regard for grappling. She lands a very impressive 5.53 significant strikers per 15 minutes but absorbs a troubling 5.03 significant strikes per 15 minutes.
The Czech brawler defends 78% of takedowns successfully and has never landed a takedown in the UFC.
"Bullet" has the cardio to keep up with her active style and often has her best round of the fight in the final frame.
Stylistically, this matchup favors Carmouche. Carmouche is the more experienced of the two and Pudilova's tendency to recklessly bull forward leaves her open for takedowns. Carmouche should also be able to hold Pudilova against the fence and grind on her for long stretches of the fight.
The unknown heading into this fight is how the weight cut will affect Pudilova. Carmouche has the cardio to match Pudilova at her best, so there's reason to suspect Carmouche may be able to pull away as the fight develops.
Both women tend to go the distance:
6/8 (75%) of Carmouche's UFC fights have gone to decision.
Carmouche has gone to decision six times in a row.
4/4 (100%) of Pudilova's UFC fights have gone to decision.
Picking the fight to go to decision by itself is too steep a price to pay at -365. The line on Carmouche is favorable at -140 but I don't believe it's the best way to approach this fight; I want to combine both picks.
The pick: Carmouche wins by decision (+120)
---
Michel Prazeres (-420) vs. Ismail Naurdiev (+335)
Despite a 10-2 UFC record and an eight-fight winning streak, Michel "Trator" Prazeres once again finds himself facing a relatively unknown opponent on a UFC Fight Night card.
Originally scheduled to face Ramazan Emeev, Prazeres will now compete against promotional newcomer "The Austrian Wonderboy" Ismail Naurdiev.
Prazeres, whose nickname translates to 'tractor,' is an undersized but dangerous welterweight.
Standing at just 5-foot-6 with a 67-inch reach, Prazeres is a stout powerhouse. The Brazilian is a second-degree black belt in Brazilian jiu-jitsu and puts these skills to use inside the Octagon – Prazeres lands 4.22 takedowns per 15 minutes of fight time.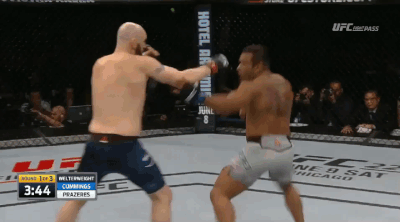 Prazeres has gone to decision in 9/12 (75%) UFC fights.
Prazeres has successfully taken down 12/12 (100%) UFC opponents.
Prazeres successfully defends 60% of significant strikes.
Prazeres has never been finished in the UFC.
"The Austrian Wonderboy" Naurdiev is taking this fight on short-notice. The 22-year-old prospect has amassed a 17-2 record and has finished almost all his wins.
Naurdiev is a promising young fighter but there is little reason to think he'll be able to hang with Prazeres. Primarily a striker, Naurdiev is facing a nightmarish style matchup. I expect Naurdiev to take this one on the chin and parlay the experience into a more reasonable matchup in his next UFC bout.
Prazeres straight up at -420 is unplayable but picking "Trator" via his preferred method of victory is a great value.
The Pick: Prazeres wins by decision (+212)
How would you rate this article?