UFC Fight Night 148 Betting Preview: Curtis Blaydes and Justin Willis Clash in Nashville
Credit:
Noah K. Murray, USA Today Sports. Pictured: Curtis Blaydes
UFC Fight Night 148 betting odds: Curtis Blaydes vs. Justin Willis
Curtis Blaydes -270
Justin Willis +215
Fight Time: Approx. 10:00 p.m. ET
Channel: ESPN+
On Saturday night, the UFC presents its latest in a string of packed, if unremarkable, Fight Night cards.
Aside from the main event, UFC Fight Night 148 has very little in the way of name value. However, the slate is littered with promising prospects looking to take that proverbial next step.
The co-main event is one of those fights, as two relatively young heavyweights at different points in their respective careers look to make their way up the rankings.
Fighting out of Chicago, Illinois, Curtis Blaydes (10-2) is looking to rebound from the second loss of his career to Francis Ngannou. In between the Ngannou losses, Blaydes went on a 5-0 (1 NC) run in the UFC.
Standing across from Blaydes will be Justin Willis. The American Kickboxing Academy fighter is 4-0 in the UFC. He's coming off the biggest win of his career over Mark Hunt last December.
How Blaydes can win
Despite sounding like a Mortal Kombat character, Curtis "Razor" Blaydes actually entered mixed martial arts with a strong wrestling pedigree. Blaydes received a full athletic scholarship to Northern Illinois University and won the NJCAA National Championship at Harper College.
Blaydes has carried that wrestling pedigree with him into the cage and it has been the crux of his game. He has been able to take down almost every man he's faced in the UFC.
He has been able to take his opponents down everywhere: against the cage, in the clinch with trips and high amplitude throws, and at range with blast double-legs. Blaydes has displayed impressive stamina, often taking his opponents down 4+ times per fight, and breaking their will with his dominant ground and pound.
As a complement to his varied wrestling arsenal, Blaydes has been developing a competent striking game. He is becoming more comfortable in the pocket and more defensively aware. When striking, Blaydes is a combination puncher and amps up the volume when he senses an opening.
Blaydes' developing striking game is designed to create openings for his wrestling: the more Blaydes forces his opponents to react to strikes, the less bandwidth they have focus on defending takedowns.

Against Justin Willis, Blaydes has little reason to change his strategy. His confidence in his striking should produce enough activity on the feet to create opening for takedowns.
On the ground, Blaydes has been able to dominate fighters like Alistair Overeem and Aleksei Oleinik, who have displayed much higher-level grappling than Justin Willis. Razor's ground-and-pound will be a nightmare for Willis.
Blaydes'  Achilles' Heel thus far has been his chin, but it shouldn't be too much of a concern here. The only man to stop Blaydes is Francis Ngannou, and Blaydes immediately protested both stoppages; he's never gone out cold in the UFC.
Power is always in-play at heavyweight, but Blaydes has overcome being rocked by legendary strikers like Overeem and Mark Hunt. Against Willis, Blaydes is not facing the kind of power that should prevent him from fighting his style of fight.
How Willis can win
A less heralded prospect than Blaydes, "Big Pretty" Justin Willis started his professional career in mixed martial arts in 2012. Willis lost his debut via TKO but won his next eight bouts, the last four of which have been in the UFC.
Willis is a southpaw kickboxer. He prefers to sit at range and look to land his big left straight. Willis has little wasted motion on the feet, he's comfortable staying in the same spot until forced to do otherwise. Willis also has a crisp jab and likes to throw his jab and straight in combination.
"Big Pretty" is most comfortable as a pressure-counter fighter. When he does decide to utilize his footwork, Willis likes to walk his opponent down and counter as they throw back at him. He's also comfortable fighting off the back foot in a traditionally counter-fighting stance as well.
Willis also likes to meet his opponent in the clinch to throw knees. He often punctuates punching combinations with clinch knees. Willis has landed a few takedowns in the UFC, but against a much lower-caliber of wrestler than Blaydes. Defensively, Willis has never had to defend a takedown in the UFC.
Normally, Willis's high-volume approach would be enough to earn him the victory. "Big Pretty" has out-landed every fighter he's faced in the UFC thus far.
Against Blaydes, however, Willis will need to utilize his power. Blaydes has show that volume alone isn't enough to scare him off. Even rocking Blaydes isn't enough to stop his wrestling attack. To stop Blaydes from coming at you, you need to knock him out.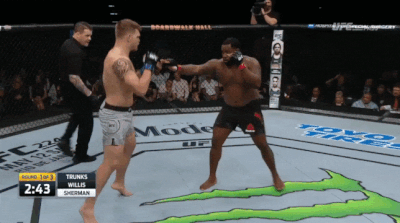 Willis will have to not only land his typical volume, but he will need to focus on putting Blaydes away to win this one.
The X-Factor: Volume
As mentioned above, Willis' high-volume approach on the feet has been a key advantage for him thus far. However, this is not an advantage he'll have entering this bout.
Blaydes averages 4.17 significant strikes per 15 minutes.
Blaydes averages 6.75 takedowns per 15 minutes.
Willis averages 4.40 significant strikes per 15 minutes.
Willis averages 1.26 takedowns per 15 minutes.
Since Blaydes can match Willis's pace on the feet and has a marked edge in grappling activity, the numbers indicate that this fight favors Blaydes the longer it goes. Willis will likely need a finish to win as Blaydes's activity is likely to win him a decision if the fight goes the distance.
Current and Past Odds
It is extremely rare that either man finds himself the underdog. Blaydes has always been the favorite in the UFC. A -245 line is right around the midrange for him.
Willis has always been the favorite as well prior to this bout. The closest Willis has been to an underdog was -115 against Mark Hunt in his last fight.
Prediction: Blaydes vs. Willis
The numbers tell a clear story in this one, and my gut feels the same way. This is a classic striker-versus-grappler matchup, but in this case the gap in striking is much smaller than the gap in wrestling.
There's little reason to think Willis has the power to stop Blaydes on the feet. Blaydes has hung in there on the feet – and hurt – much higher-caliber strikers than Willis.
That doesn't even consider that Blaydes' striking serves purely to facilitate his wrestling. Willis has never had to stop a takedown in the UFC, but the grappling we have seen from him should give Blaydes little cause for concern.
There is always a puncher's chance at heavyweight, but that's Willis' only clear path to victory. Blaydes simply has too many tools for "Big Pretty." I think it's appropriate that on the same weekend as the NCAA Division I wrestling championships, the wrestler gets it done here.
The Pick: Curtis Blaydes -270