NASCAR Richmond Matchup Picks: 2 Best Values for Federated Auto Parts 400
Credit:
Adam Hagy-USA TODAY Sports. Pictured: NASCAR Cup Series driver Aric Almirola (10) during qualifying for the GEICO 500 at Talladega Superspeedway.
NASCAR heads to Richmond for the second race of the 2019 Cup Series playoffs (7:30 p.m. ET, NBCSN).
Kyle Busch is the favorite to win the race outright.
Nick Giffen runs through two head-to-head matchup bets offering betting value for tonight's race.
Martin Truex Jr. (+1400) won the playoff opener at Las Vegas, which automatically advances him to the second round of the playoffs. That means his only goal at Richmond is to win the race. A win nets him a trophy, and more playoff points that carry over to future rounds. As a result, he's more of a boom-or-bust play when you're betting head-to-head matchups.
Instead of looking at these types of drivers for our matchup bets, it's better to focus on two drivers matching up with a more narrow range of outcomes. That gives us more confidence in each driver's median projection being closer to the true long-term median finish.
Because Richmond has a major incident rate among the lowest of all the tracks the Cup Series visits, I have a few matchups for tonight's race that offer lower variance projections relative to other races and that my model also projects as strong value bets.
Let's dive in.
A quick explanation on the odds below: -110 means a $110 wager would profit $100, while +135 means a $100 bet would net $135.
Aric Almirola (-110) over Alex Bowman
If you look at just season-long results, it looks like Bowman should be the clear favorite. Bowman has a 13.5 average finish to Almirola's 15.0 average finish. However, as we know in NASCAR, not all races are created equal.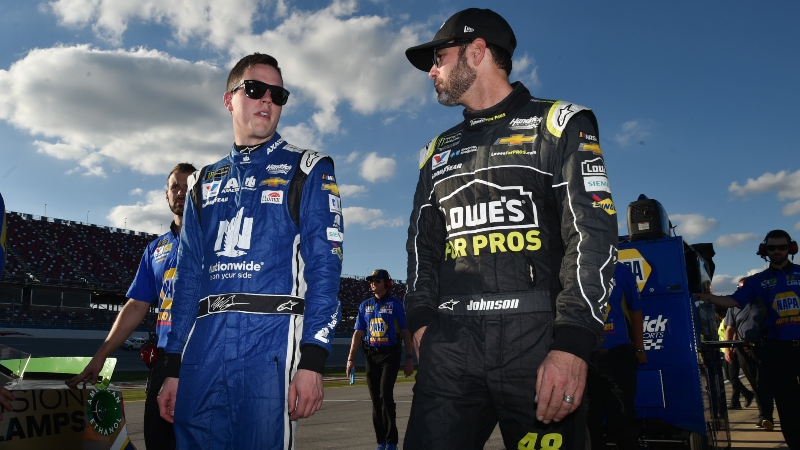 Richmond is one of Almirola's strongest tracks. He has five career top-10 finishes despite running on inferior teams for six of his eight full-time seasons. Almirola also holds a 2-1 head-to-head edge over Bowman at Richmond while each driver has been running at his current team. If we extend the sample size to the short, flat tracks that are 0.75 or one mile in length, Almirola holds a 7-1 advantage over Bowman since the start of the 2018 season.
Almirola was also faster than Bowman in both practice sessions in every metric possible. Almirola should be a -130 favorite, but is priced as a toss up in this matchup.
Kyle Larson (+135) over Erik Jones
Larson holds a 4-1 head-to-head advantage over Jones at Richmond and a 10-4 record against Jones at the 0.75-to-1 mile short, flat tracks. Larson also holds a 13.8 to 16.0 average finish advantage over Jones in 2019 and will start three spots in front of Jones.
The real kicker is practice. As I mentioned in my outright article, Larson showed elite speed in the opening practice session. Jones, meanwhile, had 10th place speed over 10 consecutive laps, but didn't make a run of 15 laps or longer. He was also 0.16 seconds per lap slower than Larson over those 10 consecutive laps.
In final practice, in the heat of the day, Larson and Jones were within breathing distance of each other for the first 15 laps of the run, but as the run extended to 20 laps and beyond, Larson held a big advantage over Jones.
All signs point to Larson in this one, yet he's being priced as the underdog. Bet Larson down to even money to ensure a long-term profitable play.
How would you rate this article?