2018-19 NBA MVP Deep Dive: Giannis, Curry and Davis Lead the Way
Credit:
Photo credit: Benny Sieu-USA TODAY Sports. Pictured: Giannis Antetokounmpo
Below, I dive deep into the 2018-19 NBA MVP race, giving notable stats, analysis and film for the top candidates this season.
I also conducted a poll of likely MVP voters about who they would pick right now. Giannis Antetokounmpo led the way with 10 of 13 votes.
It's too early to talk MVP.
It's November; we're not even to Christmas. Teams are still figuring out who they are. LeBron doesn't even know whatshisface's name yet, for crying out loud. There's just no reason to think about it with the season less than 25% complete for most teams.
LET'S DO IT ANYWAY. 
Here's why we need to go ahead and look at MVP:
If you want to be accurate about the season, you need to look at things throughout the year because recency bias winds up impacting things far too much. How you perform in October and November should matter almost as much as how you perform in March and April, considering how beat up teams are by then and how often teams are tanking.
It helps to calibrate exactly who is under the radar and who might be getting too much credit early.
And of course… you can still bet on it. There's money to be made in them thar hills.
---
Poll of Likely MVP Voters
I conducted a straw poll of likely MVP voters, and here were the results…
Giannis Antetokounmpo: 10 votes (76.9%)
Stephen Curry:  2 votes (15.4%)
LeBron James: 1 vote (7.7%)
Alright, let's go through the candidates (in my order).
Jump to: Giannis Antetokounmpo | Stephen Curry | Anthony Davis | Kawhi Leonard | Kyle Lowry | LeBron James | Kemba Walker | Joel Embiid | Nikola Jokic | Blake Griffin | Honorable Mentions
(All data courtesy of NBA.com, Basketball-Reference and Synergy Sports. Betting odds courtesy of Bet365.)
---
Giannis Antetokounmpo
MVP odds: +260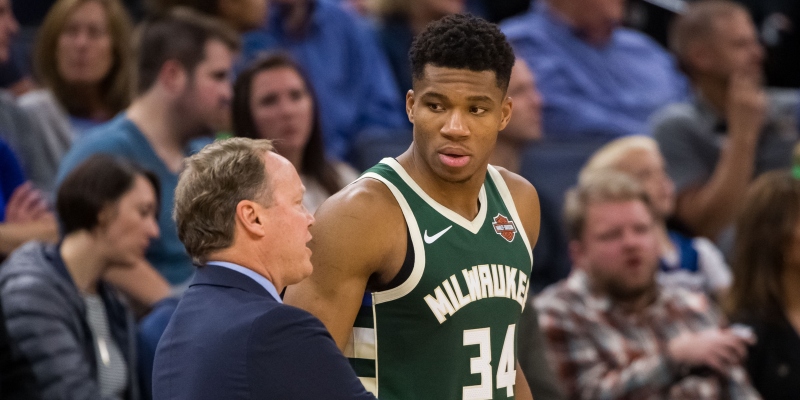 Relevant stats
Raw: 27.6 points, 13.2 rebounds, 6.0 assists, 1.5 steals, 1.3 blocks on 58% shooting
Win Shares: 3.7 (4th in the  NBA)
VORP: 2.0 (1st)
PER: 29.2 (1st)
Net Rating: +13.2
Halfcourt offense: 78th percentile
Pick-and-rolls: 85th percentile
Analysis
Antetokounmpo is the leader in the clubhouse. The common refrain I got in my straw poll was, "I want to be original, but…" and then they took Antetokounmpo. This is more important than you'd think. It means that despite interest in being original, it has to be Giannis.
That's a key sign. The Bucks have the team success: They're on pace for 55 wins with the best Net Rating in the league.
(Notably, the Bucks are 8-7 in their last 15, but their last four losses are by a combined 10 points.)
So the entire formula is there, and he's still at better than 2/1 return.
The defining case for Antetokounmpo — outside of team success — is how sheerly unstoppable he is. In almost all instances, Antetokounmpo's lack of an outside jumper would be held against him in the strictest of terms.
But because he's on pace for a record number of makes at the rim and has been so dominant despite that limitation, it actually works in his favor. He takes an attribute which should make him remarkably easy to solve — play off him, he can't shoot — and he renders it meaningless. That's pretty valuable.
Eye test
Watch Giannis just absolutely rip through these guys, often big defenders, who are left helpless. You just can't do anything with him in transition:
---
Stephen Curry
MVP odds: +800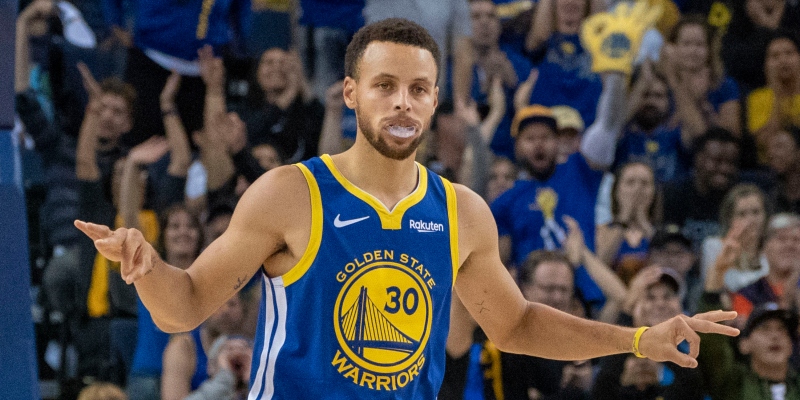 Relevant stats
Raw: 29.3 points, 5.0 rebounds, 5.8 assists, 48.1% 3-point shooting (LOL), 10 missed games, 10th in 3-point makes despite missing 10 games, on pace for second-most 3-pointers made per game all-time (5.0)
Win Shares/48: 0.221 (9th in the NBA)
PER: 27.7 (3rd)
Net Rating: +11.5
Offensive Rating: 122.5
Jump shots points per possession: 98th percentile
Catch-and-shoot efficiency: 93rd percentile
Efficiency on jumpers off the dribble: 98th percentile
Halfcourt offense: 96th percentile
Pick-and-rolls: 64th percentile
Wins: Warriors 10-3 with him, 5-6 without him
Analysis
This is my selection, provided Curry returns to something close to his pre-injury level.
Boy, no one benefited more, perception-wise, from Curry's absence as Curry did. The same cannot be said for Kevin Durant, who might want to rethink heading off to New York, where his only help is an often-injured Kristaps Porzingis.
The Warriors didn't just lose without Curry — they looked uninspired and miserable. Their chemistry combusted in a Draymond Green outburst. They almost lost to Orlando (who's pretty good, but still).
I've long identified Curry as the most impactful player on the Warriors while Durant is the "best" skill-wise because of his size and versatility, but man alive, did this stretch without Curry show that impact.
For Curry to rise above the narratives about the help he gets from his superteam around him, he needed two things: 1) statistical surrealism broaching 2016 levels and 2) proof that the Warriors weren't the same without him.
His early season has set the table for both. For the rest of the year, this stretch will be cited by Curry backers as a reason to give him the award. With him, they are one of the best teams of all time. Without him, they might get beat any given night.
Throw in the fact that he was on pace for 500 made 3-pointers (LOL) before he went down, and his case is going to be strong if he comes back, keeps going buck wild from 3-point range and the Warriors rattle off another ridiculous win streak, which is definitely possible with DeMarcus Cousins also close to his return.
At 8/1 odds, you're not going to find better value than this. However, this does assume he largely plays the remainder of the season. Bill Walton was the last player to play fewer than 70 games in an 82-game schedule and win the award; I typically hold 66 games as the standard threshold.
If Curry suffers another injury that drops him 10 games or more, that should probably do it for him, though some voters may choose to disregard it.
Eye test
Stop it, Steph.
Just, stop it.
I mean it, stop it now.
---
Anthony Davis
MVP odds: +450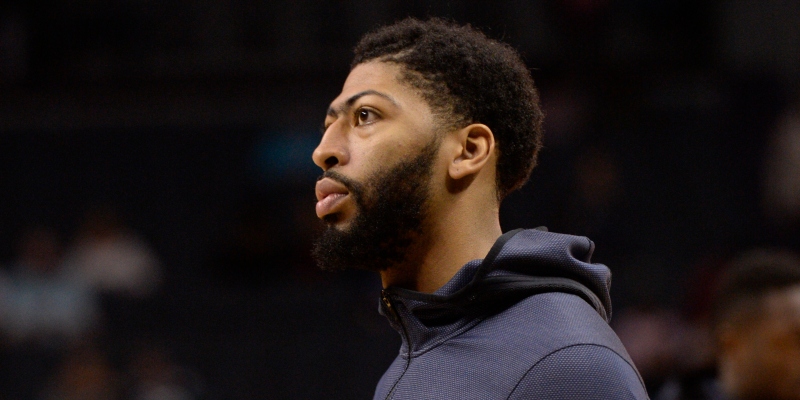 Relevant stats
Raw: 28.2 points, 13.0 rebounds, 4.8 assists, 1.6 steals, 2.7 blocks on 50.5% shooting, 36% from 3-point range
PER: 29.5 (1st)
Win Shares: 4.0 (2nd)
VORP: 2.0 (1st)
Net Rating: +8.6
On/off differential: +17.4
Halfcourt offense: 90th percentile
Isolation offense: 80th percentile
Wins: Pelicans 12-8 with Davis, 0-4 without him
Analysis
There are two ways of looking at Davis' season so far. One, the narrative power just isn't with him. He's not getting the kind of buzz he was in the preseason. The Pelicans aren't as good as they seemed to be after sweeping the Blazers.
They are a truly bad defensive team again (24th in Defensive Rating), and if that continues, finding the team success necessary will be difficult.
He's turned it on the last week or so, and his 36-18-8-4 performance Sunday definitely helps. But Giannis and Curry have already-built narratives and statistical leads, even if Davis is averaging more points and as many rebounds as Antetokounmpo.
---
>> Sign up for The Action Network's daily newsletter to get the smartest conversation delivered into your inbox each morning.
---
On the other hand… he could improve so much. Davis is in the 31st percentile in transition. That's likely to turn around.
He's in the 29th percentile in pick-and-roll as the roll man. That's likely to change.
If the Pelicans can get back healthy (always a challenge it seems like with them) and go on a win streak, they'll get Davis back in the conversation. A strong month or stretch of months in the middle of the season could boost him right back into the lead.
You're getting 4.5/1 odds with the Bucks (who perhaps have peaked) and Curry's injury status always a concern (though the same is true for Davis). I don't love this option, but it's a great buy-low opportunity.
Eye test
Davis has the third-highest shooting foul rate on post-ups in the league among players with at least 50 post-ups. The rail-thin Davis is coming into his strength, and it's flummoxing even bigger defenders who could at least body him in the past. He's drawing fouls on those matchups now:
---
Kawhi Leonard
MVP odds: +900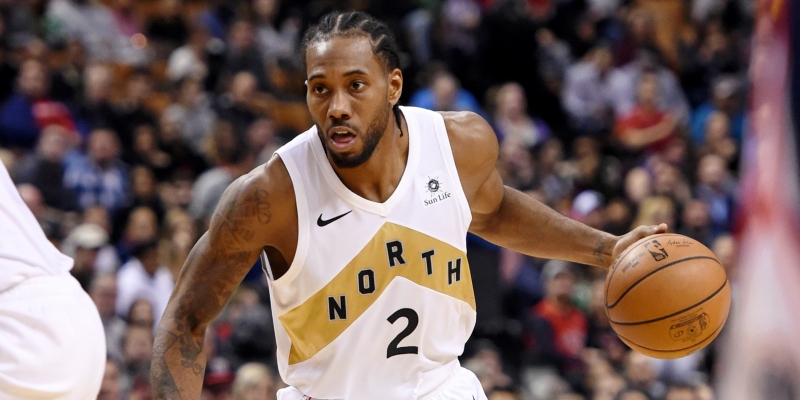 Relevant stats
Raw: 25.5 points, 8.6 rebounds, 3.1 assists, 1.7 steals per game on 48.5% shooting and 34.6% 3-point shooting
Net Rating: +11.7
On/off differential: +5.6
Wins: Raptors 15-3 with Kawhi, 5-1 without him
Analysis
The argument here is "best player on the best team," as the Raptors have absolutely smoked their competition. However, he's missed six games, and like with Curry, that's difficult. He's not playing back-to-backs, and in some ways, missing games for rest sometimes hurts with voters more than injury absence, unfair as that may be.
The eye test with Leonard is also significant. He just seems like he's absolutely tearing teams to pieces. Then you look at the numbers, and he just doesn't jump off the page.
He's been really good, no doubt, but more as the key component of the best team than an individual brilliance. Also, the Raptors actually have a better Defensive Rating with Kawhi on the bench than with him on the floor. That was a trend in San Antonio, too, but it's too early to say why.
Thing is, though, the Raptors will suffer from a Warriors-like issue. Kyle Lowry and Leonard will both steal some votes from each other; Lowry's been just as good. Leonard with a few signature games and a bit more usage might wind up muscling into this conversation.
Eye test
Leonard's showing more power this season. It went a little under-the-radar, but he hasn't always been great in situations in which he had to muscle through guys.
Larger defenders gave him issues.
In his near-MVP season in 2016-17, he had a 1.17 points-per-possession mark around the basket on non-post-ups. Those numbers are fine, but not great. This year so far, that number is up to 1.43, which is in the 91st percentile.
He's just bullying guys a lot more than he did two years ago:
This is Marcus Smart, so Leonard's not going to be able to body through him, but he does get to the spot he wants and gets Smart to give ground, which is a win all its own:
---
Kyle Lowry
MVP odds: +25000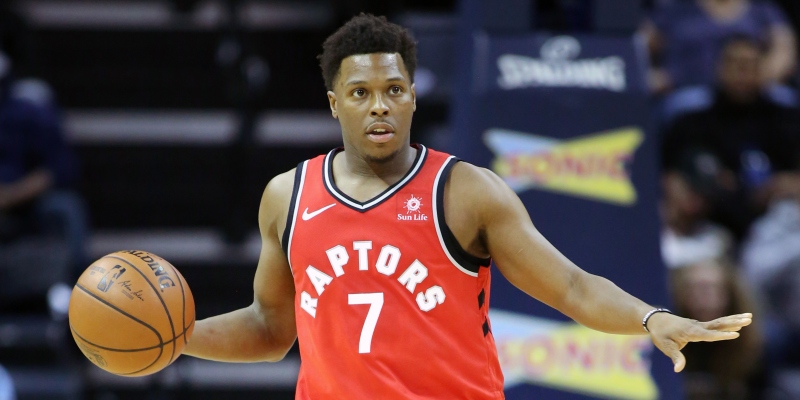 Relevant stats
Raw: 15.4 points, 4.5 rebounds, 10.3 assists (leads NBA), 1.3 steals on 45.4% from the field and 35.8% from 3
Net Rating: +13.5
PER: 20.0
Win Shares: 3.3 (9th)
VORP: 1.2 (15th)
Overall individual offense including passes (Synergy): 99th percentile
Pick-and-roll efficiency: 93rd percentile
Individual defense (Synergy): 70th percentile
Wins: 20-4
Analysis
If Leonard's on this list, Lowry has to be. It would take a serious break in narrative strength and a reconsideration of common sense status quo to get him on the list, but look: He's got to be on this list.
Lowry is leading the league in assists. By Net Rating, his team is the best in the league when he's on the floor. The Raptors have a 119 Offensive Rating with him on the floor; that's hotter than the sun. He's playing great defense; there's no trade-off like there is with Harden or Westbrook.
Leonard is the best player on this team, and Lowry's averaged just 15 points per game. This hurts him and is probably too much for him to overcome. But look, Leonard's missed a lot of games and the Raptors still absolutely smoked everyone. Based on availability, Lowry's actually been the most impactful player on this Raptors team.
I do not think you should bet this; I can't see voters rewarding him even if he's the "best" player on the best team. However, he absolutely needs to be on any list discussing MVP.
Eye Test
Part of how you get incredible offensively isn't just highlight after highlight. It's having go-to stuff that you know works 80% of the time.
For Lowry this season, it's pick-and-pop with Serge Ibaka. He and Ibaka have developed such chemistry over the last three years that they can run a two-man game and just tear opponents up.
Ibaka is shooting 65.7% (eFG) on pick-and-pops this season, via Synergy Sports. Lowry averages 3.2 assists per game just to Ibaka. He and Ibaka can just wait and wait, and then just as it looks like Lowry is driving and Marc Gasol has to commit as the defense is all turned around… pop! Lowry spits the ball to Ibaka like Mario plucking out fireballs.
---
LeBron James
MVP odds: +550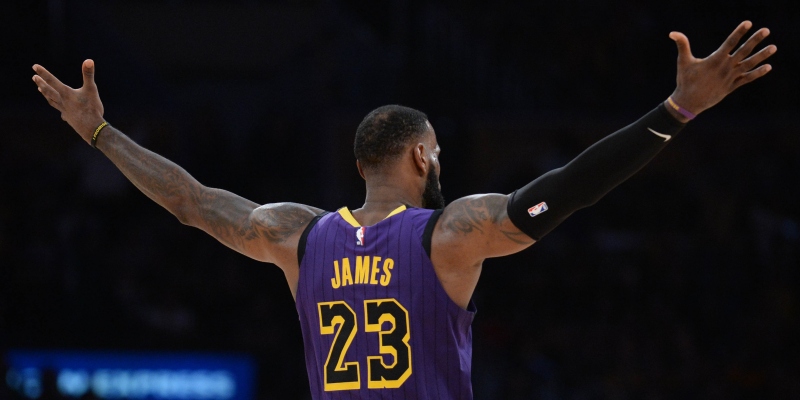 Relevant stats
Raw: 27.8 points, 7.7 rebounds, 6.7 assists, 0.9 blocks per game on 52% shooting, 37% from 3-point range
Net Rating: +1.8
PER: 26.6 (8th)
Win Shares: 3.4 (7th)
VORP: 1.9 (3rd)
Overall individual offense (Synergy): 78th percentile
Pick-and-roll efficiency: 82nd percentile
Individual defense (Synergy): 70th percentile
Wins: 14-9
Analysis
It's going to be a stretch for James to get in the conversation for a few reasons. The Lakers would have to drastically improve their win rate to get near 50 wins, and there's a perception of too much talent on this team for him to win otherwise.
His numbers are, as they always are, great, but LeBron is always competing against himself. Last year is up there with 2009 and 2012 for his best individual offensive seasons… and he still didn't win.
Part of that is because people are wise to how much he coasts. When you see what he's capable of, and when he doesn't bring that except once every handful of games, it sticks out, even if his baseline is better than most.
LeBron's defense has never slipped more, nor been under a bigger magnifying lens. There have been some positive strides in November, but the defense isn't appreciably better with him on the floor. All of this makes a run very difficult for him.
Unless he goes bonkers on a run at the scoring title again while averaging career-highs in rebounds or assists, or unless the Lakers pop off a win streak that seems impossible at this moment in time, he can't be in the top three of the conversation.
The weather and lifestyle seem nice, though.
Eye test
LeBron is on one when it comes to his jumper. He has an effective field goal percentage of 52.9% on jumpers off the dribble, which is the highest of his career.
---
Kemba Walker
MVP odds: +5000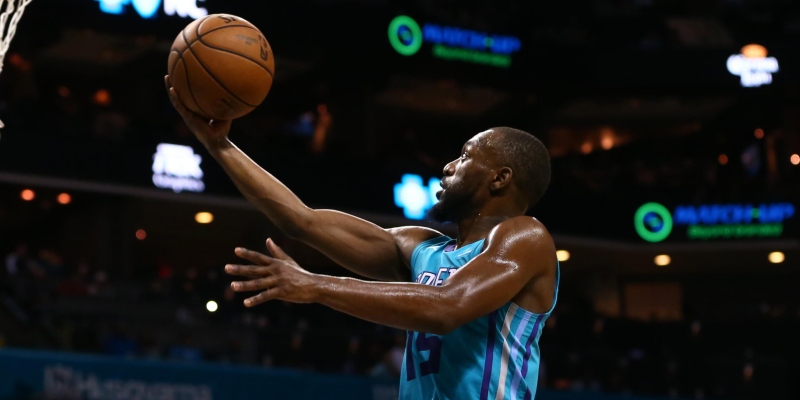 Relevant stats
Raw: 26.5 points (ninth in the league), 4.3 rebounds, 6.2 assists on 44% from the field, 36% from 3-point range
On-Court Net Rating: +4.1
On/Off Differential: +4.0
Win Shares: 2.7 (19th)
VORP: 1.3 (12th)
PER: 23.1 (19th)
Wins: 11-12
Analysis
Kemba is the story right now in the NBA. His heroics make him stand out, and the idea of a trade gets other teams salivating over what he can do for them.
He's also beloved by the media, for a few reasons. He's great in interviews. He's a guy who said he didn't want to be traded last year from Charlotte, which is rare and feels very leadership-y and noble.
And he's dragging a team most consider really bad. (It's not. It's just not good, either.)
Can he drag them far enough, though? They continue to be a nightmare in close games (2-6 this year in games decided by three points or less, 3-20 (!!!) since 2016-17). They're a game under .500, and it always seems like one step forward, 1.5 steps back.
Kemba is threading a very fine needle right now, putting up big-time stats with heroic individual performances, and doing so with great efficiency. He's also not a dog on the defensive end.
If the Hornets can just go on a little bit of a run, Walker has a chance to garner the Derrick Rose "No one believed in him" vote with the analytical support.
But he has to keep this up; he's had a few seasons during which he burned the world down in November only to turn around and cool down in December, and the Hornets have to win games. Can they?
Eye test
Walker has a 65.1% effective field goal percentage out of the pick-and-roll when the defender tries to go through the screen (as opposed to over or under it). That's usually when the big drops to contain the drive.
Do not drop against Kemba Walker.
I said, don't drop vs. Kemba Walker.
I mean it, you really can't… oh, forget it.
---
Joel Embiid
MVP odds: +800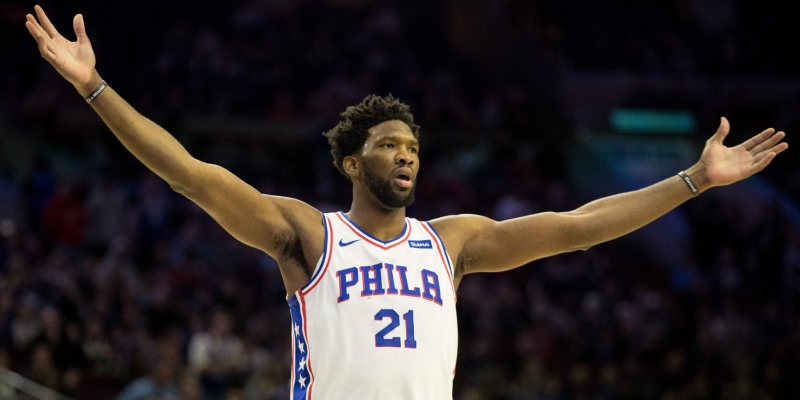 Relevant stats
Raw: 27.0 points, 13.4 rebounds, 2.0 blocks per game on 47.6% shooting
Net Rating: +7.2
On/Off Differential: +16.4
Defense on/off differential: 7.1 points better on-court
VORP: 1.2 (15th)
Win Shares: 3.5 (5th)
Individual offense (Synergy): 66th percentile
Post-up offense: 75th percentile
Individual defense (Synergy): 72nd percentile
Wins: 17-8
Analysis
This is tricky. The Sixers, before the Butler trade, were struggling to get themselves right, going 8-6 (and winning one game in the interim after the trade before Butler arrived). Since, they've gone 8-2.
Butler has hit two monstrous game-winners and been great in the clutch overall, turning coin-flip losses into wins.
And the Net Rating reflects that. The Sixers were at -0.3 in Net Rating before the trade and +5.4 since. So it's Butler, right?
Except that the Sixers have a better Net Rating with Butler on the bench (+6.4) than when he's playing (+5.6). What's mostly happened is that the Sixers have gotten better when Embiid's been on the bench, going from -12.7 to -4.6.
That's directly attributable to Butler, as the Sixers have a -0.8 Net Rating with Butler on the court without Embiid, basically playing even.
This is a lot of numbers, so let me put it in English. Embiid's still been the most dominant player on a 17-8 team. Butler hasn't had as much of an impact as Embiid has, even since arriving there. But the Sixers have won more games, in part because they're not hemorrhaging points when Embiid's on the bench thanks to Butler.
Perception matters, though, and the narrative around the Sixers will be about how much better they are with Butler, which hurts Embiid's case. In reality, he should be considered in the top three or four candidates.
But that perception is a tricky thing. If the Sixers were to go on a monster run, though, Embiid might draw enough attention. He needs a few signature performances on national TV.
Eye test
Embiid is one of only two players to defend at least 100 possessions at the rim on non-post-up shots this season. Among players to defend at least 50, he has the 10th-lowest free throw rate allowed.
He's given up just two sets of free throws out of 100 possessions defended, while holding opponents under 48% from the field around the rim (where, obviously, conversion rates are higher).
A big reason is Embiid just doesn't go unnecessarily for blocks. He doesn't extend and lean over; he stays up and lets his size do the work for him:
---
Nikola Jokic
MVP odds: +6000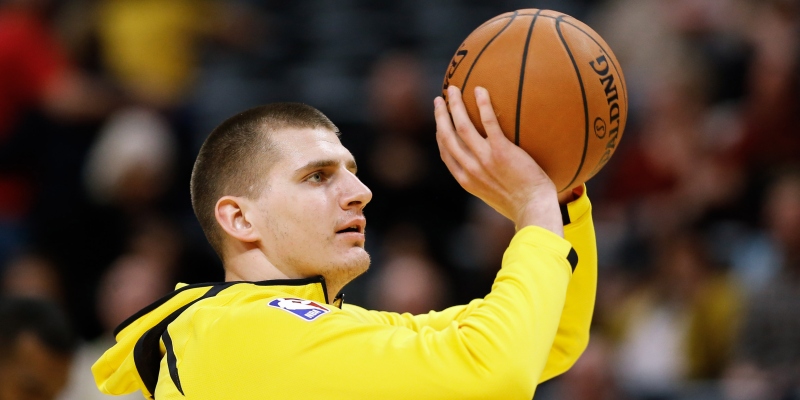 Relevant stats
Raw: 16.4 points, 9.6 rebounds, 7.2 assists, 1.3 steals per game (fourth among centers) on 47.3% field goal shooting and 31.6% 3-point shooting
Win Shares/48: 0.224 (8th)
VORP: 1.8 (4th)
PER: 24.2 (15th)
Net Rating: +11.1
On/off differential: -3.4
Defensive Rating among centers: 7th
Individual defense among bigs (Synergy): 11th
Halfcourt offense: 88th percentile
Wins: 15-7
Analysis
Another player whose team is so good he needs recognition. Statistically, this is a good time to buy low. Jokic is going to improve.
His shot went through a slump, and he suffered with uneven play for about two weeks in late October. But he's rebounded and has started to find a synthesis between his improved defensive effort and the team's emphasis on limiting turnovers and playing his style. His on/off numbers are actually in the negative because the Denver bench has played out of its godforsaken mind to start the year.
When the Nuggets move the ball and don't turn it over, they kill teams. Not limit. Kill. Dominate. Destroy.
Jokic's numbers will likely creep back up towards 20-10-8 by season's end. But he'll never engender the kind of narrative you need to win the award.
Denver would have to put up 60 wins for him to be in serious consideration. But his defensive effort warrants mention, and he deserves discussion at least.
Eye test
Here's an example of his increased effort. He hedges vs. Mike Conley, then hustles back to recover and causes the deflection. (Jokic is second on the team behind Paul Millsap in deflections.)
Then in transition, his improvisation turns a likely turnover when they pressure his dribble into an assist. The whole package here:
---
Blake Griffin
MVP odds: +5000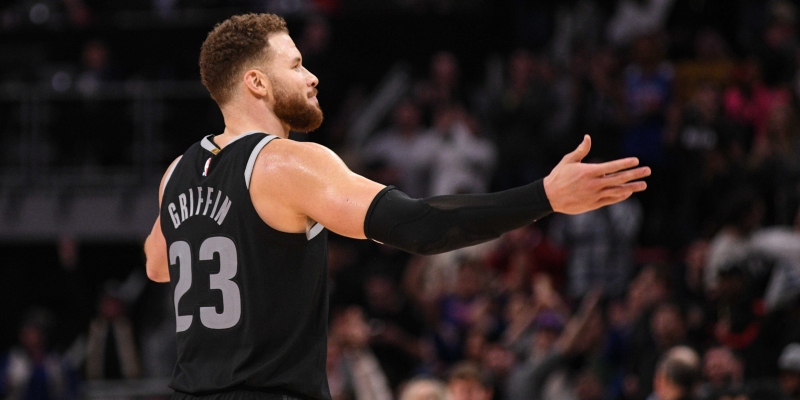 Relevant stats
Raw: 24.9 points, 9.5 rebounds, 5.1 assists per game on 46.6% from the field and 36.1% from 3-point range
Net Rating: +8.0
On/off differential: +5.0
Wins: 13-7
Analysis
Oddly, the advanced metrics don't love Griffin, with him ranking outside the top 25 in PER and Win Shares. He's 19th in VORP.
I'm not a huge fan of Real Plus-Minus, but even there he's 39th. All of this is crazy, because only eight players have ever averaged 25-9.5-5, and they're all legends. (Notably, Giannis is on that list right now.)
Griffin's been incredible… but the impact stats don't show it.
It's impossible to deny that the Pistons are 13-7 in largest part because of Griffin's brilliance, but we have to see him be healthy, and for them to either keep up what appears to be an unsustainable win rate compared to their point differential or improve the overall performance of the squad for him to worm his way in.
Griffin seems destined for that season in which hardcore fans are trying so hard to get people to recognize how good he is, but playing in Detroit for an also-ran makes it impossible.
Eye test
Most of Griffin's buckets this year have come out of pick-and-roll.
But it's not Lob City. Instead, Griffin's getting most of his buckets out of the pick-and-roll when he has the ball in his hands. And he's hitting 3s off it now, too, shooting 10-of-19 from 3-point range out of the pick-and-roll.
Honorable Mentions
Damian Lillard: He's leading one of the best teams in the West while averaging 27-5-6. He hasn't been Kemba Walker, but his team has been better.
Kevin Durant: Has the eighth-best odds, is No. 1 in Win Shares, third in PER and sixth in VORP, but the Warriors have been mediocre-to-awful with Curry out.
Kyrie Irving: He should be more in this conversation, but his season, along with Boston's, has started a little… flat.
DeMar DeRozan: His boxscore numbers are great as always, including a career-high in assists, but the Spurs are under .500 and he has a negative Net Rating.
Marc Gasol: He leads all players in Real Plus-Minus.
How would you rate this article?