Moore: Ranking the 10 Best NBA MVP Betting Values After July's Free Agency Madness
Credit:
Photo credit: Eric Hartline-USA TODAY Sports. Pictured: Joel Embiid
After the Kawhi Leonard-Paul George bombshell move to the Clippers, all of the major stars are now off the free agency market.
Matt Moore (@HPBasketball) takes the lay of the land and where the 2019-20 NBA MVP award stands, hitting on the best 10 betting values right now.
We've seen the NBA shift in so many ways over the last month that I keep finding little things I took as ironclad pillars of the universe that just don't exist anymore.
What does still exist is the Most Valuable Player award, which for the first time in a long time might not be more open than the NBA title race. Who would have thought? Giannis Antetokounmpo, the reigning MVP, is still going to be on a top East team and isn't getting any worse, nor does he have any injury concerns (knock on wood).
So let's take a look at the field in the wake of the Clippers' monumental move for Kawhi Leonard and Paul George and all the other wild free agency signings.
2019-20 NBA MVP Odds
Let's rank these on value.
1. Joel Embiid (+2500 at Westgate)
I'm simply floored at the numbers for Embiid. He finished seventh in MVP voting last year, while playing 64 games and sharing the floor with Jimmy Butler. His odds being this high is nuts.
You're gambling on health here, which, I get it, it's scary. He missed time last year with both back and knee issues. But while the long-term Joel Embiid over/under MVPs has to be set at 1.5 and you need to take the under, he's likely to have one year where he shoots the gap and actually plays.
The Sixers' offseason was built around Embiid. Jimmy Butler is gone, freeing up 22% usage, replaced by Josh Richardson, who had a 20.9% rate but on a team with no clear star. Richardson slots in more comfortably into the third wheel on this team as a spot-up shooter while Tobias Harris acts as a floor-spacer.
Embiid was the clear beneficiary of those moves. He'll have a bigger role. He was an underrated defensive player last year, and it's likely his reputation expands next season. He's fully in his prime now, and the playoffs taught him how to better handle the double teams that opponents used when they wanted to neutralize him.
Nikola Jokic was better last season in almost every facet, and the areas where Embiid dominated him (defensively, most notably), Jokic was better than expected. Yet consistently pundits and media people talk about Embiid as way better. If a player has a better season at the same position as Embiid and folks still cape for Embiid? It bodes well for his chances with the voting electorate.
Finally, the East is weaker. Boston's no longer a juggernaut. The Raptors lost Kawhi Leonard. The Nets are without Kevin Durant for the year and lost role-players to make room for him. Victor Oladipo's out to start the year. The Southeast division is a mess. And the Bucks are likely due for a regression season, even if they're still very good.
The window's open for the Sixers to establish themselves as the best team in the East, and if that happens, there's a chance they pad their record with wins over the vast field of young rebuilding teams in the conference. And that sets up Embiid to look even better.
All this… and he's 25-1. There isn't better value.
2. James Harden (+750 at DraftKings)
Harden has finished in the top two of MVP voting in three of the past four years, winning once in 2018. He put up unreal numbers last year, but the Rockets' team performance dipped. Still, he finished top-two with a healthy chunk of first-place votes.
Harden at +750 is a steal given his consistent finish within range of the award.
I can talk about how he scored the second-most points per game in the last 50 years or his assist rate or how consistently the Rockets have won 50 games with him.
But the biggest reason this number is gold? Harden is the only superstar who doesn't do load management. He doesn't rest for games and stays in late to pursue statistical thresholds. If the concern with Embiid is he won't play enough, the great thing about Harden is you'll never have to worry about him sitting out that late-season marquee game.
The downside is all the concerns about the Rockets' chemistry. They looked like they were fracturing early in the summer, with reports of discord between Chris Paul and Harden. If the Rockets get desperate to shake things up, that could change the dynamics of Harden's role.
The good news: Reported changes to the offense won't diminish his value; Harden is probably the best pound-for-pound passer in the game right now. Getting a player at +750 who has finished top-two three of the past four years and was +450 at this time last year is enough to put him here.
3. Giannis Antetokounmpo (+350 at Westgate)
Your oatmeal breakfast choice. Easy on the way down, healthy and simple. Nothing complicated about this one.
Antetokounmpo is the favorite for a reason, and you're still getting 3.5-to-1 return on him. Harden got a cut of the votes, but over 75% of the first-place votes swung his way last year.
Antetokounmpo adds another season under Mike Budenholzer, and the Bucks retained Khris Middleton and Brook Lopez. Losing Malcolm Brogdon hurts, but if the Bucks wind up dominating the East again, Giannis' combination of stats, eye test and defensive prowess could carry him again.
The narrative boost won't be as strong this time, and I'm expecting some slight regression from the Bucks back down to sub-55 wins. But Giannis remains a dominant force entering his prime, and he's brought back something new every year. If he brings back a jumper this time, you'll be begging to get +350.
If nothing else, Giannis is well positioned for a good hedge bet if you take another longshot.
4. LeBron James (+1200 at Westgate)
Honestly, this a trap. I feel trapped. I can't resist putting LeBron freaking James at +Freaking1200 in the top five here, but the reason he's top-five is that Westgate more than any other book is conservative and takes full advantage of Laker mania from the Vegas betting public.
Westgate was more conservative last year than most books on their win total and title odds. They are aware of all the concerns, and their numbers more accurately reflect those. They're willing to take on more liability because, well, they don't get caught in the hype.
And yet, here he is on my list. Because if James' groin injury last year was a fluke in his otherwise flawless career when it comes to preventing injuries through training and conditioning, he's going to have the numbers. Anthony Davis will provide the help he needs to get the Lakers to near 50 wins even with a subpar supporting cast.
I'll say this again: The voters want to give James another one. It gives him five, putting him on another level historically. It rewards him for putting the famous franchise on his back. It's narratively attractive. James will have the stats for it, and Davis likely gets him the wins.
There are a lot of ways this can go sideways, but if the Lakers get to 55 wins and win the division, within range of a top-three seed, James is going to be in the conversation. You can pick only one of the Lakers, and James seems like better value.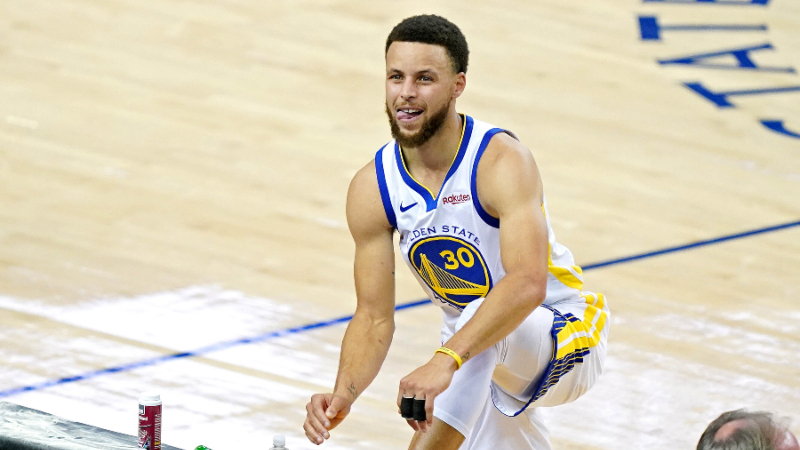 5. Steph Curry (+550 at FanDuel/DraftKings)
Love this one. You have to decide how you feel about two things:
Do you believe Steph Curry is the single-most impactful player in basketball, as plus-minus has indicated the past five seasons?

Do you think Steve Kerr will resist the temptation to run his complicated motion offense with fewer central parts and just let Curry run pick-and-roll 50 times a game as he should?
If your answer is yes to those questions, this is your position at +550.
Now, for years I've argued that while Steph Curry is the reason the Warriors have been arguably the best team of all time, the Warriors are what empower him to do that. It's a reciprocal engine.
I've also argued that if Curry were on, say, the Knicks, things are markedly different, because Draymond Green isn't there to be this omnipresent defensive force and Klay Thompson isn't there keep the third defender honest by being the second-best shooter of all time.
However, a lot of people think I'm wrong and that #StephBetter. That's what makes this season so fascinating. If he fails, it's "well, Klay was out the whole year and they lost KD. This was a reloading (or DLoading) year." If he succeeds, then #StephBetter.
Curry's a better player than he was three years ago when he lit the world on fire and won the first unanimous MVP, hitting 402 three-pointers. He's a better passer, he's craftier, he's smarter, he's stronger. And last season, missing 13 games with injury, splitting usage with Kevin Durant, Curry still hit 354 three-pointers.
If Curry drags this Warriors team — even with Draymond Green still around, Steve Kerr still the coach and Klay Thompson coming back sometime between January and March — to the 4-seed and 50-plus wins, you can bet Curry's going to be in the conversation, and that's the low end of a good season for Curry.
There are a host of opposing reasons to fade Curry, including injury and the fact that for the first time he won't have more weapons than the opponent on the floor.
Remember how overwhelmed Damian Lillard seemed without anyone to outlet to? If Draymond Green isn't on the floor, teams can blitz Curry out of Chase Center and into the ocean. Thompson not being there to keep the pressure off is going to hurt him. And Curry's had injury issues throughout his career; he has a lot of miles.
But he's also been the most impactful player who couldn't win because of how much help he had. If he has that impact without those megastars, the vote's going to be clear.
6. Paul George (+1400 at PointsBet)
I'm not enthusiastic about this one, but the number is too good to pass up. You'll notice Kawhi Leonard is not on this list, as load management and the way Leonard saves himself simply doesn't feel like it will translate. I like George better at +1400.
Did you know George had the fifth-most made 3-pointers in NBA history last season? Or that he was an MVP and DPOY candidate before suffering his shoulder injury in February vs. the Nuggets?
George has to get back from multiple shoulder surgeries, but he's also capable of higher highs than Leonard. Leonard just plugs along and suddenly has 25. George will have 10 points and then suddenly he's got 30. He's streakier in-game but still as consistent game-to-game, and he manages to fill more roles.
George averaged more rebounds and assists than Leonard last season and led the league in deflections and steals per game. Leonard may play only 60 games; PG may be the difference in them winning 70% of the remaining 22.
7. Damian Lillard (+2800 at FanDuel)
Dame chose to be a hero instead of chase the ring, and I respect him endlessly. The Blazers are probably about the same as last year; they lost some pieces that were debatably good and got some pieces that were debatably good.
However, the Blazers always go on a run in January and March. It's clockwork. And if this team winds up in the top four in what is a decidedly tougher Western Conference, he'll get a lot of votes that carry over from last season, when he became the people's champion for his playoff exploits.
It's not great, but +2800 is worth thinking about given how consistently the Blazers exceed expectations by hook or by crook.
8. Nikola Jokic (+2000 at DraftKings)
His number should be way lower, so this is good value, but he has no shot, so it's still eighth. Jokic might be the second-most impactful guy in terms of team performance in the league behind Curry. That doesn't make him the second-best player, but it means his team performs the second-best with him.
Everyone is better with Jokic on the floor. He proved in the playoffs he could be a go-to guy. He's entering his prime. If the Nuggets snake a top-two seed again, he'll get a lot more respect from skeptics this time.
However… the Nuggets are bound to regress a little from a season in which a ton went right even when things went wrong. (They had role players play lights-out in January when they were without three starters.) Jokic played the longest season of his career, going into late May, and he's playing for the Serbian national team this summer in FIBA play and then straight into training camp.
The Nuggets kept him at less than 33 minutes per game last year, and they'll probably be more conservative this year, not needing to chase seeding so much. So while Jokic will likely have the efficiency, the highlights and the impact, the numbers for him and the team may both be lacking to push him in. Still, he's so good he deserves to be on this list at this number.
9. Anthony Davis (+1000 at Westgate)
I'm not crazy about Davis' chances. Most guys who sign up to be No. 2 to LeBron do not get the kind of easy-breezy life they think they are. It's not, "oh when things go bad, LeBron is under the microscope."
No, when things go great, it's a testament to LeBron's will to win and his championship pedigree. When things go badly, it's "the Lakers need to get him more help."
Let me put it this way: No one ever suggested Chris Bosh was MVP. Now, you can argue Anthony Davis is a lot better than Chris Bosh. But it's about role, fit and performance, and those three things are a little tough for Davis. LeBron will have the ball all the time, and he's never been great at pick-and-pop passing. (See: Love, Kevin.)
Davis' injury history takes away some value, but LeBron takes away the rest because if James misses time, the team can't stay above water even with a great Davis performance. (See: Pelicans, New Orleans.)
However, you're getting a top-five player at 10-1 on a team that might win 55. He's got to be on here.
10. Russell Westbrook (+2500 at PointsBet)
This has a lot more value if the Thunder don't trade him. You can't get in on this one unless you're really willing to take the risk on multiple outcomes. If he goes to Miami, he lacks the supporting cast and loses touches to Jimmy Butler. If he goes to Detroit, same deal with Blake Griffin.
But if the Thunder keep him? He's going to go for every record known to man. Points in a game. Points in a season. The scoring title. The assist title. MVP. Most Improved Player. Executive of the Year, and he's not even eligible. He got some conversation last year just for the triple-double thing. (Yes, it's still a thing.)
Westbrook was coming off knee surgery last year and shot unsustainably horrible. With a full summer off, his shot probably comes back. The Thunder have basically the same team right now that they did when he won MVP last time, outside of Victor Oladipo and Domantas Sabonis, who struggled on that squad.
It's not likely, for sure.
But it's not crazy.
Not at 25-1.
How would you rate this article?