Mears: Quick Reactions on All 30 NBA Teams' Odds to Make, Miss the Playoffs
Credit:
Photo credit: Mark J. Rebilas-USA TODAY Sports. Pictured: Zion Williamson
The New Jersey sportsbook PointsBet released odds Tuesday afternoon on all 30 NBA teams to make or miss the 2019-20 playoffs.
Below I give my initial reactions to the numbers on each team, starting with the likely ones to make/miss and working to the fringe candidates.
This afternoon, PointsBet released odds on all 30 NBA teams to make and miss the playoffs for the 2019-20 season.
Let's run through every team's odds and give some quick reactions on each and whether there might be value.
---
Huge Favorites to Make Playoffs
Milwaukee Bucks (-5000, 98.0% implied probability)
Have the reigning MVP, who is just 24 years old. They'll miss Malcolm Brogdon, but this team is still loaded and were able to re-sign Khris Middleton and Brook Lopez to keep their starting five intact.
Philadelphia 76ers (-2500, 96.2%)
I've seen people debating whether the 76ers are better this year than last after essentially trading out Jimmy Butler and J.J. Redick for Josh Richardson and Al Horford. I think they unequivocally are: Richardson is one of the most undervalued players in the league, and for this team, he isn't a downgrade from Butler. Adding Horford's veteran presence and defensive play is huge, too. This has a chance to be one of the best defensive starting fives we've ever seen.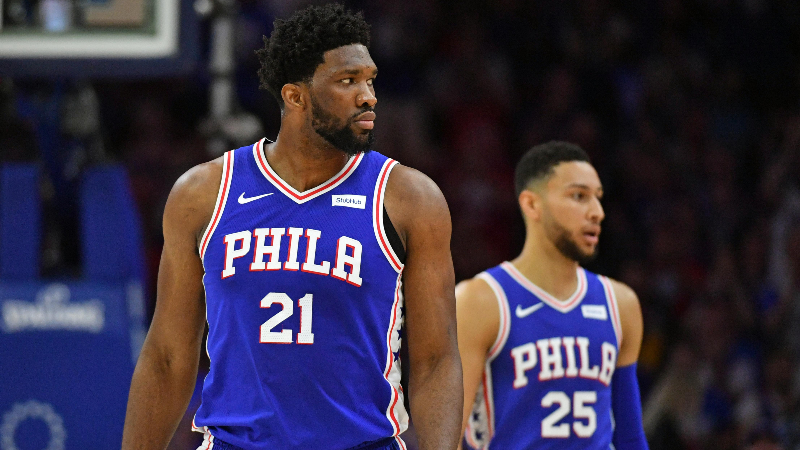 LA Clippers (-2000, 95.2%)
What's lost in the Clippers' move for Kawhi Leonard and Paul George is still how crazy loaded they are up and down this roster. Off the bench they'll have guys like Lou Williams, Jerome Robinson, Maurice Harkless, Wilson Chandler, Montrezl Harrell and JaMychal Green. Those guys could all likely start for quite a few NBA teams. Kawhi and PG should be able to manage their loads.
Depth is the common factor for these top teams, and that's true for the Jazz, too. Joe Ingles or Bojan Bogdanovic will likely come off the bench, which will also feature guys like Jeff Green, Royce O'Neale and Ed Davis. The importance of getting the still-developing Donovan Mitchell another shooting threat/ball-handler in Mike Conley can't be overstated.
---
Huge Favorites to Miss Playoffs
Charlotte Hornets (-5000, 98.0% implied probability)
Missed the playoffs last year with Kemba Walker, who they swapped out this year for Terry Rozier. That's the same Terry Rozier who had a -0.95 Real Plus-Minus last season. You'd have to be the world's biggest Rozier fan to believe in the Hornets making the playoffs, and they'll likely prioritize building around their young guys in Miles Bridges, Malik Monk, Dwayne Bacon and P.J. Washington.
Memphis Grizzlies (-5000, 98.0%)
One of the franchises I'm highest on for the 2020s, but the West is still too loaded with stars to make a splash. They'll prioritize the development of future studs (Jaren Jackson Jr. and Ja Morant), as well as another draft steal in Brandon Clarke.
Cleveland Cavaliers (-2500, 96.2%)
Rookie Collin Sexton had a better second half of the year after a historically bad first, but a team prioritizing two young guards — Darius Garland being the other one — isn't going to be good. Point guards have the steepest aging curve of any position in basketball, so Cavs fans will need to be patient with their prospects.
Phoenix Suns (-1667, 94.3%)
Apparently the Suns want to make a splash this year after acquiring Ricky Rubio and Dario Saric, but, sorry Suns fans, it won't happen. The second-worst defense in the league last year doesn't look to be much better unless Aron Baynes is going to steal a bunch of minutes from Deandre Ayton — something that shouldn't happen for Phoenix's future.
Washington Wizards (-1150, 92.0%)
John Wall is expected to be out for most, if not all, of the 2019-20 season. That means it's Bradley Beal and an incredibly unspiring roster that lost Trevor Ariza, Bobby Portis and Tomas Satoransky for nothing this summer. It's more likely that Beal gets traded than the Wiz do any real damage this year.
---
Likely to Make Playoffs
Boston Celtics (-770, 88.5%)
On the one hand, the Celtics lost their two best players in Kyrie Irving and Al Horford in free agency. On the other, they gained Kemba Walker, and Brad Stevens may be Doc Rivers-ish in that he's at his best when elevating a cohesive group of solid players instead of a bunch of stars. The odds of -770 are likely a bit too high, but I trust Stevens to take this roster to the playoffs, even if Kemba suffers an injury.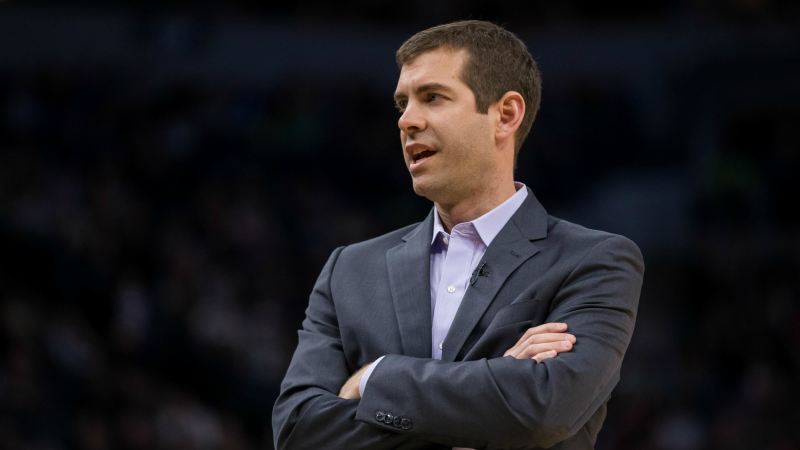 So, take LeBron James off the roster. Is that team with Anthony Davis better than the Pelicans team last year? I'm not so sure — and if it is, the difference isn't very big. That means while this team has a high ceiling, it also has a pretty low floor. Plus, AD hasn't exactly been the most durable player in the league. Will the Lakers make the playoffs? Probably. Are they set up to handle injuries? Definitely not.
Brooklyn Nets (-600, 85.7%)
I present:
Players to play over 500 minutes for the Nets last season with a positive on-court net rating:

Ed Davis
Treveon Graham
DeMarre Caroll
Shabazz Napier
Jared Dudley
Rondae Hollis-Jefferson
Allen Crabbe
D'Angelo Russell

That's the list.

What do all those players have in common?

— Hardwood Paroxysm (@HPbasketball) July 9, 2019
I believe the answer to Matt's rhetorical question is, "Players not on the Nets roster anymore." If Kyrie isn't engaged or deals with nagging injuries again, if the Nets play DeAndre Jordan over Jarrett Allen — things may not be as rosy as expected in Year 1.
Denver Nuggets (-600, 85.7%)
The Nuggets are here to stay: Their young core of Jamal Murray, Nikola Jokic and Gary Harris are all under 25, and guys like Monte Morris, Malik Beasley and Jerami Grant are all very solid, young role-players. They retained Paul Millsap, and they also took fliers on guys like Michael Porter Jr., Bol Bol and Jarred Vanderbilt who will have no pressure to contribute. This team is going to be very good yet again barring catastrophic injuries.
Houston Rockets (-500, 83.3%)
James Harden (30 years old), Chris Paul (34), Eric Gordon (30) and PJ Tucker (34) are all on the back side of their primes or out of it, which means they'll continue to push hard for a title, especially with the league seemingly more open than usual this year. Harden is one of the more durable players in the league, and as long as the perennial MVP candidate is out there, he'll propel this roster to the playoffs.
Indiana Pacers (-450, 81.8%)
If you're selling Pacers stock, I'd like to buy it. They won 48 games last year with only 36 games from Victor Oladipo (who will be out the first part of the year), and they're likely even more well-equipped to handle his absence after adding Malcolm Brogdon, TJ McConnell, Jeremy Lamb and TJ Warren in the offseason. Indiana finished third in Defensive Rating last season behind DPOY candidate Myles Turner, who is 23. I am confident in this franchise.
Golden State Warriors (-370, 78.7%)
There are certainly a ton of question marks here: How will Steph Curry and D'Angelo Russell fit together? Will Draymond Green hit a steep aging curve given his game? How much exactly will they miss Klay Thompson's shooting? Still, like with Harden, I trust a Steph-in-his-prime team to make the playoffs. Like with the Lakers, though, this team is not set up to handle a Steph injury.
Portland Trail Blazers (-335, 77.0%)
The Blazers missed the playoffs in 2012-13, Damian Lillard's rookie year. Since then, they've made it in six straight years, winning 53, 49, 41, 44, 51 and 54 games. Dame is smack in his prime at 28 years old, and while I'm a little concerned about this roster without Jusuf Nurkic until February, Dame has earned the benefit of the doubt in the regular season. It'll be tough this year, and 77.0% implied probability is too high, but I'd still lean them making it.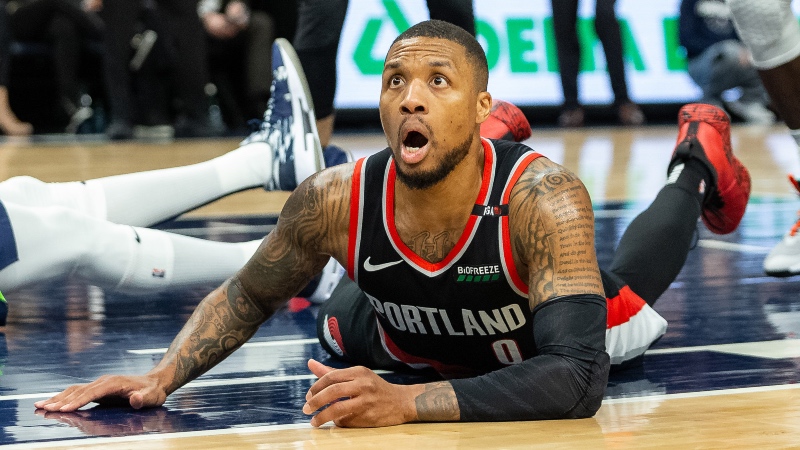 San Antonio Spurs (-250, 71.4%)
2018-19: 27-13
2017-18: 24-11
2016-17: 33-8
2015-16: 33-2
2014-15: 29-7
2013-14: 33-4
2012-13: 33-7
That's the record each season of the Spurs against teams below .500. That's their mantra: They don't lose games they shouldn't, and in the regular season that's worth a TON of wins. Will it be enough to make the playoffs in the West, though? I'd say not more than seven out of 10 times this year, but they'll certainly continue to be in the mix.
The Heat are currently in the middle of a courtship with Russell Westbrook, who is now reportedly open to trades and specifically is interested in Miami. But if the Thunder move him elsewhere, -200 is likely a bit high. Sure, they gained Jimmy Butler, but they also lost Josh Richardson, who again I think is one of the more undervalued players in the league. Jimmy likely drags them to the playoffs in a poor Eastern Conference, but I wouldn't bet it at this number.
Toronto Raptors (-200, 66.7%)
Losing Kawhi and Danny Green hurts, but the cupboard isn't completely bare right now. Perhaps Masai Ujiri is only interested in title hunting and sells off the parts to rebuild for superstars, but if that doesn't happen, veterans like Kyle Lowry, Marc Gasol, Serge Ibaka and Fred VanVleet are good enough to push them into the playoffs. If Pascal Siakam and OG Anunoby take more steps, it'll be a layup.
Orlando Magic (-150, 60.0%)
The Magic are likely getting respect here because they made the playoffs last year and retained All Star Nikola Vucevic in free agency. There's still hope that Aaron Gordon, Jonathan Isaac and Mo Bamba can make star leaps, too. I don't think they'll be terrible by any means — the roster is solid and Steve Clifford is a floor-raising coach — but 60% implied probability is high for a team without any guys who are assuredly going to get much better.
---
Likely to Miss Playoffs
Detroit Pistons (-120, 54.5%)
The first team out of the East according to these odds, the Pistons barely snuck in as the 8-seed last year despite getting 75 games of Blake Griffin, 79 from Andre Drummond and all 82 from Reggie Jackson. They brought in Derrick Rose, Tony Snell, Tim Frazier and Markieff Morris in free agency, which is just OK. I think they're probably better value than the Magic given the shorter odds to make the playoffs, but it's hard to be too excited about Detroit.
Atlanta Hawks (-400, 80.0%)
Perhaps it's still too early for the Hawks, who have Trae Young (21 years old), Kevin Huerter (21), John Collins (22) and De'Andre Hunter (21) as their core. But Young flashed superstar upside in his rookie season, something that is not very common with point guards, who typically have the steepest aging curves. If you're feeling adventurous with these playoffs odds, I don't mind shots on up-and-coming teams like the Hawks, Kings, Mavs, Bulls or Pels. They often arrive sooner than expected.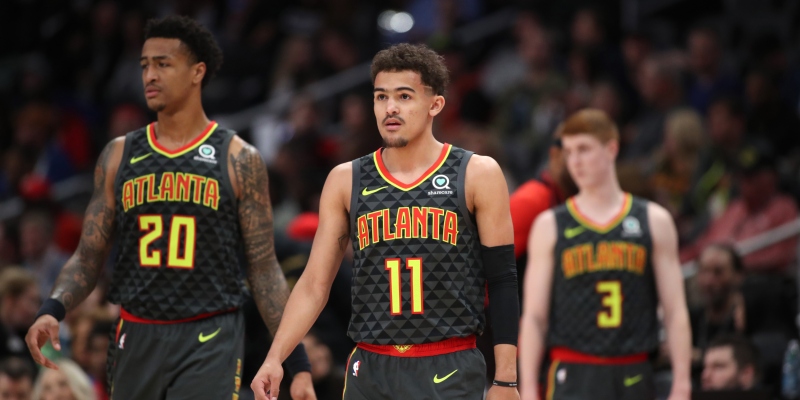 Sacramento Kings (-450, 81.8%)
The Kings, who finished ninth in the West last year, should see improved play from their young guys, specifically De'Aaron Fox and Marvin Bagley, the former  of whom could take another sizable leap. They acquired good depth at the guard and wing positions, getting Cory Joseph and Trevor Ariza in free agency, while re-signing Harrison Barnes. But despite their numerous investments in centers over the years, they're still lacking in that area. Kosta Koufos and Dewayne Dedmon are both 30, and Bagley doesn't have the length or defensive potential to reliably bolster the defensive unit. They'll be fun again, but outside of a move, I'm afraid their defense will fail them.
Dallas Mavericks (-450, 81.8%)
Luka Doncic is a future superstar, a guy who should win at least one MVP during his career. But the Mavs largely struck out in free agency surrounding him with talent for this year, and his main young counterpart, Kristaps Porzingis, hasn't played basketball since Feb. 6, 2018. They'll be competitive and fun, but getting to the level of the Spurs or Blazers — the teams in the 7- and 8-spots in these odds — seems unlikely this year.
Chicago Bulls (-450, 81.8%)
With Otto Porter on the floor last year, the Bulls were 12.8 points per 100 possessions better (+8.8 on offense, +4.0 on defense). He's a perfect 3-and-D fit with Lauri Markkanen and Wendell Carter Jr., who the Bulls will hope to see progress from this year. The biggest question is guard play: They drafted Coby White in the top 10 this year. Will he get chances early on? If so, expect a tough learning curve, and the team should struggle as a result. If they ease him in and go with a mix of Kris Dunn and Tomas Satoransky early on, they could make more a splash than expected. I'm very tentatively and secretly buying Bulls stock.
New Orleans Pelicans (-455, 82.0%)
I'm more publicly buying Pelicans stock. This team has awesome veterans in Jrue Holiday and JJ Redick, and it's possible that Zion Williamson is such a generational talent that he is a positive player right away. I'm more bearish than the public on Brandon Ingram, but the book certainly isn't closed on him. This team is more talented than the Mavs and Kings, who have shorter odds to make the playoffs. The odds to make the playoffs here (+350) are pretty good, in my opinion.
Oklahoma City Thunder (-900, 90.0%)
Baked into this number, it seems, is the potential departure of Russell Westbrook, who for the first time is reportedly on the trading block. If he leaves, the Thunder will obviously be in tank mode and build around the draft pick trade haul they got for Paul George and will get for Westbrook. But if he stays, a team with Westbrook, Shai Gilgeous-Alexander, Terrance Ferguson, Andre Roberson, Danilo Gallinari (if he's not bought out) and Steven Adams should be in the mix. It all comes down to Westbrook.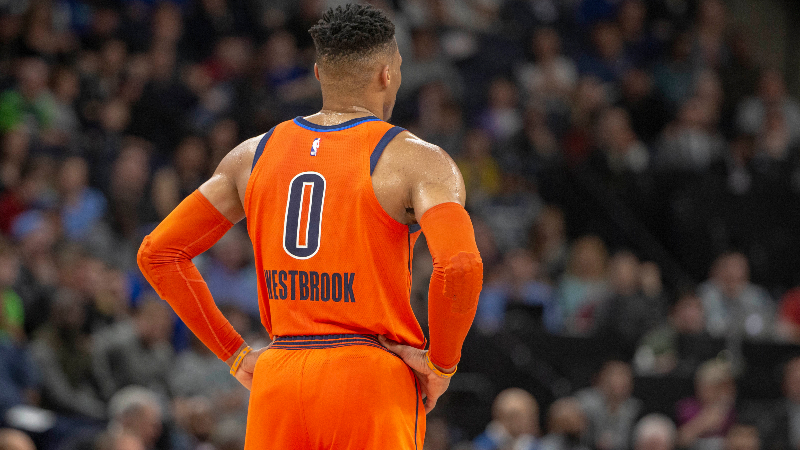 Minnesota Timberwolves (-900, 90.0%)
The lineup last year with Robert Covington with the starters was solid, especially on defense, allowing just 104.1 points/100. He improved their defense by a ridiculous 8.9 points/100 when on the court vs. off. That said, this team had good health last year and won just 36 games. Wiggins remains a net negative, and baring a MVP-like season from Karl Towns, it looks like more disappointment in Minnesota again this year.
New York Knicks (-900, 90.0%)
People should probably calm down about RJ Barrett's struggles in Summer League. It's a small sample; poor play happens. Still, this team isn't just young — it's incredibly raw, filled with players who don't yet know their role in the league. Mitchell Robinson should be appointment viewing, and Knicks fans should be excited to have actual prospects with upside for once, but this team is not going to win a lot of games. And that's OK!
How would you rate this article?