76ers Free Agency Scenarios: How Would LeBron James, Kawhi Leonard Fit?
Credit:
Bill Streicher-USA TODAY Sports. Pictured: Ben Simmons and LeBron James
The Highlights
The Philadelphia 76ers could add LeBron James and/or Kawhi Leonard to their young core this summer.
A LeBron-only addition to the Sixers would make them similar to the 2013 Miami Heat.
LeBron and Leonard on the 76ers would make Philly a defensive juggernaut.
---
The Los Angeles Lakers are still the favorites in the betting market to land LeBron James, and we laid out the scenarios for the super teams there earlier this week. But perhaps the most interesting team LeBron could jump to while staying in the weaker Eastern Conference is the Philadelphia 76ers, who already have two young studs in Ben Simmons and Joel Embiid. They're ready to win now and would certainly compete for titles with LeBron.
So, again, we bothered our in-house oddsmaker, Sean Koerner, to give us the lowdown on how Philly's odds would change in multiple different free-agent scenarios.
---
Scenario 1: Just Kawhi
Projected eight-man rotation: Kawhi Leonard, Joel Embiid, Ben Simmons, J.J. Redick, Robert Covington, Dario Saric, Markelle Fultz, T.J. McConnell
Projected title odds if LeBron stays East: +650
Projected win total if LeBron stays East: 55
Projected title odds if LeBron goes West: +500
Projected win total if LeBron goes West: 56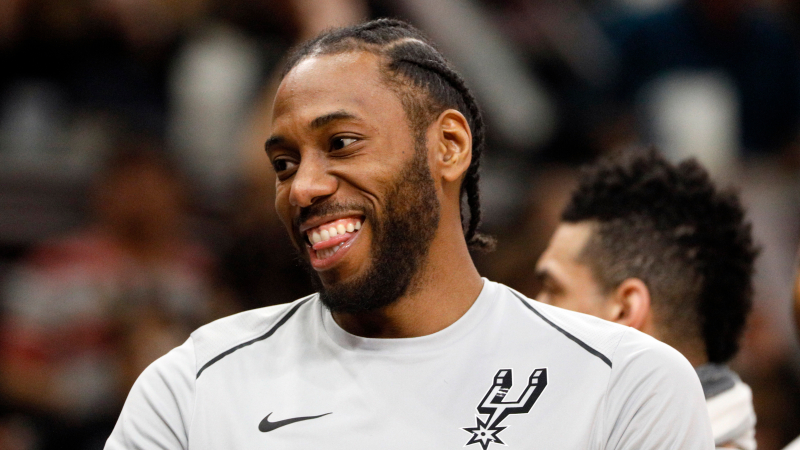 Credit: Soobum Im-USA TODAY Sports
Leonard doesn't have LeBron's playmaking abilities, but Simmons does. So essentially what you have here is Simmons accounting for half of James' skill set (elite passing) and Leonard making up the rest (efficient scoring).
However, the loss of Covington (despite an awful playoff run) and Saric is significant. You lose roughly three wins based on that, compensated by Leonard's value of 4-to-4.5. The over here feels right; the Sixers overachieved with 52 wins last year, but the aforementioned internal improvement and Leonard's addition (if healthy) would give them lots of upside.
Download The Action Network's free app to track your bets, get real-time odds and live scores.
The biggest questions: Could Simmons and Leonard fit? Would Embiid get enough touches? We don't know how the modern version of Leonard — ISO-dominant, focal point offensively — fits on a team with so many scoring options.
Defensively, however, this team would destroy worlds. (More on that shortly.) — Matt Moore
---
Scenario 2: Just LeBron
Projected eight-man rotation: LeBron James, Joel Embiid, Ben Simmons, J.J. Redick, Robert Covington, Dario Saric, Markelle Fultz, T.J. McConnell
Projected title odds: 3-1
Projected win total: 58

Credit: David Richard-USA TODAY Sports
What a fun squad. I continue to be skeptical James signs with a team with so many guys who are closer in age to his son than to him, but if he does go, they have so much versatility and talent. The fit is the question mark here. Simmons, like James early in his career, is a great passer, but a poor shooter (he was 0-of-11 on 3-pointers as a rookie).
Here's a different way to think about this combination: They're analogous to the 2013 Heat more than the 2016 Cavaliers. You have a non-shooter in Simmons who can create, drive and get to the rim. Dwyane Wade was a way better mid-range shooter of course, even at Simmons' age, but that's the comp. Then you have Embiid, who's like a mega-Bosh — more post-up centric, but able to spread the floor and defend all five positions. Then you've got a shooter (Redick as Ray Allen), Saric as some combo of all the forwards that team had, and James. You can even kind of split Wade into Simmons and Saric, with both better in some areas than Wade was but neither as good as he was singularly.
That team thumps defensively. It cooks offensively. And James can dominate the East once again.
The under is probably still the play for the over/under with Embiid's injury history, along with a team trying to add LeBron and adapt to him immediately. The division is tough, and last season's team outperformed expectations on the way to 52 wins. Essentially you take the Sixers' win total last season, say that they probably over-performed by four wins, factor in the improvement of all their young players to get back to 53, and then LeBron adds five wins. If you think the improvement adds more or less, or that their obscene late-season win streak was worth more or less, you adjust from there.
The title odds are pretty good in that spot. You have a team with a prayer of actually switching vs. the Warriors. The Sixers would probably still be favored over the Celtics in the Eastern Conference Finals, although that would be a battle. Their road to get there is tougher than what Cleveland faced, but this team has more of a chance vs. the Warriors, though still heavy underdogs.
All in all, a promising situation. — Matt Moore
---
Scenario 3: LeBron and Kawhi
Projected eight-man rotation: Kawhi Leonard, LeBron James, Joel Embiid, Ben Simmons, J.J. Redick, Markelle Fultz, T.J. McConnell, Zhaire Smith
Projected title odds: 2-1
Projected win total: 61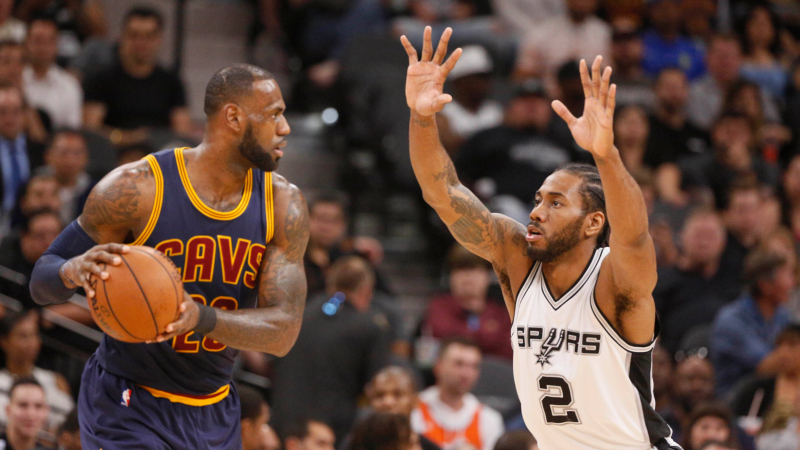 Credit: Soobum Im-USA TODAY Sports
With a projected starting lineup of Ben Simmons-J.J. Redick-Kawhi Leonard-LeBron James-Joel Embiid … whew boy, I don't know how they wouldn't be the best defense in the league — and perhaps one of the best defensive units we've ever seen. Embiid is a Defensive Player of the Year hopeful entering next season, LeBron and Simmons are brilliant help defenders when engaged, and a healthy Kawhi is the perhaps the best defender in the league. Throw Kawhi on the team's best wing, let the other two wings play in the outfield, and let Embiid clean up any mess — all right, I'm getting too excited.
Offensively, I think they'd work just fine: I wish Simmons and LeBron were a little better fit, but they'd figure it out, much like LeBron and Wade figured out the shooting problems in Miami. Re-signing Redick would be huge to get spacing, and Kawhi is a deadly knock-down shooter. Embiid is a force in the middle and he can space out the floor to help with the Simmons-LeBron fit.
And, wow, this team would be deadly in transition. Both the 76ers and Cavaliers last season got out into transition at top-10 rates, and the Cavs were +5.8 points per 100 possessions better on those with LeBron on the floor, per Cleaning the Glass. Both LeBron and Simmons were deadly off steals, and especially lethal pushing off live rebounds. Add in Fultz and new draft pick Smith, and the transition athleticism would be off the charts.
The 2-1 title odds seem about right, with the biggest caveat being the youth of Simmons and Embiid. But this team would boast as much talent as anyone in the league, and it would definitely be able to knock off other superteams such as Golden State and Houston. Most importantly, it'd be damn fun to see. — Bryan Mears
How would you rate this article?