76ers vs. Nets Game 4 Betting Preview: Will Brooklyn Rebound?
Credit:
Wendell Cruz-USA TODAY Sports. Pictured: Brooklyn Nets guard D'Angelo Russell (1), Philadelphia 76ers forward Greg Monroe (55).
Game 4 Betting Odds: Philadelphia 76ers at Brooklyn Nets
Spread: 76ers -1.5
Over/Under: 231.5
Time: 3 p.m. ET
TV Channel: TNT
Series Score: 76ers Lead 2-1
---
>> All odds as of 8:30 a.m. ET. Download The Action Network App to get real-time odds and live win probabilities on your bets.
---
Despite Joel Embiid missing Game 3 for the 76ers, the Brooklyn Nets couldn't take control of this series. Can they even things up on their home floor in Game 4? Our analysts discuss.
Betting Trends to Know
Joel Embiid is questionable for Game 4. Philadelphia is 8-11 straight-up and 8-11 against-the-spread (ATS) this season without the All-Star center. — John Ewing
In Game 4 of a playoff series in which the home team lost Game 3 straight-up, the first round of the playoffs is the only round where the home team is under .500 ATS since 2005.
NBA Finals: 3-2-1 ATS
Conference Finals: 6-4 ATS
Second Round: 15-11-2 ATS
First Round: 22-26-2 ATS — Evan Abrams
What is Pythagorean win percentage? Put simply, it is how well a team is performing in terms of point differential (or runs or goals). This is what the expected win percentage "should" be for a team considering their points scored and points allowed during the regular season.
The Nets this season had a Pythagorean win percentage of 48.5%. Since 2005, teams with a Pythagorean win percentage below 50%, that are coming off a loss at home in Game 3, are just 4-13-1 ATS (23.5%) at home in Game 4, failing to cover the spread by 3.0 points per game. — Abrams
---
Locky: My Thoughts on Saturday's Game
I don't think I am allowed by rule to like the Nets anymore. I've liked the number in all three games of the series so far, and I've been correct once. That's a 33.3% trend for those of you charting throughout the postseason; make sure to grab a pencil and jot that one down.
One thing to notice throughout this series is that the scoring has been pretty off the charts despite the fact that the Nets have yet to shoot it really well for a sustained period of time. Game 3 had 240-plus points and Brooklyn couldn't make a 3.
I think the Brooklyn role players, whether it's Spencer Dinwiddie and Caris LeVert playing more, or Joe Harris becoming less invisible, are sitting on big performances at least once here, but I've also been pro-Brooklyn in a lot of this series and frankly have been incorrect. Kenny Atkinson has said he's going to look at mixing lineups and trying some different rotations out, but he basically was resigned to just saying his team needs to shoot better.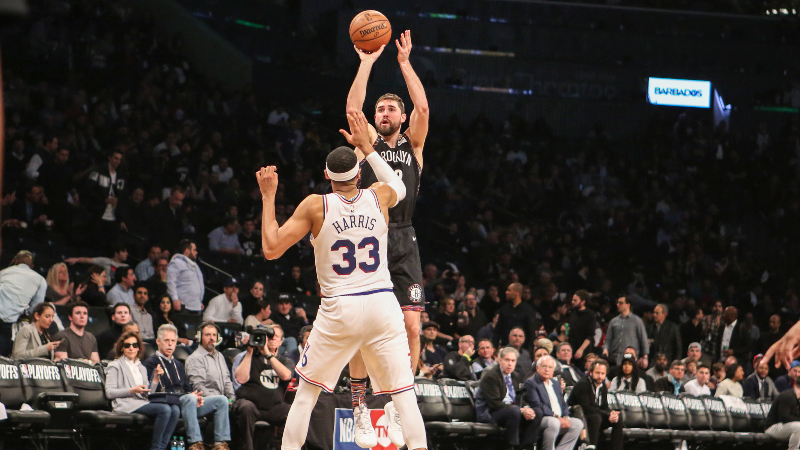 The biggest thing to keep in mind? The total keeps climbing throughout this series. After going under in Game 1, we've gone from a closing total of 224.5 to 229.5 to now 233 for this game. I think it's gone too far.
This is a 2:30 p.m. ET start with a lackluster Brooklyn crowd, and the Nets, who are well-coached, having just gotten eviscerated defensively. I think Brooklyn's going to try some things, make some adjustments and create a game-flow different to what we've seen the last couple games.
That makes the under attractive when everyone's expecting more off-the-charts scoring and the same old game. — Ken Barkley
---
Mears: Why I'm on the Nets … Again … Sigh
Well, betting the Nets sure was fun the other night. I grabbed Nets +3 right after Joel Embiid was ruled out; at least I didn't really have to sweat it, with the 76ers blowing out Brooklyn 131-115.
That said … let's do it again. Joel Embiid is currently doubtful, and I already have a bet on the Nets at +2.
The 76ers got really hot shooting in Game 3, hitting 44.0% of their 3-pointers, along with 48.6% of their mid-rangers. That's unlikely to continue.
Further, Kenny Atkinson commented Friday that he's going to let D'Angelo Russell, Caris LeVert and Spencer Dinwiddie play more minutes. Those guys all played below 30 minutes in Game 3, and Jarrett Allen also sat on the bench for a while, getting just 21 minutes of action.
It was an odd decision, especially since those guys were all a big part of the reason why the Nets got the unexpected win in Game 1. Russell's job was to merely keep things afloat against the Philly starters, and then LeVert and Dinwiddie came in and cleaned up against the 76ers bench. It was a sound strategy, and it's odd it was abandoned after the win.
So with likely shooting regression coming for Philly — their long-term marks without Embiid on the floor are poor — plus the Nets' best players getting more time (maybe even approaching 40 minutes?), I think the wise bet is to wipe the tears from Game 3 and get back on the saddle for Saturday's game. I like the Nets ATS and on the moneyline as a dog. — Bryan Mears
---
Moore: How I'm Betting Today's Game
I pump faked on the Thunder after losing out on them twice, and it was a mistake, so I'm firing again on the Nets. That's not at all the destination of following bad money, right?
I'm going back in on the Nets at +105. To counter Evan's Pythagorean tip above, home dogs that are 1-2 in the series going into Game 4 are 8-3 ATS since 2005. I just have a hard time seeing Philly taking both of these games.
So much of what happened in Game 3 was the product of shoddy lineups from Kenny Atkinson. He played Jarrett Allen less than 20 minutes in a game in which Joel Embiid was out and Boban Marjanovic was in foul trouble, for cripes' sake.
This is probably my last chance to bet on Brooklyn since I'm not going near a potential closeout game in Philly. So I'll ride with the Nets at home one last time on the moneyline and hope the math problem, which tilted so randomly in Philly's direction last game, corrects itself.
One other spot I'm in on? Philly's over/under team total is 117. In the last 10 years, only 10 teams out of 80 have gone over 117 on the road in a Game 4. I don't believe in the Sixers offense to repeat its red-hot performance from 3 in Game 4, so I'll grab the under there, which gives me an out in the event of a Sixers-strangle-the-Nets-offense Philly win. – Matt Moore
---
Editor's note: The opinions on this game are from the individual writers and are based on their research, analysis and perspective. They are independent of, and may not always match with, the algorithm-driven Best Bets from Sports Insights.
How would you rate this article?