Moore: What Lakers, Celtics & Pelicans Are Betting on as Anthony Davis Trade Game Drags On
Credit:
Derick E. Hingle-USA TODAY Sports. Pictured: Anthony Davis
Matt Moore resets the picture around Anthony Davis after no deal was reached by Thursday's NBA trade deadline.
The Lakers and Celtics are still in the race for Davis, but both are betting on a lot to fall into place between now and the summer.
Anthony Davis is a person with family, emotions, intentions, goals and a spirit.
In time, he will be able to make a choice about his career, about what's important to him, about where he wants to spend the majority of time and which team he wants to play with. He has every right to that decision upon the conclusion of a contract he voluntarily signed with the New Orleans Pelicans for $140 million that he's earned every single penny of and is guaranteed to receive the rest of.
What happened on Thursday was, ultimately, nothing.
Davis was not traded to the Los Angeles Lakers for their massive appetizer platter of uninspiring prospects, uninspiring picks and uninspiring cap filler. He was not sent to a mystery team angling to split the gap and take an enormous chance, likely because of the advance work his agent Rich Paul, whose first and primary client is LeBron James of the Lakers, had done in poisoning the well league-wide.
Davis remains a Pelican, and now the painful process of figuring out whether he will be allowed to take the floor as he says he wants to begins.
Davis is still a person while under contract, and has every right to be frustrated that he remains with a team that he said he no longer wanted to play for — even if his agency's own typically brutish, bullying approach helped keep the Pelicans dug into their "bunker," as one league source described it this week.
However, Davis still gets paid, and he'll still likely have a new team within six months' time.
Beyond Davis, though, what happened at the trade deadline on a league-wide, power-shifting scale was a game of poker.
Imagine the table, with the Pelicans holding Ace-King off-suit. Rich Paul and Klutch Sport sat across from them, raising them pre-flop considerably. (The Lakers in this situation are basically just bankrolling Paul, who by all accounts was making decisions for the Lakers the past two weeks, even if Magic Johnson was in charge of the actual negotiations.)
The Pelicans called, but it was clear they were rattled. Paul yet again went at them after the flop, aggressively pushing on them, and again on the turn and river.
But each time the cards came up, the Pelicans' hand improved.
And so on the river this week, they re-raised, wanting more and more and more from the Lakers.Ball. Ball and Kuzma. Ball and Kuzma and Ingram. Ball and Kuzma and Ingram and multiple picks. No, more picks. No, even more picks.
And eventually, Paul and the Lakers' mucked, pushing away from the table.
So does that mean the Pelicans won?
No, because they can't cash out.
This is where the metaphor falls apart, because now they have to essentially figure out how to barter with the Celtics and the notoriously recalcitrant Danny Ainge as well as the Lakers. And that's all assuming the Knicks don't win the lottery (14% chance they do) and another team doesn't get into the mix. The Celtics reportedly assured the Pelicans they would bring a real offer.
All three parties are making massive bets here.
The Pelicans are betting that the options will open for them, that at worst they can use the Celtics as leverage to get the same deal from the Lakers as they could before the deadline.
If the Lakers pull assets away, and even if Ainge refuses to include stud Jayson Tatum, the Pelicans can say they like the combo of Marcus Smart, Jaylen Brown and the Celtics' infinitely better first-round pick selection better. Whether they actually do, that keeps pressure on LA.
Meanwhile, if Ainge is good to his word (and Kyrie Irving re-signs), the Pelicans might land Tatum, the best available young prospect.
The Celtics are betting they can get Davis and keep Irving.
It cannot be understated how much is riding on the next six months for the Green Team. If they flame out in the playoffs and Irving decides to bolt, that compromises Ainge's ability to make an honest, fair offer for Davis; he'll need to keep all those pieces most likely. But if they make a run and secure Irving's services, Ainge might be within range of a true super-team with some young assets left over.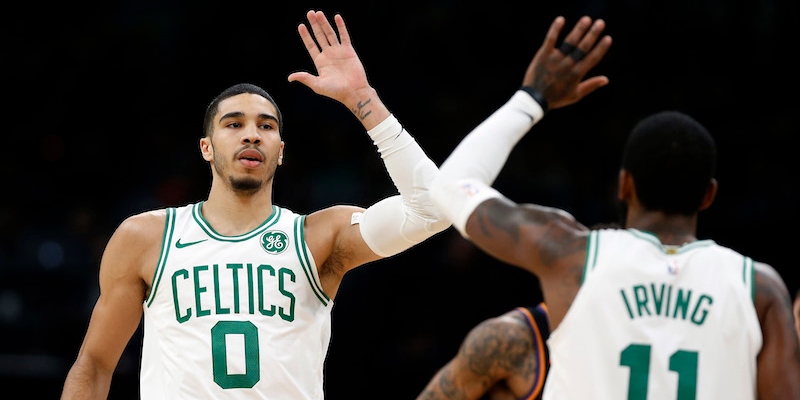 Whether Ainge will include Tatum is a massive part of this equation. If he will assent to it, he'll get Davis. Tatum is a building block for the Pelicans that the Lakers simply don't have to offer. If he tries to be coy about it, however, this episode has proven that the Pelicans are just as willing to walk away if they have to, and remember, they will still have control over Davis for a full season after.
The Lakers did what they could. Whether their walking away earlier this week was their bet that they could get the Pelicans back to the table on their terms, or that they can now get Davis for less this summer, the Lakers are mostly along for the ride.
Los Angeles' best bet in getting Davis was using Paul to poison the waters, which he did, offering up only suitors who didn't have the assets and making it clear Davis wouldn't re-sign elsewhere.
Now the Lakers can hope that Irving bolts on the Celtics, taking the Celtics out and that the Knicks don't land the No. 1 pick. If that happens, the Lakers might get Davis for less than what they offered. They might be able to keep one of Ingram or Ball, one of Kuzma or Hart. They traded Ivica Zubac on Thursday in a deal for Mike Muscala, but they still might be able to get Davis for less.
That's the Lakers' only bet left: Hoping Irving dooms the Celtics and no one else steps in. They of course will have cap space this summer, but the number of free agents reportedly interested in joining the King keeps slimming.
Meanwhile, the Clippers cleared more cap space at the deadline and added more assets. Something to keep their eye on.
There will be more drama; Davis wants to play and it doesn't do the Pelicans any good to let him. (Also, if you're a fan, how do you root for him?)
But for now the story is over.
The Pelicans held firm and didn't fold to the maniacal raises from Paul and the Lakers, and the race for the Brow is no longer a one-team contest.
Buckle up. We're just getting started.
How would you rate this article?
This site contains commercial content. We may be compensated for the links provided on this page. The content on this page is for informational purposes only. Action Network makes no representation or warranty as to the accuracy of the information given or the outcome of any game or event.