What the Wizards' Success Without John Wall Really Means
Credit:
Brad Mills-USA TODAY Sports. Pictured: John Wall
The conversation on the Washington Wizards is lost right now. It's wandering in the woods, and it keeps running into thorn bushes, branches, snaring vines, and sand pits. Here's what we know.
Since John Wall went down with his latest knee soreness, the Wizards are 9-4 overall. Going in to Wednesday's loss to the Warriors, Washington had the fifth-best net rating in the league in that span, outscoring opponents by more than five points per 100 possessions. So naturally, folks have leapt to suggest that the Wizards are better without John Wall, which, of course, is stupid. Really stupid. Like, cheering-wildly-during-an-NBA-contest-for-free-fast-food-tacos-you-wouldn't-order-anyway stupid.
This much is true: The Wizards have been fundamentally different since Wall went out, and that difference in style has led to an improved set of results. It's not just noise, it's not just the schedule, and it's not something to throw away when Wall returns. These are serious lessons to take from this stretch, beyond, of course, "Bradley Beal is awesome."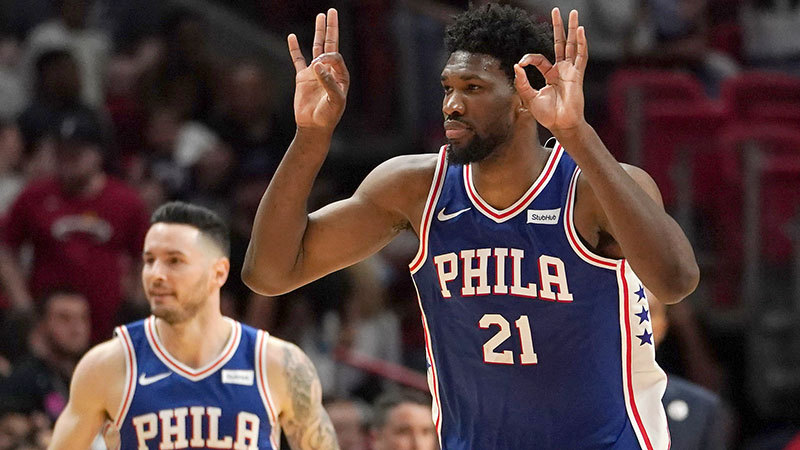 "EVERYBODY EATS"
When Beal was asked about what's been different with Wall out, he famously replied "everyone eats," referring to distribution of shots via ball movement. That got overblown and was a textbook lesson in how the media can miss pop culture references like the movie quote that Beal dropped and then extrapolate it.  (Admission: I've done this several times with missing Drake references. God's plan.)
Beal clarified that the idea they were better without Wall was, as I stated above, stupid.
"For us to say that we're a better team without John, it's, like, that's comical in a sense. Come on, let's be real," Beal said.  "The guy's the head of our franchise, a five-time all-star. Let's be realistic. I think what benefits us is we figured out how to play without John. Reality is reality. … We're not sitting here saying we're a better team without him, by no means.
"Everybody has success. Everybody gets a touch. Everybody shoots the ball. Everybody plays defense. Everybody rebounds. We don't care about who has more than the next man, and that's the same mentality we had last year, and we just found it again."
But there are a lot of questions that come to mind when you stop and consider what Beal said. Why did it take Wall going down for them to rediscover how they played last year? And the "we don't care about who has more than the next man" comment is telling.
Wall is sporting the third-highest usage of his career this season. What's interesting is that his usage (28.9%) is lower than last year's (30.6%), when, as Beal said, they played differently.
It's not just wins. It's not just the offensive efficiency. It's this:
On the season, Washington ranks 22nd in passes per game. That 313.0 mark since Jan. 27 would rank 10th among all teams this season.
But that's not necessarily reflective of actually meaningful passes. This is a common misconception. Passing in and of itself is not good. Passes with purpose that create good/better looks — those are valuable. A secondary assist is when a player passes to a teammate who then feeds another teammate for an assist. The assist to the assist. Check out those numbers for this year.
Why would teammates be creating more extra passes without Wall? Shouldn't Wall's gravity open up the floor to facilitate more of these?
Some of this speaks to a natural dynamic with Wall himself. A high-usage, pick-and-roll star, Wall is a model that the league has adjusted to. Give him a screener and shooters around him, and he'll go to work. That formula is tested, tried, and true in the NBA.
However, it's notable that only one of the top five offenses in the NBA also ranks top-five in percentage of time spent in pick and roll, and only two of the five best offenses rank top-10 in pick-and-roll usage. Except … the Wizards are actually spending more time in pick and roll than they were with Wall.
So what gives?
The secret is in what those pick and rolls are resulting in.
The Wizards are creating more cuts, both out of pick and roll, and overall, with Wall out, up about 2 percentage points. That doesn't sound like a lot, but it is. And this stands out, as well: Before getting injured, Wall had cut just once for a shot attempt this season, per Synergy Sports. One. Time.
Tomas Satoransky, on the other hand, is constantly cutting. He only has 18 cut possessions logged by Synergy, but when you watch, he's constantly moving once he disengages from the ball.
It's been fascinating to watch.
And here's an interesting quirk: I've long been critical of Markieff Morris' place on the team. Earlier this season when they were in full struggle mode, Morris was the only starter to have a negative on/off differential for the Wizards. Watching Washington without Wall, however, it hit me how little chemistry Morris seems to have with the star players. But he meshes much better with Satoransky.
Morris has nearly as many assists to Satoransky as he does to Wall, despite playing nearly half the amount of minutes. The whole dynamic is different between them.
That's the thing: Without Wall, the primary creators on Washington are now guys who are themselves dynamic. It's bizarre, because Wall, as a hyper-athletic guy with incredible vision, is the very definition of dynamic, but he doesn't play that way. He's static, he's controlled, he's efficient, which is to say that he's also predictable.
Think of how Chris Paul was in Los Angeles compared to how he is in Houston. This isn't just on Scott Brooks, because, after all, the Wizards' success without Wall is in part the product of how Brooks is coaching them. Instead, this has more to do with Wall and his approach to the game. There's very little chaos in Wall's game right now. Some of that is the product of the knee soreness he experienced this year, 18 months after having double knee surgery in the summer of 2016.
Some of it is the product of Wall's approach. Viewed through this prism, the Wizards' success, and their comments about it, make much more sense. In the playoffs, you need that control. Most playoff games, for long stretches, become what I refer to as haymaker-trades. It's two teams going blow for blow, hammering on one another with big shots, tough defense, holding off ball — you know, the things that actually define that much-discussed "playoff basketball" definition.
The Wizards need Wall for that.
But there are lessons to learn here. A little chaos opens things up, and it makes the most of the talent the Wizards have. It allows Beal to be both a creator, a gravitational threat, and the tip of the spear. It means Otto Porter actually gets the ball sometimes and can use his ability to produce off-screen.
Wall can not only do this, he can make it better, but he has to be in the right headspace, which is why the awkward comments between him and Marcin Gortat in the media and the ongoing whispers leaguewide of the discomfort there complicate things.
THE ELEPHANT IN THE DISTRICT
For years there have been rumors that Beal and Wall didn't get along on the court. Off the court, there appears to be no issues whatsoever. The two showed up for an appearance at the Children's Hospital in Los Angeles at All-Star Weekend like two peas in a pod. They were chummy with one another and the kids. Five minutes is nothing to gauge a relationship on, but when two players don't like one another, sometimes those signs appear no matter where they are.
For whatever it's worth, there was none of that in Los Angeles. The way it's been described to me by both writers and league sources is that Beal and Wall like one another personally, but they're very different. Wall is perceived — and I say perceived because neither the media nor sources who aren't close to him really know — as being self-conscious and aware of his star positioning among the league's elite. He's emotional, which makes him a good leader. Beal is regarded as a process fanatic who's more focused on the long term.
Beal and Wall are "good" with one another as far as anyone I've spoken to. There were whispers of discord, but that seems to be centered more around Wall and Gortat, and with Gortat unlikely to be in Washington beyond this season, it's not a huge concern. Wall and Beal can coexist, and if they find a balance, they've shown how dangerous they can be.
WAIT FOR IT
The Wizards are a better playoff team than they are a regular-season squad. It was true in 2014 when they upset the Bulls, in 2015 when they upset the Raptors and almost beat the Hawks, and in 2017 when the Celtics even acknowledged how tough that series was.
Wall is central to that. You need stars for the playoffs. But you also need to play in a way that constantly puts pressure on the defense.
The Wizards are not better without John Wall. They are different. And that difference has made them better. It says more about how others play without Wall than it does about Wall himself. The key will be merging the two when Wall returns. If they can do that, the Wizards' ceiling is way higher than what most will expect of them, which could present plenty of opportunity for all you bettors out there.
If they can't, it's only going to get more awkward in the District as a team struggles with a common problem in the NBA. What do you do when the best situation for your players makes you worse?
Photo via Brad Mills-USA TODAY Sports