5 Things to Know for Celtics-Raptors: Boston Is Running Out of Players
Credit:
Credit: Bob DeChiara-USA TODAY Sports. Pictured: Al Horford (42) guards Toronto Raptors guard DeMar DeRozan (10) during the first half at TD Garden.
I feel like I was just writing about Raptors-Celtics a week ago. … Anyway, here we are again in another potentially great game ruined by injuries. Everyone is still hurt for the Celtics, and quite literally nobody is hurt for Toronto.

But what does it all mean? Here are notable trends and metrics to know for Celtics at Raptors tonight. — Mark Gallant
It's Starting to Get Tense on Toronto
The Raptors are in the midst of a slump at, predictably, the abject worst possible time. This game has huge implications. A win moves their magic number for the 1-seed down to just one, and it clinches the tiebreaker over the Celtics. Boston is pitifully short-handed; This is basically a Summer League roster with Al Horford at this point.
But, man, tension does weird things to teams. The Celtics are playing with none of it. They've locked up a top-two seed; they're not really losing anything. They're not expected to win. The Raptors, on the other hand, are facing a late-season collapse that threatens to remind everyone of how every time spring rolls around, they fall apart like a cheap flan.
From an X's and O's standpoint, it's pretty simple. If the Raptors' shooters come through and Kyle Lowry has an average game, then they should win this going away. They're at home, both teams are on a back-to-back, and the Raptors have gotten good looks in every matchup against the Celtics. But they have to knock those down, and Lowry has to play to his potential.
Terry Rozier should be back in the lineup, and Jayson Tatum continues to shine big time in games when he's given so much freedom. The Celtics always have weapons.
Mostly, though, this game is about one team with tons of pressure on it, at home, vs. another team with every reason to lose. That never seems to work out like you'd think it would in the NBA regular season. — Matt Moore
The Celtics May Have No Ballhandlers
Here's a groundbreaking metric for you: When Kyrie Irving, Gordon Hayward, Marcus Smart, Terry Rozier, Shane Larkin and Daniel Theis are all out, the Celtics don't play a lot of great players. The first five are literally all of Boston's ballhandlers, which means we could get a lot of Kadeem Allen, who got his first career start Tuesday night against the Bucks, and Jaylen Brown creating offense if Rozier can't go again.
That seems suboptimal against a Toronto team that ranks sixth in defensive efficiency and fifth in effective field-goal percentage allowed. Brown was excellent Tuesday as the lead creator, but asking him to carry that role again in a back-to-back against the Raps is a different story. Before Tuesday's game, the Celtics had scored just 94.0 points per 100 possessions in 221 minutes this season with Irving, Smart and Rozier off the floor. Considering that sample is mostly against bench units, that is not encouraging. — Bryan Mears
Is Toronto Due for a Schedule Loss?
After playing the Cavs in Cleveland on Tuesday, the Raptors take on the Celtics in Toronto on Wednesday. Teams playing the league's best squads (win rate of 60% or higher) on back-to-back nights have gone 201-525 (28%) straight-up on the second leg of that back-to-back since 2005. Even elite teams that have won 70% or more of their games (like the Raps) have struggled in this spot, going 42-55 (43%) SU. — John Ewing
If You Want a Celtic in DFS, Target a Wing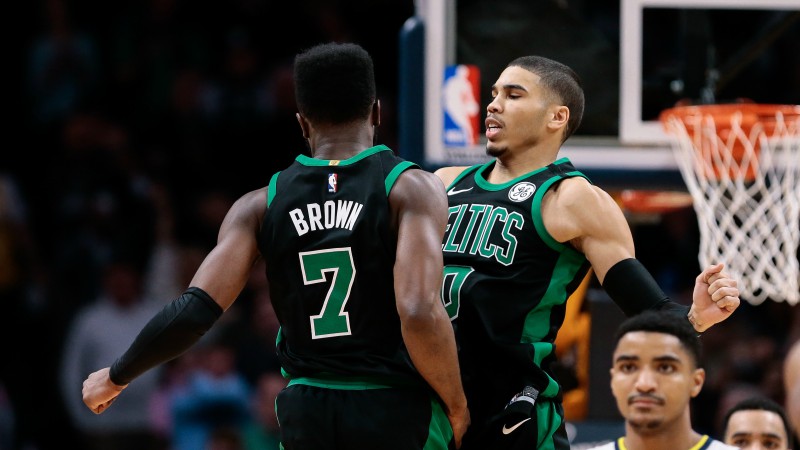 The Celtics were down their top four point guards on Tuesday — Irving, Smart, Rozier and Larkin — and could be similarly thin on today's slate. Allen moved into the starting lineup, but he ultimately played just 22 minutes. The Celtics instead opted for a larger lineup, with Brown, Tatum and Marcus Morris all seeing at least 32 minutes. Of the group, Tatum probably has the most appeal for DFS purposes if the Celtics are thin at the position again today. He's seen some minutes as an emergency creator recently and leads the team with a 4% usage boost with Irving and Smart off the floor. That said, the Raptors represent a brutal matchup for the Celtics, and Boston's resulting implied team total will likely be one of the lowest on the slate.
Home Teams Historically Cover in This Spot
Since 2005, when two teams meet at least 75 games into the regular season, both with a win rate of 65% or higher, home teams are covering the spread 60% of the time. That cover percentage increases to 64.2% (+3.7 PPG) when the two teams are in the same conference. — Evan Abrams
Pictured above: DeMar DeRozan and Al Horford
Photo credit: Bob DeChiara-USA TODAY Sports