Betting Monday's Game 2s: The Total That Has Value
Well, that was an interesting weekend of basketball. Based on their respective Game 1s, these two series look locked up. You can throw away the darned key, even.
BUT, as always, there are still major betting implications, regardless of how you think the series will end up. Here's what you need to know for the two Game 2s tonight between Miami and Philadelphia, and San Antonio and Golden State. — Mark Gallant
All info as of Monday morning. Check back during the day and keep an eye on our Twitter handle for any updates.
If there's a specific matchup you want to jump to, click the quick links below. For live spreads and bet percentages, check out this page. Follow the latest injury info on our industry-leading news feed. To get access to our premium betting tools, subscribe here.
---
GAME 2: MIAMI HEAT AT PHILADELPHIA 76ERS (-6.5) | O/U: 215.5
8 p.m. ET | TNT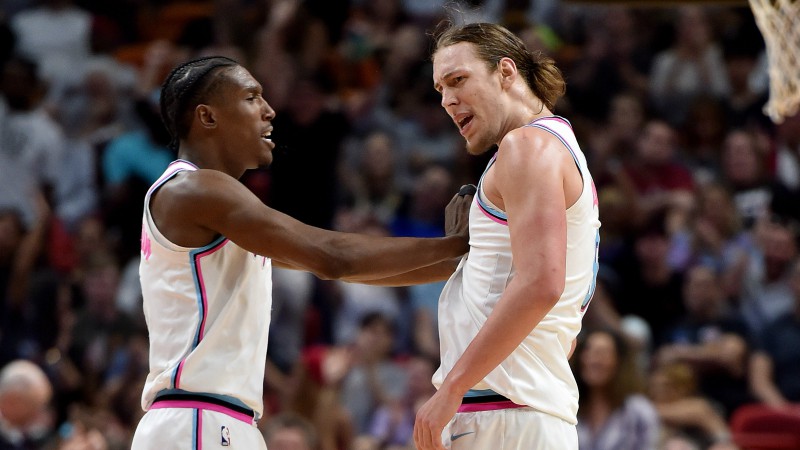 Steve Mitchell-USA TODAY Sports
What I'm watching for: Here's something shocking I found. The Sixers seemed like they were bombing from deep in Game 1. Marco Belinelli, Ersan Ilyasova, and Dario Saric combined to shoot 11-of-15 from deep, and that's before we get to J.J. Redick or Robert Covington.
Here's the thing, though: The Sixers actually shot fewer 3s than normal. Philly averaged 29.2 three-pointers per 100 possessions in the regular season. That number went way up after the All-Star break to 31.1 as their offense became more perimeter-centric without Joel Embiid. But for the season, Philly shot roughly the same amount with Embiid on the floor (27.0) as it did with Embiid on the bench (27.3).
In Game 1? They shot 27.5 per 100 possessions — just 28 in the game.
Why does this matter? Well, it's another signal that Game 1 was just that much of an outlier. Philly matched a season-high in made 3-pointers and exceeded its season-high in 3-point percentage by 12 percentage points. Saric, in particular, was launching. In the second half, the Sixers just took the resistance off the trigger completely.
The Sixers took 13 first-half 3-pointers to 15 in the second half. More notably, they took only six of what Synergy Sports logged as a "guarded" catch-and-shoot shot in the first half. Their shots were all clean, open looks. In the second half they took 11 — nearly twice as many.
So the questions you have to ask if you're looking at the over/under is whether Philadelphia will keep launching, if the Heat will do a better job getting up into the shooters, or if the Sixers will be forced into somewhat of a more constrained approach. Additionally, if guarded 3s (see video below) were their path to blowing out the Heat (and the over) in Game 1, is that a sustainable model? — Matt Moore
Metrics to know: In a piece last week, I wrote about how Miami big man Kelly Olynyk is one of the most underrated players in the playoffs. Per Cleaning the Glass, the Heat had been a ridiculous 12.1 per 100 possessions better with Olynyk on the floor versus off before Saturday's game.  A lot of that is on offense, sure — the offense is a stupid 10.4/100 better with him — but he hasn't been as bad defensively as his reputation suggests. In fact, the defense has been slightly better with him on than, say, Hassan Whiteside. What Olynyk lacks in athleticism and shot-blocking prowess he makes up for by boxing out, taking charges and being in good help position.
All of that held very true in the first game. He was Miami's best player, scoring 26 points and grabbing seven boards. Every Heat player had a negative game plus-minus, but Olynyk's was the best of the bunch at -3; Whiteside and Bam Adebayo were at -16 and -15 on the game, respectively. I can understand needing a skill set like Whiteside's against Joel Embiid, but that won't be an issue tonight, as the Philly big man will remain out. Olynyk got 31 minutes to Whiteside's 12 the other night, and Heat coach Erik Spoelstra would be wise to keep that ratio intact. — Bryan Mears
DFS nugget: Goran Dragic is an interesting DFS option on today's slate. On one hand, he posted a usage rate of 28.9% in Game 1 of the series, which represents an increase of roughly 4.2% when compared to his regular season average. That could potentially lead to increased fantasy numbers during the playoffs, but he'll have to deal with the terrific on-ball defense of Robert Covington. He was the second-best perimeter defender in the league this season in terms of Defensive Real Plus/Minus, and he guarded Dragic on roughly 33% of his possessions in Game 1. Covington limited Dragic to 0-of-4 shooting from the field during that time frame, and Dragic went 4-of-10 from the field vs. the rest of the Philly defenders. Covington only ended up playing 26.5 minutes in Game 1 due to foul trouble, so he could potentially wind up on Dragic for even more possessions in game two. Ultimately, for Dragic to benefit from the increased usage, the Heat will likely have to do a better job of switching Covington onto other players. — Matt LaMarca
Trend to know: Since 2005, teams that won the previous playoff game by 20 or more points have gone 68-72-2 (49%) against the spread in the next game. That trend has reversed since 2014, however: Those teams have gone 33-19-1 (64%) ATS. — John Ewing
Sharps vs. squares: While recreational bettors are falling over themselves to get down on Philly, sharps have quietly spent the last 36 hours hammering Miami. Despite 79% of tickets backing the 76ers, professional action has moved this line from Heat +7 down to +6.5. — PJ Walsh
---
GAME 2: SAN ANTONIO SPURS AT GOLDEN STATE WARRIORS (-9.5) | O/U: 205.5
10:30 p.m. ET | TNT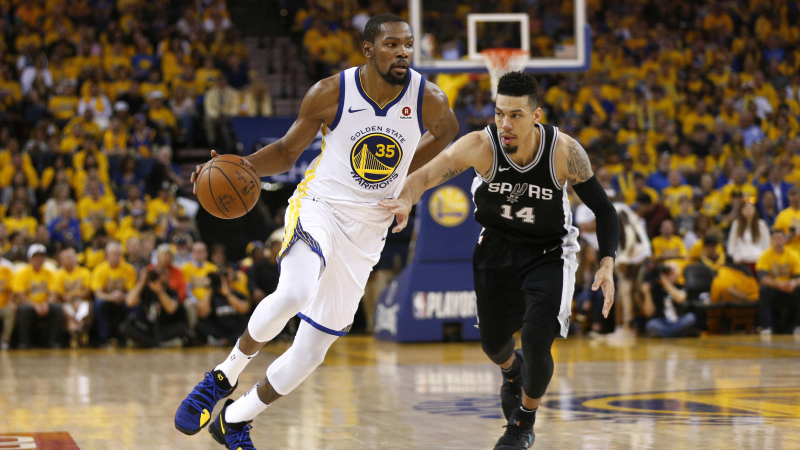 Cary Edmondson-USA TODAY Sports
What I'm watching for: The over/under opened at 210 and closed at 205.5 for Game 1; it landed right at 205. Game 2 is set at 205.5 as well after opening at 207. This feels like an overreaction. The under for the Spurs has gone 3-13-1 between last year and Game 1. The Spurs are outmatched in this series — of that, there can be no doubt. I outlined all their issues in Game 1 and there were many.
But there are tactical disadvantages… and there's just playing badly. The Spurs just played badly. They played non-shooter lineups, LaMarcus Aldridge fell apart and didn't even pass well, and they missed shots. The Warriors also probably felt the need to send a message. But playing with the same kind of energy they came out of the chute with is tough for a team that knows now it's going to win this series.
The Warriors take the Spurs seriously, but their intention of dismantling the Spurs will decrease with every win. Additionally, I'm going to bet Popovich switches up his rotation to get better spacing, even if it sacrifices some defense. — Matt Moore
Metrics to know: People argued about whether the Warriors' middling stats this season without Stephen Curry were reason for panic. And if the Dubs can really "flip the switch." If Game 1 against the Spurs was any indication, it looks like the dynasty in Golden State is doing just fine. The Warriors scored at a rate of 118.1 points/100 and allowed just 91.5 points/100. Even without Curry, they had no problem knocking down shots: The Dubs had a whopping 44 points off catch-and-shoot attempts, going 66.7% overall and 53.3% from the 3-point line. They had the fewest points off drives of all teams this weekend, but that doesn't matter when you have a couple of the best shooters in the world.
These squads played at the slowest pace of the weekend, and they operated in the post. Golden State led the weekend with 23 post-up opportunities, and the Spurs were second with 21. Considering this game wasn't particularly close, that's an impressive amount. These games will not feature fantastic dribble penetration offense or elite pick-and-roll ability. Rather, the games will be slow-paced; the teams will pound the ball inside and out. The first game went under the total (206) by a point, and given the way the game is likely to go (although Matt brings up good points above), I think there's still under value at the 205.5 opening number tonight. — Bryan Mears
DFS nugget: The Spurs are dealing with a lot of questions after Game 1 of this series, but don't bank on Aldridge providing many answers. Javale McGee limited him to just 3-of-9 shooting from the field over 30 defensive possessions, while Draymond Green kept him from even attempting a shot when he was matched up with him. Overall, Aldridge has been a horrible fantasy asset when matched up against the Warriors in the playoffs over the past two seasons, posting an average Plus/Minus of -10.14 on FanDuel and a Consistency Rating of just 16.7%. He's priced at $9,700 on FanDuel and is projected for 26-30% ownership, which makes him virtually unplayable given his matchup history.
The best chance for the Spurs to keep up offensively will likely come from Rudy Gay. He scored 30.2 FanDuel points in just under 22 minutes of playing time, and he led the team with a usage rate of 31.5%. He started the second half in place of Kyle Anderson, who ultimately played just 11 minutes due to his offensive limitations. Unfortunately, Gay doesn't have the same defensive capabilities as Anderson, and Kevin Durant, Draymond Green, and Klay Thompson all exceeded their scoring averages per 100 possessions when matched up with Gay in Game 1. He matched up primarily with Green, so he could also be an awesome target at his current salary if you're operating under the assumption that Gay will see more minutes in Game 2. — Matt LaMarca
Trend to know: Big favorites in the playoffs (-9.5 or greater) have gone 64-53-3 (55%) ATS since 2005. However, teams off a playoff win are just 26-26-3 (50%) ATS. — John Ewing
Pictured above: Ben Simmons and Robert Covington
Photo credit: Kim Klement-USA TODAY Sports
How would you rate this article?