Betting, DFS Guide for Tuesday: Blazers Look to Even Series Before Heading to New Orleans
Credit:
Troy Wayrynen – USA TODAY Sports
The Celtics go out and beat the Bucks in Game 1, and what do you know, they open as smaller favorites in Game 2. Go figure.
Meanwhile, the Raptors break their Game 1 curse and have seen their line move significantly against them. Go figure.
Here's what you need to know before betting Day 4 of the NBA playoffs. — Mark Gallant
All info as of Tuesday afternoon. Check back during the day and keep an eye on our Twitter handle for any updates.
If there's a specific matchup you want to jump to, click the quick links below. For live spreads and bet percentages, check out this page. Follow the latest injury info on our industry-leading news feed. To get access to our premium betting tools, subscribe here.
---
GAME 2: WASHINGTON WIZARDS AT TORONTO RAPTORS (-7) | O/U: 213.5
7 p.m. ET | NBATV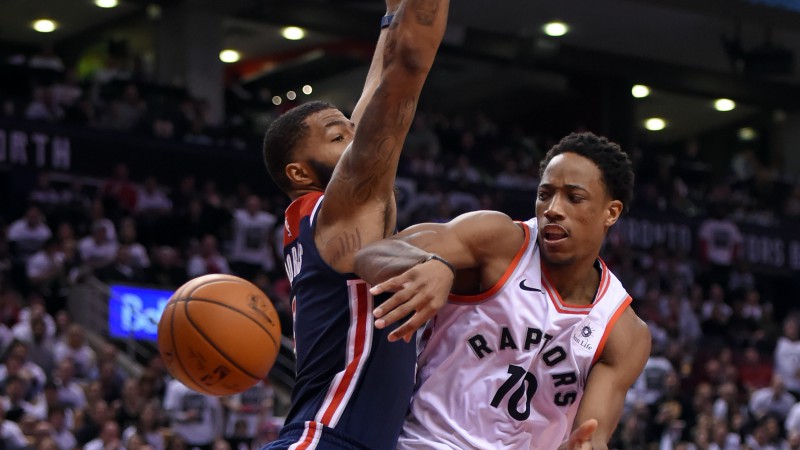 Dan Hamilton-USA TODAY Sports
What I'm watching for: If you're looking at how to evaluate Washington, start here: How much do you trust John Wall?
Wall had his best season last year in 2016-17. He was a demon, pushing the ball, getting to the rim, playing defense (for most of the year) and whipping up assists constantly. This year he wasn't the same, and his knee was clearly the problem. After having two surgeries in the summer of 2016, that knee soreness prompted another procedure that kept him out until late in the season.
Wall's Game 1 line of 23 points, 15 assists and four steals looks great. But he shot 6-of-20 from the field with five turnovers. He was dismal in transition, scoring seven points on eight possessions. The worst part about his night was that his 3-point jumper was falling, which means there was actually a high probability of this game being even worse than what it was for him.
The Raptors also played Wall perfectly. Because Marcin Gortat can't space the floor, they were able to defend the pick-and-roll 2-on-2 and prevent him from getting the outside pass. Wall had 15 assists, but many of those came on tough shots. Otto Porter was 4-of-4 on assist attempts off Wall passes, which makes you wonder why Porter wound up with only seven shots.
Watch how DeMar DeRozan stays plugged to Porter on the weakside corner (bottom) here, and how Serge Ibaka doesn't help down until it's too late for Wall to make the kick pass to the corner.
Wall was obsessed with drawing contact and was freaking out at officials most of the game for noncalls. He was forcing the issue, as seen here, and then was upset when the calls didn't come.
Those sequences almost always ended with him falling down or stumbling, which gave the Raptors opportunities to get back and find buckets.
If Wall improves? The Wizards still have enough matchup advantages to even the series in Game 2. They were within range even with Wall's bad night. But Wall has to take a page from Toronto and trust his teammates more for that to happen. — Matt Moore
Metrics to know: The answer to whether the Raptors' bench still matters in the playoffs maybe isn't getting to the right question. The data was about the same as it was in the regular season: The starting unit was excellent, posting a +14.0 net rating in 30 minutes; that was the third-best mark among all teams, behind just the Warriors and Pacers. And the bench was fantastic, too, posting a +10.2 net rating in 18 minutes; only the Thunder's unit was better over the weekend.
But what makes the Raptors' depth so useful is that the players are largely two-way guys who can balance out lineups. Yes, the main unit of Kyle Lowry-DeMar DeRozan-OG Anunoby-Serge Ibaka-Jonas Valanciunas crushed, posting a 127.6 Offensive Rating and outscoring the Wizards by 31.1 points/100. But a bench unit with DeRozan as the featured part was also fantastic, outscoring Washington by 15.5/100 in its minutes together. The Raptors can roll many guys deep, and they don't have to hockey-style substitute to keep specific lineups intact. Rather, the beauty of Toronto's depth this season is that every player is a bit of a Swiss army knife, fitting into specific roles as needed. And that's valuable regardless of whether it's the regular season, first round or beyond. — Bryan Mears
DFS nugget: Porter figures to be a key player if the Wizards are going to even the series. He is vital to the Wizards' success — they posted a net rating of +5.5 with him on the court vs. -6.8 with him off the court during the regular season — but he was limited to just 32 minutes after injuring his calf last Tuesday against the Celtics. Still, he was extremely effective on the defensive end of the court, limiting everyone he matched up against to fewer points per 100 possessions than their season average. He didn't have a huge fantasy impact in Game 1, scoring just 21.25 DraftKings points, but he was limited to just seven shot attempts and was unusually quiet with his peripheral statistics. It's possible he could see more minutes as he gets further removed from his injury, which could make him a strong play after seeing a salary decrease of -$1,200 over the past month on DraftKings. He's averaged 0.96 fantasy points per minute on the year, so he has the potential to destroy his current $5,400 price tag. — Matt LaMarca
Betting market: After initially opening at Toronto -8, the line quickly moved down to seven. Since then, the line has been in a limbo between 6.5 and 7, with bettors hopping on Toronto once it hits -6.5 and Washington when it hits +7. Bets are essentially split, but about 80% of dollars are on the Wizards. — Mark Gallant
Trend to know: The Wizards opened at +8 and have been bet down to +6.5. Be careful chasing that line movement. Betting underdogs whose line moved 1.5 or more points in their direction has gone 13-22 (37%) ATS since 2005 in the playoffs. — John Ewing
---
GAME 2: MILWAUKEE BUCKS AT BOSTON CELTICS (-1) | O/U: 200
8 p.m. ET | TNT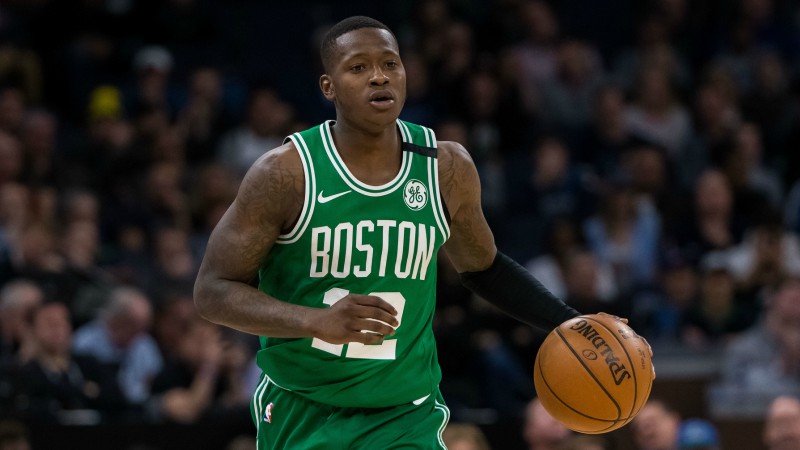 Brad Rempel-USA TODAY Sports
Metrics to know: Joe Prunty played John Henson a ton in Game 1 and really only experimented with playing small with Giannis Antetokounmpo at the very end of the game. That unit of Eric Bledsoe-Malcolm Brogdon-Tony Snell-Khris Middleton-Giannis played just seven minutes together, largely at the end of the game. On one hand, the results were about even: The Bucks posted a -0.7 net rating during that time. That said, look more closely and things get more complicated for Boston: The Bucks posted an Offensive Rating of 141.8 during that time, which doesn't seem like a real number.
Of course … they also posted a Defensive Rating of 141.8, but that was incredibly fluky. Boston players were hitting contested fadeaways, which is unlikely to happen again. Milwaukee largely defended very well during that time, and that unit was absolutely unstoppable against Boston's defense. Al Horford played well against Giannis with Henson clogging up the lane; with the Milwaukee big man gone, Giannis was able to blow by Horford when the spacing was maximized. I'm not sure if Prunty will realize the incredible advantage he has there, but if he does, the Bucks could very easily take over this series in a hurry. — Bryan Mears
Betting market: Steam on Milwaukee! The Bucks are seeing 54% of bets, but 78% of dollars. They've seen four separate steam moves over the past two days, with the most recent taking place at 4:39 p.m. ET at the sharp book Buckeye. This move pushed the Bucks from +2 to +1 across the market. — Mark Gallant
DFS nugget: If Game 1 was any indication, Horford could be in line for a huge series. He played over 44 minutes in the overtime game, ultimately scoring 56.5 DraftKings points. He spent most of the game guarded by Giannis, who could do very little to stop him on the defensive end. Horford exceeded his scoring average per 100 possessions by 10.2 points with Giannis defending him, and he posted a significantly higher usage rate when matched up with Giannis as well. He was extremely busy on the defensive end, as he spent the majority of his possessions guarding Antetokounmpo. The Bucks have historically been one of Horford's favorite matchups, as he's exceeded salary-based expectations by an average of +8.16 DraftKings points over seven matchups as a member of the Celtics. He has the potential to be an awesome value on DraftKings, where he has a Bargain Rating of 93%. — Matt LaMarca
Trend to know: A majority of spread tickets are on the Bucks, moving the line from Milwaukee +3 to +2.5. In the playoffs, it has been profitable to fade trendy underdogs. Since 2005, when more than 50% of bets are on the underdog and the line moves in their direction, the chalk has gone 71-56-4 (56%) ATS. — John Ewing
---
GAME 2: NEW ORLEANS PELICANS AT PORTLAND TRAIL BLAZERS (-6) | O/U: 214
10:30 p.m. ET | TNT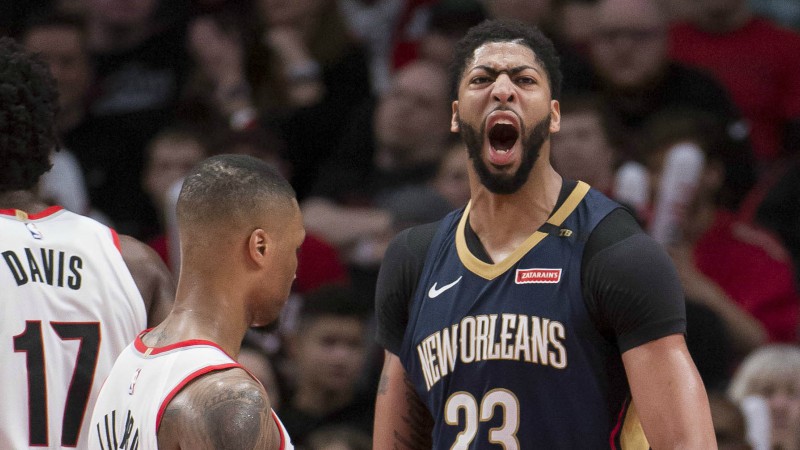 Troy Wayrynen-USA TODAY Sports
What I'm watching for: Moe Harkless has been upgraded to questionable for this game. Watch that closely. Guys go from questionable to playing pretty often. (Gary Harris is a late-season example.) The Blazers need him. Not only because he'll take shots away from Evan Turner so you don't get the effect I wrote about Saturday night here, but because he helps them a ton with battling New Orleans' guards.
Without Harkless, the Blazers ran a lot of three-guard lineups. With Jrue Holiday basically transforming into a half-man, half-beast, this meant that C.J. McCollum or Damian Lillard had to guard him, which was tough because those two are minus defenders who can't afford to foul, or, in this instance … Shabazz Napier.
Harkless will help punish the Pelicans for how they covered the pick-and-roll. They put two on the ball every time vs. Lillard to contain him (until late when they switched Anthony Davis on him — yikes). That meant the tag man from the corner had to come down. That works when it's Evan Turner:
It doesn't work when it's 41% 3-point shooter Moe Harkless.
Watch Harkless' status, and the effect it has on the line, closely. — Matt Moore
Metrics to know: I said before the series that with the current players healthy on the rosters, New Orleans is just the better team, and especially starters against starters. That proved true in the first meeting: The starting unit for New Orleans of Rajon Rondo-Jrue Holiday-E'Twaun Moore-Nikola Mirotic-Anthony Davis blitzed the Blazers, posting a stupid +33.7 net rating in 20 minutes together. They especially clamped down defensively, allowing only 81.2 points per 100 possessions to Lillard and Co.
That said, the Blazers might become more whole, as Matt mentioned above. Harkless has his flaws, but he's a much better option in that main unit than Turner. On the season, Portland is 9.1 points/100 worse with Turner on the floor — 6.3/100 of that is on the offensive end. Turner is a non-shooter, which is very tough at the 3-spot alongside creators in Lillard and McCollum. Harkless is a 41% 3-point shooter on the year and at least has a prayer of knocking down catch-and-shoot opportunities. The Blazers' offense is much better with him starting, and the Pelicans will be forced to adapt to increased spacing if he is able to suit up. — Bryan Mears
DFS nugget: The Blazers have a serious problem in this series involving Jusuf Nurkic. They've been slightly better with him on the floor this season, particularly on the defensive end of the court, but there's just nowhere for him to hide against the Pelicans. He was eviscerated by Davis when matched up with him during the regular season, and Davis once again outproduced his season average per 100 possessions when matched up against him in Game 1. Nurkic also got matched up with Mirotic for eight possessions in Game 1, and the Pelicans outscored their season average by 50 points per 100 possessions in those situations. Mirotic has been outstanding from a fantasy perspective for the Pels of late, averaging 42.75 DraftKings points over his past three games. That includes 49.75 DraftKings points in Game 1, in which he shot just 6-of-15 from the field. Both Mirotic and Davis have the chance to post monster games this series if Terry Stotts continues to roll with Nurkic for heavy minutes. — Matt LaMarca
Trend to know: The Game 1 total closed at 216.5, and the under easily hit as the teams combined to score 192 points. That hasn't deterred casual bettors, as nearly 60% of tickets are on the over in Game 2, moving the total from 212.5 to 214. You often want to be on the opposite side of the squares, but in this situation it has been profitable to follow the line movement. Since 2005, in high-total playoff games (210 or larger), when the line increases, the over has gone 49-30-1 (62%). — John Ewing
Pictured above: Damian Lillard
How would you rate this article?