Wednesday's NBA Playoffs Mega Guide: Timberwolves Hoping Houston's Shots Don't Fall
Credit:
Troy Taormina- USA Today Sports
All eyes on the King! After a first-round winning streak of 21 straight games, LeBron James went out and laid an egg against the Pacers. Well, he did all right personally, but the Cavs never had a chance.
Already we've seen bettors fading Cleveland on the spread. If you're new here, let me let you in on a little secret: The public is always on LeBron. We're in rarefied air here.
Here's what you need to know for Pacers-Cavs Game 2, along with Utah-OKC and Minnesota-Houston. — Mark Gallant
All info as of Wednesday afternoon. Check back throughout the day and keep an eye on our Twitter handle for any updates.
If there's a specific matchup you want to jump to, click the quick links below. For live spreads and bet percentages, check out this page. Follow the latest injury info on our industry-leading news feed. To get access to our premium betting tools, subscribe here.
---
GAME 2: INDIANA PACERS AT CLEVELAND CAVALIERS (-8) | O/U: 212
7 p.m. ET | TNT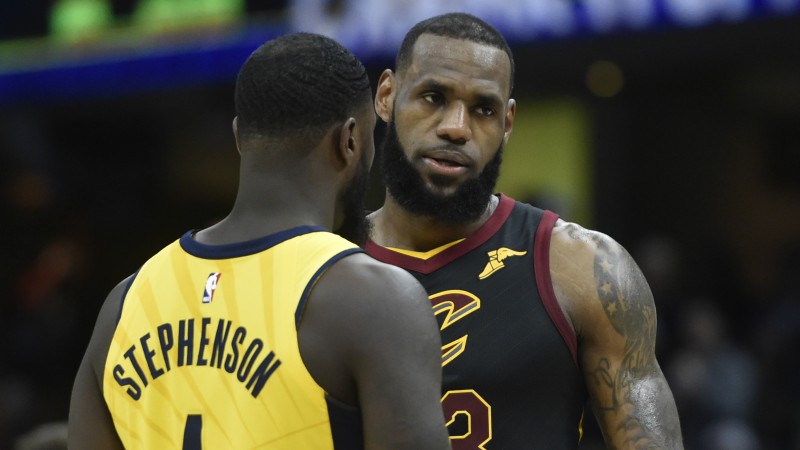 David Richard-USA TODAY Sports
What I'm watching for: The Cavaliers' offense was the big problem in Game 1. Their defense had its own issues, but the offense was a hot mess. Some of it was just missing good looks, but Indiana also did its homework.
The problem with guarding LeBron is always how he burns you no matter what you choose. Stay home on shooters, and he's getting to the rim and tearing you to pieces with layups and dunks. Help and load up on him, and he's threading passes to shooters. There's no good option.
The best one is to split the difference. Load up enough to get the ball out of his hands, but recover hard on the shooters. This is difficult, and you still need to be fortunate. You need misses. The Pacers got them. But also, look at the recovery by Darren Collison here:
Here, James isn't involved in the play, but look at how the Pacers keep recovering just a step ahead of the pass. Being on a string like this is a sign of a team that isn't just playing hard but understands the assignments and has the timing down.
The under hit in Game 1. Both teams are likely to find their shot more, making the under a dubious play at 209. But if you believe the Pacers can replicate that performance, there's a window there. — Matt Moore
Metrics to know: The Pacers absolutely blew the Cavaliers out of the water in Game 1. It wasn't even as close as the 98-80 score suggested. The Indiana starting unit of Collison-Victor Oladipo-Bojan Bogdanovic-Thad Young-Myles Turner steamrolled everything put in its way in 22 minutes together in Game 1, posting a ridiculous +40.2 net rating. It wasn't even particularly great on offense, scoring 95.2 points per 100 possessions, but it held the LeBron-led Cavs offense to just 55.0/100. The question, however, is whether that type of defensive performance is sustainable.
On one hand, yes: This unit is very talented defensively, and even some of the bench guys such as Cory Joseph have high defensive upside. On the other hand, the data suggest the Cavs mostly just shot terribly. In Game 1, they went 3-of-17 (17.6%) from 20 to 24 feet and 4-of-16 (25%) from behind the arc. They were incredible around the rim, going 16-of-22 (72.7%), but they weren't able to hit a jump shot to save their lives. The Pacers deserve credit for holding Cleveland to poor shooting, sure, but there are a lot of studies that suggest that the farther out from the rim, the less a defense affects shots. That makes sense with the spacing of the Cavs' offense with LBJ.
Hit a couple more shots and this game is completely different. Of course, it would help if Cavs coach Tyronn Lue actually played his best shooters. Jeff Green really struggled and is generally not a knock-down guy, and sharpshooter Kyle Korver was limited in Game 1. He returned to practice Tuesday, and for the Cavs' sake, he'll hopefully be ready for a bigger workload spotting up around a more motivated LeBron. — Bryan Mears
DFS nugget: Oladipo was outstanding in Game 1 and has been one of the most underrated players in the league this season. The Pacers have been +14.2 points per 100 possessions better with him on the court this season, and the Pacers outscored the Cavs by 21 points with Oladipo on the floor in Game 1. He has torched the Cavs from a fantasy perspective all season, averaging 44.55 DraftKings points and a Plus/Minus of +2.68 in five matchups this season. The Pacers have gone 4-1 in those matchups, so the Cavs are going to need to find a solution against Oladipo if they're going to come back and win this series. JR Smith has drawn that assignment for most of the season, but he's done very little to deter Oladipo: He's exceeded has scoring average per 100 possessions by +2.7 points while shooting 45.5% from the field and 43.3% from 3-point range. The obvious answer is to throw LeBron on Oladipo, and The King severely limited the Indiana product when matched up with him in Game 1. That said, the last thing LeBron needs is more on his plate, so it will be interesting to see how heavily Cleveland leans on that matchup the rest of the series. — Matt LaMarca
Betting market: Despite a rare instance in which they've received the minority of bets, the Cavs have moved from -7 to -8 since opening at Bookmaker. The total has slowly risen over the course of the day from 209 to 212. — Mark Gallant
Trend No. 1 to know:  Cleveland received 50% or more of spread tickets in 74 of 82 regular-season games in 2017-18. However, after the Cavs fell on their face in Game 1, only 40% of bettors are backing Cleveland in Game 2. Since 2005, favorites in the playoffs receiving 40% or less of bets have gone 86-57-5 (60%) against the spread. — John Ewing
Did you know? Oladipo has been on a heck of a roller-coaster in his career against the Cavaliers. With the Thunder and Magic, Oladipo started his career 1-12 straight-up and 2-11 ATS against the Cavs. Since joining the Pacers, Oladipo is 4-1 SU and ATS and really executing in the second half, averaging 16.6 PPG, 15-of-28 3-point shooting and a plus-minus of +49. — Evan Abrams
---
GAME 2: UTAH JAZZ AT OKLAHOMA CITY THUNDER (-4.5) | O/U: 207.5
8 p.m. ET | NBATV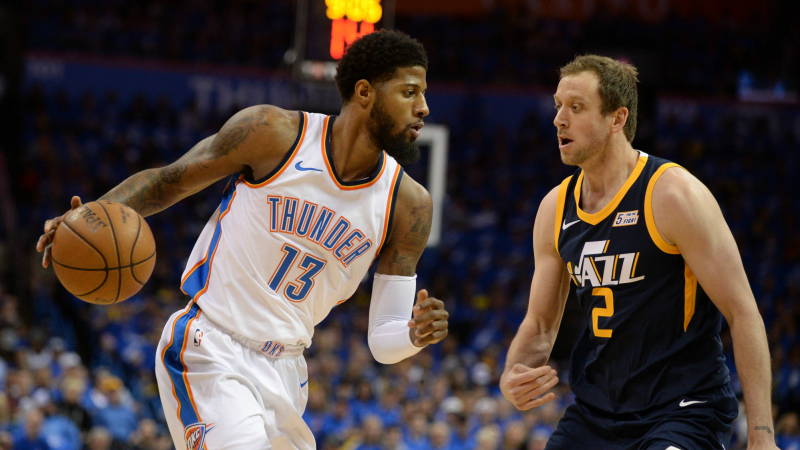 Mark D. Smith-USA TODAY Sports
What I'm watching for: Ricky Rubio played all but one minute on the floor with Rudy Gobert in Game 1. Their Defensive Rating together was a terrific 101.7. They were outscored in those minutes, but just barely. In the five minutes Gobert was on the floor without Rubio, Utah gave up 17 points for a 188.9 Defensive Rating. Without either one, the Jazz were absolutely torched.
Utah's best chance in this series is to make it a defensive struggle. In Game 1, the Jazz let OKC make it a track meet. The Thunder scored 22 fast-break points at a rate of 21.3 fast-break points per 100 possessions. The Jazz allowed just 9.7 per 100 possessions in the regular season.
Utah didn't load up on Russell Westbrook, and its turnover problems contributed to the transition game. Additionally, the Thunder ran off every single long rebound. The Jazz need to fight more on those to slow down OKC. Some of this has to come with staggering Rubio and Gobert to make sure the Jazz have smart transition defenders on the court at all times.
The Jazz let the Thunder make it a track meet, and that can't happen again if they're going to hang in Game 2. — Matt Moore
Metrics to know: Game 2 is very difficult to handicap because the best players from Game 1 — Utah's Donovan Mitchell and OKC's Paul George — are questionable to suit up with injuries. At this point (Tuesday evening), I would guess both guys would start.
The question is whether they'll remain effective with their respective contusions. One could make the argument that Mitchell is perhaps the most valuable player in this series to his team because he's pretty much the only Jazz player with elite shot-creation ability. He was aggressive in Game 1, and that will be needed moving forward. The Jazz took a whopping 37 shots in the restricted area in Game 1, which was third among playoff teams behind the 76ers and Blazers on the weekend. They took just 13 3-pointers — only the Bucks took fewer — and needed those highly efficient shots at the rim to stay in the game.
Mitchell is the biggest factor in that narrative, and if he's limited, the offense will struggle to score. Further, Game 1 played at a very fast pace, going for 101.96 possessions. This was supposed to be perhaps the slowest game of the weekend, and instead it was the fastest. Game 2 has a low total of 206.5, and, while I think that's probably too low given the pace of Game 1, the pace will indeed be slow if Mitchell is less than 100%. I'd keep my eye out for any beat reports on his health before the game. — Bryan Mears
Betting market: Though they're getting less than 30% of bets, the Jazz have received several sharp waves of action over the past few days, including a reverse line move triggered by Greek earlier this morning. However, once Utah moved to +3, that opened up an opportunity for buyback, as the Thunder have gone back up to -4.5 over the past few hours. — Mark Gallant
DFS nugget: Paul George may have gotten the majority of the attention in game 1, but Russell Westbrook was quietly a fantasy monster. While he posted a usage rate of 39.2%, his overall numbers were limited a bit by going just 10-of-25 from the field. DraftKings has lowered his salary to $10,800 for Game 2, and Westbrook has averaged a Plus/Minus of +4.97 with a comparable salary over the past two seasons. He hasn't exactly struggled against the Jazz over that time frame, either, posting 62.97 DraftKings points against them over his last nine meetings. The scary part is that Rubio limited Westbrook to 4-of-13 shooting when matched up with him, but Russ was able to eviscerate the rest of the Utah defenders with Rubio off the court or in switches. They'll need to do a better job collectively in Game 2 to keep Westbrook from being a steal at his current price tag. — Matt LaMarca
Trend No. 1 to know: Despite winning and covering Game 1, Oklahoma City has gone from -5 to -3.5 tonight. Favorites that won their previous playoff game and had the line decrease like the Thunder have gone 90-72-1 (56%) ATS in their next game since 2005. — John Ewing
Trend No. 2 to know: The Jazz allowed the Thunder to score 116 points in their Game 1 loss. Utah is 15-23 (39.5%) ATS this season the game after allowing more than 100 points. — Evan Abrams
---
GAME 2: MINNESOTA TIMBERWOLVES AT HOUSTON ROCKETS (-10) | O/U: 214.5
9:30 p.m. ET | TNT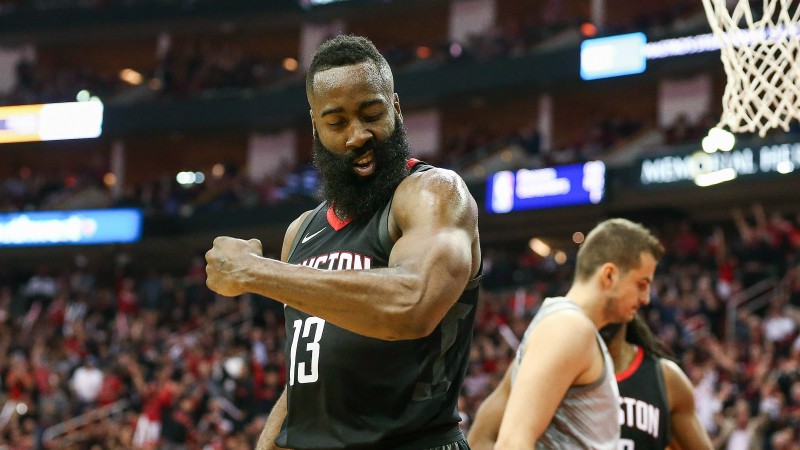 Troy Taormina-USA TODAY Sports
What I'm watching for: This series is basically the Math Problem vs. the Variance Effect. The Rockets take so many 3s that they can outpace Minnesota no matter what. But the thing with 3-point shooting is its variance, and the Rockets were 26th in spot-up shooting this year. They are not, oddly, a great shooting team. That opens the door for Minnesota to hang around.
The Wolves changed their pick-and-roll schemes in Game 1, effectively daring James Harden to beat them with 2-on-2 coverage, and he did. Houston got good look after good look. If those shots fall, Minnesota won't keep up, the over will hit and the Rockets will cover by sheer efficiency.
The Wolves need the cold spell in Texas to linger for another night. — Matt Moore
Metrics to know: Tom Thibodeau used to be a solid coach in Chicago, but it's very difficult to defend some of his recent decisions in Minnesota. Game 1 was particularly brutal from a coaching standpoint. First, Derrick Rose and Jamal Crawford took 14 and 11 shots, respectively. Karl-Anthony Towns and Jimmy Butler took just nine and 11. Regardless of whether things were going in for the offense-only guards, that's not an optimized offense that's looking ahead to a seven-game series. To completely ignore your two best players was foolish, and the Wolves probably gave away the game.
Further, Tyus Jones barely got any minutes because of the Rose and Crawford time. Jones is probably the best backup point guard in the league and will probably be a starting point guard at some point. The Wolves have been 5.0 points/100 better with him on the floor versus off — which is about 4.0/100 better than with Jeff Teague on versus off. Literally the best lineup in the NBA this season (minimum of 200 minutes) was the Wolves starters with Tyus playing the point. That fivesome posted a net rating of +23.4. I'm not even really sure what more there is to say. These teams are probably fairly close in talent, but between the odd rotations and outdated offense, this series will likely get wrapped up much sooner than it should. — Bryan Mears
DFS nugget: What the heck happened to Towns and Butler in Game 1? Towns posted a usage rate of just 14.5%, while Butler's usage rate of 15.5% wasn't much better. Both players ranked outside of the top five on the team in that department, which obviously can't continue to happen if the Wolves want to make this a series. What makes Towns' disappearing act even more surprising is that he absolutely shredded the Rockets during the regular season, posting an average Plus/Minus of +9.74 over four regular season meetings. Clint Capela had no answer for him: Towns shot 56.4% from the field and 60.0% from three and exceeded his scoring average per 100 possessions by +5.6 points when matched up against him. He saw Capela almost exclusively in Game 1, yet attempted just three field goal attempts in that situation. Towns has seen a price decrease of $700 on DraftKings heading into Game 2, which makes him a really appealing buy-low target. — Matt LaMarca
Trend to know: The Wolves lost Game 1, 104-101, but covered as 11.5-point underdogs. Teams that covered their previous playoff game and were double-digit dogs in the next matchup have gone 7-16 (30%) ATS since 2005. — John Ewing
Pictured above: Eric Gordon