The Cavs' Road to the Finals Is Clear … All the King Has to Do Is Hold Court
Hi there, Matt Moore here, your resident "the Cavs suck this year" NBA analyst. I've written exhaustive features on the Cavaliers' defense and why it's abysmal, how much of that has to do with LeBron James' poor effort, how their scheme, tactics, approach and personnel are all garbage on that end of the floor. I've argued vehemently that the Cavaliers' defensive performance should count against LeBron's MVP candidacy, despite how much I hope he secures a fifth MVP to showcase just how brilliant his whole arc has been.
I've been selling and selling and selling on the Cavs this entire season, from their aging, vulnerable roster to their poor defensive habits to their rotten chemistry. There were positive signs early after the hard-reset trades at the deadline, but across the board, the Cavs' defense has been only slightly better, and still really bad, with a 108.6 defensive rating since the All-Star break, only a point better per 100 possessions than their pre-trade mark.
There was every reason to prepare to strike on the right matchup to fade Cleveland.
And then the past three weeks happened.
Kevin Love returned. And the Cavaliers went to a whole new level. Since his return, the Cavaliers are second in offense to the Nuggets at 115.1. James is averaging 31-8-9 on 54% shooting from the rim. He's been a monster. A terror. He went from "unbelievable player who can always rise up and beat you" to "Holy God, our weapons do nothing against him, send in the Marines, run for your lives."
The Cavs' most-used three-man combination of James, Love and, yes, Jeff Green has a +15.8 net rating with an offensive rating north of 120 points per 100 possessions. If we're translating offenses to laser beams, that's hotter than the sun.
Let's be clear, the Cavaliers aren't a different squad. The plan is the same as it has been: outscore the opponent without playing defense. If this was five years ago, this team wouldn't have a chance. But pace and space have tilted the scales. Cleveland is 25th in defensive rating since Love's return. It's not going to get better.
[Subscribe to The Action Network's daily email newsletter]
You can make an argument that this Cavs team might look entirely different defensively if healthy, which it hasn't been all season. In that way, the Cavs are essentially a known unknown. But at some point, you have to think that the schematic issues and bad habits the team has shown all season — across samples, lineups and a vast swath of time — are indicators of something greater. The Cavs can pull a rabbit out of the hat, but it will have to be something you can't reasonably forecast right now.
The question is whether they need to, and that comes down to matchups, and the fate of the East.
THE ROAD HAS CLEARED AS IF MOSES HIMSELF HAD PARTED THE WAY
I'm not much of a hot-take dispenser, but I've got one for you. The only reason the Cavaliers made the Finals last year — while losing only a single game — was because the East threw up on itself. The Raptors were rattled from Game 1 vs. Milwaukee on, and never recovered.  They weren't in any place to challenge the Cavs. Boston was never really worthy of the 1-seed. Then Isaiah Thomas had the hip injury, and you throw in the Al Horford matchup problem vs. James and Tristan Thompson, and the Celtics had no hope.
This year looked different. The Raptors should give Cleveland an actual challenge if they get there. But something started rattling this last month. Since Love came back, Toronto is down to 13th in offense and 10th in defense after being in the top five for most of the season. The Raps' league-best bench was uncharacteristically bullied in a few games. They lost to the Cavs twice. They managed to beat Boston to secure the 1-seed, but it was a little dicey.
Boston got off to its hot start, but faded as the season went along. The injuries have obviously robbed the Celtics of their ceiling, but they were coming back to Earth before Kyrie went down, and their point differential was always closer to that of a mid-tier team in the East than that of an elite squad.
You can make a serious argument that Cleveland's biggest threat in the East is a Sixers team that still hasn't gotten Joel Embiid back and uses mostly young guys in its rotation.
In other words, the Cavaliers no longer have to go through some daunting gantlet. The East was this treacherous jungle of threats and underrated teams, all of which had improved while the Cavs had gotten so much worse. Then … they all kind of fell off. Even if Cleveland's defense is dreadful, which seems apparent, do any of these teams have the firepower to keep up with whatever James is able to produce no matter what you throw at him?
The worst part for Cleveland's opponents is that James knows this. He has zero fear of Toronto, which will be sending OG Anunoby out to guard him while hoping to stay home on shooters long enough to at least make James more of a scorer than a total-game player. He has zero fear of the Celtics without Irving, though they'll make him work for it.
The Sixers might be a problem. They're an unknown; we've never seen them at this level.
The East's potential first-round matchups are uninspiring. The Wizards will have all the firepower and experience you could want and will find some way to blow it. The Heat will execute and have a great game plan, and it just won't be enough unless they get super-hot from 3. The Bucks simply don't execute at a high enough level to stay disciplined the way you need to be against the Cavs.
And look, if the Cavaliers win the East again … what if they don't have to play the Warriors? What if this new combination of players finds a groove, and runs through the East, and the Warriors get worn down by injuries and fatigue and Houston actually catches them? The Cavaliers vs. the Warriors is still an unfair fight. They'll shred off enough efficiency from the Cavs' offense while maintaining a supernova offense of their own. We've seen this dance before. Jeff Green and George Hill are not suddenly going to tip the scales of Cavs-Warriors.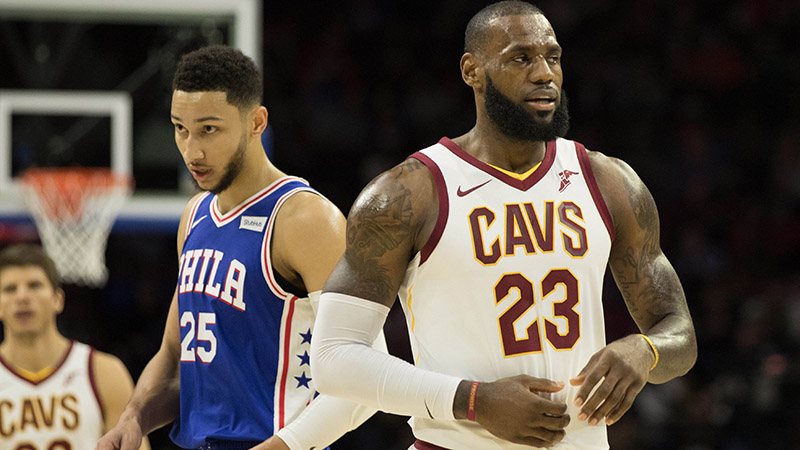 Credit: USA TODAY Sports
But Cavs-Rockets? That opens up a lot of doors. The Rockets' defense is better than the Cavs', and genuinely good this season, but a pace-and-space game with all that shooting comes down to who hits shots, and Cleveland has to feel like it's in a position to win that. The point is, if you'd asked me about the Cavs' title chances two months ago, I would have said, "DOA." Now?
Let's wait and see. But suddenly, improbably, what seemed inevitable last June — and what seemed impossible three months ago — now seems like the likeliest outcome. All the King must do is hold court.
FUTURE KNOWLEDGE
The Cavs were +105 to win the East on Monday night, before the line moved to +135 on Tuesday morning. If you're looking for a time to fade the Cavs, now is it, but it's also the time you will feel the worst about it. You basically either fade the defense or convince yourself someone will pull an upset. Monday night's line move shows you there's been some investment on other teams.
Keep a close eye on the first round with the overs. There's a chance the public takes a little time to catch on to just how elite the Cavs' offense is — and just how putrid their defense is.
Cavaliers-Warriors is +345 as the Finals matchup. That's essentially assuming the best player in basketball makes an eighth straight Finals, and the best team in basketball gets back to full health.
FIVE QUICK THINGS TO KNOW ABOUT THE CAVALIERS
-They're still struggling with off-ball switches. The Cavaliers spent much of the season switching everything off-ball, which was weird. They'd set up scenarios for their bigs to be unable to contest at the rim to protect their weaker guards, and set up bigs to have to close out on guards. It was a mess. Now they're mixing it up some, but they still have communication issues:
Again, the key is that spot-up shots have been the weakness for the Cavs all season. So how they defend those, against a lot of high-volume 3-point teams in the playoffs, is crucial. They have to tighten this stuff up.
-LeBron is still an issue defensively. There was a great article from ESPN this week talking about how the difference in the playoffs for Cleveland is how LeBron defends. But there are two things to note. One, that data goes back to 2014, and the steep drop-off occurred with the Cavs last season. Two, LeBron hasn't flipped that switch yet. He's still doing stuff like this:
Part of what happens in the regular season is James defends the weakest option off-ball on the wing to save his energy. Then he gets caught flat-footed. In the playoffs, he plays more on-ball, and gives better effort. He was 92nd percentile in defending spot-ups last year in the playoffs, way up from his regular-season performance, via Synergy Sports. But it'll be crucial to see if he does in fact flip the switch.
-Cleveland has a secret weapon. The Cavs, very quietly, just a little bit, are testing out LeBron more as the screener in pick-and-rolls instead of being the ball handler lately. This is a terrifying and real adjustment that opens up a host of nightmares.
The Hornets completely blow the coverage in the clip below, but James slips the pick, then rolls into a screen, before rolling to the rim. It creates a 3-on-2 with James going airborne. Call it the Flying Death Machine, like the Heat were with James.
James may not do this much in the playoffs. He tends to get ball-dominant. But if he does, look out. It saves his energy on offense while using his gravity and athleticism to put the defense in impossible positions.
-Jeff Green matters. Of all the arguments for LeBron James for MVP, maybe the best is, "He made Jeff Green into a positive-impact NBA player." But it goes beyond that. With Green on the floor this year with James, the Cavs have outscored their opponents by 7.6 points per 100 possessions. Without Green, the Cavs have actually been outscored by their opponents by 2.0 points per 100 possessions.
"OK," you say, "but that's with that dreadful team before the trade, right?"
Since the trade deadline, the Cavs are indeed a net positive with James on the floor and Green off at +3.3. But they are even better with Green on the floor at +9.9.
Green gives James an athletic wing who can handle those assignments and brings athleticism in the open floor. He's still terrible from 3, but he finds ways to make the defense pay, and most notably, since the trade, the Cavs' defense is actually at a not-horrible, league-average-ish 106 per 100 possessions with Green and James on the floor.
Now, you have to ask yourself this: How do you feel about betting on a team that needs Jeff Green to help them? You either believe in James' ability to lift him or you don't. But it's interesting.
-There's a lot riding on this. It's obvious, but, look, James is going to be a free agent. If he sees the Sixers rising, and the Celtics getting the guys they get back next season, or is still frustrated about not getting past the Warriors, how does that impact his free agency? There are a huge number of outcomes possible from this playoff run for James and the Cavaliers. LeBron's last eight seasons have been dramatic. There's just no telling where this one ends up.
How would you rate this article?