Five Things to Know About the NBA Trade Deadline, Plus LeBron's Free Agency List and More
Welcome to the Basketball Codex, your guide to what you need to know about the NBA this week.
TOP FIVE: Things you need to know about the trade deadline
1. Cleveland is buying
Desperation is a stinky cologne and you can smell the Cavs coming a mile away. Multiple league sources have confirmed to Action Network what you already know: the Cavs are talking to everyone. Three-way deals, one-on-ones, veteran options, long-term assets, they're exploring everything. This isn't that out of the ordinary. As we'll talk about later, everyone is discussing every option.
The George Hill talks stalled because of his refusal to take a buyout, per ESPN's Brian Windhorst. They have targeted cheap veteran talent to try and switch up the rotation, but their options are limited. Funny enough, one league source who hasn't engaged in talks with Cleveland on anything substantial said that the Cavs' possession of the Nets' first-round pick could actually complicate a potential trade. Just knowing the Cavs have that pick makes it hard not to ask for it in deals.
2. The cap space auctioneers are mostly off the market
The Bulls have space but don't really need anything beyond moving Nikola Mirotic. The Hawks can facilitate a deal and Dallas is ready to take on money. But the other teams with cap space don't have a lot of incentive to take on money. Despite the bombshell of the Blake Griffin trade, that's why a lot of folks still think the deadline will be quiet. There's just not enough cap space to go around.
3. Some of the situations are sticky
Take the Nikola Mirotic situation. A deal was agreed to, then Mirotic, who has a no-trade clause in his contract, shot it down because the Pelicans would probably not pick up his team option. Mirotic wanted out, but only to go somewhere he can still make his $12 million next year (which says a lot about his market value). The Pelicans relented and Mirotic was dealt Thursday, but it shows you the kinds of things that can make or break a deal.
Denver has potential trade pieces they're anxious to move in Wilson Chandler and Darrell Arthur (along with Kenneth Faried), but both have player options for next season.
The Knicks want to dump Joakim Noah, but his contract is such an albatross a team might not even take a pick along with it. Miami can move Hassan Whiteside, who's playing great on a huge contract, but only seeing 25 minutes a night. How many teams want Whiteside on a max? Most of this is about the money, but there are divides within teams too. Coaches love the veterans who play consistently while front offices may want to invest in cost-controllable younger guys. General managers tend to want to upgrade the roster and make a run while some owners want to limit the luxury tax.
Things are never as simple as "this deal would make team better."
4. This summer complicates things
The Clippers are either very much looking to get in a room with LeBron James with oodles of cap space or not thinking about that at all, as The Undefeated's Marc Spears reported earlier this week after the Blake Griffin trade. But other teams are going to make sure they can offer James a max slot, and if not him, Paul George. The Lakers, for example, aren't taking on any big contracts that would mess that up. There will be other teams who keep an eye on it.
The cap goes down this summer, slightly, which means everyone's going to be short on available space. After the 2016 smorgasbord of huge deals, 2017 was miserly. Maybe the market corrected itself and maybe agents will try and recoup, even with the cap space limits. All of this plays into decision-making from teams in the next week.
5. Talk is cheap, but purposeful
My favorite story arc on Wednesday was the Tyreke Evans saga. First it's reported that the Sixers are talking about trading a first-round pick for Evans. The Celtics are also mentioned in other stories. Then Kyle Neubeck of the Philly Voice reports a team source says they are not trading a pick for Evans. The Sixers could decide right now not to trade a pick, then change their mind. They could have had talks about the pick and then decided not to. These things are fluid.
What is concrete is that this is the time of year where leaks are used to assert influence and craft narrative. Some teams don't participate at all. Some use it like a Gatling gun.
Everyone's talking to everyone right now and deal suggestions are thrown around pretty easily. Only the ones someone wants people to know about or  are far enough along to be viably leaked are the ones that get out. Just know that information comes at a premium and most talks never go anywhere beyond "hey, what about this deal? No? Alright."
CLUTCH-DRIVE: The Timeout Fiasco
I hate to go down the road of using the Nuggets two weeks in a row, but after their terrific performance vs. Portland in a clutch win, this happened:
A lot happens here. The Celtics do not run some wizardry to generate a great shot (they did that on the previous possession to get the lead). They instead isolate Kyrie Irving for hero ball. It's fine to do so, as Irving's one of the best at it. He misses, as he does about half the time, and Denver gets the rebound.
They have one timeout left.
There was no coaching blunder here. This was always the plan.
"We got a stop, didn't want them to set their defense," Nuggets coach Michael Malone said. "Obviously we had a chance to throw the ball ahead and get a better look, but it was a situation where we said in the timeout, if we get a stop, we have a chance to break out, let's go for it. Will Barton has made plays like that for us before, and I stand by that decision."
With the unfair benefit of hindsight, let's break it down:
Barton receives the ball with 4.5 seconds left. He has Jamal Murray and Torrey Craig streaking down the right side, with Gary Harris already spotting up in the corner.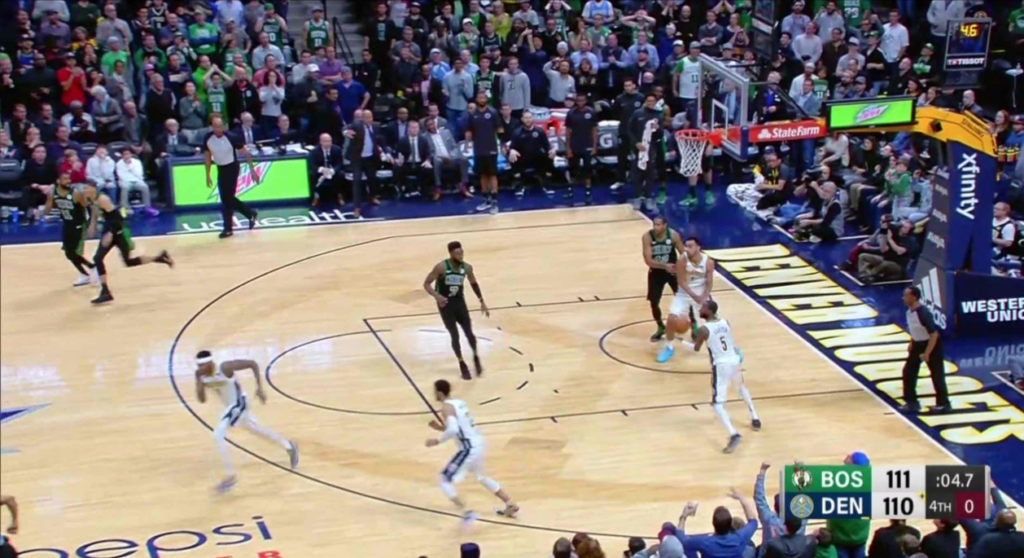 Murray has a head start on him, but passing to him risks a turnover. Barton brings the ball up himself.
At 2.8 seconds, Jaylen Brown makes the decision to step up on him, and it's a wise one. He has position and the speed to contain the ball, which distracts Barton. Barton can't make a cross-court pass to Harris because the defender has gotten back.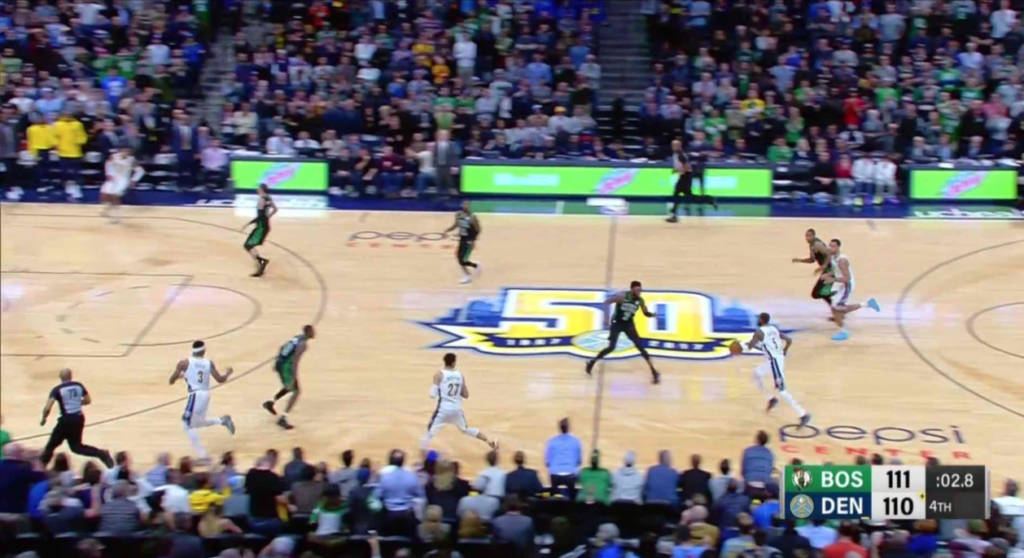 At 1.5 seconds, Barton is looking at the rim. He's early, but he wants to make sure he gets a look. This is part of the problem in these situations. Everyone after focuses on what kind of shot you get, but the most important thing, above all else, is that you get a shot. If you end the game without a field goal attempt, you don't even give yourself a chance.
Barton is shooting this the whole way, and it's a shame, because look under the basket at Torrey Craig cutting unencumbered.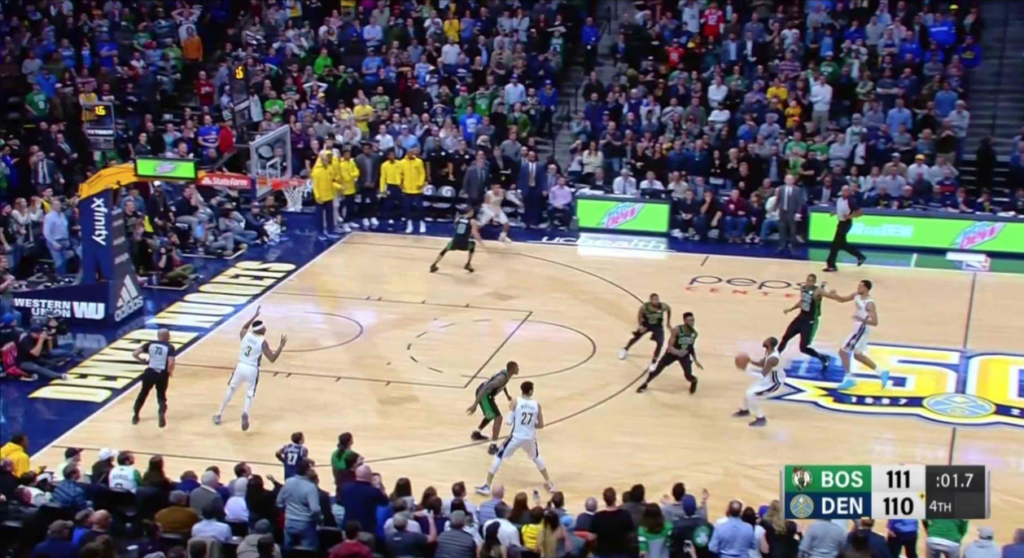 That's a layup. How long does the pass take to get there? Can it get there before Craig reaches the rim so it's not a reverse? Can he make a clean catch and lay it in?
It's even more clear when Barton raises up with 1.5 seconds left: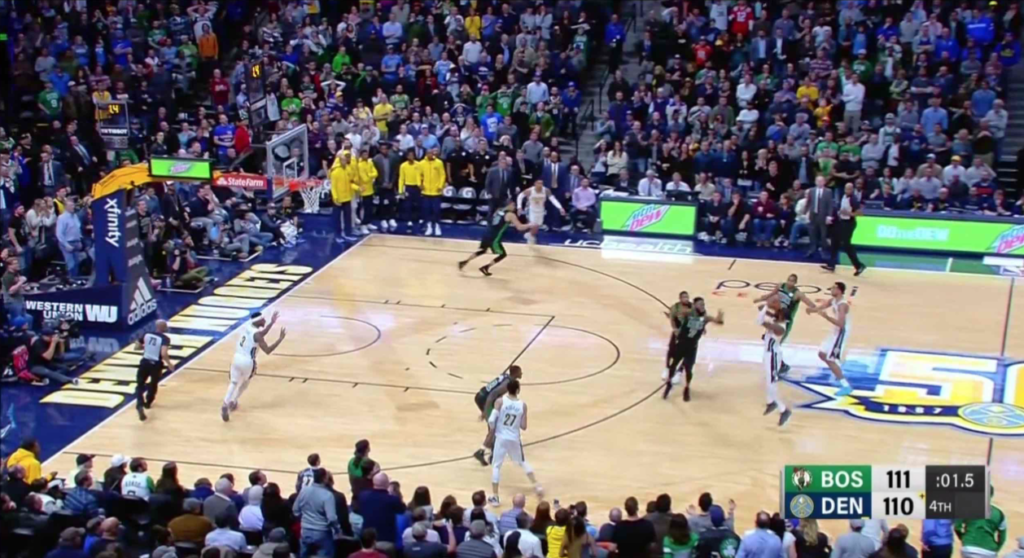 Some of this is just Barton. There are guys that are gunners; that's not Barton. He wants to make the right play and to win as much as any guy on the Nuggets. He takes losses hard. But he's also not a great passer. He's not barreling ahead into traffic all the time out of selfishness. It's what he's good at. Passing isn't. Which is why the Nuggets' lack of a veteran point guard who would have likely gotten the ball here is so vexing.
Barton can make that shot he took. But it's a contested 30-foot pull-up three with 1.5 left. There was time to get closer and get into the paint (which is what Brown was trying so hard to do) and likely to make that pass.
The Nuggets got a look, their guy missed. You can understand Malone's decision. The Celtics are the number one defensive team in the NBA. Do you want to try and score on them with five seconds left?
Malone's got a point. In games inside the final two minutes inside a three point game, opponents have shot 6-of-22 from the field after a timeout.
From that perspective, it seems like the right decision. The opportunity to get the defense scrambled was too good. The only real quibble (and honestly, the Nuggets were stuck between a rock and a hard place here) is that Barton just can't get up the floor fast enough. He's really fast. But unless you're Russell Westbrook, you can't cover enough ground with 4.7 seconds to get there. If he'd gotten the rebound at five, maybe he gets to the rim.
Just advancing the ball gives you a chance to get closer, which is what Denver needed most. Maybe it wouldn't have mattered vs. a set defense, but because Barton missed, you can debate it. If Barton makes that shot, Malone's a genius. There may not have been a right answer there.
THE CONVERSATION: LeBron to Golden State?
ESPN's Chris Haynes reported on Thursday that, well… here:
If the Golden State Warriors can create a max salary slot this offseason, the defending NBA champions could position themselves to secure a meeting with LeBron James, league sources told ESPN.

There is no indication that Golden State is evaluating such options to acquire the Cleveland Cavaliers star at this time.

Out of respect for the Warriors' winning culture, James would listen if Golden State explored ways to clear the necessary cap space, sources said.
via Golden State Warriors could be in play for LeBron James. 
Haynes has previously been in on dealings involving James' agent Rich Paul. He's a trusted, venerable reporter. He's not off here; Haynes is solid. It just doesn't mean anything.
The Warriors are the only team in the universe who can honestly not only say "we don't need LeBron James" but "James might actually make us worse." Messing with the chemistry and inserting a ball-dominant presence would,  incredibly, mess with the great, unstoppable thing Golden State has going.
Haynes clearly wanted to test a hypothetical and got a "yes" on it. That's notable. James is willing to go anywhere he can win a title. But this is also indicative:
The Warriors won't clear cap space for LeBron; they're saving it for Anthony Davis, so goes the worst-kept secret in the NBA. James won't actually go there. But he still wants to win and he wants to do so in a cool city. Both of these things should be kept in mind as July 1 and his free agency get closer.
That said, Lee Jenkins made a great point on the Lowe Post this week. He said he doubted James would leave, both because of the damage it would cause in Ohio and because there are no sure things. He can't go anywhere and absolutely win or even really compete with Golden State. That may be why Houston, the closest thing to it in a warm-weather, big-market with two stars, is the odds-on favorite at the books right now.
LeBron won't be a Warrior. The fact that that's a two-way street is a sign of just how dominant the Warriors are.
Buying Stock In: James Harden's MVP case
A 60-point triple-double without Eric Gordon, Trevor Ariza and Chris Paul will do that for you, no matter who it's against.
Harden's signature performance will go on the resume, and it helps erase the damage done by the measly two weeks he spent out with a leg injury. With the Cavs' implosion, Harden has pushed to the front of the pack and put some distance between himself and his competitors.
Honestly, it may just be him and Steph Curry at this point. The Bucks won't win enough games for Giannis Antetokounmpo to get into the room. The Wolves will pass every test but Jimmy Butler's individual stats don't dazzle enough. James has slumped since his historic run through mid-December. Durant hasn't been prolific enough to stand out from the rest of his glorious squad.
Through scoring, assists, or passes to players who were then fouled, Harden contributed for 93 points out of the 111 that Houston scored vs. Orlando with him on the floor. They scored 114 total.
And that win wasn't meaningless. For all the talk about it being the Magic, or Harden's 30 shots, or his minutes, the Rockets needed that game. They are currently just three games behind Golden State for home court in the playoffs. They have to have every advantage if they hope to beat the Warriors by some miracle. Winning this game short handed vs. a bad opponent was crucial.
The key for Harden will be keeping it up. Last year, after the All-Star Break, he dipped slightly in part due to injury. He still averaged 29-8-11, but shot 43% from the field and 33% from 3-point range and had a few games vs. contenders where he was overshadowed, like when Kawhi Leonard blocked him into oblivion.
This signature performance helps, but recency bias has always been an issue with awards voters. What you do in March matters way more than what you do in November (for some reason).
Still, there's no question Harden has established himself as the firm leader in the MVP clubhouse.
Selling Stock In: Oklahoma City Thunder
OKC's been red hot, their offense was the NBA's second best in January. They've figured out that end. But man, losing Roberson hurts. To wit:
OKC with Westbrook, George, Anthony, and Adams lineups with and without Andre Roberson
MIN
OFFRTG
DEFRTG
NETRTG
A. Roberson is ON COURT
511
110.1
95.3
14.8
A. Roberson is OFF COURT
424
112.4
114.4
-2
Roberson was my pick for Defensive Player of the Year, but it wasn't just his isolation containment or how he stuck with great players. It's stuff like his closeouts. He always closed out hard and with his length, that really made a difference. That's something you don't see in a guy like Avery Bradley despite his stellar reputation.
And he goes hard enough over screens with his length to be able to actually block guys from behind:
I'm not saying OKC's season is over, but this hurts them in big ways vs. their two biggest challenges, Golden State and Houston. His injury is just a bummer for a team that had finally put it together.
Give The Man Some Credit:  Tomas Satoransky

Can we talk about this guy for a minute? He's a net positive in net rating for the Wizards when on court, which they desperately need on that bench and especially with John Wall out. He's shooting 57.3 effective field goal percentage on spot-up shots. He's in the 97th percentile in half-court offense including assists, and 65th percentile out of the pick and roll including assists.
Oh, and this week he blocked Russell Westbrook.
With Kelly Oubre's development, Mike Scott playing well, and Satoransky stepping into this role, the Wizards' bench has actually had some bright spots. Their starters haven't been lights out. If John Wall gets back healthy, all the talk of how disappointing they've been this year could fade. Keep an eye out for the Wizards and don't start fading them just yet.