Friday NBA Guide: Top-Heavy Thunder Need Another Playoff Miracle
Credit:
Mark J. Rebilas-USA TODAY Sports
There are two games tonight, with Toronto and Washi… – hold the fort – there are three? The Thunder came back and won?
Can OKC rally around their rally and force a Game 7? Can Indy can force a Game 7 of its own? LeBron in a Game 7… in the first round?!? Now that would be appointment TV. — Mark Gallant
All info as of Friday morning. Check back throughout the day and keep an eye on our Twitter handle for any updates.
For live spreads and bet percentages, check out this page. Follow the latest injury info on our industry-leading news feed. To get access to our premium betting tools, subscribe here.
---
GAME 6: TORONTO RAPTORS AT WASHINGTON WIZARDS (-2) | O/U: 214.5
Toronto Leads 3-2
7 p.m. ET | ESPN NEWS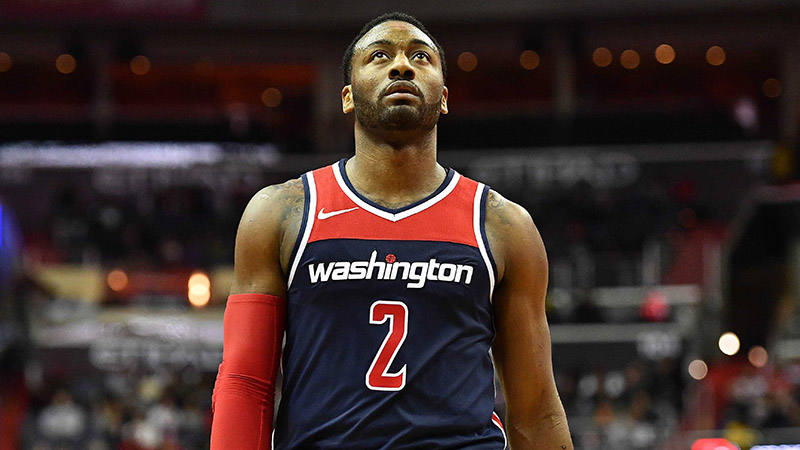 Brad Mills-USA TODAY Sports
What I'm watching for: The talk coming into this series was about the bench mob of Toronto being the difference for the Raptors this year. Like a lot of things we expected about the playoffs coming in, that hasn't happened. The Wizards have the second-best Offensive Rating among bench players of any team in the playoffs, and Toronto has dominated with its starters.
Toronto's starting five has played the most minutes (93) of any lineup in the playoffs thus far, and that unit holds a net rating of +12. Sixty of those 93 minutes have been against the Wizards' starters, and Toronto's starters have outscored Washington's by 20 points per 100 possessions in those situations.
But if you take the Raptors' starters and put them against John Wall, Bradley Beal, Otto Porter and Mike Scott, regardless of the fifth player on the floor, Washington outscores Toronto.
It's a shame that Scott Brooks is terrified of the small-ball unit with Scott at 5. With Scott on the floor, the Wizards are actually giving up fewer second-chance points than they are with him off it. Look at the spacing during one of those five rare minutes.
If Scott doesn't play a lot of minutes in Game 6, Washington is sunk. Toronto's starters have been too dominant. — Matt Moore
Trend No. 1 to know: John Wall's home playoff success continued in the Wizards' Game 3 and Game 4 wins. Since the 2015 playoffs, Wall is 10-1 SU and 8-3 ATS at home, including eight consecutive wins SU, over his last two playoff campaigns. He's averaging 27 PPG and 11.6 APG with a plus-minus of +82 in those. — Evan Abrams
Trend No. 2 to know: Over the last 20 seasons, the Wizards have made the playoffs eight times. In that span, the Wiz have played eight Game 6s or Game 7s, and they are 3-5 SU but just 1-7 ATS, failing to cover the spread by 5.2 PPG. In those eight games, the Wizards were favored in six, going 0-6 ATS, failing to cover the spread by 9.3 PPG. — Evan Abrams
Trend No. 3 to know: The NBA Playoff Zig-Zag theory is dead. Since 2005, it has not been profitable to bet teams to cover the spread after a straight-up loss in the postseason. While that is true for the full-game spread, this strategy has remained profitable for first-half bettors. Since 2005, betting home teams that lost their previous playoff game has gone 271-221-13 (55%) ATS in their next matchup. Washington returns home after losing Game 5 in Toronto. The Wizards are one-point favorites in the first half. — John Ewing
---
GAME 6: CLEVELAND CAVALIERS AT INDIANA PACERS (-1.5) | O/U: 204
Cleveland Leads 3-2
8 p.m. ET | ESPN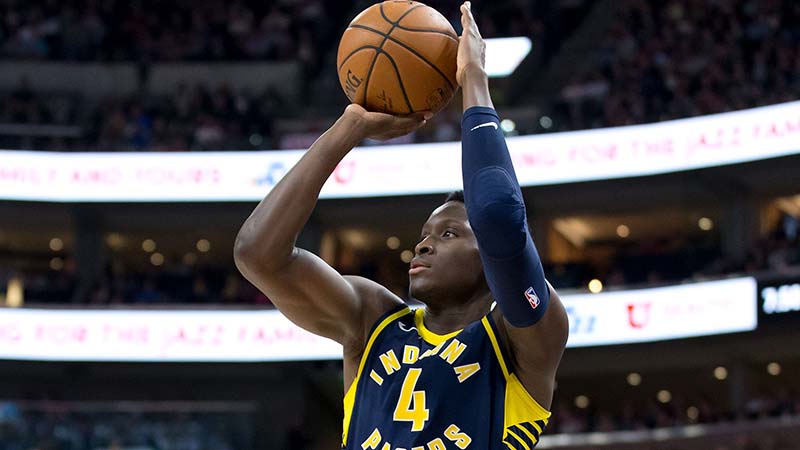 Russ Isabella-USA TODAY Sports
What I'm watching for: Let's be real: This is Indiana vs. LeBron. LBJ's performance in Game 5 — not just the 44-10-18 on 14-of-24 shooting, but the clutch block (goaltend) and game-winning bucket — was proof of that. James has to do everything in this series — and he's doing it.
But Victor Oladipo has helped. He's shooting 31% from the field and 22% from deep in the past four games of this series with 4.0 turnovers against 5.5 assists. The trap the Cavaliers employed against him has worked, and the rest of the Pacers haven't been able to make them pay for it. Darren Collison, Myles Turner and Domantas Sabonis are 6-of-24 on spot-up shots in this series, and Oladipo has shot 2-of-11 on those, too.
Some of this is truly the Cavs' defense. Here, LeBron goes from the weakside to help cover Turner on the roll, and J.R. Smith makes a great read to cover Oladipo while James recovers. The open man is Turner, who's not in a great place for a pass. Smith runs off Collison, Love helps at the rim, and the Cavs get a stop.
But some of these…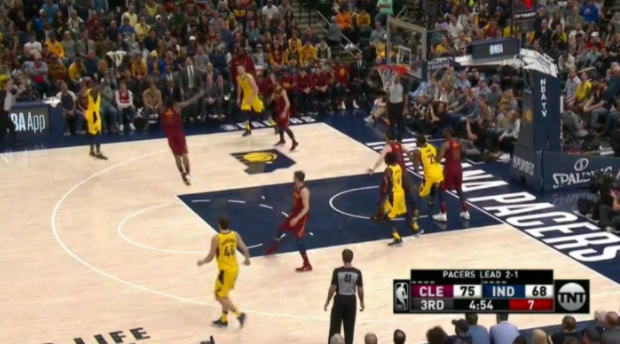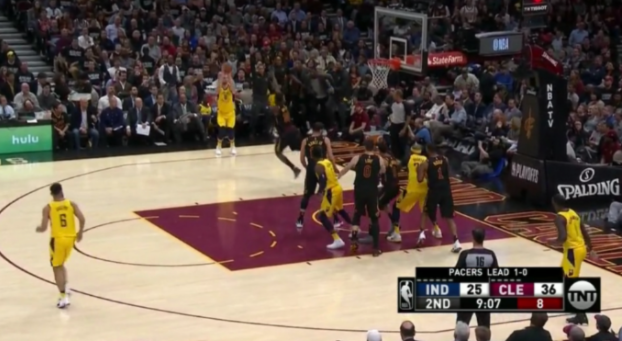 Well, let's just say the Cavs better hope Indy keeps missing them. — Matt Moore
Did you know? This series has gone under the total in all five games by an average of 18.3 PPG. In LeBron's career, he has never played a full series with the over/under tilted to one side in every game. — Evan Abrams
Trend No. 1 to know: In LeBron's career with both the Heat and Cavaliers, he is 16-9 ATS playing on the road in Game 5 or later in a playoff series, including 13-4 ATS with the Cavaliers. Over the Cavs' last two postseasons, he is 5-0 ATS in this situation, covering the spread by 14.6 PPG. — Evan Abrams
Trend No. 2 to know: Cleveland opened as 1.5-point underdogs, and the line has moved to Cavs +1. In LeBron's playoff career, when the line moves in his direction, his teams have gone 54-29-2 (65%) ATS. Most of that line movement occurred with LeBron as a favorite, however; as an underdog in the same situation, his teams went 6-7 ATS. — John Ewing
---
GAME 6: OKLAHOMA CITY THUNDER AT UTAH JAZZ (-6.5) | O/U: 206
Utah Leads 3-2
10:30 p.m. ET | ESPN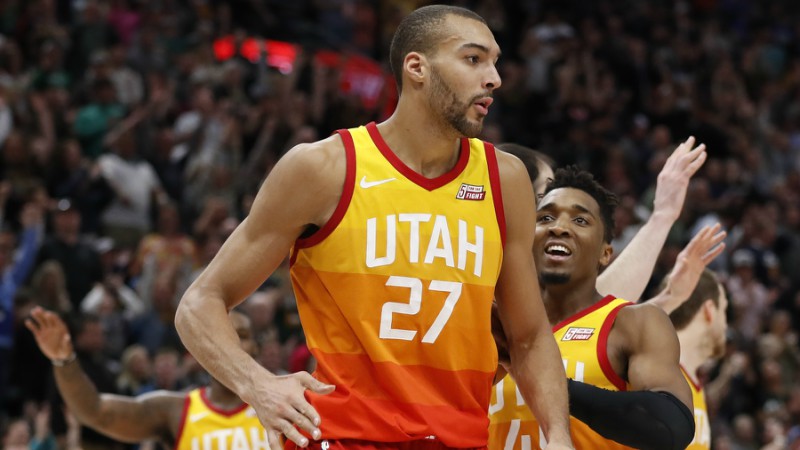 Jeffrey Swinger – USA TODAY Sports
What I'm watching for: When Andre Roberson went down, the Thunder tried a lot of different things at the 2-guard. Terrance Ferguson. Big-ball with Paul George at the 2. Corey Brewer. What's worked in this series has been Alex Abrines; the Thunder have a +11.6 net rating with him the floor. His speed defensively and ability to spread the floor are vital for how OKC is constructed. His quick release helps, too:
Can Abrines hold up to help OKC generate some actual spacing and quality offense? Or will the lack of a second quality wing produce the same clogged offense we saw in the three OKC losses so far? Those are big questions going into Game 6. — Matt Moore
Trend No. 1 to know: A simple betting strategy for the NBA Playoffs is backing favorites receiving more spread dollars than spread tickets — an indication of sharp money on a team. Since the 2016 NBA Playoffs, when we first began tracking spread dollars, favorites garnering more money than tickets are 70-37-1 (65%) ATS. At the time of writing this, 60% of spread tickets but nearly 90% of spread dollars are on the Jazz. — John Ewing
Trend No. 2 to know:  The Jazz have led 3-2 in seven-game series six different times in franchise history and have won the series each time. — Evan Abrams
Trend No. 3 to know: Under Billy Donovan, the Thunder have really struggled on the road against Western Conference foes, including in their first-round playoff series against the Jazz: They have failed to cover the spread by 10 PPG in those. Under Donovan, Oklahoma City is 25-19 ATS on the road vs. the Eastern Conference and 36-56 ATS against the Western Conference for -21.6 units, including 12-24 ATS when they covered the spread in their previous game. — Evan Abrams
Top photo: Russell Westbrook and Paul George