Three Key Questions About the Minnesota Timberwolves' Run To the Playoffs
Credit:
Troy Wayrynen – USA TODAY Sports
For years, you constantly get the short end of the stick. You always come up on the wrong end of things. The good teams never go right, the bad teams are worse than they should be. Nothing goes your way…
But what if one season, it finally does? And what if, even if you can't win the title, you still have this capacity to create something sustainable which could shake your luck permanently? How do you go about making the most of a year where for once in your Minnesota lives, fate actually smiles on you?
Welcome to the 2017-18 Minnesota Timberwolves.
The Wolves haven't made the playoffs in 14 years. Every opportunity they've had that seemed like it might pay off has turned out wrong. The Kevin Love- Ricky Rubio combination. Last year's projected jump. Every chance they've had has been squandered. They're the team that loses the close games, that has all the injuries. The team things never turn out for.
This year, that hasn't been the case. It's all come together.
Even after their loss to the Blazers Wednesday night, the Wolves occupy the fourth spot in the West, just a game back of San Antonio for third. They are 9-2 vs. division opponents, despite all four opponents hanging around the playoff race. Jimmy Butler has missed time, but not with a long-term injury, and no on else on the roster has gone down (yet, knock on wood).
The Wolves are 15-11 in games within five points in the final five minutes.
You get the idea.
So it's fair to say that we've reached the point where it's reasonable to ask whether this team is legit and how far they can go. Here are three key questions to look at for the 2nd half of their season.
CAN THE DEFENSE GET TO A DECENT LEVEL?
They were one of the worst teams in the league defensively headed into December.  They're still 23rd, but turned a corner briefly last month. Their overall trends have improved as the year has gone on. Here are their ranks this season, month by month.
| | | | | | | | |
| --- | --- | --- | --- | --- | --- | --- | --- |
| | GP | OffRtg | DefRtg | NetRtg | DREB% | eFG% allowed | |
| October | 7 | 4 | 30 | 26 | 29 | 30 | 14 |
| November | 15 | 5 | 13 | 7 | 14 | 21 | 10 |
| December | 15 | 3 | 19 | 3 | 28 | 24 | 1 |
| January | 13 | 2 | 17 | 4 | 21 | 22 | 1 |
Even though January's performance is still toward the back end of the middle of the pack, that's likely all they need given their offense.
Here's a key to consider, though. The Wolves are a "fine, not great" 16th in half court defense. They are 27th in transition defense. The poor transition defense is a legitimate issue as they are giving up points and not off turnovers, where they rank 17th in the NBA.
(Grain of salt before we get started here: most transition buckets are infuriating on the surface defensively, as they're usually effort issues. But in the course of the game, every team gives these plays up.  The overall balance isn't as bad as the worst ones make it seem. It just stands out for the Timberwolves because of how bad they are in this area.)
Watching the clips, the Wolves suffer the same problem the Cavaliers do. As soon as they jog back, that seems to be where they think the play ends and teams just wind up attacking. This is Al-Farouq Aminu, but Andrew Wiggins gives up on the play like it's LeBron James.
Jeff Teague has been a net positive for Minnesota, but there are times when he just spaces out/flat out isn't engaged. Just watch Teague here.
Montrezl Harrell runs off Wiggins here. Teague is up top to see, but Wiggins holds his form for some reason and neither gets back for an easy run-out.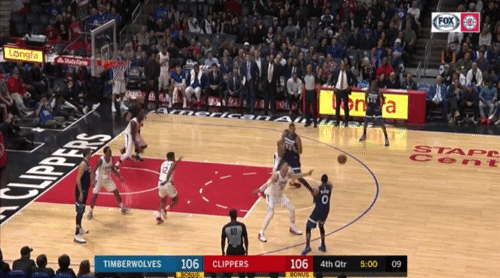 This is Lou Williams, a tough cover for anyone.  But Wiggins just doesn't engage and because it's transition, there's zero back line help.
One of the common issues is the combination of Towns and Wiggins. They still don't have a great feel for each other's tendencies defensively to help each other out. Like Williams, C.J. McCollum is a brutal cover, but Towns doesn't adjust when McCollum hesitates, which would have given him time to help on the baseline. And again, Wiggins can't contain.
You see that same dynamic in half court as well. Wiggins fails to contain and though Towns is willing and able to help, his angle is wrong. Both need to be better and communicate better on how to corral ball-handlers.
Towns has shown great improvement over the last month after being a bit of a hazmat zone the first two months of the season. His biggest problems tend to come from being overeager.  Here, he turns inward towards the baseline, allowing the ball handler to get back to the middle.
Towns has him corralled and lets him off the hook. His defensive crimes are almost always the result of good intentions, like here, where he reaches for a second to contest Evan Fournier:
But Towns is also learning not to leave his man so often to chase. He's done much better at maintaining position between help and his man to prevent easy drop-offs and helping to block shots:
Naturally, the biggest determining factor for their defense is Jimmy Butler alongside Taj Gibson. The combo of those two gives up just a 102.1 defensive rating, which is 11.7 points better than when it's Butler without Gibson and 15.7 points better than Gibson without Butler.
Here's the good news in all this:
The transition issues won't be as much of a concern in the playoffs vs. teams that slow it down, when the intensity ramps up, and when you have specific scouting focuses. The Wolves may lose the Warriors in transition in a hypothetical second-round matchup, but it won't be as bad as their regular season issues.
The starters, who have good defensive numbers, will play even more in the playoffs under Thibodeau, especially Butler and Gibson.
There are a number of offensively questionable teams behind them, like OKC, Denver, Portland, and the Clippers.
So the defense may actually be better in the playoffs, but they're still going to need to make jumps with individual personnel. Their containment problems on the perimeter could put Towns in foul trouble, which would be disastrous. Wiggins and Teague have to be better in that regard.
CAN THE OFFENSE KEEP UP?
My former colleague Zach Harper came up with this concept called "The Math Problem," and it's pretty basic. If you're a team that's super efficient in scoring 2's, and the other team is less efficient but draining 3's… you passed Kindergarten, you get it.
The Wolves could face a major math problem in the playoffs.
Western Conference playoff teams by 3-pointers made per 100 possessions 2017-18
Team
3-pointers made
Conference Rank
Houston Rockets
15.6
1
Golden State-Warriors
11.4
3
Denver Nuggets
10.8
5
New Orleans Pelicans
10.5
6
Oklahoma City Thunder
10.4
7
Los Angeles Clippers
10.2
8
Portland Trail Blazers
10
9
San Antonio Spurs
9.2
11
Minnesota Timberwolves
8
15
Minnesota's offense has been brilliant. Efficient, smart, and they're super-talented. Towns is just such a monster in so many ways, and Wiggins is developing as a playmaker. His assist numbers remain disappointing, but there's stuff like this that gives hope. Towns' ability to re-hop here is just almost impossible to defend.
The Wolves can hurt you with Towns and Butler on the move or in one on one situations, Wiggins can go off for 30-plus in a heartbeat, and Jamal Crawford is instant offense. One guy who continues to go completely under the radar for reasons that defy understanding is Gorgui Dieng.
Teams simply are not guarding him on mid-range shots, which is a little crazy. Check out his numbers from mid-range: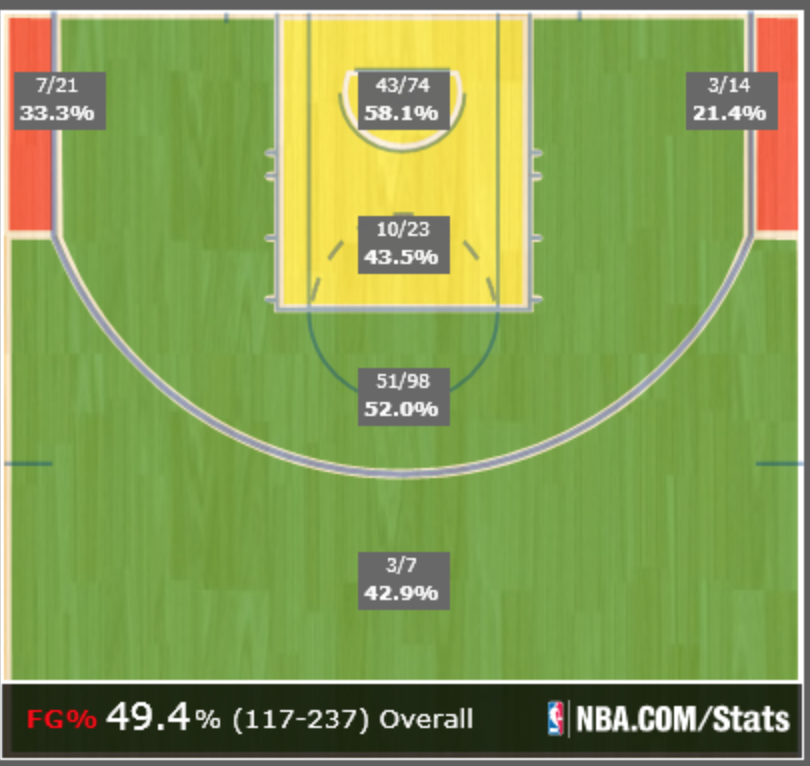 Really, teams just aren't guarding him. You see this a lot:
Despite all these weapons, they are beating teams by throwing rocks against a lot of squads with precision targeting artillery.  That math problem is real. If they face a team like New Orleans with two dominant bigs and shooters, it may not matter how many tough contested mid-range shots Butler makes. They may not be able to keep up even with a higher field goal percentage.
Bear in mind that the Wolves give up the 8th most 3-pointers per 100 possessions leaguewide. This formula works in the regular season. The playoffs could be a different deal.
CAN THEY HOLD HOME COURT?
The Wolves were underdogs to win the Northwest Division until about two weeks ago. Even now they are just -135, with the field at +115 and the Thunder +155 at 5Dimes.
Minnesota has a dominant 9-2 division record and hold the tiebreaker over the Thunder in head to head. But OKC has been red hot since December 1st, while the Wolves continue to deal with nagging injuries to Jimmy Butler and others.
If the Wolves can't hold on, that becomes a real issue. A young, inexperienced team on the road in a 4-5 matchup vs. the Spurs or Thunder would be a tough road.
Now, all of this is beyond the first step, which is just "make the playoffs." They are an absolute lock there. Their magic number on January 25th is 29. That seems like a lot, but with 32 games remaining, it's very doable. That will be a great season no matter what.
There's capability for the Wolves to be a better playoff team than a regular season squad. They have elite talent, outstanding "tough shot" makers, a postseason primed defense and a great home crowd. But with a pedestrian offense and Tom Thibodeau's history of coaching teams who lacked a playoff gear, keep an eye on how the Wolves finish the season. If they can correct some of their weaknesses, who knows where they'll go. If they can't, they might be a prime target for a playoff upset.
Photo Credit: Troy Wayrynen – USA TODAY Sports
How would you rate this article?