Tuesday NBA Betting: Blazers Have Motivational Edge Over Rockets
Credit:
Credit: Jaime Valdez-USA TODAY Sports. Pictured: Houston Rockets guard James Harden (13), Portland Trail Blazers guard Damian Lillard (0).
With all of your brackets absolutely busted (don't lie, yours definitely is), there's no reason not to focus on the NBA for now. The Tuesday and Wednesday stretch of no tourney games will feature 15 NBA games in total, offering plenty of opportunity to make cash.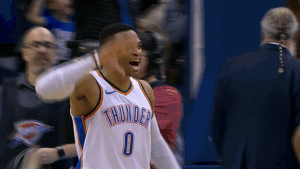 There are seven games tonight, three of which we really like. But don't worry…if you're interested in Pistons vs. Suns, we have info for you, too. — Mark Gallant
All info as of Tuesday morning. Check back during the day and keep an eye on our Twitter handle for any updates.
If there's a specific matchup you want to jump to, click the quick links below. For live spreads and bet percentages, check out this page. Follow the latest injury info on our industry-leading news feed. To get access to our premium betting tools, subscribe here.
OKC-BOS | LAC-MIN | HOU-POR | Quick Hits
---
OKLAHOMA CITY THUNDER (-4.5) AT BOSTON CELTICS | O/U: 208.5
8 p.m. ET | TNT
What I'm watching for: Russell Westbrook is on one right now. He's averaging 25 points, 11 rebounds, and 12 assists in his past five games, shooting 50 percent from the field and 50 percent from 3-point range. The Celtics are without Marcus Smart, which means Marcus Morris, Jaylen Brown and Jayson Tatum are going to have a splendid time trying to contain Russ.
Given the Celtics' injury issues, the best approach might be to try and win with offense vs. OKC; after all, without Andre Roberson, the Thunder are a fundamentally different team defensively. That said, the remaining Celtics players don't have the scoring punch without Kyrie Irving.
The best way for Boston to find success is to muck this game up, and that's going to require a lot of players with size or skill disadvantages to pull off some impressive feats.
Keep an eye on Marcus Morris vs. Paul George. The defense has been awful with Morris on the floor this season, and George may be due for a breakout. — Matt Moore
What the metrics say: The first matchup between these teams this season was a slugfest, with the Celtics holding the Thunder to just 98.9 points per 100 possessions and 94 total points. Boston didn't fare much better, finishing with 101, but it did hit enough 3s (46.4% from behind the arc) to get the W on the road. Unfortunately, the Celtics will now have to take on Westbrook and Co. without Irving, who had 25 points and three 3-pointers in the first matchup. One area of concern for Boston is on the glass: The Thunder rank first in the league in offensive rebound rate thanks to Steven Adams, and Boston's likely starting lineup — a combination of Terry Rozier-Jayson Tatum-Marcus Morris-Al Horford-Aron Baynes — has rebounded just 14.3 percent of its opponents' misses. The Celtics' defense will keep them in this game, but they can't afford to give the Thunder multiple shots in a single possession. — Bryan Mears
Betting market: Both sharp and square bettors wasted no time on taking the Thunder, as the opening line of -2.5/-3 was moved to -4 in about a ten minute span. About 80% of early bets and 90% of dollars are on the Thunder and we also triggered a steam move at Bookmaker that caused the push from -3 to -4. — Mark Gallant
DFS spin: On paper, this doesn't appear to be a great spot for the Thunder. The Celtics rank first in defensive efficiency this season, and their implied team total of 106.75 is just the seventh highest mark on the slate. However, the Celtics have not been the same team defensively without Jaylen Brown and Marcus Smart this season, allowing 110.0 points per 100 possessions. Russell Westbrook is obviously in play, but Paul George might be the preferred target. He's seen a salary decrease of $1,200 over the past month on DraftKings, and his current $7,600 salary comes with a Bargain Rating of 90 percent. — Matt LaMarca
Trend No. 1 to know: Since losing to the Rockets in Oklahoma City on March 6, the Thunder have won six straight games and are 5-1 against the spread. Celtics coach Brad Stevens is 36-18-2 ATS (66.7%) in his career when facing teams on a winning streak of three or more games. — Evan Abrams
Trend No. 2 to know: Boston lost to New Orleans 108-89 on Sunday. In the past four years, the Celtics are 27-15-2 (64%) ATS after a double-digit loss. — John Ewing
---
LA CLIPPERS AT MINNESOTA TIMBERWOLVES (-4) | O/U: 227
8 p.m. ET
What I'm watching for: Huge game. A loss by the Clippers puts them a game back of Denver in the loss column and two back from eighth. A win helps them keep pace as they try and hang on. The Wolves are also trying to hang on. A loss puts them in a three-way tie with Denver and the Pelicans in the loss column. Minnesota is almost through its toughest stretch. This would be a big win.
Lou Williams should have a field day against the Wolves' defense, especially if the Clippers push the pace. DeAndre Jordan versus Karl-Anthony Towns is a big battle. Andrew Wiggins is likely to put up a lot of shots and get cooked on defense, again. Is the marginal talent of the Clippers with a better foundational approach able to beat the Wolves' superior talent but woeful identity? — Matt Moore
What the metrics say: The Wolves have had a brutal schedule lately: Their past seven have been at Portland, at Utah, versus Boston, versus Golden State, at Washington, at San Antonio, and versus Houston. They'll welcome a struggling Clippers team that has ranked just 14th in the league with a mediocre +1.4 net rating over the past 10 games. The Wolves have won all three previous meetings against LA this season, and they haven't struggled to score the ball. The Wolves have a big edge on the boards and drawing fouls, as the Clippers rank just 26th in defensive rebound rate and 23rd in defensive foul rate. The Clippers do have an avenue for success, however: The Wolves rank dead last in field goal percentage allowed at the rim, and the Clips are the second-best team at getting to the rim this season. They'll have to be aggressive to keep up with the Wolves' offense. — Bryan Mears
Betting market: Action on the Timberwolves has been flowing in all day, as highlighted by PJ Walsh's Wake and Rake.
DFS spin: Lou Williams has been a poor fantasy producer of late, averaging a Plus/Minus of -2.71 over his past 10 games. That said, he's been priced down to just $7,100 on FanDuel for today's slate, which makes him an intriguing buy-low option. He's offered tremendous value at a comparable salary this season, exceeding salary-based expectations by an average of 7.29 fantasy points per game. The Timberwolves have also been a disaster defensively this season with Jimmy Butler off the floor, allowing 120.7 points per 100 possessions. — Matt LaMarca
Trend to know: The Timberwolves lost at home to the Rockets on Sunday. In his career as coach of the Bulls and Wolves, Tom Thibodeau is 30-15 ATS at home after a home loss — the most-profitable coach in the NBA since his first season with the Bulls in 2010. — Evan Abrams
HOUSTON ROCKETS (-5) AT PORTLAND TRAIL BLAZERS | O/U: 217.5
10:30 p.m. ET | TNT
What I'm watching for: The Blazers could not be hotter right now if they were actually physically ablaze. Houston has been impervious to such assaults this year — they've been a real streak-buster — but Portland has a lot more to play for here.
Houston's a near-lock for the No. 1 seed and home court throughout the playoffs while Portland's trying to shore up a buffer to secure the 3-seed.
Still, the Blazers' defensive success this year remains a bit of a mystery. Can they really contain the Harden-Capela lob pick-and-roll with Jusuf Nurkic's plodding footwork? Can they really contain Harden and Paul in the pick-and-roll with their wing defenders? Can they really keep up with Houston, the No. 1 team in 3-point rate, when they are 16th in that category?
It's momentum versus overall team quality, but at this point of the season simply having more to play for may rule the day. Under the radar, Portland's offense has been on fire of late; keep an eye on the over. — Matt Moore
What the metrics say: This is a dynamite matchup. These are perhaps the best two teams in the league currently, as they've both gone a stellar 14-1 over their past 15 games. They've played twice this season, and Houston won both thanks to impressive offensive affairs in which they put up 124 and 121 points. Portland just isn't equipped to handle James Harden; he didn't play in the second meeting, but he eviscerated them in the first for 48 points. He took 14 free throws in that one, and that's one of Portland's few defensive weaknesses. The Blazers great at protecting the rim and the 3-point line — crucial elements against the Rockets — but they also rank middle of the pack in foul rate. They're also very bad at forcing turnovers, which means the Rockets could get a ton of easy looks throughout the game while Portland hits tough shots. Dame & Co. can knock those down — and they have consistently of late — but the room for error is smaller. — Bryan Mears
Betting market: Everything is pointing towards a high scoring affair between these two teams. The over is seeing over 90% of bets and dollars, and we have also tracked a steam move at Bookmaker on the over. All of this action has helped push the total from 215 to 217.5 since opening. — Mark Gallant
DFS spin: James Harden can obviously go off against anyone, but this sets up as an extremely difficult spot for him. The Blazers rank seventh in defensive efficiency on the season, but they've taken it to another level recently. Only the Jazz have allowed few points per 100 possessions since the All-star break, and the Rockets' current implied team total of 111.25 represents a decrease of roughly 2.5 points when compared to their season average (113.6). The Rockets are also on the road, where Harden has historically averaged three fewer DraftKings points per game than at home. — Matt LaMarca
 Did you know? Portland has won 13 straight. This is just the fifth time since 2005 that a team on a double-digit winning streak is a home underdog. The previous four teams went 2-2 straight-up and against-the-spread. — John Ewing
Quick Hits on the Rest of the Slate
TORONTO RAPTORS (-10) AT ORLANDO MAGIC | O/U: 215
7 p.m. ET
What I'm watching for: Something I stumbled upon while watching a surprisingly competent first quarter from Orlando the other night: The Magic are 12th in offensive efficiency in the first quarter. There's this vague outline of a not-awful team; they just can't hold it together. It's like they're being chased by a ghost in Mario, and, if they turn around to look at it, it goes invisible. — Matt Moore
Trend No. 1 to know: Toronto lost to Oklahoma City on Sunday as a favorite. The Raptors are now 10-point favorites in Orlando. Double-digit road favorites that failed to cover their previous game have gone 62-75-1 (45%) ATS since 2005. In the past five years, teams in this spot have been even worse, going 34-51 (40%) ATS. — John Ewing
Trend No. 2 to know: Over the last two seasons, the Raptors have performed very well against inferior opponents. Toronto is 16-9 ATS against opponents with a win pct below 33%, the most profitable team in the NBA during that span. Long term, the Raptors have been good in this spot as well covering 58% since 2012, also the most profitable team in that span. – Evan Abrams
DALLAS MAVERICKS AT NEW ORLEANS PELICANS (-8.5) | O/U: 219
8 p.m. ET
What I'm watching for: Someone asked me what Harrison Barnes is good at, and I didn't have an actual answer. I know things he's not bad at, and he's honestly not bad at a lot — I just don't have an answer for what he's really actually good at. — Matt Moore
Trend to know: Road underdogs in a conference game, like Dallas, have typically been undervalued. If that team also failed to cover its previous game as an underdog (like the Mavs) and is facing an opponent that covered the spread as a favorite in its last game (like the Pelicans), the underdog has gone 301-215-12 (58%) ATS since 2005. — John Ewing
ATLANTA HAWKS AT UTAH JAZZ (-13.5) | O/U: 206.5
9 p.m. ET
DFS spin: Rudy Gobert has been awesome recently, exceeding salary-based expectations by an average of 6.56 points per game over his past 10 contests. He's in a wonderful spot today against the Hawks, who have been one of the worst rebounding teams in the league this season. He's extremely appealing today on DraftKings, where his $8,400 salary comes with a Bargain Rating of 99 percent. — Matt LaMarca
Trend No. 1 to know: Under Quin Snyder, Utah is 20-3 straight-up as a favorite of 10 or more points but 8-14-1 (36%) ATS. — John Ewing
Trend No. 2 to know: Double-digit underdogs with a win pct below 30% excel earlier in the season historically, but come the later months, tend to have issues covering the spread. – Evan Abrams
Since 2005:
October to February: 55.3% ATS
March and April: 47.8% ATS
DETROIT PISTONS (-6) AT PHOENIX SUNS | O/U: 217.5
10 p.m. ET
Prayers up for anyone who watches this game. — Matt Moore
DFS spin: Blake Griffin is an intriguing player on today's slate. On one hand, he hasn't been very good recently, posting a Consistency Rating of just 69 percent over the past month on FanDuel. On the other hand, he has one of the best matchups of the day against the Phoenix Suns, evidenced by an Opponent Plus/Minus of +3.84. He also leads all PFs with 12 individual Pro Trends, and PFs with a comparable number of Pro Trends and salary have historically exceeded salary-based expectations by an average of 2.13 points. — Matt LaMarca
Trend to know:  Pistons have covered 10 of their last 11 games against the Suns. Since 2005, Detroit is 18-8 ATS against Phoenix, its most profitable opponent in the NBA during that span. – Evan Abrams
Top photo via Jaime Valdez-USA TODAY Sports
How would you rate this article?