Locky: A Case for Betting the Total in NBA Finals Game 3
Credit:
Kyle Terada-USA TODAY Sports. Pictured: LeBron James and Stephen Curry
Game 2 didn't go so great in the second half for Cavs bettors. Cleveland rallied several times, looking as feisty as an underdog can look, but when the wheels came off — or rather, when Steph Curry tore them off — it really fell apart. Nevertheless, we move on.
I am a little surprised the Cavs are getting so much credit, given how badly they played in Game 2. The lookahead spreads for the games in Cleveland before the series started were Warriors -4.5, and I remember thinking, "I can see these staying the same, or going up, but never ever going down unless someone gets hurt." Well, they stayed the same, but secretly deep down I expected we'd see 5.5 or 6 in this spot. The talent gap is just really that crazy.
If you like the Cavs here, you are focused on two very key components to the Warriors' playoff run thus far. For starters, they've shown a propensity to mail in a road game in each of the first two series against overmatched opponents. And secondly, their overall road metrics in the playoffs haven't been great. (Important note: They're skewed a little by playing four games in Houston, which Cleveland is most certainly not.)
This all seems to line up nicely for a Cavs team that plays so much better at home. The stats would tell you things are definitely about to flip, but "flip" could just mean Cleveland is really competitive, to be honest. I don't think the Warriors can be trusted here. Too many outcomes are possible for me to justify investing in the spread.
But I am betting the total. 
I'm playing Over 216.5 here, and I'm playing exotic overs, too. The first two games have shown us that, barring Kevin Durant iso plays, the Warriors can get a high-quality shot on pretty much every possession.
Their tweak in Game 2 of using JaVale McGee to slip screens and roll when Curry got trapped worked wonders. It was an equally effective tactic with Shaun Livingston later in the game.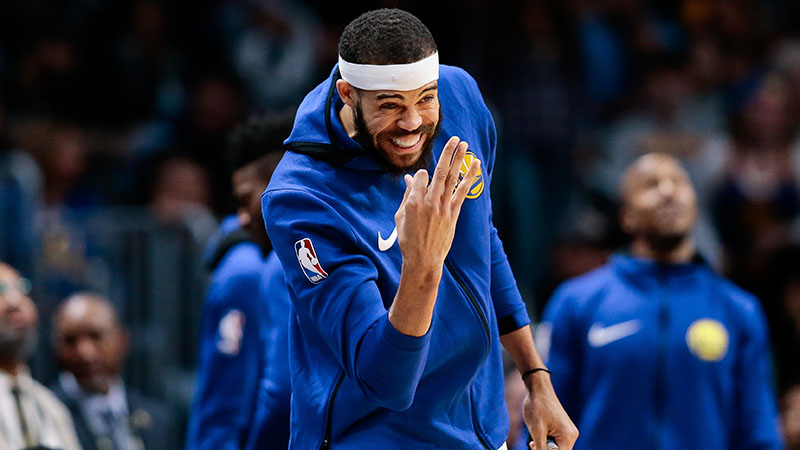 Pictured: JaVale McGee. Credit: Isaiah J. Downing-USA TODAY Sports
That small adjustment really demonstrates that Cleveland has no answer for this Golden State team on defense. No matter what adjustments the Cavs make, Steve Kerr & Co. should be able to find a different way to exploit Cleveland's defense.
The Cavs are limited by their roster. It's just not reasonable to expect them to contain this offense with their collection of players and the style they've played all year. You combine that level of ineptitude in stopping an opponent with the absolutely night-and-day metrics from the Cavs in their building (111.7 offensive rating at home, 103.9 on the road), and I think you have the recipe for a shootout.
Cleveland's role players will play a little better because they always do at home, but the team overall will still be unlikely to contain Golden State for very large portions of the game.
All of this would be moot if oddsmakers had adjusted the total to account for Cleveland's improved scoring in this situation, but they're running back the same total from Game 2 (around 216.5).
Golden State has proven in this spot a couple of times — Game 3 at New Orleans, Game 4 at lame-duck San Antonio — that its defense can slip when the outcome of the series is predetermined. Combine that with the other factors mentioned above, and I think the over hits more often than not
Editor's note: The opinion on this game is from the individual writer and is based on his research, analysis and perspective. It is independent of, and may not always match with, the algorithm-driven Best Bets from Sports Insights.
---
More Coverage of Game 3
How would you rate this article?