NBA Monday: High-flying Raptors lead value selections
We're looking at two of the six games on tonight's NBA slate, and after former Thunder players Kevin Durant and Victor Oladpio were named as the players of the week, it's only fitting we look at the guy who, allegedly, ran them out of town.
Golden State forward Kevin Durant and Indiana guard Victor Oladipo have been named the Western and Eastern Conference Players of the Week.

— Chris Haynes (@ChrisBHaynes) December 11, 2017
Hornets (9-16) @ Thunder (12-13)
Russell Westbrook vs. Kemba Walker is the mouthwatering matchup of the night.
Westbrook isn't shooting at an exceptionally efficient clip, but he's still putting up numbers. In his last three games, the reigning MVP has averaged 27 points with 11.3 assists and 10.3 rebounds.
Given that Westbrook has the bigger body – given and his overly aggressive mindset throughout the last week, in particular – I'm expecting to see Westbrook bully Walker and lead the Thunder offensively.
Books have Westbrook's points line set at 23.5. In light of the fact that he's scored well recently (and produced 33- and 40-point games in his last two head-to-head matchups with Walker), I like Westbrook to go over.
Another area to look at is the assist/rebound number. With Westbrook averaging a triple-double over his last three games, the over 19.5 total will be worth a look, as it appears as though Westbrook is reverting back to his 2016-17 style.
He's given up on incorporating Carmelo Anthony and Paul George, with his ball-dominant behavior reaching new heights.
ESPN.com's Zach Lowe mentioned on his podcast that Westbrook has yet to set a single ball screen for Anthony this season.
Not one.
Everything runs through Russ, and tonight will be no different.
Pick: Westbrook over 23.5 points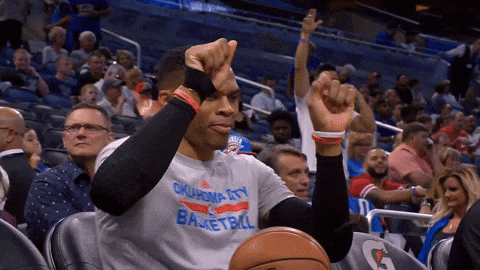 Raptors (17-7) @ Clippers (9-15)
The Raptors have quietly put together an impressive six-game winning streak and can make it seven tonight against the struggling Clippers.
At 17-7, Toronto has the third best record in the league, but it seems like nobody has noticed. They aren't getting any national attention, and as a result, are at an attractive -5.5 on the road in this one.
The Raptors are second in the East, have won 5 straight, have the third-best point differential in the NBA, are 9-1 at home — but have no top 25 players 🤔🤔🤔 pic.twitter.com/xP1fIQNELJ

— John Gaudes (@johngaudes) December 9, 2017
We looked at the dominance of the East over the West against the spread on Saturday with the Clippers being one of the poorly performing teams. The Raptors just so happen to be 8-2 vs. West teams against the spread, so the trend looks set to continue.
On the second night of a back-to-back, the Raptors may be playing on tired legs. They were down the road in Sacramento last night, but a look at their two previous back-to-backs suggest they will cope with the short turnaround just fine. They have an incredible 123.0 offensive rating with zero rest, though that will surely regress back toward the mean soon.
Over the course of their six-game winning streak, the Raptors have put up some impressive numbers:
117 points per game
102.2 opponents points per game
49.6 field goal percentage
56.7 effective field goal percentage
116.3 offensive rating
101.4 defensive rating
The Raptors shouldn't have any trouble putting the injury-plagued Clippers away tonight. With all the injuries, Lou Williams is averaging 27 points per game over his last three. As great as that is for Lou, if your team needs 27 points a night out of him to go 1-2, you're in trouble.
Pick: Raptors -5.5
All stats provided by Basketball Reference and NBA Stats as of 12/11
Be part of the Action
Download the Sports Action app at the App Store or Google Play