Oddsmakers Unwilling to Adjust for Heavy Public NBA Action
Credit:
Troy Taormina-USA TODAY Sports
Tonight's six-game NBA slate includes a few fairly lopsided ticket counts. With five teams receiving more than 60% of bets, and two of those getting over 75%, public bettors have clearly found several spots they deem winners.
That's nothing new, but what makes tonight's board so interesting is the line movement, or lack thereof, in those games.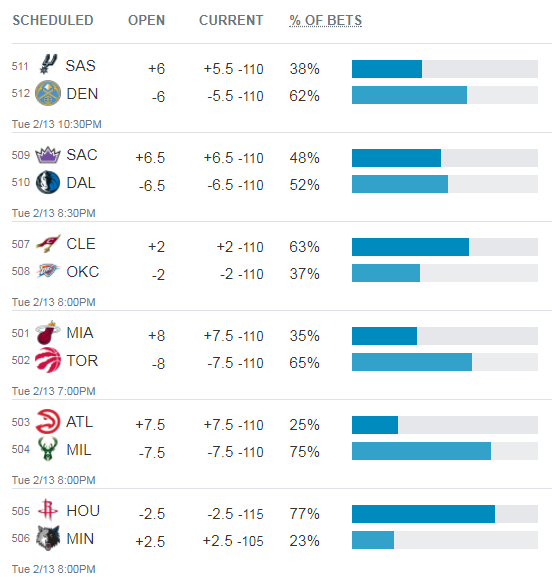 Not a single game has had the line move toward the popular side, even with the Hawks and Wolves seeing only 25% and 23%, respectively. In fact, two games have moved in the opposite direction.
What's keeping these lines from blowing up? Take a look at the Sports Insights Bet Signals page from today, indicating which sides have seen sharp action since opening; all but one signal point toward the contrarian side in their respective games.

For those curious, teams receiving less than 40% of bets are 267-231-14 ATS this season. Teams receiving less than 30% are 118-87-8 ATS.
Photo by Troy Taormina-USA TODAY Sports