Road to the NBA Finals: It's Put Up or Shut Up Time for Toronto
The window is open.
Honestly, the Raptors could have thrown in the towel at any point. You couldn't blame Masai Ujiri for thinking, "well, this was a good run, but everything has to end sometime" and finally going for the total rebuild he's never truly had the chance to configure. They could have let Kyle Lowry and Serge Ibaka walk this summer, traded DeMar DeRozan and gone for a total reset.
Instead, they opted to bring back the band for one more three-year run. Ujiri has set a timetable on this core: Lowry and Ibaka go off the books the same summer that DeRozan has an early termination option, and if Jonas Valanciunas picks up his option for 2019-20 (which seems possible), he'll come off the books as well. At the time, it seemed like a "well, this is better than embracing tanking"-type move. But a funny thing happened on their way to being the modern version of the 2000s Pistons without the Finals appearance. The Raptors evolved.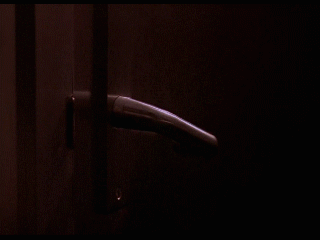 CLEVER GIRL: How this Toronto is not that Toronto
DeRozan added a 3-point shot; just the threat of him spotting up now opens the floor. He's still shooting a miserable 31% from deep. But just a little more perimeter work means more angles and room for the Raptors to work on the interior. More importantly, DeRozan is averaging a career high in assists, nearly two more per 100 possessions compared to last season. He's become way more of a playmaker.
There are ample opportunities for DeRozan to rise up here, or to try to slide between two defenders for the reverse. But he has great chemistry and trust this season, and finds the corner 3.
Then there's the bench. Rankings for Toronto among all bench units:
Net Rating:  1st
Defensive Rating: 1st
Offensive Rating: 3rd
Effective Field Goal Percentage: 3rd
Opponent Effective Field Goal Percentage: 2nd
Assist-to-Turnover Percentage: 3rd
3-pointers per 100 possessions: 3rd
Assists per 100 possessions: 11th
Opponent Turnover Percentage: 1st
It's absolutely incredible how well this unit plays together and individually. Fred Van Vleet, Delon Wright, Jakob Poeltl, Norman Powell, Pascal Siakam on and on — the Raptors have so many smart, skilled, athletic players they can throw at opponents. (And that development is another reason why Dwane Casey is a Coach of the Year candidate.)
These guys are not plucky underdogs who use tricks to get the job done. They are legitimate weapons who teams need to account for. Bryan Mears recently looked at just how good this Raptors bench unit is. Spoiler alert: it's great, historically. The question is whether it will get the same leash in the playoffs, a question Seerat Sohi asked at the Athletic recently. Casey has made his feelings known on it:
Re: LRT, here's Raptors coach Dwane Casey on the prospect of shortening his ultra-productive bench (No. 1 net rating in NBA) in the playoffs: pic.twitter.com/ohStxufJZZ

— Jeff Zillgitt (@JeffZillgitt) March 3, 2018
"We will find out," Casey told reporters. "The goal is to find out. Why not? What is our record right now? So why change this because some rulebook somewhere, if you find it, please send it to me because I have been on some teams where you keep the same rotation, and somebody somewhere in the back of a room says well, playoffs you have to shorten your rotation, so we have to find out unless this group proves us wrong."
The Raptors are getting good production from Ibaka, mixed in with the usual array of space-out games. Lowry isn't what he was a few seasons ago, but he's still averaging 17-7 on 41% from downtown. And then, shockingly, there's Valanciunas. Left is last year, right is this year: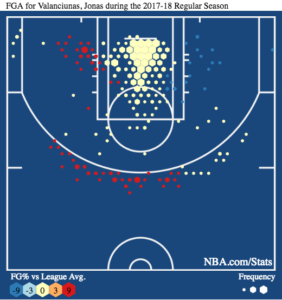 Valanciunas had taken — not made, taken — four 3-pointers going into this season. He's taken 66 this year, hitting them at over 44%. Notice how he's still taking those short jumpers and push shots from baseline mid-range; he's just removed that free-throw line nonsense and cut down on the longer spot-ups. It's not complete Morey-ball, but the efficiency matters.
All of these things have made this the best Raptors season ever, the culmination of an unlikely formula yielding a quality perennial East contender that has turned the corner.
But, of course, there's that nasty playoff concern.
THE GHOST IN THIS HOUSE: Postseason demons
2014: Lost Eastern Conference first round to Brooklyn Nets
2015: Lost Eastern Conference first round to Washington Wizards
2016: Lost Eastern Conference Finals to Cleveland Cavaliers
2017: Lost Eastern Conference semifinals to Cleveland Cavaliers
And let's not forget:
Or:
This core, that has won 48 games or more and more than 50 each of the past two seasons, has never won a first-round Game 1. The Raptors were on the edge of oblivion vs. the Bucks last year. Miami could have knocked them off in 2016. Oh, yes, they lost that Game 1 as well:
On the other, they have never once looked like a team you could trust in the playoffs. DeRozan and Lowry have wilted time and time again. Even when they recovered to salvage the situation, as they did last year vs. the Bucks, it came only after not handling business against squads that Toronto should firmly handle.
I cannot stress this enough: Toronto has proven time and time again it cannot be trusted in a playoff environment. It's why so many analysts are in the same place with Toronto. The Raptors should be the Eastern Conference favorites. But they have to prove they can get through the playoffs in somewhat dominant fashion, before we can even really consider how they'll do against the Cavaliers.
So … what does their first round look like?
The most likely matchups are Milwaukee, Miami and Washington. Washington is the worst option there. John Wall and Bradley Beal will absolutely go into Toronto for Game 1 believing they can win. Something always seems to happen to the Wizards, though, and honestly, a hard-fought battle vs. Washington might be what the Raptors need. Win Game 1, close it out in six, and act like a normal playoff team for once.
Milwaukee will feel the same after last year. However, the Bucks' defensive blitz scheme caught the Raptors off guard during that first-round series last year. They eventually adjusted but just barely. This year, they've torn it apart:
So there's reason to think Toronto could handle Milwaukee this time around, even if the presence of Giannis Antetokounmpo is alarming.
Miami might be the nightmare scenario. What the Raptors don't want is a high-variance first-round series, and Miami's cadre of shooters makes that a possibility. You've got slippery guard play, athletic big men inside, great coaching and most concerning: no one threat to target. Defending teams such as Milwaukee built around key players is easier — you can layer the defense. Miami is equal opportunity, which means the focus can shift game to game. The Heat are amorphous and slippery. Throw in just a dash of "savvy veteran Dwyane Wade" a la Pierce with the Wizards and Nets, and that's just a stressful matchup.
However, the Raptors, if they actually show up this time, should handle any of those squads.
The second round … this is where the rubber meets the road. Potential second-round opponents:
Cleveland Cavaliers, Philadelphia 76ers, Indiana Pacers, or any of the previously mentioned three teams.
That's a nightmare if it's not Indiana. The Raptors have not had great luck vs. teams with high levels of confidence. Joel Embiid, fresh off a first-round win, walking into Air Canada Centre for Game 1? Nightmare. LeBron James, fresh off handling business the way he always does in Round 1 series, walking into Air Canada Centre against a team he swept last year, and soundly beat in a "only technically a six-game series" the year before? Nightmare.
There are any number of ways this goes sideways if the Raptors don't get themselves together.
With Philadelphia, much of it will depend on Toronto's bench to stretch leads when Embiid and Ben Simmons are not on the floor. T.J. McConnell vs. Van Vleet and Wright is an excellent matchup, and Poeltl vs. Amir Johnson is an equal battle. Valanciunas has the size to at least not get railroaded completely by Embiid. The other factor is just shot-making. The Raptors don't want to get into a mudfight with the Sixers.
The Cavaliers, obviously, present a different issue.
The only reasonable wing the Raptors have to throw at LeBron is OG Anunoby. This is the first play of the game with Anunoby defending James:
Now, Anunoby is a rookie, and that's a tough cover whenever. The issue of course is it that with this lineup, the Raptors have zero rim protection, because Jonas Valanciunas is forced to defend Kevin Love way up top. So naturally, later in the game, Valanciunas helps down more to provide that back level of defense. And then …
There are things the Raptors can do, such as playing small with Ibaka to guard Love. They may also luck out with the Cavaliers playing Larry Nance with Love, a combination that is better but easier to defend, if that makes sense.
But the main issue is the one that everyone that isn't the Warriors faces with James. You have to choose between making him a scorer and risking him going off for 50, or making him a passer and he carves you into pieces with assists while still going off for 30. The Atlanta Hawks always chose to try to stop him from scoring, and the Cavaliers would set records for 3-pointers against them. In reality, letting him torture chamber Anunoby might be the better option, but it requires precision containment of the Cavs' shooters.
If the Raptors were to somehow beat Cleveland in a 1-4 matchup, they'd have to deal with Boston, which presents its own problems. But Toronto has shown itself to match up well with the Celtics, and with Boston's injuries, there's reason to think the Raptors would outlast them.
There's a path here, but it's contingent on three things for Toronto:
Lowry and DeRozan living up to their star billing in a playoff environment, finally
The bench being able to contribute as it has in the regular season despite inexperience
James simply not transforming into a God-like figure and moving the goalpost however far he has to in order to ensure his team's victory.
Those are all possible, even likely, things. It's just categorically less probable that two great players in Lowry and DeRozan will continue to be disappointments no matter how different the postseason is. It's very likely that a bench unit that has proven itself the way it has will not continue to get minutes; Casey has never shown himself to be that stubborn.
As for James? If James can will the Cavs and their very poor defense past Toronto's very good defense, if he can will his completely new squad vs. the Raptors' continuity, if he can will himself in Year 15 past this Raptors group in its prime, all Toronto can do is tip its cap and recognize that sometimes, you're that team that plays in the time of giants.
This is their year, though. This is their chance. The Celtics will have another year with Jaylen Brown and Jason Tatum, another year of Kyrie Irving under Stevens, another good draft pick and Gordon Hayward back. The Sixers are on the rise. If the Raptors are going to make a run for their first Finals appearance, it's going to have to be this year.
The Finals would be gravy. Make the Finals and you've moved the franchise even beyond the level this core has already raised the franchise — to relevance. You can springboard that into a lasting culture. Fall short, and you've wasted the one year where the treasure was yours to claim.
It's put up or shut up time for Toronto.
THE FUTURES
Toronto has pulled even with Cleveland at 5-4 odds at Westgate, and currently sits at +175 (behind Cleveland at +150) at Bet Online to win the Eastern Conference. The value there isn't great. However, the Finals-matchup bets that include the Raptors remain tasty.
Warriors-Raptors is +419, Raptors-Rockets is at +546. That's tremendous value, especially if you hedge with a Cavaliers-to-win-the-East bet. The reality is that the Raptors have been the best team in the East for most of the season, have matchup advantages over most teams they'll face, may not have to face LeBron until the Eastern Conference Finals and are still undervalued at books. There is space to take advantage of that, outside of just the East odds.
---
Top Photo: DeMar DeRozan and Jonas Valanciunas
Credit: Nick Turchiaro-USA TODAY Sports
How would you rate this article?