Rockets-Jazz Series Preview: Utah Backcourt Is Too Thin Without Rubio
Credit:
Russ Isabella-USA TODAY Sports. Pictured: Rudy Gobert and James Harden
Just gonna leave this here…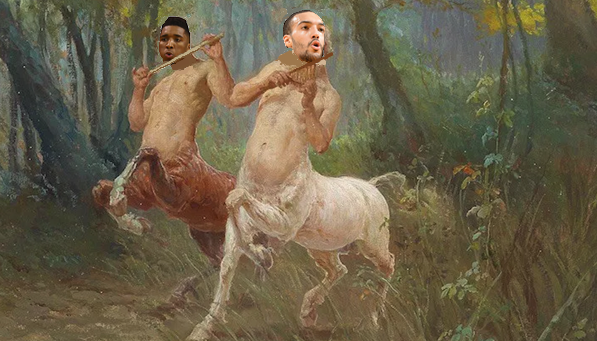 The Jazz made sure that their epic Game 5 collapse didn't come back to bite them, but now they have a real test: The Houston Rockets. The Rockets weren't impeccable in their first series and will need to step their game up for a very tough Jazz defense. James Harden and Chris Paul are known more for collapsing in the playoffs than excelling in them, so they'll surely be looking to rip through the Jazz en route to the Western Conference Finals. —
 Mark Gallant
---
Odds
Series: Rockets -1300, Jazz +850
Game 1 (Sunday at 3:30 p.m. ET): Rockets -11.5, Over/Under 207
---
Advanced Metrics Breakdown
By Bryan Mears
This series…well, it doesn't look good for Utah. Houston won all four meetings during the regular season, and, before you ask, three of them were with Rudy Gobert playing and the Jazz at full strength. In the first meeting back in November, James Harden exploded for 56 points on 19-of-25 shooting, including 7-of-8 shooting from behind the arc. He posted 186.7 points per 100 shot attempts (95th percentile of all games this season), used 53.2% of the Rockets' possessions (99th), and assisted on 72.2% of the other made baskets. Put simply, it was one of the best performances of the year — without Chris Paul, don't forget — and he's a serious problem in this series, especially after being hounded by Jimmy Butler all first round.
In the four meetings this season, it honestly didn't really matter who was on the floor. The top-five most-used lineups for the Rockets — some of which included Chris Paul, some of which were bench-heavy, etc. — all posted Offensive Ratings of at least 110 or higher. For reference, only the top-five offenses this year reached that mark on the season. For as good as Utah's defense has been this season, Houston is its kryptonite. Further, Ricky Rubio will likely miss this series, and he was an integral part of Utah's success in the first round: The Jazz posted a +9.0 net rating in his 30.1 minutes per game, and they defended at a rate of 95.0 points/100 with him on the floor. He was absolutely needed to check Harden and CP3, which means even more onus will fall to Donovan Mitchell. The rookie has been a flat-out superstar so far in the playoffs, but he can't run the offense entirely by himself while also defending the MVP.
The Jazz were a nice story against the Thunder, but it's quite unclear how they'll score enough to keep up with this Rockets offense that can't seem to be slowed down by anyone when they're clicking.
---
Locky's Betting Analysis
By Ken Barkley
There is very little faith in Utah in the betting market, with Houston sitting at -1500 right now (Utah +1000). I was all ready to make a pretty compelling case for a long series, but with Ricky Rubio's injury — he's reported to miss up to 10 days — it's not possible for me to support Utah in this situation. Sure, not having Rubio for the second half of Game 6 against OKC worked…OK…with a lot of different players picking up the slack, but that doesn't seem like a recipe for success in a longer series. Unless you are blindly betting on Mike D'Antoni's track record of playoff failures (in which case, you are a pessimistic but wealthy person), I don't see a case for Utah right now that holds water, especially with Luc Mbah a Moute coming back and Utah's complete inability to stop Harden in any of the games this year. Houston even won their fourth and final meeting by 11, despite it being the second night of a back-to-back at altitude.
Although they were early in the season, the first three meetings between the teams featured Houston scoring 137, 112, and 120 points. Utah is coming off a brutally taxing series, and on one day of rest goes from facing a team that runs basically no offense and relies on 1-on-1 to a team that shoots a million 3s and has a completely different system. I think it's tough to expect max effort from Utah in Game 1, so I'll be on Houston -11 as well as over 207. As the series goes on and Utah adjusts to the completely different style, maybe they can slow down the Rockets a little more. With no prep time, that's a tough ask right out of the gate. Quin Snyder may still reek of champagne by the time Game 1 tips off.
---
Notable Matchups and DFS Spin
By Chris Raybon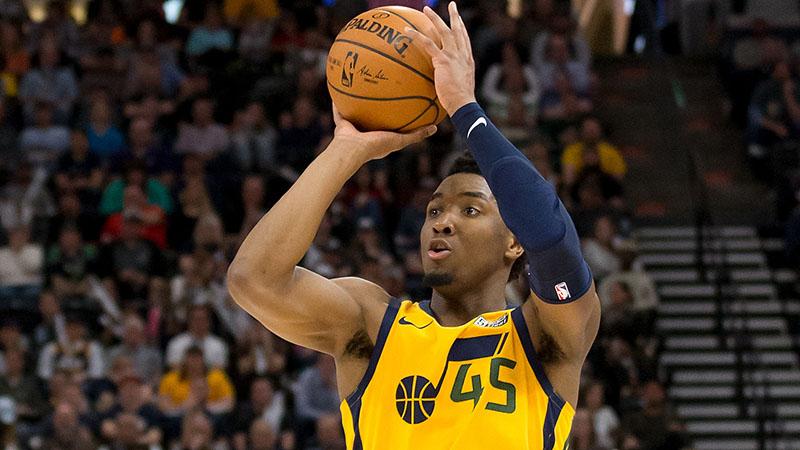 Russ Isabella-USA TODAY Sports
Get ready for a whole lot more of Donovan Mitchell. With Ricky Rubio's bum hamstring forcing him out for what likely could be the duration of the series, Mitchell needs to get his Atlas shoulders ready. The Rookie of the Year candidate out of Louisville has already been leading his team in usage rate during the regular season and playoffs, but, per the FantasyLabs NBA On/Off tool, it spikes from 27.1% when Rubio is on the floor to 32.2% with him off. Of course, Rubio's primary responsibility isn't scoring — it's facilitating, and Mitchell's assist rate also climbs from 16.2% with Rubio on to 21.2% with Rubio off. If you're a DFS player, you won't be surprised to know that Mitchell averages 4.6 more DraftKings points per game in matches Rubio has missed.
That's not to say the rookie phenom will have it easy, however. Though three of Utah's four regular-season meetings with the Rockets occurred before Jan. 1, it's worth noting that Mitchell topped 17 points in a game against them just once. Much of the credit for that goes to one of Houston's defensive aces, Trevor Ariza. On 101 offensive possessions when guarded by Ariza, Mitchell shot only 11-of-27 (40.4%) and drew just one shooting foul, also committing more turnovers (7) than he dished out assists (4). That said, this is Playoff Mitchell we're talking about: His points per game went from 20.5 during the regular season to 28.5 in the first round, and he hasn't scored fewer than 22 points in a playoff game yet.
---
Betting Trends to Know
By John Ewing and Evan Abrams
There have been 35 playoff series that have started with one team on normal rest (two days between games; the Jazz in this case) and a team on extended rest (at least four days between games; the Rockets) since 2005. The team on extended rest has gone 22-12-1 ATS in Game 1, covering the spread by 3.4 PPG. Here are some figures on how teams on extended rest for Game 1 have done in reference to the series result:
71.4% (25 of 35): Series win rate for teams on extended rest
91.3% (21 of 23): Series win rate for teams on extended rest after winning Game 1 straight-up
100% (21 of 21): Series win rate for teams on extended rest who also have the better seed in the series
Houston opened as 10-point favorites in Game 1 and have been bet up to -11. Since 2005, double-digit favorites in the playoffs have gone 55-43-3 (56%) ATS.
---
Picks
Barkley:  Rockets in 5
Mears: Rockets in 5
Raybon: Rockets in 4
---
Pictured above: Rudy Gobert and James Harden
How would you rate this article?