Saturday's 12-Hour NBA Betting Bonanza: Watch the Rebounding Battle in Thunder-Jazz
Credit:
Jeffrey Swinger – USA TODAY Sports
Want to help us make The Action Network better? Take our brief user survey.
Masked Embiid is on the loose! To nobody's surprise, a lot of bettors are trusting the process… and perhaps rightfully so.
The 76ers and Heat kick off an all-day affair featuring 10 straight hours of playoff hoops. After Philly-Miami, the Brow will look to advance to the second round for the first time in his career, Minnesota will attempt to make its series interesting at home, and Utah will try to keep the momentum.
Time to dive into some data and analysis and make this a profitable weekend. — Mark Gallant
All info as of Saturday morning. Check back throughout the day and keep an eye on our Twitter handle for any updates.
For live spreads and bet percentages, check out this page. Follow the latest injury info on our industry-leading news feed. To get access to our premium betting tools, subscribe here.
---
GAME 4: PHILADELPHIA 76ERS (-3) AT MIAMI HEAT | O/U: 215
Philadelphia Leads 2-1
2:30 p.m. ET | TNT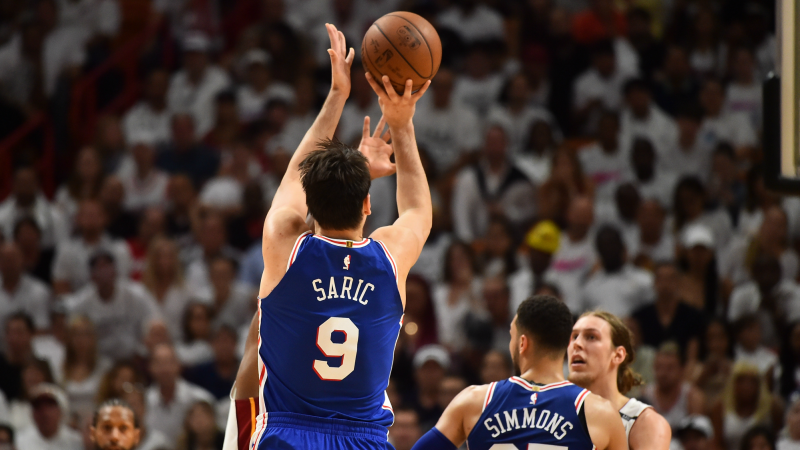 Jasen Vinlove-USA TODAY Sports
Metrics to know: Joel Embiid made his playoff debut and was immediately impactful on both ends of the floor. The 76ers had no problems scoring in Miami, putting up 133.3 points per 100 possessions and posting a 63.3% effective field goal mark. Embiid got to the line 15 times and was a big reason Philly posted a huge 35.4% free throw rate. The 76ers were good without Embiid over the past month, and they managed to keep an efficient shot profile, maximizing opportunities from the rim and the 3-point line. That continued in Game 3, as Philadelphia took 40% of its shots at the rim and 38% from behind the arc. And when you add in a talent like Embiid to that solid system, the ceiling is the roof.
What should be concerning for Miami moving forward is that it actually didn't play that poorly offensively. The Heat got up a bunch of 3-pointers and hit a ridiculous 48.5% of them. They even got hot from mid-range, knocking down 11 of their 22 jumpers. Their big issue was around the rim: They posted a 33.3% field goal mark there, which is literally in the lowest percentile of games this season. Embiid is likely to take home the Defensive Player of the Year award this season, and he showed why in Game 3. Additionally, Philly still dominated in transition with Ben Simmons and co. The 76ers already had a ton of advantages in this series, and adding Embiid was a haymaker. — Bryan Mears
Trend No. 1 to know: Since 2005, 15 teams have covered the spread on the road in South Beach in the playoffs and then had to play their next game on the road. Those teams have gone 3-11-1 ATS, failing to cover the spread by 5.1 PPG. — Evan Abrams
Trend No. 2 to know: This total opened at 217 and has been bet down to 215.5. In the playoffs, when the line has decreased by one or more points in a high-total game (200 or greater), under bettors have gone 66-48-1 (58%). — John Ewing
---
GAME 4: PORTLAND TRAIL BLAZERS AT NEW ORLEANS PELICANS (-7) | O/U: 216
Pelicans Lead 3-0
5 p.m. ET | TNT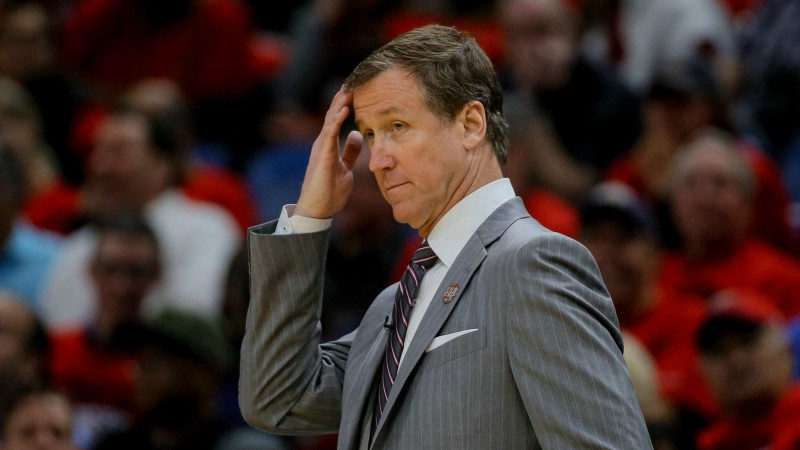 Derick E. Hingle-USA TODAY Sports
Metrics to know: I'm not sure if there's even an answer at this point for Portland, especially if Damian Lillard can't shake his current struggles. He was atrocious in Game 3, shooting just 5-of-14 for 20 points. His struggles were devastating to the Portland offense, as he turned it over on a ridiculous 32.0% of his possessions (sixth percentile of games this year) and assisted on only 9.5% of them. The rest of the ball-handlers weren't any better — Shabazz Napier had a 44.4% turnover rate in 14 non-garbage time minutes, for example — but most of the series comes down to Lillard. Without his offense and shot creation, this offense and team are simply mediocre.
That said, the blame shouldn't be entirely on Dame. There's a solid chance that the Blazers could be losing this series even if he was playing excellently. For as good as the Blazers' defense was at times this season, they have just no answer with Anthony Davis at center and the problems he creates there. Davis attracts attention at all times, which opens up worse defenders and more spacing for his teammates. Guys like Jrue Holiday and Nikola Mirotic have thrived as a result. The Pels are playing with incredible confidence, and you can tell by the way they push at all times. They added 16.1 points/100 in transition in Game 3, and +14.7 of those were off live rebounds, not steals. It will definitely be a surprise if this one heads back to Portland. — Bryan Mears
Trend to know: One way to track sharp money is to compare the percentage of spread dollars to spread tickets. If there is more money wagered on a team than bets placed, that is a good indication the pros like a squad. We've been tracking spread dollars for the last three postseasons, and when a favorite has received more spread dollars than spread tickets, they have gone 59-35-1 (63%) ATS. There is more money on the Pelicans than bets placed at the time of writing. — John Ewing
Did you know? Since playoff seeding began in 1984, the Pelicans are the fifth No. 6 seed or lower to win the first three games of a playoff series. The previous four all swept the series (via ESPN). Two of the previous four series ended in three games, while the other two saw the team leading cover and sweep the series in Game 4. — Evan Abrams
1999 Knicks (-6.5) covered vs. Hawks in Game 4

1995 Rockets (-3.5) covered vs. Magic in Game 4
---
GAME 3: HOUSTON ROCKETS (-5.5) AT MINNESOTA TIMBERWOLVES | O/U: 214
Rockets Lead 2-0
7:30 p.m. ET | ESPN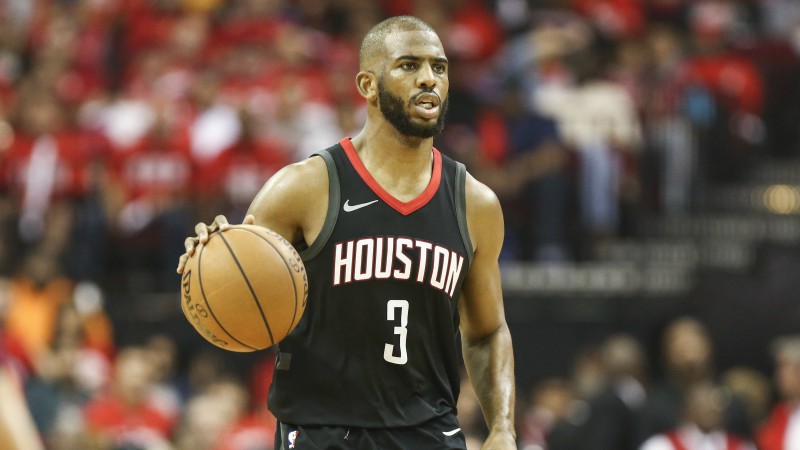 Troy Taormina-USA TODAY Sports
Metrics to know: I criticized the shot distribution for the Wolves in Game 1, and, what do you know, in Game 2 the following players posted a usage rate higher than Karl-Anthony Towns: Andrew Wiggins (28.0%), Nemanja Bjelica (25.7%), Derrick Rose (23.5%), Jeff Teague (27.8%) and Jamal Crawford (18.9%). KAT finished with just five points on nine field goal attempts and got to the line twice. I'm not sure if that screams apathy from KAT or poor offensive design from head coach Tom Thibodeau, but given that Towns is a center, I'm going to lean toward the latter. And, unfortunately, given the trend from both games along with Thibs' public statements about KAT's lack of aggression, I would be very skeptical that this issue will be resolved in Game 3.
The good news, of course, is that Minnesota will play at home tonight. They've been much better there than on the road this season, posting a +5.6 net rating in Minny versus a poor -0.8 mark away from home. Unfortunately, last game wasn't even competitive despite the Rockets still not shooting the ball well. Houston hit just 56.5% of its shots at the rim (24th percentile), 25.0% from the mid-range (fifth), and 32.0% from behind the arc (31st). Houston hasn't really exploded in the half court or in transition. You would have to expect that offensive regression to come soon for the regular season juggernaut, which doesn't bode well for the Wolves. — Bryan Mears
Trend No. 1 to know: The Rockets won the first two games of the series. Since 2005, fading teams that have gone up 2-0 in the first half of Game 3 has gone 74-41-2 (64%) ATS. — John Ewing
Trend No. 2 to know: The Rockets won by 20 and shot under 36% from the field in their Game 2 win. A Mike D'Antoni-coached team has shot below 40% from the field in only four playoff games in his coaching career prior to Game 2.  In his team's next game, they have gone 1-3 SU and 0-3-1 ATS, including 0-3 SU on the road (they were underdogs against the Spurs in all three of those matchups). — Evan Abrams
Trend No. 3 to know: Let's talk about Minnesota's shooting. The Timberwolves shot under 40% from the field and under 30% from 3-point range in their Game 2 loss. In the playoffs over the past five seasons, after putting up those figures in a game, teams have gone just 20-30-1 ATS (40%) when playing in the first or second round. They've gone 3-10 ATS over the past two years. — Evan Abrams
---
GAME 3: OKLAHOMA CITY THUNDER AT UTAH JAZZ (-4.5) | O/U: 207
Series Tied 1-1
10 p.m. ET | ESPN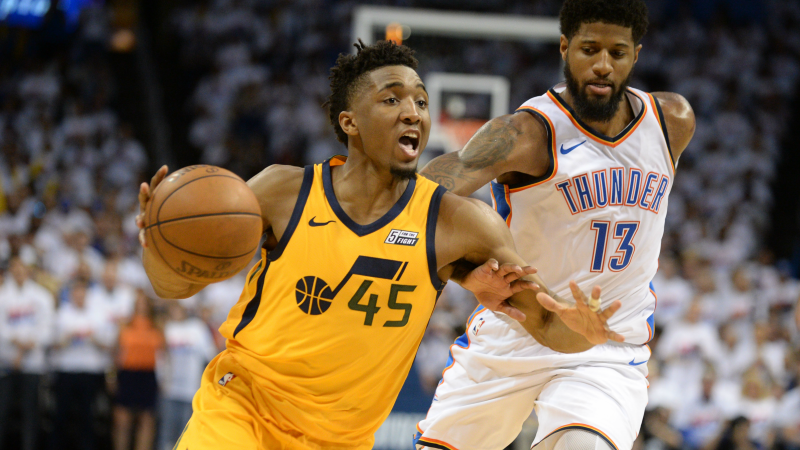 Mark D. Smith-USA TODAY Sports
Metrics to know: Game 1 of this series was surprisingly played at the swiftest pace of the first weekend. As a result, the total shot way over. The second game was much slower, however, and the under (208) hit comfortably, by nine points. The Thunder still tried to push the pace — they ran on 21.4% of their possessions, per Cleaning the Glass — but just weren't that successful at doing so, adding only 2.8 points/100 in transition and losing 3.5/100 pushing off rebounds. Russell Westbrook and co. tried to enforce their will, but the well-coached Jazz knew what was coming and made sure to get back. As a result, this series will shift into a half-court vs. half-court battle.
On that note, neither team was particularly great offensively in the half court during the season: The Thunder ranked 18th in half-court efficiency, while the Jazz ranked 20th. They had notable strengths — the Jazz were a top-10 shooting team thanks to knock-down guys like Joe Ingles, whereas the Thunder were dominant on the offensive glass — but there were also strong weaknesses. This is an incredibly close series, and every possession and weakness will likely matter. One thing I'll be watching in Game 3 is the rebounding battle: Despite OKC's prowess in that area all season, Utah dominated last game, grabbing 34.1% of its misses and averaging 34.9 points/100 on putback attempts. If Rudy Gobert is going to have the upper hand down low, that's a huge storyline as the series shifts to Salt Lake City. — Bryan Mears
Trend No. 1 to know: The Thunder thrive when Russell Westbrook pads his stats. Including the playoffs, this season OKC is 29-30 SU and 19-39-1 ATS when Westbrook doesn't register a triple-double but 20-5 SU and 16-9 ATS when he does. — John Ewing
Trend No. 2 to know: The under has cashed in eight consecutive games dating back to the 2014 season when the Thunder play the Jazz in Utah, with the total hitting by over 10 PPG in that span. Quin Snyder was the head coach in Utah for all eight games, while Billy Donovan was in Oklahoma City for six of those eight. — Evan Abrams
Top photo: Joel Embiid