The Outlet: The Trade Option the Cavs Should Explore (But Won't), Plus Other NBA Dilemmas
Credit:
Jan 20, 2018; Cleveland, OH, USA; Cleveland Cavaliers forward LeBron James (23) watches from the bench in the fourth quarter against the Oklahoma City Thunder at Quicken Loans Arena. Mandatory Credit: David Richard-USA TODAY Sports
Welcome to the Outlet Pass, your weekly (belated) look at the good, the bad and the otherwise in the NBA…
TOP FIVE: NBA Dilemmas right now
1. How to calm everyone the hell down
Did Gatorade come out with a new "deeply subconscious resentment" flavor? Has the constant exposure to "Cotton-Eyed Joe" and/or "Gangnam Style" created some sort of bad wiring? What has gotten into NBA players?
We've seen enough angst in the past two weeks to create a Netflix young adults drama. Players are swinging fists, charging secret tunnels, and are about two steps from telling the refs to just take a hike and calling fouls on their own. (Rockets games are gonna take for-ev-er.)
The league has gone bonkers and needs a hard reset. The cause isn't clear. Maybe the players are worn out from an earlier start date to the season. Maybe they're wound up with more off days, different travel schedules, more practice or whatever. But the league has officially gone bonkers and needs a hard reset.
The All-Star game is a full four weeks from now. The players are going to have to chill out.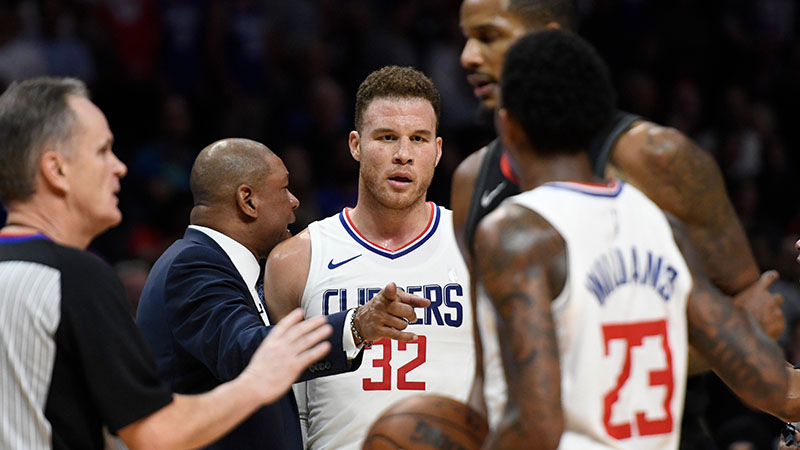 2. The Cavs' desperate future
Should Cleveland use that 2018 Brooklyn Nets pick to go fishing for an upgrade at the deadline, even if it won't bring in a star talent? Should they include their own pick (while keeping the Nets' pick) along with Tristan Thompson or J.R. Smith to acquire 1-2 role players who might stem the bleeding of their porous defense?
Should they deal Kevin Love?
Or should they just stand pat, keeping everything in place and hoping that they'll "flip the switch" again? That the East will be as bad as it has been every year in the postseason? This strategy increases the risk of losing LeBron James this summer but also keeps their assets intact in the event he departs.
The Cavs are widely assumed to have two options, none of them good. The first one: stay where you're at, hope it goes well, and if it doesn't, well, you restart with the Nets' pick as your foundational piece and start looking for trades. In that scenario, James leaves and the Cavs trade Kevin Love and Tristan Thompson for assets. At that point, however, their leverage will be compromised and that's going to diminish the return.
The second option is a complete shake up with three months to go before the playoffs begin. That's not a lot of time to figure out how to make those new pieces work. If DeMarcus Cousins suddenly (and surprisingly) comes available, you leverage for him. If you can get Marc Gasol without giving the Brooklyn pick, you make that move. If the Thunder will talk Paul George, talk Paul George. They can also target a multi-role-player switch-up with a team like Charlotte or Dallas, but that will be more along the lines of changing things for the sake of changing them.
Neither of these things gets them past the Warriors in any conceivable scenario. It simply makes sure that LeBron James plays in an eighth-straight Finals.
There is a third option, however.
Target trades with a future in mind. Look at deals for young players. Look at deals that involve future picks. You risk royally pissing off the King in that scenario, but given how ambivalent he's been about his future, you have an obligation to look out for the future of the franchise. And yeah, honestly, I'd have a talk with James about whether he wants a deadline relocation to wherever he wants, given your situation.
This isn't giving up; you won a title with LeBron. You are looking at the realities of your roster and getting ahead of it. The Cavs won't pursue this option; they really should.
3. The Clippers' future
The Clippers currently sit in the eighth spot in the West. Lou Williams has a legit All-Star case. They're finally healthy, and at full health, they've been in the playoff race off and on. Yes, the future is bright in Los Angeles.
Wait, no it's not.
Lou Williams is 31 in a contract year. Milos Teodosic is fun as hell, but also 31. DeAndre Jordan has an opt out this summer.
As I reported last week in our trade deadline primer, a lot of folks around the league thought the Clippers were on the very edge of starting a fire sale. This turnaround has squashed that. To be fair, they still have two All-Star-caliber frontcourt players, and I love their young rotation guys like Sam Dekker and Montrezl Harrell. But, as one scout described this week, the Clippers are "stuck together with duct tape" in many areas.
Make the right moves for the future to increase your ceiling? Or keep a fun team that's having a nice month of play together and see where it goes? That's not an easy question to answer.
4. Charlotte's Tank-Or-Not-To-Tank Conundrum 
The Hornets are 4.5 games out of the eighth spot in the East, five games up on the Magic for worst team in the league. The Hornets have reportedly "made Kemba Walker available" in trade talks, which is a long way from actively shopping him, and Walker says he doesn't want to be traded. The Hornets have had Cody Zeller out for almost the whole season and have had the fourth-toughest schedule per Basketball Reference.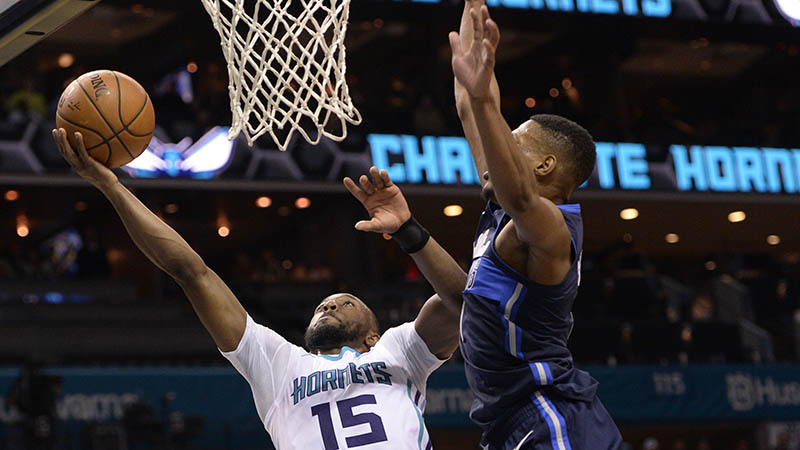 There's real reason to think they can crawl back into this. But can they make a run? We keep waiting for Charlotte to have a year where they put it together, and it just never happens. At what point is it time to just say "we had a good idea that didn't work?"
And what does that mean for their front office? For Steve Clifford? For Walker? For the rest of a cap-strapped roster?
5. Is It Safe To Fade The Warriors?
Golden State is 21-26 against the spread this year and have lost five of their past seven ATS. They are 17-24 vs. spreads of more than -5.5. Is it safe to just think this team is going to coast and play to its competition? They have almost no shot at 70-plus wins and little motivation to get there. Their performance against the spread with one of the big four missing hasn't been as strong this season.
In other words, can you really trust the Warriors not to go on an insane run ATS like they have the last few years? Even in years where the Warriors were way better against the number, they've been just 60-57-1 ATS in February, March, and April in the Kerr area.
And yet, they're the Warriors, so you never really feel all that comfortable betting against them.
CLUTCH-DRIVE:  DeMar DeRozan

The Raptors superstar has risen to be a worthy All-Star starter (unlike last year) and a legit MVP candidate. He's passing more, he's facilitating, his defense has been good, he's been playing more in the offense and taking and making 3s. In short, he's been sublime.
In the clutch (in the final five minutes or overtime of games inside five points), DeRozan has 96 points on 66 field goal attempts and 41 free throws, making him the fourth-leading clutch-time scorer.
One of the cool wrinkles the Raptors have started using is having a smaller guard like Delon Wright or Fred Van Vleet set the screen for DeRozan. This forces the defense into an impossible position. Switch it and DeRozan has a smaller defender he can just shoot over.
Wright sets the screen here, and DeRozan gets Curry on him:
Here, Washington doubles him, which frees Van Vleet completely:
DeRozan being more of a passer is what makes this so dangerous. When you have as many guys who can shoot as the Raptors do, you're in an impossible position if he's not just going ISO. Putting teams in bad decisions either way is how you get clutch time buckets. DeRozan's development pays off here.
Oh, by the way, if Serge Ibaka is setting a screen for DeRozan in clutch time? Odds are he's going to reject the screen:
THE CONVERSATION: Kawhi's Injury
Kawhi Leonard is out indefinitely after another issue with his quad injury, and Spurs fans are starting to panic. There's a chance this is just going to be a lost season for Leonard, which would be pretty devastating. The Spurs are getting an outlier season from LaMarcus Aldridge that probably won't hold and could be his last great one. They have a lot of aging players with their last real shot at a playoff run, most notably Manu Ginobili, who is likely retiring after this season.
Can the Spurs make the playoffs without Leonard? Of course. They're the third seed right now with Leonard having been almost all year. They're second in defense but have fallen to 19th in offense; they are going to have home court most-likely. But they are just not as scary of a playoff opponent and a lot more solvable without Leonard.
Even if Leonard gets back, it's hard to see him returning at 90 percent. If he's out another month, that's a month and a half for them to get ready for the playoffs. Not much at all.
Their over/under was 54.5 wins and they're currently on pace for 53. Gregg Popovich is a genius, but you can't game the playoffs the way you can the regular season.
BUYING STOCK IN: New Orleans Pelicans
They're finally three games over .500! They got a great win in Boston! Sure, they turned around and had a horrible loss the next day, but still! There's a real formula here if they can just get out of their way. The Pelicans have two All-Stars, Jrue Holiday is playing great and E'Twaun Moore continues to shoot well (though he's down to 33% from deep in January). They have a lot of options, a lot of weapons, and a lot of ways to hurt you. If they can just shore up the defense and go on a little run, not a big one, they can get a six or seven seed and be a real pain for a power team in the first round.
SELLING STOCK IN: Portland Trail Blazers
So Portland is one of the best teams in the league at defending 3-pointers out of the pick and roll.
Except, here's their strategy for it: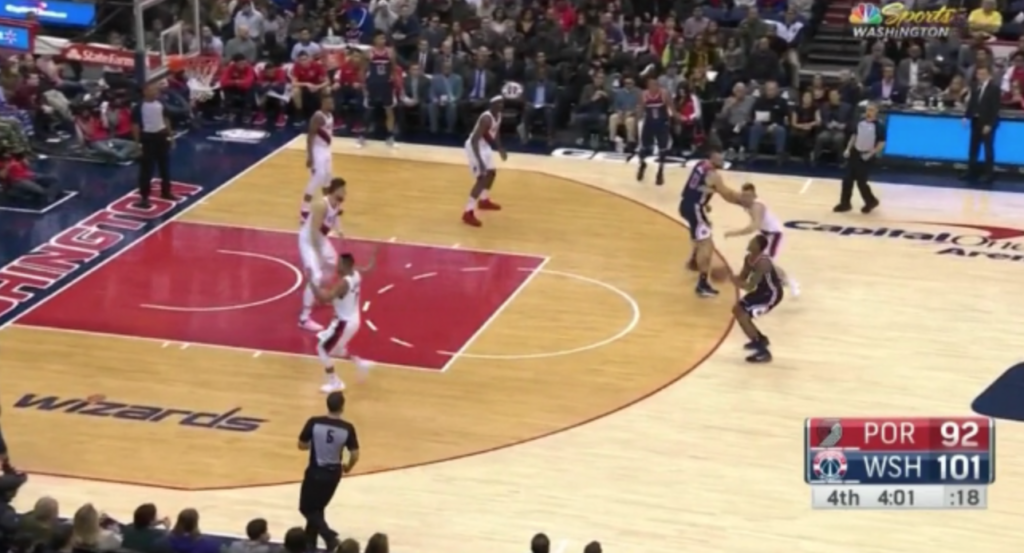 See where Jusuf Nurkic is down there? The Blazers drop their big every time, containing the drive, having the guard go over the screen (most times) and letting the ball-handler fire.
Now, there are real benefits to this. The other Blazers are able to stay home on wing and corner shooters because they don't have to bring help to tag the roll man. Portland allows the fourth-fewest 3-point attempts per 100 possessions and are sixth in total points allowed on catch-and-shoot shots. But the cost should be on these plays from the ball-handler. And yet, the Blazers give up the fifth-lowest points per possession mark on such plays.
When you look at the schedule, you start to see why. When the Blazers defense was at its best in November, they played almost no real threats from deep from pick and roll. It was a lot of bad teams and defensive squads. They gave up just 99 points per 100 possessions that month; in January so far they're at 110.6.
They face a bunch of teams who are top 10 in that category this month. This is just one facet of a broader defensive scheme. But when combined with ongoing inconsistency from Nurkic and their overall offensive struggles, it paints a picture of concern.
GIVE THE MAN SOME CREDIT: Hassan Whiteside
Let's start here. This chart shows the Heat's defensive rating differential with Whiteside on vs. off court. This number's kind of tricky, so just know that positive numbers means the defense improved with Whiteside on the floor, and negative numbers means the defense gave up more points with him on-court.
The Heat defense is 6.1 points better per 100 possessions this year with Whiteside on the floor, and it shows. Miami is second in the league in defending shots around the rim, per Synergy Sports. The biggest thing is that Whiteside is no longer block-hunting like a toddler playing whack-a-mole. He doesn't overcommit in the play below to Giannis on the baseline. He shows, but maintains the ability to recover and swat Henson:
The key is always to know when to commit. Before, Whiteside was just leaping and chasing everything; now he's patient and he waits for the opportunity. He trusts his teammates and helps them when they need it most:
Here again, he doesn't leave Kanter. He maintains his position and when he knows he can be between the ball and his man and attack, he does so:
Whiteside is playing fewer minutes this year at 25.8, but his points, rebounds, and assists per 100 possessions are all career highs. He's playing within the flow of the offense, anchoring the defense, and, knock on wood, there have been no reports of his immaturity affecting the team (that I'm aware of).
The guy's having a killer year.
THE RUNDOWN: What I've been reading
Investment leader sends letter advising companies to ensure they're contributing a positive impact on society or risk funding. Enforced altruism is a fascinating concept.
The Three Donkeys podcast on the 6-12-18-24 challenge had me rolling this week. Just disturbing. (NSFW.)
What Dr. Dre was doing at Warriors practice.
Bryan Mears broke down the motivation for all 30 teams at this point in the season. We also talked about it on the podcast.
Speaking of the podcast, check out my NBA Dilemmas podcast with James Herbert of CBS.
Ken Berger asks a great question about our lead story today: Why does the NBA have no chill?
Kevin Arnovitz gave a great look at the Clippers' dilemma we discussed above.
This story about Jimmy Butler from the Athletic is great and chock-full of awesome quotes; it shows Butler's competitive fire better than any previous piece. However, I do wonder how he's going to look back at how much he played through and exacerbated injuries in regular season games when he's 30.
The Talk with Jim Carrey, because he's either guano insane or has transcended modern life or both.