Thursday NBA Playoffs Guide: Bucks' Long-Range Shooting Key in Game 6
Credit:
Kevin Sousa-USA TODAY Sports
Can the Celtics pull off the road upset or will Milwaukee win and put me through the anxiety-riddled hell of two Boston Game 7s in three days? I'll be hoping for the former.
This series has been producing some great games and some sweaty wagers. No reason why tonight won't be the same, so let's get right into it. — Mark Gallant
All info as of Thursday morning. Check back throughout the day and keep an eye on our Twitter handle for any updates.
For live spreads and bet percentages, check out this page. Follow the latest injury info on our industry-leading news feed. To get access to our premium betting tools, subscribe here.
---
GAME 6: BOSTON CELTICS AT MILWAUKEE BUCKS (-4.5) | O/U: 199.5
Boston Leads 3-2
8 p.m. ET | TNT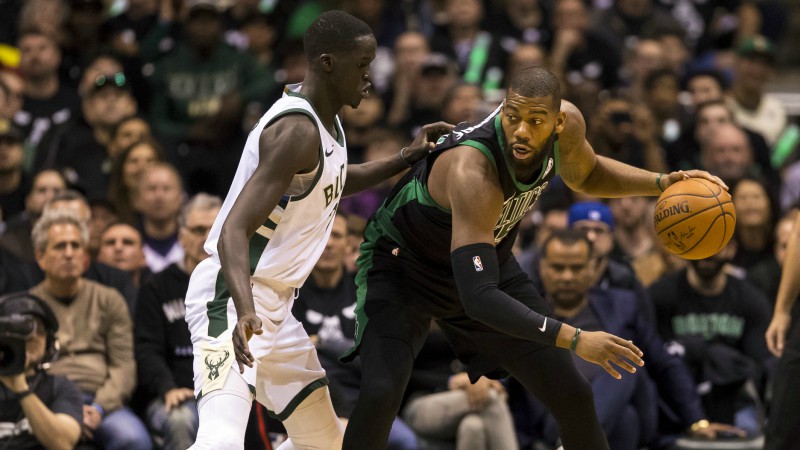 Jeff Hanisch-USA TODAY Sports
Metrics to know: Neither team shot the ball well from the outside in Game 5: Milwaukee went 9-of-33 from the 3-point line, while Boston went 10-of-30. Still, the Celtics were able to post a slightly superior (although still not amazing) effective field-goal mark of 50.0% versus Milwaukee's 42.0% mark because they were able to get to the rim — something that will remain the case as the Jabari Parker-Thon Maker tandem gets more minutes at the 4 and 5. The Bucks, on the other hand, took just 26% of their shots (10th percentile of games this season) at the rim.
In general, it's good that the Bucks are taking a lot of 3-pointers. And nights like Game 5 will happen when shots just don't go down. Maker and other guys off the bench like Matthew Dellavedova and Tony Snell were particularly brutal offensively in the most recent game, but they'll likely be better at home, as most role players are. Milwaukee's bench net rating of -3.9 this season was the worst mark of any playoff team, and that issue stood out in a big way last game. Still, it's funny how much the narrative about a series is based around just a few shots. Milwaukee had won two straight games and could have taken Game 5 if a couple more 3-pointers had dropped. I'm banking on that happening tonight and this series returning back to Boston for a Game 7. (Sorry, Mark.) — Bryan Mears
Trend No. 1 to know: The total in this game opened at 199.5. There were 61 games each postseason on average between 2005-2016 that closed with a total under 200. In 2017, the number was 19 games, and if this line stays below 200, it would be just the second game in the 2018 playoffs to feature a low total. The over in the past two seasons has gone 11-9 in those contests. — John Ewing
Trend No. 2 to know: The Bucks opened as 5-point favorites in Game 6. Since 2005, small home favorites (five or fewer points) late in a playoff series (Game 6 and 7) have gone 35-35 straight-up and 30-40 against the spread. — John Ewing
Trend No. 3 to know: In his career as coach of the Celtics in the playoffs, Brad Stevens is just 11-22 against the first-half spread for -11.3 units, failing to cover by more than 4.0 points per half. When the Celtics are listed as the underdog, Stevens and Boston are just 4-15 against the first-half spread, failing to cover by more than 8.0 points per half. — Evan Abrams
What to watch for:  There's a point in every series that you can call the tipping point. It's when both teams have exhausted their usable adjustment options. The Celtics established the advantage early. Milwaukee countered with small-ball options and spreading the floor with Maker. Boston countered with their own small-ball units, then brought back Marcus Smart, who blew up the tracks and altered the series with hustle.
We may have hit that point in the series where Milwaukee doesn't have a plausible counter to what it's facing.
The favorite is 4-1 in this series, with Milwaukee losing Game 4 ATS after the Celtics' comeback. It feels less like the Bucks actually came up with a viable strategy with using more of Dellavedova and Maker and more that they stumbled into those advantages; happy accidents. Yet the Bucks have led for more minutes and across more lineups than Boston.
This series is messy and complicated and ugly. The over had hit in every game … until the last game. Boston is the better team with the worse talent. The Bucks have the worse coach but have found more adjustments.
I guess what I'm trying to say is ….
Top photo: Giannis Antetokounmpo
How would you rate this article?