Tuesday NBA Betting Guide: Let's Get to the Western Conference Finals Already
Credit:
Derick E. Hingle-USA TODAY Sports
Chris Paul is on the verge of a conference finals. I repeat, Chris Paul is on the verge of a conference finals. It seems as if he can hardly handle it, too, as he was getting a bit chippy last game. Nothing like getting a technical foul up by 14 with 20 seconds left in the game.
We're going to get the inevitable Rockets vs. Warriors Western Conference Finals very soon, unless the whole Pelicans team starts texting each other at 4 a.m. Gotta do what it takes. The bigger the underdog, the more middle-of-the-night texts are necessary. Since New Orleans will be a double-digit dog, the Brow better start texting his teammates like a drunk fella texts his ex. — Mark Gallant
All info as of Tuesday morning. Check back throughout the day and keep an eye on our Twitter handle for any updates.
For live spreads and bet percentages, check out this page. Follow the latest injury info on our industry-leading news feed. To get access to our premium betting tools, subscribe here.
---
GAME 5: UTAH JAZZ AT HOUSTON ROCKETS (-12) | O/U: 208
Houston Leads 3-1
8 p.m. ET | TNT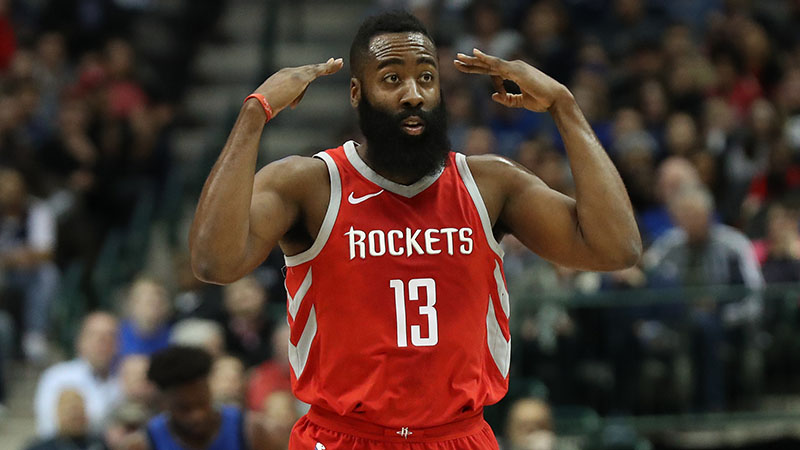 Matthew Emmons-USA TODAY Sports
What the metrics say: As Matt Moore mentioned in a piece Monday, the Rockets' defense is a weapon. They were fine defensively in the regular season, ranking sixth in defensive efficiency and allowing 103.8 points per 100 possessions. So far in the playoffs, they've ranked second behind only the Warriors with a 101.1/100 mark — and that's all against playoff-caliber teams, obviously. The Warriors got the inept San Antonio Spurs in the first round to boost their playoff mark; the Rockets have posted theirs against a great offense in Minnesota and a very good one in Utah. The main unit of Chris Paul-James Harden-Trevor Ariza-P.J. Tucker-Clint Capela has played 66 minutes in the second round and allowed just 84.0 points/100. That's a ridiculous number, and the Rockets have even more weapons off the bench in guys such as Luc Mbah a Moute. That's a very good sign in this game and also looking ahead to the seemingly inevitable matchup against the Warriors.  — Bryan Mears
What Locky is betting: Four games in the series so far, four bets on Houston for me, and three winners. … Will I make it five Houston bets in a row?
Nope!
Back-to-back really poor offensive performances by Utah have, in my opinion, created a tiny bit of line value here. The spreads in the first two games in Houston were a little shorter than this one (11.5, 10.5, Game 5 currently at 12), and I think you get (obviously) max Utah effort facing elimination for all 48 minutes. What we saw even in Game 1 was that Houston can build a substantial lead based off its superior talent, but the Jazz never stop trying; Utah almost attained a disgusting backdoor in that first match. Furthermore, Quin Snyder's teams are great on the road at playing to the final buzzer. Over the past two postseasons, the Jazz are 8-3 against the spread on the road, and in four road games against 1-seeds, they covered Games 1 and 2 narrowly against Golden State last year, almost backdoored Game 1 in Houston and won Game 2 outright as a huge dog. This is an achievable task for Utah at such a big number. I don't need them to be dominant, just pesky. Jazz +12. — Ken Barkley
Did you know? Tuesday night will be the first time since 2005 that two games in the second round of the playoffs will close with a double-digit spread on the same night. Both the Heat and Spurs were double-digit favorites in 2005; both won straight-up, but the Heat failed to cover the spread. — Evan Abrams
Betting market: The Rockets opened at -12 and had reached -12.5 at several books before being bought back down. While the number returned to 12 at essentially every offshore book, there's one book in particular that caught my eye who has it at 11.5 —  Pinnacle. This sharp offshore shop is one of just a couple books who are not allowing big money to hit the Jazz at +12. — Mark Gallant
Trend No. 1 to know: The Rockets-Jazz total opened at 209.5, and it has been bet down to 207.5. Since 2005, in high-total games (200 or more points), when the line has decreased by one or more points, the under has gone 71-56-1 (56%). — John Ewing
Trend No. 2 to know: The Rockets have kept the Jazz under 100 points in back-to-back covers, and both games went under the total as well.  When Mike D'Antoni has coached the Rockets, Lakers and Knicks, his teams have held opponents to under 100 points in consecutive games in the playoffs five times. His teams have gone 1-4 SU and 0-5 ATS in their next game, failing to cover by over 10 PPG. — John Ewing
---
GAME 5: NEW ORLEANS PELICANS AT GOLDEN STATE WARRIORS (-11.5) | O/U: 227.5
Golden State Leads 3-1
10:30 p.m. ET | TNT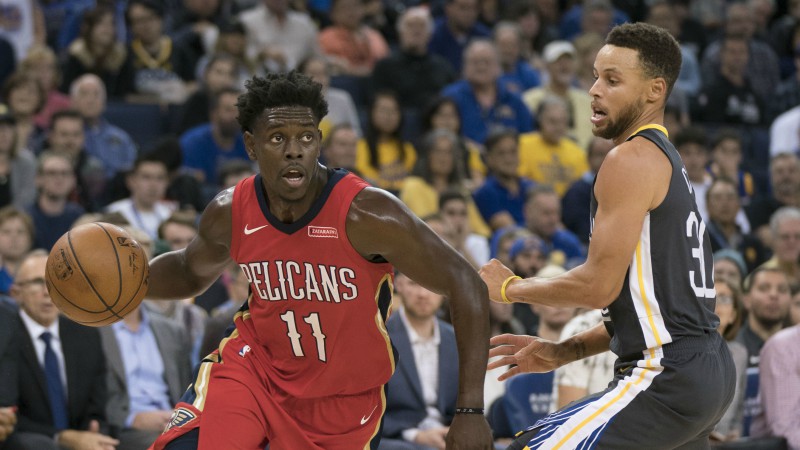 Kyle Terada-USA TODAY Sports
What the metrics say: The question with the Warriors entering the playoffs was whether they could "flip the switch" after posting some mediocre numbers for part of the regular season. It seems the answer is a resounding yes, and that's especially true with the Hamptons Five (Stephen Curry, Kevin Durant, Draymond Green, Andre Iguodala, Klay Thompson) on the court together. That unit started for the first time ever this series — which, come on, is incredible — and has dominated the Pelicans, posting a +37.8 Net Rating in 35 minutes. That fivesome has played at a swift pace of 112.74 possessions per 48 minutes and posted a stupid 67.6% true shooting mark.
Coach Steve Kerr was reluctant to play those guys heavy minutes together during the regular season, but he seems more willing now, which should be encouraging to Warriors backers, especially considering how good the Rockets' starting unit has looked (see above). The Warriors should close this one out, and we're in for potentially one of the best series in NBA playoff history in the Western Conference finals. — Bryan Mears
What Locky is betting: It's Pelicans or pass for me in this situation since I just got the A++ Golden State game in Game 4, and running that type of effort back again two days later is no sure thing. I'm getting a pretty good number, too — about a half-point more than Game 2's closing spread. Still, I think Game 4 possibly represented a turning point with the Warriors, who, whether they'll admit it or not, do tend to have "switch-flip" games in which their defensive intensity specifically gets ratcheted up several notches. They won't want this series to go on any longer with Houston up next, and max rest will be appealing. Durant's aggression and the defense probably carry over enough from Sunday to put this right around the number. Pass.
Since I have nothing else to offer, one quick story: At Mohegan Sun in Connecticut, a casino I used to visit with great regularity, there was always a slot machine next to one of the craps tables named "Pelican Pete." The image on the slot machine is a cartoon pelican who has a giant mouth full of gold coins, which seems incredibly gross but also a great health risk to the pelican. I mean, he's gotta be choking on those things. — Ken Barkley
Betting market: The Pelicans are seeing a huge bets vs. dollar discrepancy that has moved the line in their favor. Though they're getting just 35% of spread bets, they've moved from +12 to +11.5 across the market. The total has also seen some solid betting percentage differentials, as bets are split, but the under is getting about 70% of the dollars. The total has dropped from 229 to 227.5/228 at most books. — Mark Gallant
Trend No. 1 to know: The Warriors rebounded from a 19-point loss in Game 3 to smash the Pelicans, 118-92, on Sunday. Since the 2014-15 season, Golden State has excelled ATS following a blowout (a win by 20 or more points). In their next game, the Dubs have gone 53-27 (66.3%) ATS; all other teams in the league during the same time have gone a combined 344-333-10 (50.8%) ATS. — John Ewing
Trend No. 2 to know: The Pelicans made just 4-of-26 3-point attempts in Game 4. Teams that connected on 20% or less of their 3-pointers have gone 95-77-6 (55%) ATS in their next playoff game. Unfortunately, there is a sharp home/road split with that trend: Home teams have gone 54-31-3 (64%) ATS, while road teams have gone 41-46-3 (47%) ATS. — Evan Abrams
Trend No. 3 to know: On that same note: Both the Jazz and Pelicans shot less than 25% from 3-point range at home in their Game 4 losses. Since the 2009 playoffs, teams coming off shooting less than 25% from 3-point range at home have gone 74-46-5 against the first-half spread in their next games, including 19-7-1 over the past three postseasons. Underdogs in this spot since 2009 have gone 45-23-3 against the first-half spread, covering by 3.7 points per half. — Evan Abrams
Trend No. 4 to know: The Warriors can advance to the Western Conference Finals with a Game 5 win at home at Oracle Arena. Since Golden State held a 3-1 series lead over the Cavaliers in the 2016 NBA Finals, the Warriors have gone just 5-5 SU and 3-7 ATS with the chance to close out a series. Overall under Kerr, Golden State has gone 12-6 SU and just 9-9 ATS with a chance to clinch a series. — Evan Abrams
---
Top photo: Kevin Durant and Anthony Davis
How would you rate this article?