Tuesday NBA Playoffs Guide: The Bucks Are an Over Machine
Credit:
Credit: Jeff Hanisch-USA TODAY Sports. Pictured: Eric Bledsoe
Choo choo! I'm bringing you guys at the Action Network content live from the Amtrak to NYC, where the Action Network bigwigs will be powwowing to come up with some great ideas for you, the consumer.
There are three NBA games tonight, including two must-wins for Miami and San Antonio. Most of the experts contributing to this article are not on a train like myself, but feel free to listen to their advice and make some cash. — Mark Gallant
All info as of Tuesday morning. Check back throughout the day and keep an eye on our Twitter handle for any updates.
For live spreads and bet percentages, check out this page. Follow the latest injury info on our industry-leading news feed. To get access to our premium betting tools, subscribe here.
---
GAME 5: MILWAUKEE BUCKS AT BOSTON CELTICS (-3) | O/U: 204.5
Series Tied 2-2
7 p.m. ET | NBATV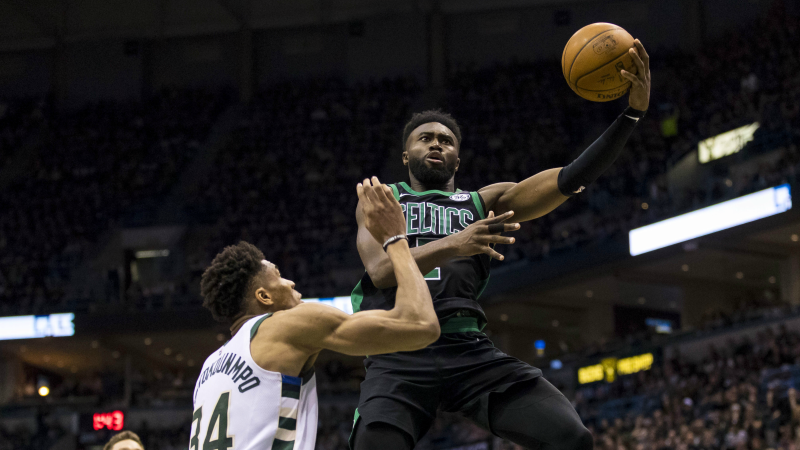 Jeff Hanisch-USA TODAY Sports
What I'm watching for: Sustainability? Khris Middleton is hotter than the sun at the current moment. He is a supernova burning in the sky, keeping the Bucks offense warm.
This is his shot chart from this series: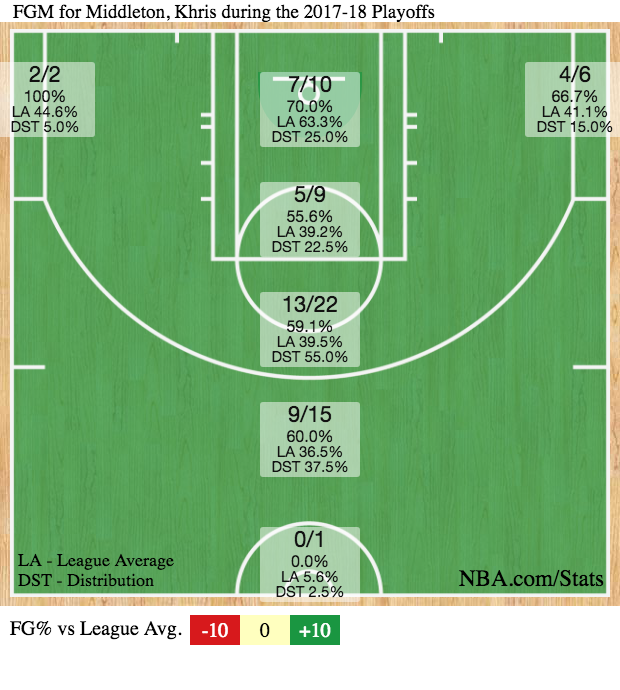 Green is good, if you were wondering (#GreenDotCity). But it's not just the looks; he's nailing heavily-contested shots. Al Horford is doing everything he can, and Middleton just cooks him on these:
He's posting up smaller opponents like Shane Larkin into oblivion, shooting over slower defenders in their stance like Marcus Morris — the works. No one's been able to stop him.
The question is: If he hits one game where that dips back toward the mean, what does that do for Milwaukee's offense?
The struggle to figure out this series lies with lineups. Milwaukee found lineups that torched Boston, particularly featuring Thon Maker (of all people) at the 5 spreading the floor. Boston countered and made a comeback in Game 4, but it was behind a primarily offensive unit.
This series has tilted offensively in dramatic ways. Game 4's total is at only 204, and, as you'll read below, there is some compelling information that this is a Bucks-wide trend. With Middleton this hot, and the series going smaller and smaller, that's promising toward a high-scoring game. — Matt Moore
Metrics to know: The Bucks managed to even the series in Game 4 despite their most-used lineup — a combination of Eric Bledsoe-Malcolm Brogdon-Giannis Antetokounmpo-Khris Middleton-Thon Maker — posting a net rating of -14.3. It scored well, putting up 141.3 points per 100 possessions, but got demolished on the other end, allowing 155.7/100 in 12 minutes. Thankfully, the lineups with Maker plus the bench, as well as the main unit going small-ball with Giannis at the 5 and Jabari Parker at the 4, absolutely crushed in their stints.
It will be interesting to see the Bucks' rotations in Game 5, especially if center John Henson returns. They've been starting Tyler Zeller in his absence, and that experiment has largely been a disaster. The Bucks have managed to win despite that, although it is incredible how little coach Joe Prunty actually plays his best players in the same lineup. It's also taxing to a guy like Maker to not start and then play extended minutes at a single time. Prunty should be proactive rather than reactive in his decisions for Game 5, but I'm not very confident many changes will be made. Unfortunately, "if it ain't broke, don't fix it" often misses the breaking process.
For the Celtics, it seems reductive, but their success will come down to shooting. They posted a poor 47.1% effective field-goal rate in Game 4 and hit just 48.3% of their shots at the rim. That can't continue. — Bryan Mears
Trend No. 1 to know: At the time of writing this, more than 80% of spread tickets are on the Celtics -2.5. Since 2005, small road underdogs (+6 or lower) getting little public support (30% or less of bets) have gone 223-153-13 (59%) against the spread. In the playoffs, this system has gone 9-3 ATS. — John Ewing
Trend No. 2 to know: Dating back to March 9, the Bucks have played 21 games, including the playoffs. Nineteen of those have gone over the total, by an average of 10.9 PPG, for a profit of +16.2 units. So far in this series, the Celtics and Bucks have gone over the total in all four games, by 12.6 PPG. — Evan Abrams
---
GAME 5: MIAMI HEAT AT PHILADELPHIA 76ERS (-10) | O/U: 211
Philly Leads 3-1
8 p.m. ET | TNT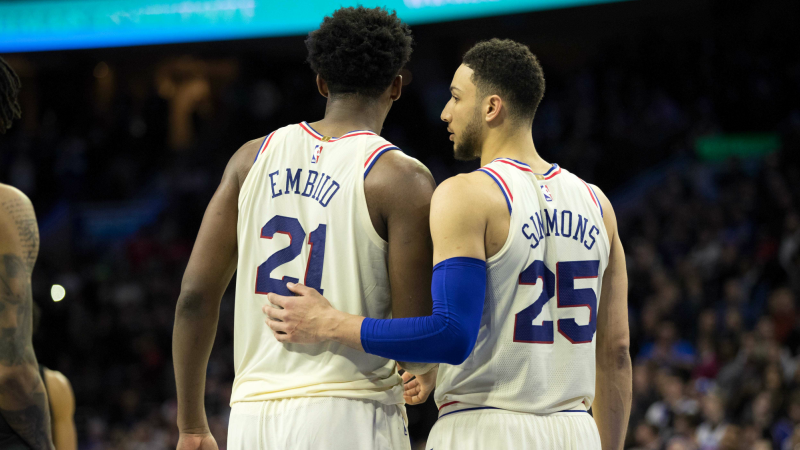 Bill Streicher-USA TODAY Sports
What I'm watching for: The story coming out of Game 4 was how impressive Philly's win was… because of the situation they put themselves in. The Sixers became just the fourth team in NBA history to win a road playoff game with 25 turnovers or more. They're averaging 16.3 for the series.
Eight of those came from the masked man, Joel Embiid, who is pretty frustrated with that facial appendage. His turnovers were at times pretty hilarious:
Embiid averaged 5.5 turnovers this season; he's going to give the ball up. But the Sixers defense managed to contain the damage to just 30 points off those 26 turnovers. They got back very well.
The things that should hurt Philly aren't, and that's tilted things dramatically in this series. — Matt Moore
Metrics to know: Neither team scored well in Game 4, posting Offensive Ratings below 100. Both squads were under a 50% effective field-goal mark, and they both struggled with turnovers — something that has plagued Philadelphia all season. The big difference was that the 76ers were still able to generate efficient looks thanks to crashing the offensive boards — they grabbed an impressive 37.0% of their misses — and getting to the free-throw line. They posted a 32.1% free-throw rate and hit 27 of their 35 attempts.
It was a devastating loss for the Heat. Holding Philly to 42.9% shooting and specifically 7-of-31 shooting from behind the arc … at home … and losing. That's a tough pill to swallow, especially now that they're down 3-1 in the series. Further, they got a good game from Hassan Whiteside, who was able to stay on the floor for 26 minutes to body up with Joel Embiid. That's a game they had to win, and things are unlikely to go so perfectly again. The 76ers have stark home/road splits this season, so it's likely this series ends tonight.
Philly at home this season: +9.1 net rating

Philly on the road this season: +1.7 net rating — Bryan Mears
Trend No. 1 to know: Philly opened as a 9.5-point favorite and has been bet up to -10. Since 2005, playoff teams that have closed as double-digit favorites but didn't open as such have gone 15-1 straight-up and 11-3-2 ATS. — John Ewing
Trend No. 2 to know: Including the playoffs, the Sixers are 18-9 ATS at home against the Eastern Conference this season, covering by more than 4.0 PPG. Philadelphia is the most profitable team in the NBA at home against conference opponents. — Evan Abrams
Did you know? The Sixers turned over the ball 27 times in their Game 4 win and cover against the Heat. They have turned the ball over at least 25 times four times this year; they are 3-1 SU and ATS in those games. — Evan Abrams
---
GAME 5: SAN ANTONIO SPURS AT GOLDEN STATE WARRIORS (-11) | O/U: 204.5
Golden State Leads 3-1
10:30 p.m. ET | TNT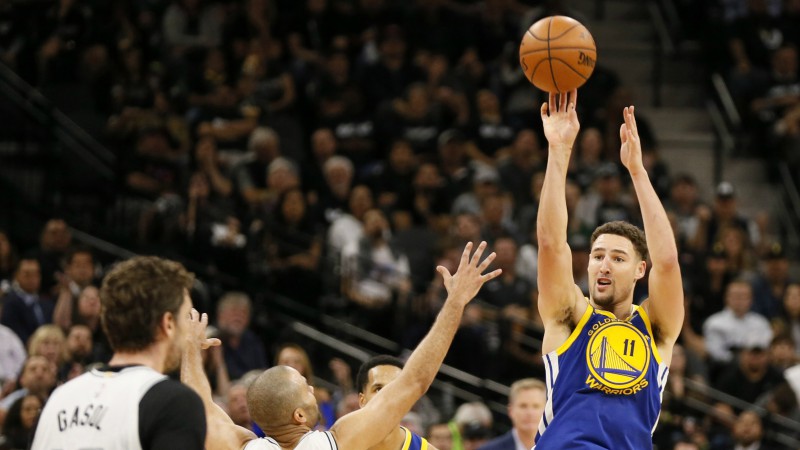 Soobum Im-USA TODAY Sports
What I'm watching for: There's a phrase called "The Gentleman's Sweep." It refers to a series in which one team dominated, but they gave the opponent a game. You know, to be polite.
We have reached the Gentleman's Sweep time with Golden State-San Antonio. Manu Ginobili got his time in the sun. It was a nice moment.
But San Antonio has been cooked from the beginning, and they know it. You go back and read the quotes from this team game by game, even before the incredible tragedy with the death of Gregg Popovich's wife, and there was a sense from the players that the gap was just too great.
The strongest indicator of this comes at the 3-point line…
Game 1: Warriors made 10 three-pointers; Spurs made 9
Game 2: Warriors made 15 three-pointers; Spurs made 4
Game 3: Warriors made 10 three-pointers; Spurs made 7
Game 4: Warriors made 7 three-pointers; Spurs made 15
It really is that simple. That's unlikely to happen again with the Spurs' woeful perimeter weapons.
The over/under on this one has gone down, which is surprising. The only under in this series that hit was in Game 4. When the Warriors play even a B-level game, their offense outperforms expectations. In the Kerr era, the over has gone 20-13-3 in Warriors home games.
The Spurs are shooting 34 percent on jump shots in this series. It's just impossible to feel confident about their ability to hang in Game 5. — Matt Moore
Metrics to know: The Spurs managed to steal a game in this series, which sets up the gentleman's sweep tonight. There's not much to worry about if you're a Golden State fan: The Warriors posted a poor 100.0 Offensive Rating in Game 4 thanks to atrocious shooting (41.7% effective field-goal rate) and turning the ball over (20.0% TO rate). They had some bad shooting luck and were clearly sloppy with the 3-0 series lead. I'm willing to bet that they'll care enough to end the Spurs' misery tonight, and I'm definitely willing to bet they won't shoot 51.7% from the rim and 25.0% from the 3-point line again.
Unfortunately, there probably isn't a huge edge there, as the Dubs opened as 11-point favorites at home. Where there still is an edge, however, is in betting the third quarter. The Dubs have eye-opening splits during games:
First quarter net rating: +2.0

Second quarter net rating: +8.0

Third quarter net rating: +18.5

Fourth quarter net rating: +3.2
They're clearly at their best in the third, and fortunately, sportsbooks often just split the spread into four pieces for the quarters. I wouldn't be surprised to see the third-quarter spread at -2.5 or -3, which is what you might expect for a game spread of -11. The Warriors are 4-0 SU in that quarter in this series. — Bryan Mears
Trend No. 1 to know: Golden State lost Game 4, 103-90. Anyone think San Antonio can rally from down 3-1 to win the series? Nah, me neither. The oddsmakers think this series ends tonight, too. Since 2005, teams that lost their previous playoff game and then are favored by double digits in the next game have gone 16-1 SU, winning on average by 18.2 points. Those teams have gone 12-5 ATS. — John Ewing
Trend No. 2 to know: The Warriors shot just 37.8% from the field in Game 4 — their second-lowest field-goal rate in a playoff game under Steve Kerr. This season, when the Warriors have shot below 40% from the field, they have gone 4-0 SU and ATS in their next game (including the playoffs), covering by 12 PPG. The rest of the NBA in this situation has gone just 120-139-5 ATS (46.3%) this season. — Evan Abrams
Top photo: Eric Bledsoe