Wednesday NBA Playoffs Guide: Jazz Look to Send Thunder Packing
Credit:
Jeffrey Swinger – USA TODAY Sports
Choo choo! I'm bringing you guys at the Action Network content live from the Amtrak, again, on which one of our compadres just barfed, following the Action Network bigwig pow-wow in which we came up with some great idears for you, the consumer.
We have a mid-week "mega" playoff slate, with four games on a Wednesdee. As always, all eyes are on the King. Can his Cavaliers carry their momentum over to Game 5 or will the Pacers put their backs against a wall? All you need to know about that and the rest of the games can be found in this here article. — Mark Gallant
All info as of Wednesday afternoon. Check back throughout the day and keep an eye on our Twitter handle for any updates.
For live spreads and bet percentages, check out this page. Follow the latest injury info on our industry-leading news feed. To get access to our premium betting tools, subscribe here.
---
GAME 5: WASHINGTON WIZARDS AT TORONTO RAPTORS (-7) | O/U: 216
Series Tied 2-2
7 p.m. ET | NBATV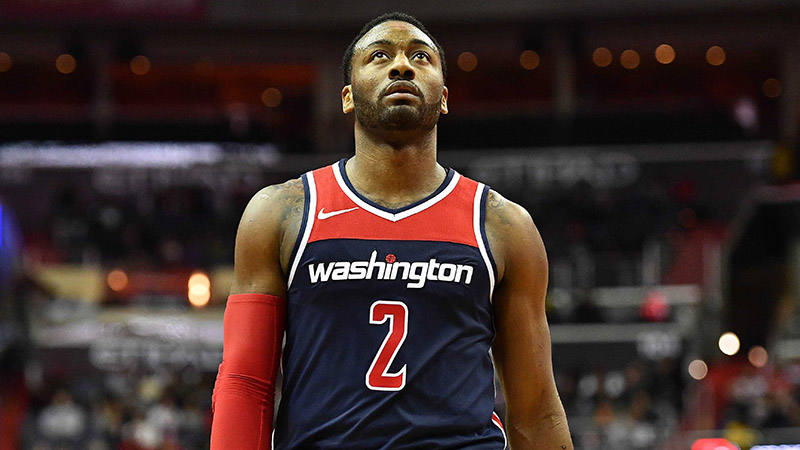 Brad Mills-USA TODAY Sports
Metrics to know: Game 4 of this series did not include a lot of beautiful, efficient basketball. The Raptors scored just 99.0 points per 100 possessions, and both teams took 20% or less of their shots from the 3-point line before the game reached garbage time. Toronto literally took zero corner 3-pointers, which is perhaps the most-efficient shot in basketball. No surprise, they had a poor 47.5% effective field goal rate in that one despite getting to the rim well. The "Math Problem" will be discussed later in this piece, but it applies here, too. The Raps aren't facing the Rockets, but they will need to space out their offense a bit more to survive.
Thankfully they return home tonight, where they've been the best team in the league this season, evidenced by their stellar +10.4 net rating. Washington, meanwhile, is perhaps the worst road team in the playoffs this year, evidenced by its atrocious -2.3 net rating. The Raps should bounce back in this one. — Bryan Mears
Betting market: Though the Raptors are the most heavily bet team of the night at 69% of spread bets, their line has remained at the opener of -7 at most books. It briefly moved to 7.5 at the sharp offshore book Pinnacle this morning before being bet back down to seven. — Mark Gallant
Trend No. 1 to know: The Wizards were able to even up the series, winning both of their home games. Over the last decade, teams listed as underdogs of five points or more in Game 5 or later in the series have gone just 12-21-1 ATS (-9.4 units). Teams are 3-8 ATS in their last 11 games in this situation, failing to cover the spread by 7 PPG. — Evan Abrams
Trend No. 2 to know: Toronto looks to be in a bounce-back spot after losing two in a row in Washington. Teams that have lost back-to-back games in the playoffs and then are listed as favorites in their next game have gone 65-43-5 (60%) ATS since 2005. — John Ewing
---
GAME 5: INDIANA PACERS AT CLEVELAND CAVALIERS (-6) | O/U: 205.5
Series Tied 2-2
7 p.m. ET | TNT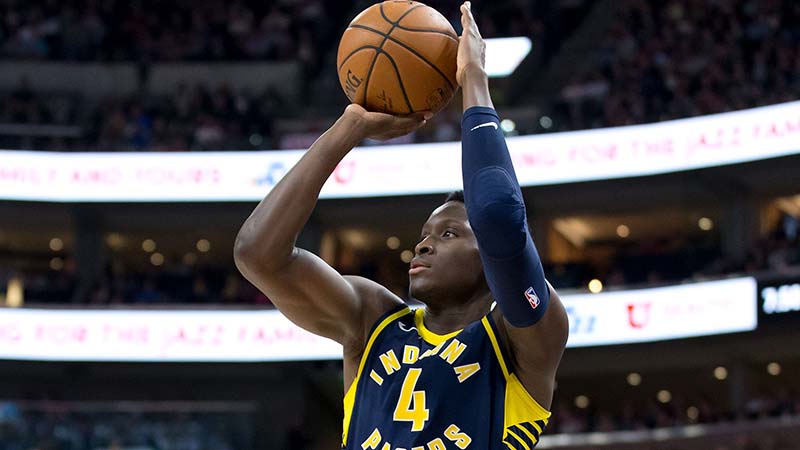 Russ Isabella-USA TODAY Sports
Metrics to know: The Cavs started yet another random fivesome in Game 4, a combination of Jose Calderon, J.R. Smith, Kyle Korver, LeBron James and Kevin Love. It's amazing they're currently starting units that haven't really gotten much time together this season, but here we are. That starting lineup didn't really fare well in Game 4, posting a -26.2 net rating and allowing 117.3 points per 100 possessions. That's not entirely surprising given Calderon's struggles on defense, and many of the other main lineups without him found great success.
When the Cavs went with LeBron at the point — they put in Jeff Green for Calderon — they dominated, scoring at a rate of 128.7/100 and allowing just 30.4/100. Calderon wasn't unplayable, and the Cavs were able to defend well when he was paired with Tristan Thompson at the center spot instead of Love. Hopefully the Cavs will be able to match up which players should share minutes, although it is a struggle considering how much they overhauled their roster at the trade deadline and the injuries they've sustained since then. That's definitely an edge for the Pacers, who don't necessarily still have to learn how to play with each other. Of course, LeBron is a nice advantage, too.  — Bryan Mears
Betting market: The Pacers are once again a trendy dog, as they are getting nearly 60% of spread bets and nearly 70% of the money. This has helped push them from +6.5 to +6. — Mark Gallant
Trend No. 1 to know: All season long, the under has been the profitable side of Pacer games … even in the playoffs. The under has cashed in all four games in this series by a whopping 19.8 PPG, and this season Indiana is the most-profitable team in the NBA toward the under. Even when the Pacers have hit the road this season, they've gone 26-16-1 (61.9%) to the under — tied with the Rockets as the most-profitable road team to the under. — Evan Abrams
Trend No. 2 to know: In the playoffs, teams with a better record that are large favorites (six or more points) such as the Cavs have gone 232-179-9 (56%) ATS since 2005. — John Ewing
Did you know? The Cavaliers are the only team in the NBA Playoffs so far to lose the second-half spread in each of their playoff games, failing to cover by 9.3 PPG. — Evan Abrams
---
GAME 5: MINNESOTA TIMBERWOLVES AT HOUSTON ROCKETS (-12) | O/U: 216
Houston Leads 3-1
9:30 p.m. ET | TNT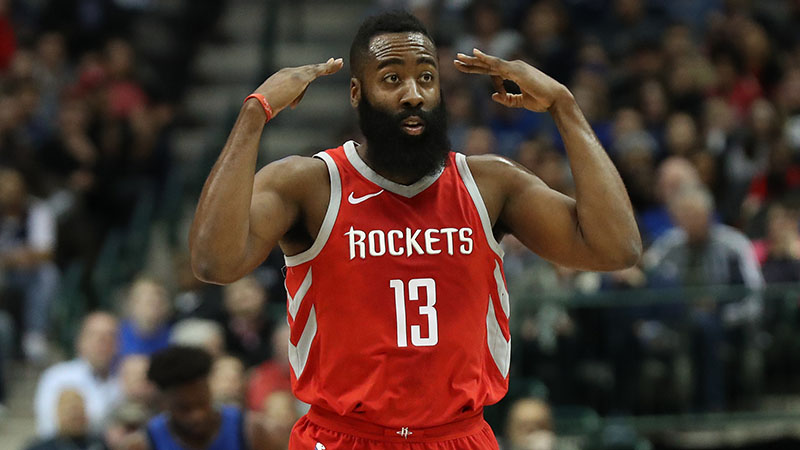 Matthew Emmons-USA TODAY Sports
Metrics to know: We have hammered home the "Math Problem" issue, but it's for good reason. It's a big deal. Look no further than the shooting frequency splits between the Rockets and Wolves in Game 4:
Minnesota: 24% shots from 3, 38.1% field goal mark from 3
Houston: 43% shots from 3, 40.0% field goal mark from 3
Houston didn't even shoot the lights out: The 3-point percentage between these teams was nearly even. The problem is that Minnesota's outdated offense doesn't lend itself to 3-pointers, and as a result, the Wolves just haven't really been able to keep pace with Houston's scoring. The Rockets put up 50 points in the third quarter alone in Game 4. Karl-Anthony Towns finally led the Wolves in usage last game, although their lineups still aren't very optimized. Derrick Rose doesn't produce a ton of 3s and is now playing more than even starter Jeff Teague, while Jamal Crawford is a mid-range king. The Wolves can win this game, but due to the math issue, it will require ridiculously hot shooting from 2-point range. — Bryan Mears
Betting market: The under has seen significant movement thanks to a large percentage of dollars. While it is seeing a hefty percent of bets for an under at 61%, the money is even crazier, as more than 90% of dollars have pushed the line from 219 to 216 since opening. — Mark Gallant
Trend No. 1 to know: The Timberwolves are double-digit underdogs in Game 5 against the Rockets. In his career with the Wolves and Bulls, Tom Thibodeau has been successful ATS over a full game and in the first half as a large dog. As a double-digit underdog, his teams have gone 10-5 ATS; when the first-half spread has been larger than five, his teams have gone 11-6-2 against it. — Evan Abrams
Trend No. 2 to know: Minnesota, lost 119-100, on Monday and opened Game 5 as a 12-point underdog. Since 2005, teams that lost their previous playoff game by double digits and then were underdogs of 10 or more points in their next game have gone 3-33 straight-up but 19-15-2 ATS. — John Ewing
---
GAME 5: UTAH JAZZ AT OKLAHOMA CITY THUNDER (-2.5) | O/U: 207.5
Utah Leads 3-1
9:30 p.m. ET | NBATV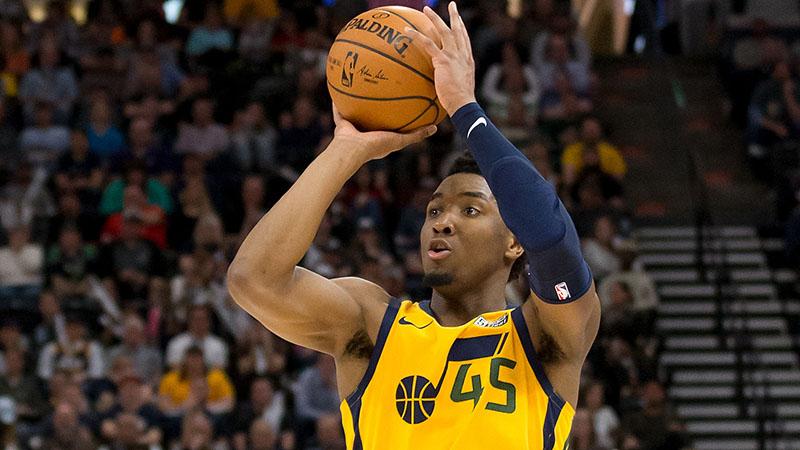 Russ Isabella-USA TODAY Sports
Metrics to know: The rebounding splits were less stark in Game 4. Utah still managed to grab 27.8% of its misses — that would be in the 65th percentile this season — but that's way better than the nearly 50% from the past couple of games. Unfortunately for the Thunder, that didn't even really matter in this one, as they were able to put up just 90.7 points/100 while posting an atrocious 41.2% effective field goal mark. That's what happens when you go 4-of-24 from the 3-point line before garbage time, although that is reason for optimism. Utah deserves a ton of credit for that number, but the Thunder still missed looks they can hit in Game 5.
The Thunder just don't have a lot of bodies they can trust right now. The offense was very concentrated last game: Paul George took 21 shots, Russell Westbrook took 18, and Carmelo Anthony took 18. No other player had double-digit shot attempts, which is a problem against Utah's elite defense. It's already hard to score on Rudy Gobert and Co., and that's especially true when Utah can really cheat off guys such as Corey Brewer, who took two shots in 22 minutes. And that's not going to get better in Game 5. The lane is going to be perpetually clogged, so we'll have to wait and see if Billy Donovan and his crew can find some adjustments to create more space. — Bryan Mears
Betting market: This game has seen some back and forth action on the spread. Originally, action on the Thunder pushed them from -3 to -4, but sharp action on Utah has pushed that line back down. Bet signals on the Jazz at +4 and +3.5 has moved their line to +2.5 at the majority of offshore books, but some books are still holding steady at 3. — Mark Gallant
Trend to know: The Thunder have dropped three straight games both straight-up and ATS and had their worst shooting game of the playoffs at just 39.3% from the field in Game 4. Since the 2009 playoffs, teams who have lost at least three in a row straight-up and shot less than 40% from the field in their previous game have gone just 9-19-1 ATS (32.1%) in the playoffs, losing bettors 10.5 units. Teams in this spot are 3-11 ATS in their last 14 games, failing to cover the spread by 4.8 PPG. — John Ewing
Top photo: LeBron James
How would you rate this article?