What OKC's Ballistic Comeback Tells Us About Game 6 Friday
Credit:
Mark J. Rebilas-USA TODAY Sports. Pictured: Carmelo Anthony (7), Russell Westbrook (0).
So the Thunder staged a historic comeback in Game 5 vs. the Jazz Wednesday night. Down 71-46 (!!!) with just over 7:30 to go in the third, they took a timeout and then radically adjusted their scheme. They made perfect changes to their approach and exploited every opportunity from Utah.
Just kidding.
Here's what actually happened.
The True Story
The Thunder deserve a ton of credit for sticking with it and showing the heart of a champion in the comeback. Russell Westbrook deserves a lot of credit for taking all the disrespect he's been shown in this series and fueling it into becoming a nuclear lion. He was ferocious and Paul George stepped up just as huge to carry the Thunder offense. Moments like Wednesday night, when the Thunder, faced with elimination, pull off an inconceivable run to keep their season alive, are what make the playoffs so thrilling.
However, we have to look at this with a clear eye, and there's a pretty compelling case for that being the end of OKC's valiant success as we look to Game 6.
The Jumper: Living and Dying
The same thing has been true of Westbrook going back to 2012 and OKC's first Finals run.  The Spurs in the Western Conference Finals dared Westbrook to take those shots, and when he started hitting them down 0-2, that's when the series flipped. The same thing happened in 2014 and on down the line.
This table shows his mid-range shooting numbers, per NBA.com, year by year.

He's shooting 44% from the field on mid-range jumpers in wins and 37% in losses. That lines up with his overall shooting numbers in wins and losses, but the fact remains this is a huge differential.
In that third quarter, Utah went into prevent mode. After all, in the losses in this year's series, Westbrook was shooting 4-of-19 on those shots.
With the lead still at 17, look at how Utah treated Westbrook. This is a combination of "We're up huge and just playing out the string" and "Please take that shot, pretty please?"
In this next clip, Royce O'Neale commits the worst of all sins, fouling him on such an attempt once the comeback really began in earnest. The lead's still double digits. You absolutely cannot put him on the line on this attempt.
The public thinking on this game is that Rudy Gobert's foul trouble opened the door for the comeback, and it certainly helped because it let Westbrook get to the rim. OKC takes the lead here when the Jazz allow him to split the double team.
But even when Gobert came back on the floor, things weren't the same. The foul trouble stopped him from being aggressive on defense. Which meant he was also begging Westbrook to take those shots. And Westbrook drilled them.
There's zero contest in that last clip from Gobert. The Jazz forced Westbrook to take the shots they wanted him to make, and he killed them with it. He was 12-of-20 in that stretch, making shots behind the screen from 3. Here's the one that started the run:
Those are shots you want Westbrook taking, and you have to live with the results. His shot chart shows he wasn't great at the rim or in the paint.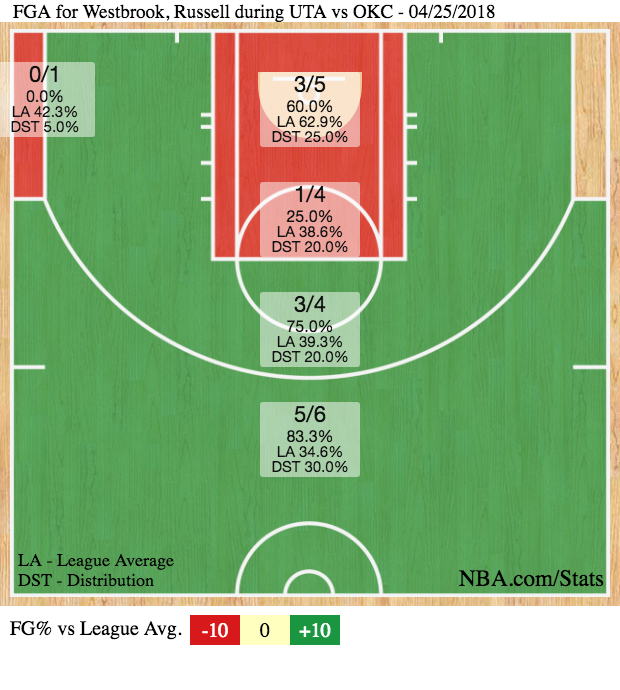 His jumper fell, and that sparked the comeback, along with a quietly brilliant performance from Paul George (21 points on 8-of-15 shooting with two steals).
But, in Game 6, does that jumper fall? Westbrook shoots 43% overall at home in the playoffs and 39% on the road. Utah will no doubt give him those same shots in Game 6. If you think Westbrook can lock in and knock those down, that should influence how you feel (and invest) in Game 6. If you're dubious, which is very fair, Utah looks pretty good given all the information we have.
However, it takes two to tango. And while the OKC offense ran wild to finish that game at a 145.4 Offensive Rating over that final 20 minutes and 34 seconds, the Utah offense did its part to melt down.
And that is something we need to consider as well.
Peak vs. Consistency
While OKC became an exploding star offensively, Utah withered back into a pumpkin, the wheels fell off, and the carriage ran off the road into a ditch. They compiled six turnovers, shot 32% overall, and specifically finished 2-of-17 from 3-point range during that stretch. It wasn't just the shooting, though; it was where those shots came from.
Donovan Mitchell took 16 shots.
Jae Crowder took eight, compared to just seven for Ricky Rubio, who has led Utah in this series offensively.
Joe Ingles took two, missing both.
Mitchell is wonderful and has been great in this series even with typical rookie efficiency issues. But for Crowder to have one fewer shot over this collapse than Rubio and Ingles combined is an out-and-out disaster.
Crowder was hot before the OKC run, going 5-of-9 from 3. But he took that hot start and ran way too far with it. He took 14 three-pointers! In one game! An elimination game! On the road! You just can't have that kind of imbalance.
Part of the issue was just "Donovan Mitchell had a bad game." This is always going to be the risk with a rookie. Veteran stars know how to manage the situation and get inside to draw fouls and keep the energy in the game low. Instead, with the wheels coming off and the lead down to 15…well, just watch this clip. Rubio defers, no one moves at all, there's no pick-and-roll action, Mitchell and Ingles pass back and forth like this is a college game, and Mitchell tries to hit a pull-up 3 over Steven Adams. Not great offense.
Now, Mitchell's hit a lot of these shots in this series. He can make that. So is it simply hindsight to look at the possession he missed? I'd argue that possession was quite indicative of what happened to Utah, which was a team simply trying to run out the clock and make some big shots to stave off the run.
Utah does not have the weapons offensively to keep pace with this kind of offense. Their success in this series has been driven by a) great ball movement and exploitation of bad defenders like Carmelo Anthony and Westbrook and b) some peak shooting by guys like Rubio (he's at 35% from 3 in the three wins in this series).
OKC did make adjustments. After Ingles found an open corner-3 on this exact sequence (reversed left-right corners), George tells Adams to help up to the break to crowd the pass, and they intercept this Crowder pass attempt.
The Thunder defense deserves a lot of credit for how they covered things during this run.  In this next clip, they crowd Mitchell off the screen to deter him finding Gobert rolling. When he finds the wing outlet, Adams comes running wildly down with his hands waving to deter that pass on the mismatch. Jerami Grant then rotates back out hard to the corner. When they run it again, Alex Abrines helps down to cover Gobert on the roll, forcing the pass back. George closes out hard.
Gobert gets the offensive rebound, then picks up his fifth foul clearing out Abrines. (He clearly uses his arm to wrap him, and when you have that arm extension in front of the official, you're going to get tagged on that.)
Ingles was feeling himself after Game 4, making plays off the dribble. In this clip, with Carmelo on the bench (we'll get to that in a second), the Thunder switched Westbrook onto the corner, and Grant and Adams absolutely annihilated Ingles when he tried to drive.
So much of this is because of Gobert's foul trouble. Without the gravity he creates, Ingles can't get open.  I wrote in our series preview how important Ingles is. You cut off the oxygen the Rubio-Gobert-Ingles pick-and-roll action provides and you're left with low shot clock offensive malaise. Now, if Gobert isn't in foul trouble in Game 6, does that change? Probably. But the Thunder also did find some things which really worked. It just takes a lot of work to get there.
The big issue, of course, is Melo.
Karma and Carmelo
As someone who has criticized Melo's game and decision-making going on nine years, it's important I start with this: None of this is really Melo's fault. He's 33; he's played a lot of minutes. He's in an uncomfortable role. And he's actually given great defensive effort (for him) this season. He's really tried.
His problem now is he's not physically able to play the way he needs to.
Anthony played 6:57 from the start of the comeback, and OKC did outscore the Jazz by eight in that sequence. However, it was clear his absence helped things.
Most of it has little to do with him; it's more about how he fits with the starters. With Grant and (insert two-guard here, call it Abrines for now), the Thunder have length, athleticism, and willing passers to find Westbrook and George. With Anthony, they have a giant target on the floor that Utah can go at over and over and over again.
When the conversation was brought up in preseason about the idea of Melo coming off the bench, he laughed it off. "Who, me?" But the question was valid. Melo as a bench scorer who can get buckets and anchor a unit short on shot-creators makes a lot of sense.
Anthony can come in for Game 6 and make a bunch of spot-up 3s. He's 3-of-11 on catch-and-shoot attempts in this series; he shot 39% on those shots in the regular season. However, much of this conversation is moot. If you want the strongest reason to invest in Utah or believe they will win Game 6, it's this: NBA politics almost always trump strategic adjustments. No matter how clear it may be that Anthony has to play limited minutes, that decision creates friction with the roster and hurts Billy Donovan's ability to present himself both to OKC and future ownership as someone who can manage stars.
Westbrook and George will have Melo's back; that's what superstars do if they don't have personal issues. It will be difficult to live with the ramifications of not playing superstar Carmelo Anthony in a crucial elimination road game.
The Scenarios
If you believe Gobert will stay out of foul trouble with a better home whistle, that Anthony will probably still get a big heap of minutes, that Westbrook will not go ballistic with his jumper, or some combination of those three, then you should lean Utah.
If you believe Westbrook and George will rise to the moment, that OKC has finally started to tilt things defensively in their favor, that the Jazz offense has started to come down from their peak, that Donovan will have to limit Anthony's minutes out of desperation no matter the consequence, then OKC at around +6 (where the line is at the time of this writing) is where you should lean.
The Jazz have been the better team in this series. Oklahoma City has captured a lot of the intangible advantages. They still have the better talent. Utah's at home.
There's a lot to sort out here, but these are the questions you have to ask going into Game 6.
---
Pictured above: Carmelo Anthony and Russell Westbrook