Moore: Why the Boston Celtics Are for Real (At Least in the Regular Season)
Credit:
Photo credit: Greg M. Cooper-USA TODAY Sports. Pictured: Jayson Tatum and Jaylen Brown
I am trapped in a prism of complete amazement and patent understanding when it comes to the Boston Celtics and their red-hot start at 9-1 (5-5 against the spread).
On the one hand, this makes complete narrative sense.
Brad Stevens has his plucky underdog Celtics back. The team is sharing the ball like it never did last year. Gordon Hayward was fantastic in all phases before his unfortunate injury. Jayson Tatum is taking fewer mid-range 2s. Jaylen Brown has made a relative leap.
More than anything, the team's identity makes sense.
There are no egos, no wax ecstatics about the meaning of truth or fame. It's just Kemba Walker, never going off for 50 but consistently going off for 20-30, good wing players passing and playing defense and everything working for the blue-collar, lunch-pail Celtics.
On the other hand… how in god's name is this the No. 6 team in defending the pick-and-roll, the No. 10 team in defending the rim, the No. 9 team in defending jump shots, the seventh-best team in points in the paint allowed? How are they giving up the ninth-most 3s per 100 possessions and the ninth-lowest 3-point percentage? How are they the 10th-best catch-and-shoot defensive team, all with the league's best Net Rating and a top-five offense?
How?!
NO TALL DUDES NEEDED
The Celtics have two really tall dudes (6-10 or taller) in the rotation. One is Enes Kanter, who has been conspicuously absent with injury during this remarkable start, and all the defensive metrics indicate that he is their kryptonite on defense. (The defense is 6.2 points per 100 possessions worse with him on the floor.) The other is Vincent Poirier, but he's appeared in only five games.
And yet somehow, the Celtics are elite defensively.
So much of this is Marcus Smart.
Just so much Smart, everywhere.
The overall defense is 3.4 points better with him on the floor. I will save you from a whole list of metrics, but just to wrap up, here's how the Celtics are better with him on the floor defensively.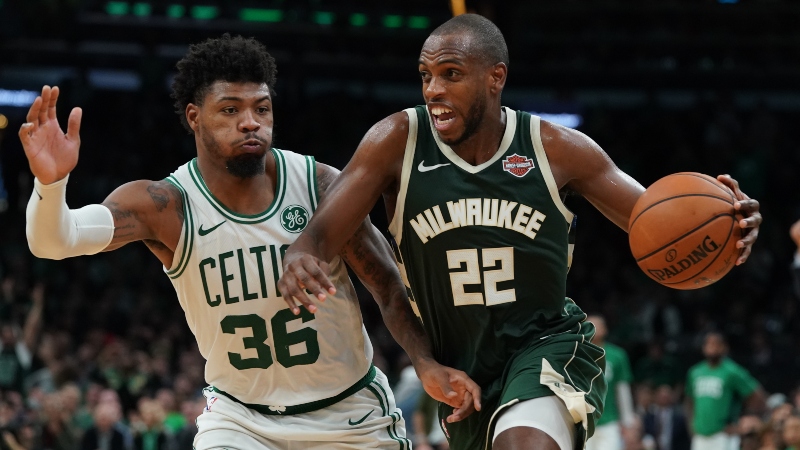 With Smart on the floor…
Opponents shoot worse from the field, from 2-point range, at the rim and from 3-point range.
Opponents draw fewer fouls.
Opponents grab fewer offensive rebounds and score fewer second-chance points.
Opponents turn the ball over more and score fewer points on fastbreaks.
Opponents take fewer 3s.
They are better in every discernible defensive category with Smart on the floor.
He has taken nine charges this year, per Synergy Sports. Opponents are shooting 5-of-17 against him in the post, including this from Al Horford:
It's not just Smart. Daniel Theis, Jayson Tatum, Jaylen Brown and even Kemba Walker have played incredible defense. Grant Williams' defensive numbers are absolutely bonkers.
But the Celtics are doing all this without a rim protector. You don't need a rim protector, though. You need great help, like Theis provides here:
Robert Williams III (Timelord) has a steal rate of 2.9 per 100 possessions, with a block rate of 4.7 per 100. And he's one of their worse defenders.
If there were a bad defender holding this up, I'd be more skeptical. If Kanter was involved, I'd be skeptical. But the Celtics are on a string, relying on each other, and boosted by Smart, who legitimately should be the DPOY front-runner.
Now… the bad news.
The Celtics have given up a 108 or worse Defensive Rating in the past three games, and a lot of their defensive performance is boosted by who they've played (the Knicks twice and Charlotte). Their performances vs. Milwaukee and Toronto were impressive… but that was early on.
It's at least something to keep an eye on, as is what happens when they face a frontcourt threat who can really dominate inside, as opposed to the pathetic mess that Kristaps Porzingis put up recently.
BALANCE AND FORCE
The Celtics broadcast is fond of the graphic that shows that Kemba Walker (25.0), Jaylen Brown (20.1) and Jayson Tatum (19.8) are all averaging 20 points per game. They have a lot of balance to their offense and no one is dominating the ball.
The comparisons to last year are evident.
Walker manages to pick his spots and be hyper-efficient in them. It's almost all pick-and-roll action, predictably, where Walker is 93rd percentile in the league (including passes). His spot-ups are actually low this season given his surrounding talent; he's shot just 6-of-23 there.
Walker is seeing mostly drop coverage in pick-and-roll this year, which, excuse me, is incredibly stupid. It's asking to be carved up.
Of course, if you send two on the ball, you better send tall guys and send them aggressively, otherwise…
Now for the bad news.
Tatum is shooting worse from 2-point range (39%) on 12 shots per game than he is from 3 on six attempts per game (40%). His free throw rate hasn't substantially improved, nor have his assists (though he remains a willing passer).
All of this is concerning for Tatum, who seems to be just taking more shots this year. His defense is better and the 3-point numbers help, but he really needs to learn to finish better.
Jaylen Brown, though … man alive.
Brown's assist and rebound rates are up, he's shooting 52% from the field and his 3-point shot (27%) is impacted by going 3-of-11 on unguarded catch-and-shoot 3s. If those start to drop, look out.
All of this… and Gordon Hayward's been their best player. If he picks up where he left off before his injury, the Celtics have so many different ways to hurt you. Just wing threat after wing threat. Oh, and Marcus Smart is shooting 39% from 3.
Walker and Hayward will likely regress; their expected eFG% marks are both dramatically over their expected rate (per pbpstats.com). But there are enough weapons here.
THE VALUE
The Celtics remain +300 at PointsBet for the division title. There's legit value there. The Sixers have a growing sense of panic to them — that Joel Embiid and Ben Simmons haven't really progressed at all. The whole roster was built around that contingency.
Meanwhile, Boston's strength of schedule will increase; it's been the sixth-easiest league-wide so far. But this team thrives with its back to the wall. It's clear now that Stevens is ill-suited to try and navigate the waters of a superstar-laden contender with multiple egos. He needs a selfless group of try-hards working together to overcome the odds.
This makes his regular-season performance an attractive bet. The reason I went in on their season win total under was their lack of rim protection, but if they're all going to defend like this, they can get by with Grant Williams, Robert Williams and Theis. If they play Kanter more, it gets dicier, but Stevens hasn't shown himself to be handcuffed to Kanter at all.
Down the line, the Celtics will also be a great team to bet against in the playoffs. Eventually the effort level will catch up to them when other teams perform at that level. They'll have players ready to perform in Walker and Hayward, but that may be where the inside forces give them issues.
There's no value on their Eastern Conference title odds or Finals odds — at least not yet. You'll still get good value on those by midseason after we've seen if they can really sustain this and how they look vs. the top teams.
But for regular-season performances? For the division? The Celtics are in a great place. Losing Kyrie and getting Kemba was a breath of fresh air. Hayward has been a pipeline of production and impact. The youngsters are making strides, and Smart is locking everything down.
The Celtics may not be 9-1 good… but they are assuredly really good.
How would you rate this article?