Celtics-Pacers Series Betting Preview: Can Indiana Push It to 7 Games?
Credit:
Photo credit: David Butler II-USA TODAY Sports. Pictured: Kyrie Irving and Wesley Matthews
The 4-seed Boston Celtics and 5-seed Indiana Pacers will match up in the first round of the 2019 NBA Playoffs.
Bryan Mears dives into the biggest matchup factor of the series and why he thinks there's value on the Celtics.
No. 4 Boston Celtics vs. No. 5 Indiana Pacers
Odds: Celtics -525 | Pacers +400
On the surface, this seems like a pretty even series. Here are the Celtics' and Pacers' metrics on the year:
Celtics: +4.2 Net Rating (7th), 112.1 Offensive Rating (10th), 107.9 Defensive Rating (7th)
Pacers: +2.9 Net Rating (10th), 110.0 Offensive Rating (18th), 107.1 Defensive Rating (4th)
The Celtics are a couple points better on offense; the Pacers are slightly better on defense. Perhaps with Marcus Smart — a legitimate All-Defense candidate — out, maybe those numbers are even closer.
But those numbers are misleading. Since January 23 — the day Victor Oladipo went down for the year with an injury — Indiana has been pretty darn average.
Before Oladipo injury: 32-15, +5.9 Net Rating (4th), 110.6 ORtg (15th), 104.7 DRtg (4th)
After Oladipo injury: 17-19, -1.1 Net Rating (18th), 109.3 ORtg (22nd), 110.3 DRtg (12th)
Honestly, the schemes aren't that different with or without Dipo. With him, they didn't take many 3-pointers and were very mid-range heavy. That hasn't changed: Since Jan. 23, they've ranked second in the league in overall mid-rangers and specifically long 2s.
The problem, of course, is they just don't really have the personnel to hit those — especially against a motivated playoff defense like the Celtics.
Sure, they struggled against Marcus Smart on those attempts…
But even this against Kyrie Irving isn't going to cut it over a seven-game playoff series:
The Pacers just don't take a lot of 3s, and — like the Bucks — the Celtics are going to drop that big in pick-and-roll coverage. The Celtics also give up a bunch of 3s, which could make them susceptible against a different foe, but that's not how Indiana plays. The Pacers want to get into the lane, and the rim is going to be blocked off. Mid-range city isn't an exciting thing to bet on in the playoffs.
The Smart injury could eventually loom large for the Celtics. He's third in Defensive Real Plus-Minus among guards this year. That said, the numbers show the Celtics are about the same defensively whether he's on or off the court.
That underrates him — and as rotations shorten, his value will become more apparent as the Celtics play more against starters — but the Celtics have consistently shown their team defense in the playoffs is going to be just fine.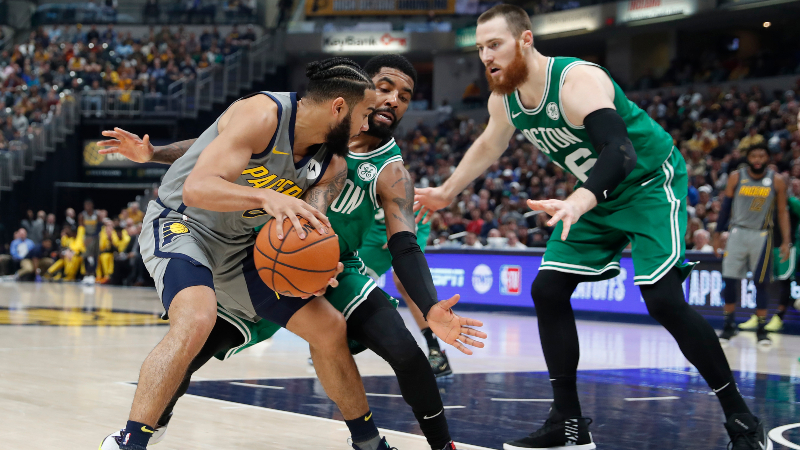 In fact, they consistently overperform in the playoffs, as shown by last year's miraculous run without Kyrie. Per our Bet Labs data, Brad Stevens is one of the most profitable active coaches in the league against the spread (ATS) in the playoffs, going 27-20. Last year he went 12-7.
The Celtics wouldn't be my pick to win the title, or even the Eastern Conference. I do think Smart is important and this team has some flaws that they'll need to work out with this young core. I'm just not convinced those things are going to be that important in this series against a team proven to be merely average without Oladipo.
I think the Celtics are a fine value, depending on the book. I've seen them anywhere from -350 to almost -600. But I think the best value is to bet on them to cover -1.5 games, which is around -150 to -200. The Pacers are scrappy enough to get a game, maybe two, but I don't think this goes 7.