Nets 2018-19 Season Win Total: Can Brooklyn Sneak into the East Playoffs?
Credit:
Credit: Nicole Sweet-USA TODAY Sports. Pictured: Brooklyn Nets guard D'Angelo Russell (1) and guard Spencer Dinwiddie (8) react in the first quarter against Chicago Bulls at Barclays Center.
Check out this post for updated season win total odds and this post for my other 29 season win total picks.
Brooklyn Nets
The Pick: Over 32
Confidence: 8 out of 10
The case for the over: The Nets play the right way. Not gonna lie, getting pretty excited about this Nets team. OK. Some numbers:
The Nets' Pythagorean expected win total last season was 30, just three off the over.
They had the 11th-best halfcourt offense per possession last season, according to Synergy Sports.
Their big weakness offensively? Transition, where they ranked dead last, shooting just 47%. That's an incredibly easy area to fix.
They were soft in rebounding, 19th in opponent offensive rebound rate, 24th in their own offensive rebound rate. They specifically added Ed Davis and Kenneth Faried, two terrific rebounders.
Did I mention above how important spot-up shooting is? The Nets ranked third in that category, with three key players (DeMarre Carroll, Joe Harris and Allen Crabbe) in the top 59th percentile or better.
They Nets are still going to take L's; they play in the toughest division in the East. But they went 16-16 vs. teams under .500 last season with a worse team.
With Brooklyn's internal improvement and quality coaching from Kenny Atkinson, there's a good reason to buy into the Nets sneaking into the playoff conversation toward the bottom and landing in the mid-30s in win total.
The case for the under: Two things to consider here: One, the Nets are the team most likely to tank next season.
They haven't had their own draft pick since 2013. They haven't picked in the top 10 since 2010. There's a lot of reason to believe they might pursue getting a franchise guy if it's clear they're not going to make the playoffs, or that doing so would be irrelevant.
Two, who's their best player? D'Angelo Russell? Spencer Dinwiddie? Caris LeVert? It's tough to find an answer for who's going to carry them in the games when they don't have it, and getting to 30 without that guy is a tall order.
The verdict: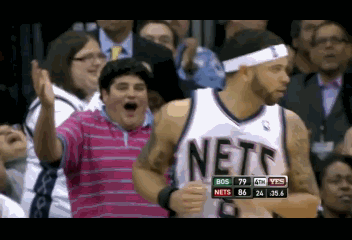 The Nets are building toward something.
Throw in the possibility of a star looking to join a New York team on the rise, smart management that won't overpay, no dead money, no major drags on either side, good coaching, and I'm in.
How would you rate this article?